"In a world that systematically tells me I'm not good enough," says Nalo Hopkinson, the celebrated Caribbean-Canadian speculative fiction writer, "Science fiction offers models for change. This is immensely hopeful." Historically, there has been and continues to be prejudice against "genre fiction" within the literary establishment, and this has of course included futurist fiction by Black authors, who additionally face racism within science-fiction circles. Despite this, literary giants like Octavia Butler and Samuel R. Delany managed to pave the way for later generations of Black writers to create and publish speculative fiction. Hopkinson and other Black writers worldwide, such as N.K. Jemisin, Nisi Shawl, Nnedi Okorafor, Masande Ntshanga and Rivers Solomon, have made names for themselves within fantasy, sci-fi, and speculative fiction. Many of these writers are also queer, and imbue their richly imagined worlds with all kinds of non-heteronormative love and desire.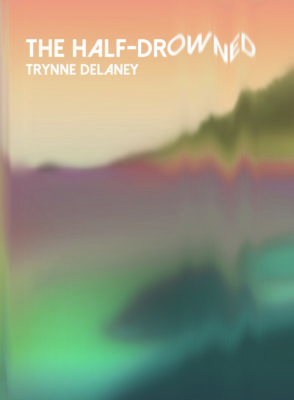 Montreal/Tiohtà:ke-based writer Trynne Delaney's The Half-Drowned, published earlier this year by Metatron Press, is a meditative, surreal and decidedly queer addition to this legacy. An incredibly assured and mesmerizing debut, the novella eschews easy genre classification as well as tidy narrative arcs. Delaney skillfully blends prose and poetry, and writes in the modes of speculative fiction and science fiction while also sidestepping a traditional plot structure, which is often the anchor for works of speculative fiction and other world-building projects. Instead of laying out the unfamiliar setting, with explanations of social rules, technologies and "how the world came to be this way," Delaney transmits an impressionistic, shifting reality, through multiple voices that reach backward into memory and forward into future possibilities. The voices layer and bounce off of one another, as they describe survival and love in a world poisoned by white supremacy's extractive violence and environmental racism. Even the map provided at the book's opening is not the type of geographical representation that we've come to expect from books about imagined worlds. Instead, it's more of a conceptual map of the main relationships in the text, in conversation with "ANCESTORS," "alien" and the boundary between ocean and land. Orienting yourself according to this map has more to do with journeying inward, rather than navigating, compass in hand, in the colonial manner.
"This is not a history lesson," begins the book. "You tucked in good?" From the start, we are in the realm of storytelling—of recollections and impressions, of non-linear narratives and of generational rituals. Delaney invokes the unfamiliar world of The Half-Drowned by describing just enough of it to ground us, while leaving so much of it unexplained that we, like both the surviving humans and the aliens who inhabit the text, are constantly aware of the mystery that surrounds us. The Half-Drowned takes place in the hazy future, after an unnamed event occurs, in which it seems that most of humanity, or at least those who could afford it, disappeared into the sky to escape the increasingly toxic and climate-change-ravaged Earth. A group of Black survivors, of unknown number, remain on the planet, and have shaped a community in the Bay of Fundy, amid extreme heat, dangerous mud flats and mountains of trash. "Maybe ends didn't faze us 'cause they happened all the time," asserts one voice, which goes on to point out that for enslaved people and their descendants, "our end came first with official papers scrawled in an unknown script, some hundreds of years ago." In a 2018 CBC interview, Hopkinson explains that the ongoing project of Afrofuturism is vital, because it continues to be "a radical act for Black people to imagine having a future." Delaney's characters project themselves beyond the ravaged world of their present, something it seems that the rest of humanity was unable to do; much of this future imagining is grounded in love, in the intimate and complicated queer relationships that are centred in the text.
The three speakers of the polyphonic novella are Harbour, a young girl who yearns to receive her Rites; LaVon, her older brother, who is grieving the loss of his two partners to the dying season—the hottest time of year in which many don't survive—and Kaya, Harbour's estranged love. Kaya's origins are unknown, having supposedly emerged from the murky waters like "some brown skinned rural Venus, born from a shell." Kaya dwells uncertainly on the outskirts of the community, and this has driven a wedge between her and Harbour—the two are in love, but have been split apart by Harbour's need to belong in the heart of the community and Kaya's untetheredness—she is pained by her outsider status, even in this gathering of survivors.
Rites are a central ritual in the community. They "beckon to a futurity that is as whole as it is absent as it is the past as it is unknowable." For much of the book, Harbour is searching for gold, scavenging for old chains out in the sucking mud. Chains are both dangerous, in that they can yoke or strangle a person, and liberatory in that they symbolize love and commitment, both romantically and in terms of community. The focus on scavenged chains is a resounding echo of Samuel R. Delany's sci-fi epic Dhalgren, in which loops of chain are worn as adornment and protection, and also as an overarching metaphor for the act of writing itself. In The Half-Drowned, the chains are not the end goal: they are gathered to be melted down and refashioned into grillz, worn delicately in the mouth as a talisman of commitment to the town: "The gold is thin, a root system that gathers at the gum." Harbour yearns for Kaya, while simultaneously trying to retrieve a gold anklet she gave to her, without which she fears she won't be able to complete her Rites.
Kaya, meanwhile, is denied access to her Rites, because she entered the community as a stranger. She itches to set out on her own, even though dangers lurk beyond the protective boundaries of the town. That, plus, she's still in love with Harbour: "Harbour! Damn dandelion wine, damn desire. Damn her searching lips and moony eyes parting the mist at the baths to find her. Damn all the lust she can't scrub from her skin." She wants a life with Harbour, and also can't bear her feeling of un-belonging next to Harbour's certainty of her place in the community. Harbour still holds hope for the future, but she needs Kaya and LaVon and her community around her in order to imagine it. Once a loving older brother, LaVon is hollowed out by loss: without his two partners, he has trouble being present for Harbour, and turns instead to their ancestors for solace and wisdom.
In The Half-Drowned, queer love is tied to futurity, which itself is tied to the landscape—damaged as it is by the past violence of extractive capitalism, it could regenerate over time. If the landscape can regenerate, the surviving humans may be able to as well. Delaney's descriptions of the ravaged landscape are both disturbing and transcendent: disturbing in that so many of us are implicated in the waste and toxicity of this future world; transcendent in that they unearth beauty from these scenes. We learn of the threat of swimming in the toxic ocean, which LaVon does often in grief, despite the danger. We're shown "The shallowing crush of plastics" in the water, "the metres-high dunes of trash." We can't look away from the detritus that we ourselves (some of us, anyway) have made:
"Bagsandbagsandbagsandbags drift, flat fishes in the water, where plant life was, where other bags were, where more bags and bags and bags will be and bags and bags and bags are swimming in schools stuck together by bags and forks and knives and straws and rope in long dragons of bags that surface only to scare people into believing the oldest stories."
Those old stories are the tales told by the other, departed humans, we understand: "They never thought that we'd survive. We as in life but we as in the children of our ancestors in general." In this town of survivors, it's seen as a waste of time to quarrel with lovers and ex-lovers: "Move on. We're all we got. If you don't like what you've got, find something else." But Harbour and Kaya interrupt this; they can't seem to help it. Harbour knows that "Nobody has the luxury of giving their heart away except in stories about backintheday."
But she's done it anyway, and she keeps wanting Kaya, even when Kaya gets overtaken by an alien form. How's that for gay drama?
At a turning point in the text, Kaya, having left the town, realizes that life isn't worth much without community ties, without love: "how sick to care for no one and receive no care in return." Her return to Harbour is complicated by the slippery presence of the alien, whose inherent form we don't know because it so quickly hitches a ride in her body. The entity is neither evil nor benevolent: "It is not an ethical beast any more than humans were. It is useful and beautiful, however." It was not sent to this planet "to be a success mission," but to help the remaining humans and ecosystems to re-adapt, "back to habitation." The healing that begins from here requires certain kinds of death; but death, in this story, is not necessarily finite, just as aliens aren't necessarily predators, and the end of the world isn't necessarily terminal.
One question that lingered for me about the book overall was about the existence of Indigenous survivors in this world, and where they might be. Delaney makes special note of the Mi'kmaq people as custodians of the land on which the story takes place, and writes of the Afro-diasporic community as "stolen people on stolen land." One speaker notes that "we had the invitation to live on this land, in peace and friendship;" yet, it was never clear to me in the course of the novella whether Indigenous people were part of the community, whether they had made other communities elsewhere and whether the apparent departure of colonizers from the area (or possibly the entire world) had resulted in a return to Indigenous sovereignty. This is a brief book, so I don't expect it to fully tackle such enormous questions, but the query did lurk for me. Otherwise, as a reader, I am content not to fully understand this world—to look toward future rereadings of this slim volume, to imagine new layers of meaning emerging each time. We can also look forward to more work from Delaney: they have another new title out this fall. A House Unsettled (Annick Press) is YA fiction, also focused on Black queer love and its power to resist legacies of violence and oppression.