From pink triangles to pansies, pop culture to politics, tattooing and queerness go hand in hand. Queer Ink is a seven-part series on queerness and tattooing, where we'll dive deep into the ways that queer and trans people use tattooing to embody ourselves and identities.
And to no one's surprise, the Xtra staff have plenty of queer tattoos ourselves! Let's take a trip through four of our favourites, from heartfelt commemorations to hilarious memes.
Mel Woods, senior editor, audience engagement
Tattoo: Noémie Merlant and Adèle Haenel from Portrait of a Lady on Fire
Location: Thighs
Artist: @mrlauder/Vancouver
I have plenty of contenders for gayest tattoo that I've collected over the years, from literally queer or trans tattoos (a torso in a heart with top surgery scars) to the more emotionally significant (a small mountain I hand-poked on myself in my friends' living room while a big gay group of us all watched Mulan together). But here I'll single out my thighs, which I certainly get the most comments about. A dual pair of flash pieces from Vancouver artist Mr Lauder, I have the central figures of Céline Sciamma's lesbian masterpiece Portrait of a Lady on Fire each on the front of my thighs, staring their longing lesbian stares across my thigh gap. It's a tribute to one of my favourite films, to queer longing in general and to its beautiful execution in particular. To get it from a local artist with such a strong place in the community here in Vancouver made it extra special. What could be gayer??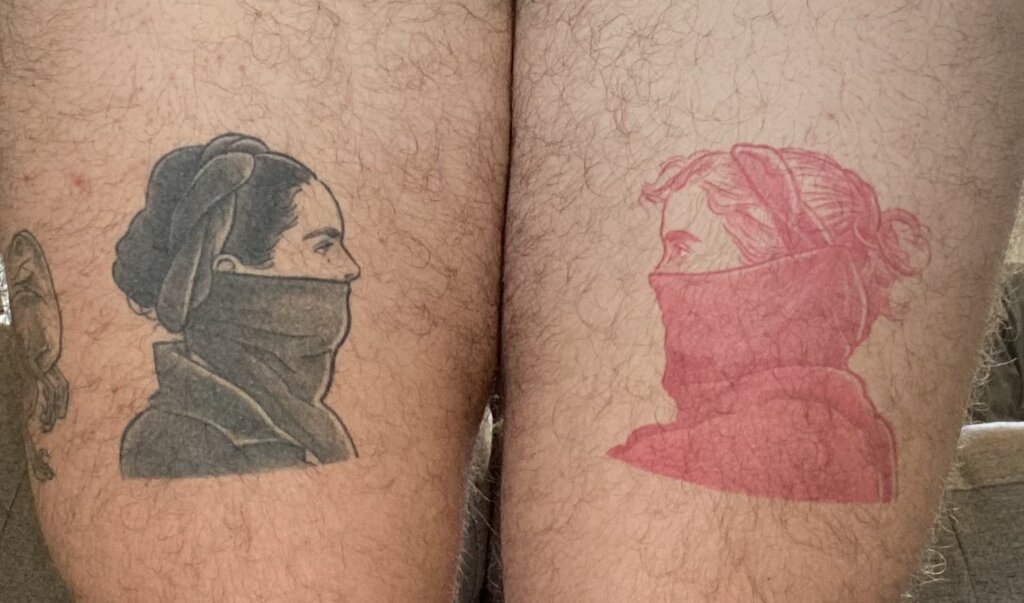 Oliver Haug, contributing editor
Tattoo: The words "beauty/terror"
Location: Formerly side of boob (no longer existent)
Artist: My ex
My first-ever tattoo was a stick-and-poke of the words "beauty/terror" on the side of my right tit (I was sad and gay and going through a big Rilke phase), given to me by my first queer lover in a college dorm room in 2018. Sounds gay enough to begin with, right? Believe it or not, it gets gayer.
Fast forward four years later—the tattoo-giver and I are long broken up. I'm preparing for top surgery. I'm on the phone with my surgeon for a pre-op appointment, and he's going through the photos I'd sent. "Oh," he says, "by the way—the tattoo's gonna go."
On the other end of the phone, I'm not quite sure how to process this. Sure, it's a tattoo from an ex—but I still do truly cherish it. But there's no way around it: the tiny hand-poked words are right in the line of fire. A month later, I go under and wake up with one less tattoo.
Apart from two tiny dots that line the scar on the right side of my body, my first tattoo is no more—but to be honest, I think it captures the concept of beauty and terror even more vividly now. Many of us think of our tattoos as snapshots of where we were at a given moment in time—it's rarer for them to evolve and change with us. But whether we're trans or otherwise, our bodies are always shifting, reflecting our environments and emotions. I love to carry a little piece of this journey with me.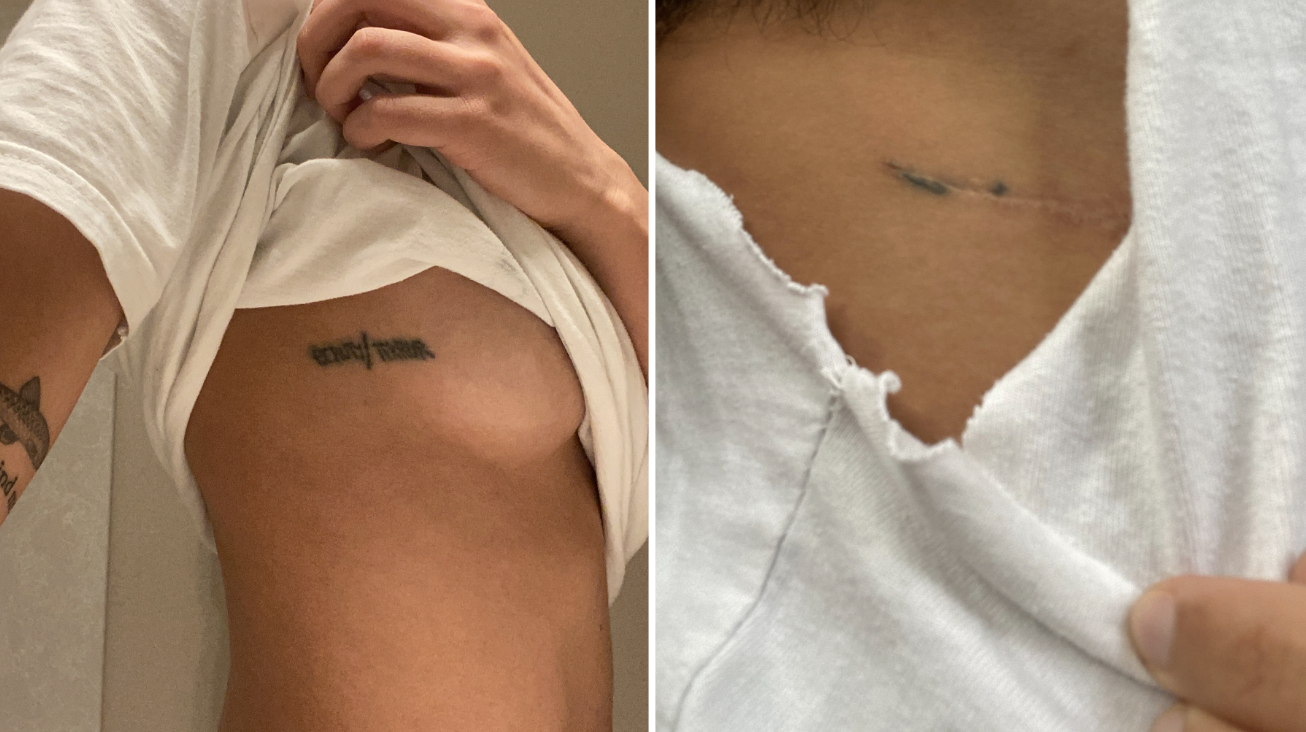 Lito Howse, video producer
Tattoo: Faggy Jesus
Location: Thighs
Artist: @lee__dangelo/Toronto
I have plenty of queer tattoos, but one that stands out is my tattoo of Faggy Jesus on my outer thigh. He looks like gay version of a Jesus image you'd find on a prayer candle. The limp wrist, hair curlers, double-fisting a coil-corded landline telephone in one hand and a lit cigarette in the other, it all adds to a queer-coding that makes me smile whenever I look at it.
Lee D'Angelo is a Toronto-based tattoo artist who often takes well-known images or characters and queers them. For example, they designed a poster by taking 15th-century artist Sandro Botticelli's The Birth of Venus, and created Venus as a Boy, adding a flowing blond beard, light blue eyeshadow, body hair, tattoos and post top-surgery scars to Venus. Or the Trans Bart Simpson tattooed on my shin, where Bart has long braids, a pink fluffy coat, pink platform shoes and their slingshot safely secured in their clear, plastic purse.
As for Faggy Jesus, I spotted him one day as I flipped through D'Angelo's flashbook. I was waiting to get another tattoo, but I knew I'd soon be back for another one as I saw this Gay Lord.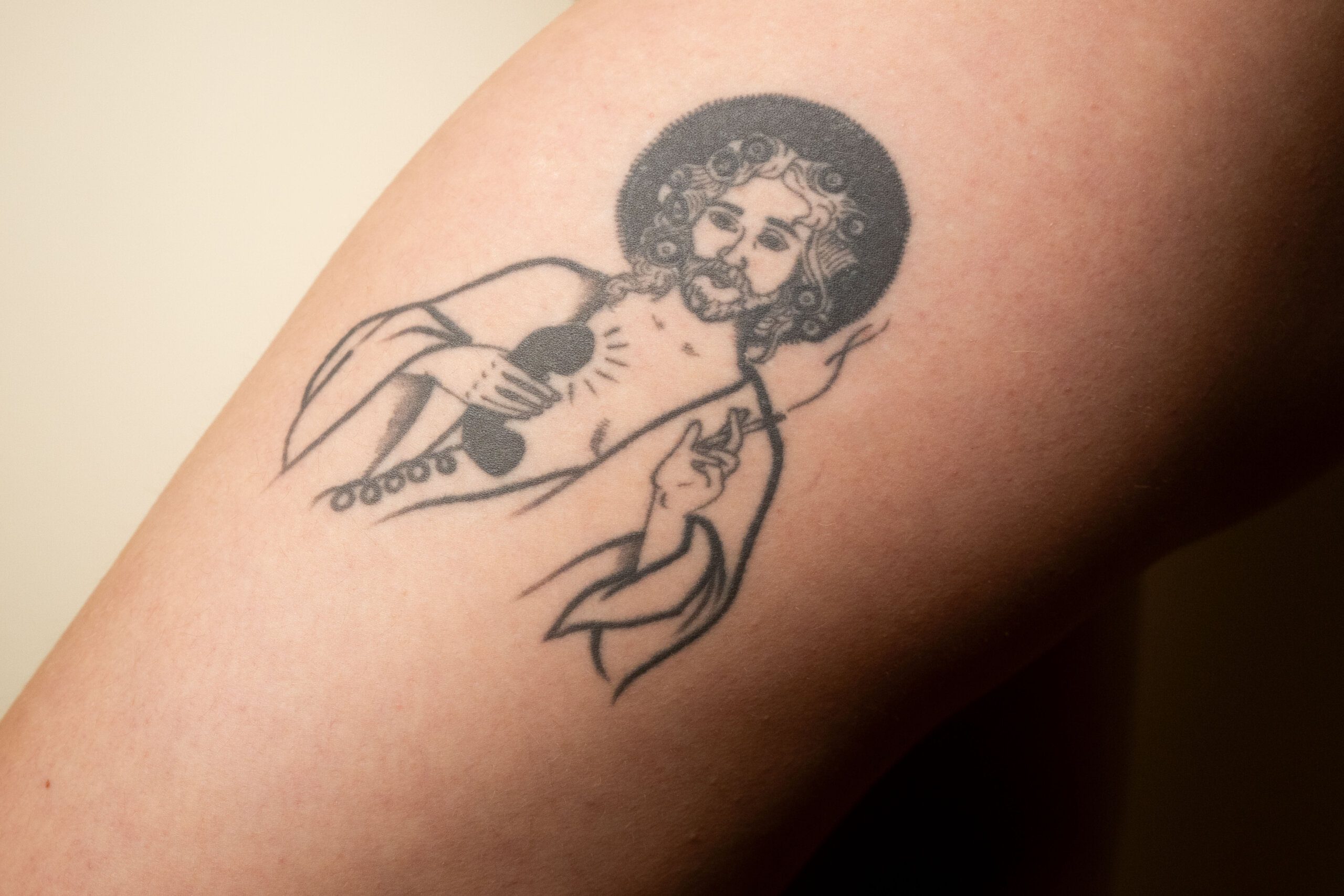 Jordan Currie, associate editor, audience engagement
Tattoo: Disco ball
Location: Back of right arm
Artist: @cassluitats/Mississauga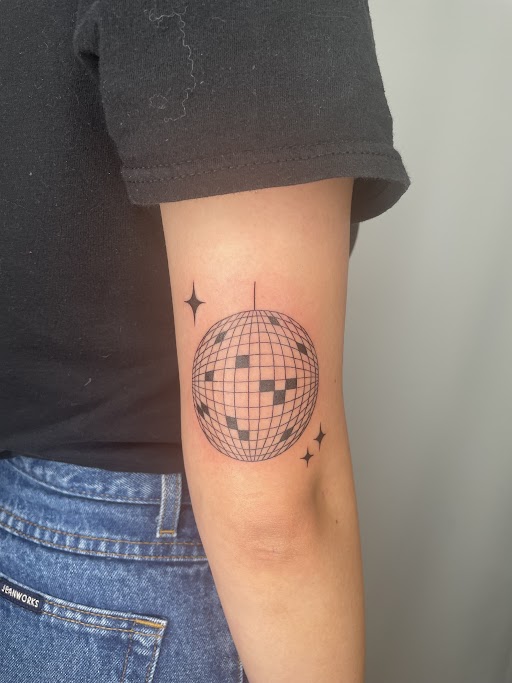 This glittering disco ball is one of my newer tattoos, having gotten it this year. I woke up one morning with the sudden urge to have it on my body, walked into Playhouse Tattoos in Mississauga and let my artist, Cass, work her magic. Arguably, my very first tattoo that I got when I was 19 is a stronger contender for a gay tattoo—the "Origin of Love" symbol from Hedwig and the Angry Inch on my left arm, a film that had me in a chokehold as a teenage baby queer that I now have fond but slightly more complicated emotions for as an adult—but how could I leave out disco when it's the queerest music genre? I mean, it's certainly up there with hyper pop and art pop—but to me, disco oozes pure, unabashed queer euphoria.
I have my own personal, sappy, boring reasons for getting a disco ball—I feel like my life has always been permeated by the genre, from growing up singing ABBA, Gloria Gaynor and Earth, Wind & Fire at karaoke family and friend gatherings as a kid to essentially doing the same thing now with more alcohol in my system. But most importantly, I mainly got it because it looks cool and queer, and that's more than a good enough reason for me.
Inside the Queer Ink series …
Series editor Mel Woods introduces the history behind queer and trans people and tattooing, and dives into how tattooing has played a key role in their own life and identity. (Oct. 2, 2023)
Lindsay Lee Wallace explores the A Thousand Pansies Project, an initiative to use tattooing as queer collective care. (Oct. 4, 2023)
Xtra staff share the stories behind some of our own gayest tattoos. (Oct. 10, 2023)
Adam Rhodes dives deep into erotic tattoos and the queers who choose to get them. (Oct. 12, 2023)
BJ Ferguson explores the world of post-op top surgery tattoos. (Oct. 17, 2023)
Julia Peterson profiles some of the Two-Spirit tattooers using the artform to express and explore identity.
Next up: This one might be NSFW! Adam Rhodes dives into the world of queer erotic tattooing.