From pink triangles to pansies, pop culture to politics, tattooing and queerness go hand in hand. Queer Ink is a seven-part series on queerness and tattooing, where we'll dive deep into the ways that queer and trans people use tattooing to embody ourselves and identities.
After getting top surgery, tattooing can provide many trans clients with newfound euphoria—whether they opt for traditional nipples or not.
I have wanted top surgery—the masculinizing removal of breast tissue often performed as affirming care for trans men and transmasculine non-binary folks like myself—for as long as I can remember having breasts, though it took decades for me to realize it.
As strange as it seems, it was an unrelated mental illness that brought me to this conclusion. Before I sought treatment for anxiety, which turned out to actually be OCD, I would spend endless hours during stressful times thinking about all the terrible ailments that could befall me. Attempting to find soothing thoughts to calm a racing mind, which would inevitably land on my fear of breast cancer, my brain would offer up the strangest thought: well, at least after that you wouldn't have them anymore.
When I first consulted with my surgeon-to-be, Dr. Salvador Yáñez Diaz in Guadalajara, I had only seen photos from his work in breast reconstruction for cis women who had survived cancer. He told me that only about 70 percent of his patients undergoing the procedure I'm seeking—a double-incision mastectomy with free nipple grafts—heal perfectly. The other 30 percent see some kind of pigmentation or graft loss. At first, these numbers terrified me, but he assured me that many trans people face this challenge, and resolve it through tattooing!
Researching artists with experience in nipple and areola tattoos, I found that nearly all entered the industry with the aim to help cancer survivors, only discovering after that they could also be part of a gender-affirming transition. Psychological distress and body image disorders are, unsurprisingly, quite common in people who have survived breast cancer. Experts don't call this phenomenon "dysphoria," but to me, the way that survivors describe their experiences sure sounds like "profound unease or dissatisfaction"—the clinical definition of dysphoria.
Jordan, 23, who works in the service industry in Seattle, has been transitioning slowly over the past five years, first with social changes, then seeking starting testosterone at age 20 and most recently working with his insurance provider to access top surgery earlier this year. His surgeon, Dr. Laurence Yeung at Kaiser Permanente's Capitol Hill Medical Center in Seattle, uses a very particular technique that involves only grafting the nipple and relying on a tattoo artist to create the areola after the chest is sufficiently healed. He directly referred Jordan to his artist, Eric Eye, even showing him a lookbook of Eric's previous work.
Pre-op, Dr. Yeung warned Jordan that his chest would not be "finished" for several months, until he could safely receive his tattoos.
"I definitely had moments where I regretted not getting, like, typical grafts,"Jordan says. "I did have dysphoria. Even though it was only three months, it was, like, the longest three months of my life." Looking in the mirror was distressing, and he felt like he still couldn't take off his shirt and bare his chest, even in private.
People who have received conventional nipple grafts are often asked to wait anywhere from 12 to 18 months after surgery before seeking tattoos, and those without grafts as many as six months. Luckily, Jordan was approved for his after only three, and he was able to get an appointment with Eye very quickly, thanks to being able to come in on short notice after a cancellation.
Anyone seeking tattoos from an artist who specializes in nipple or areola restoration will quickly find that they are few and far between, with schedules often solidly booked for months in advance. But not every trans person aspires to have a "traditional"-looking chest.
Sam Leopold-Sullivan, 31, an artist and educator in Minnesota, knew before they sought their artist that they wanted something a little different than typical nipples and areola.
"I had some dysphoria around my nipples, and didn't want them to be visible through my shirts or anything like that. And it just felt more non-binary to not have them."
After healing from top surgery with no nipple grafts, they opted to use that space on their skin to have a little fun.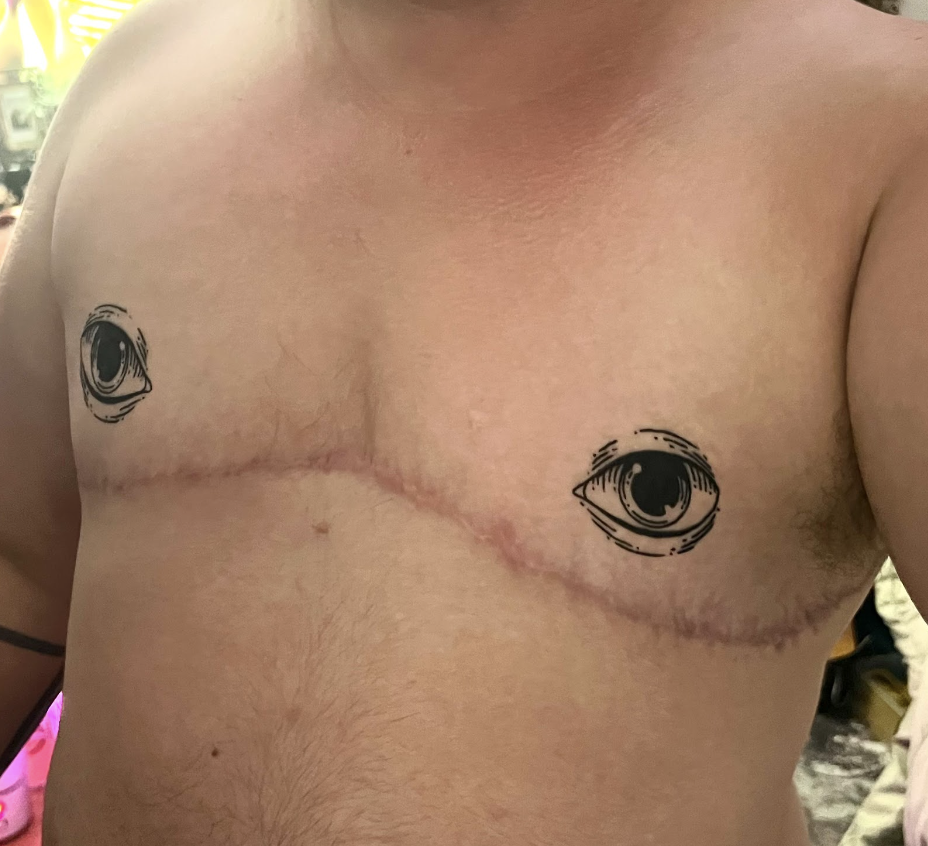 "I thought about a lot of options and decided to go with eyes, in part because I really like eyes, they are a strong feature in a lot of my artwork." Plus, Leopold-Sullivan said, they really wanted to be able to joke, "My eyes are down here … and also up here."
Leopold-Sullivan has multiple tattoos, and feels they are all, in their own way, representative of their authentic self, though their chest tattoo feels the most symbolic.
"Tattoos have definitely been a way of claiming my body as my body, and a way to kind of help myself inhabit my body," they say, noting that's been the case since well before they came out as trans.
As someone who has also sought out body art in previous times of joy and transformation, this resonates with me. My body art also recalls for me a level of ownership and control over my own flesh, as Sam's does for them.
syd island, a 30-year-old self-described genderless mystic and artist in Brooklyn, came out as non-binary in 2017. In the early days of the pandemic, their half-sister was diagnosed with breast cancer, leading island and other family members to seek genetic testing for the BRCA-2 gene mutation associated with cancer risk. With a positive result, island knew that their top surgery would need to be a prophylactic double mastectomy in order to minimize future risk. This procedure removes all breast tissue, often resulting in a flat or concave, less "sculpted" finish. Without an official diagnosis of gender dysphoria, island didn't qualify for nipple-sparing grafts, and the aesthetic difference didn't matter enough to them to pursue it.
"I was sort of happy to not have to worry about the hassle," they say. They tell me they never aspired to look like a cis man. "I was always going for more of, like, a genderless rainbow alien vibe."
They started planning their tattoo well before their surgery date. "Once I knew I was getting my surgery, I started editing photos of myself with a flat chest, scars and doodling on different chest tattoo ideas." island already had two tattoos by artist Zachary Robinson Bailey, their favourite being abstract colours with diverse shapes and gradients. "Through my doodling, I got really excited by the idea of a circular gradient rainbow orb centred on my soon-to-be flat chest." Their tattoo is designed to show off the two scars that shape island's new chest, while camouflaging a third scar from a later revision.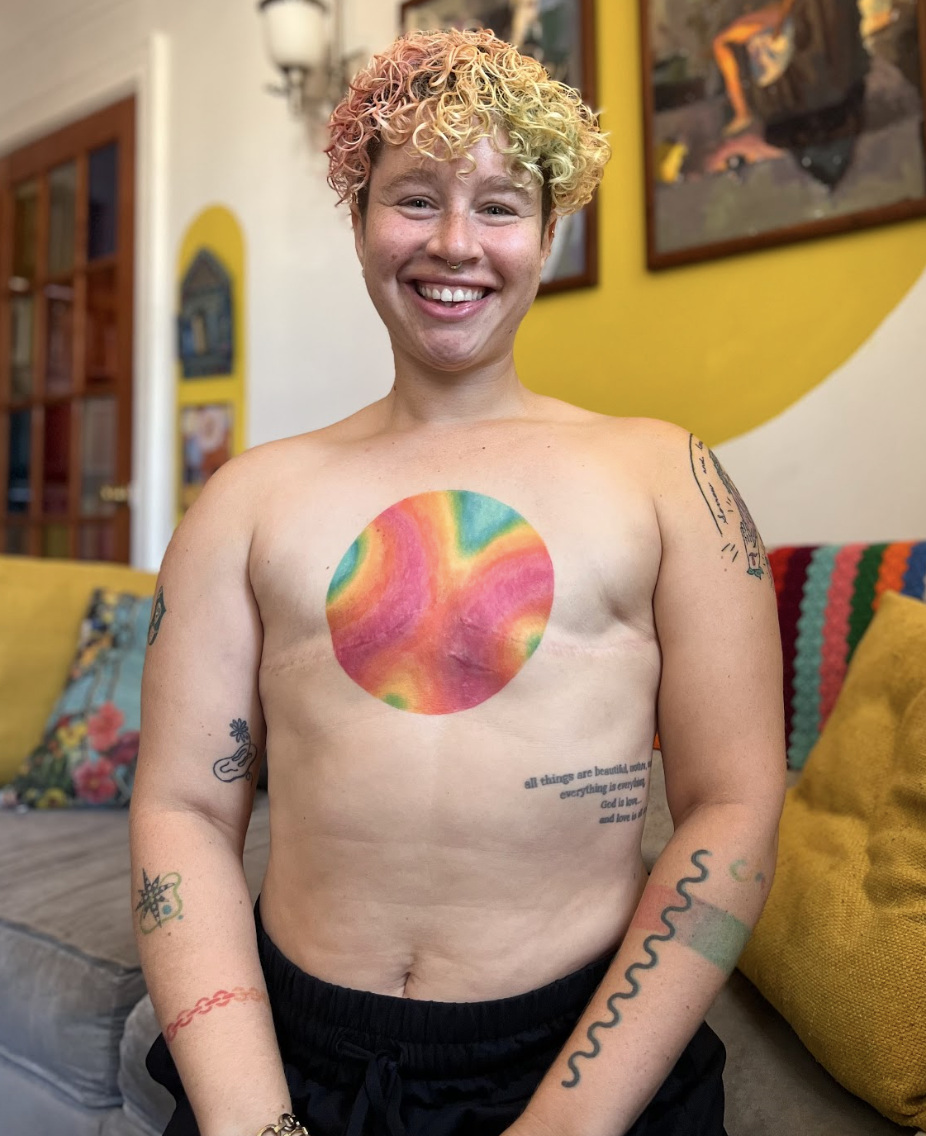 "To me, tattoos act as a form of self-expression, self-customization, self-creation and self-curation. Hell yeah, they are gender-affirming," island says. "They also create opportunities to connect with queer and trans artists, which can be so special. It's one thing to work with a cis, straight plastic surgeon to body mod toward gender-affirming goals. I feel like it's another thing to have a connection with queer artists to body mod with shared ideas on bodily canvas—to chat about gay stuff while the body is actively being modded."
Eye, Jordan's tattoo artist, is 54 years old and he has been tattooing for 33 of those years, specializing in restorative body art for the past seven years. Like many artists in the industry, he got his start with a personal connection, in his case, a partner who had just gone through medical mastectomy and reconstruction, and then had to travel quite a distance for tattooing services.
Since he already had experience with photorealism, and the industry obviously needed more providers, he decided to develop his own technique. In the time since he has tattooed fingernails, toenails, bellybuttons and beyond.
It didn't take long for trans folks in his area to see the potential in his work.
"Seattle has a really active trans community, and I already had a lot of trans clients, so once I started being known as 'the nipple guy,' it wasn't long before I had trans clients asking about fixing less than satisfactory results from nipple grafts and such," he says.
He has seen a definite uptick in clients opting for areola-free grafts or no grafts at all, now that they know tattooing is an option. You can even find temporary nipple and areola tattoos nowadays, to help you get an idea of what you like ahead of time, or to help with dysphoria while you wait.
"It's kind of amazing how far a little bit of tattooing can go to help people feel better when they look at themselves," Eye says. "My rule of thumb is, if there is something that bothers you when you see yourself in the mirror and a little touch of tattooing could help ease that feeling, then by all means talk to a restorative tattoo artist."
That said, he encourages people to do their research, and be sure they are seeing someone with the right experience.
His tips for the picky client? Find someone who specializes in the work, and be sure to see photos of their results—and that means healed results. A tattoo can look great immediately after being applied, Eye says, but with improper technique or the wrong kind of ink, the colour can fall out very quickly. In fact, while medical tattooists commonly use temporary ink involved in cosmetic face tattooing—think makeup, eyebrows and lip tints—restorative artists typically use permanent inks traditional to artistic tattooing.
This is important to know when you start to do your own research, as some artists do both—like Denise Machado, who will do my tattoos should I need them, and who works as both an esthetic micro-pigmentation artist and a paramedical tattooist in Guadalajara, Mexico.
In addition to areola colouring, she offers scar camouflage, a procedure to lessen the visibility of post-surgical scarring. For both, she uses tattoo pigments for their stability and durability. She explains that even for tattoo aficionados, who know how their skin reacts to ink, tattooing over scars can be different.
"Since the scar tissue has already suffered trauma," she explains, "it usually has more collagen fibres, and for this reason it is not unusual to require more sessions to achieve perfect colour implementation." Two sessions are common, she says, spaced apart by six weeks to ensure adequate healing time in between.
"Be patient, and be picky," is Eye's advice for affirming body art. "You are worth it!"
I think Jordan, Sam, and island would agree: we are worth it.
"My tattoo collection gives me so much gender euphoria; it's always so special to grow it," island says. "The other day, I was riding the subway when a kid sort of quietly said to the grown-up they were with, 'That person has rainbow hair and rainbow skin!' I love finding joy in new ways of being myself in my body, and I love finding joy in kids' amazement that a person can look like this, just vibing in my fullness of self that I have discovered and created through transitioning."
Inside the Queer Ink series …
Series editor Mel Woods introduces the history behind queer and trans people and tattooing, and dives into how tattooing has played a key role in their own life and identity. (Oct. 2, 2023)
Lindsay Lee Wallace explores the A Thousand Pansies Project, an initiative to use tattooing as queer collective care. (Oct. 4, 2023)
Xtra staff share the stories behind some of our own gayest tattoos. (Oct. 10, 2023)
Adam Rhodes dives deep into erotic tattoos and the queers who choose to get them. (Oct. 12, 2023)
BJ Ferguson explores the world of post-op top surgery tattoos. (Oct. 17, 2023)
Julia Peterson profiles some of the Two-Spirit tattooers using the artform to express and explore identity.
Next up: How Two-Spirit artists use tattooing to explore and connect to identity.