"It's been hard days for me," says Bogdan Globa, a Ukrainian asylum-seeker living in New York City. His voice shook as he spoke of his mother who, like many of his friends back home, chose not to flee as Russia invaded on Feb. 24 because they hoped to assist Ukrainian troops. "I couldn't reach anyone for 10 hours," he tells Xtra of his attempts to telephone loved ones back home, "and the last message was that there were Russian tanks outside."
Globa's mother lives in a suburb Russian soldiers are cutting through to reach Kyiv, Ukraine's capital, and her neighbourhood is in the direct line of fire as Ukrainians defend the city against ongoing assaults. Russia's attacks have grown more destructive in recent days as they faced stronger Ukrainian resistance than expected. They barraged Kharkiv, Ukraine's second-largest city, with missiles and deployed paratroopers, toppling government and police buildings, as well as hospitals and apartment complexes. More than 350 civilians have died.
Putin's interest in Ukraine reaches back over a decade. He fears Western influence and NATO presence in the wider region, insisting there's a physical threat to his country. In December, he demanded that NATO prohibit Ukraine from joining its ranks and has spread disinformation to justify starting the war, claiming the need to demilitarize Ukraine. The invasion is at least partially motivated, however, by Putin's belief that Ukraine's land and people are Russian, since both countries were part of the former Soviet Union.
Globa is optimistic that the Ukrainian spirit will prevail but fears Putin will use chemical or nuclear weapons to avoid defeat. Globa's mother is spending most of her time in a makeshift bomb shelter, a storage unit that sits below her five-story apartment complex. Residents only venture upstairs to eat or shower when the heavy bombing seems to pause.
"We can't get stuck in bureaucracy," he says of the plight his mother and other Ukranians face. "Ukraine doesn't have time."
While Globa initially felt helpless halfway across the world, he helped organize a rally over the weekend to urge world leaders to take immediate action and help save countless lives.
Approximately 300 attendees packed the one-way street in front of the historic Stonewall Inn on Feb. 26, with many dressed in the colours of the Ukrainian flag and holding sunflowers, the country's national flower. One young attendee held a sign that read "stop the bully" next to colourful scribbles, while older members of the crowd climbed scaffolding to get a better view of the speakers.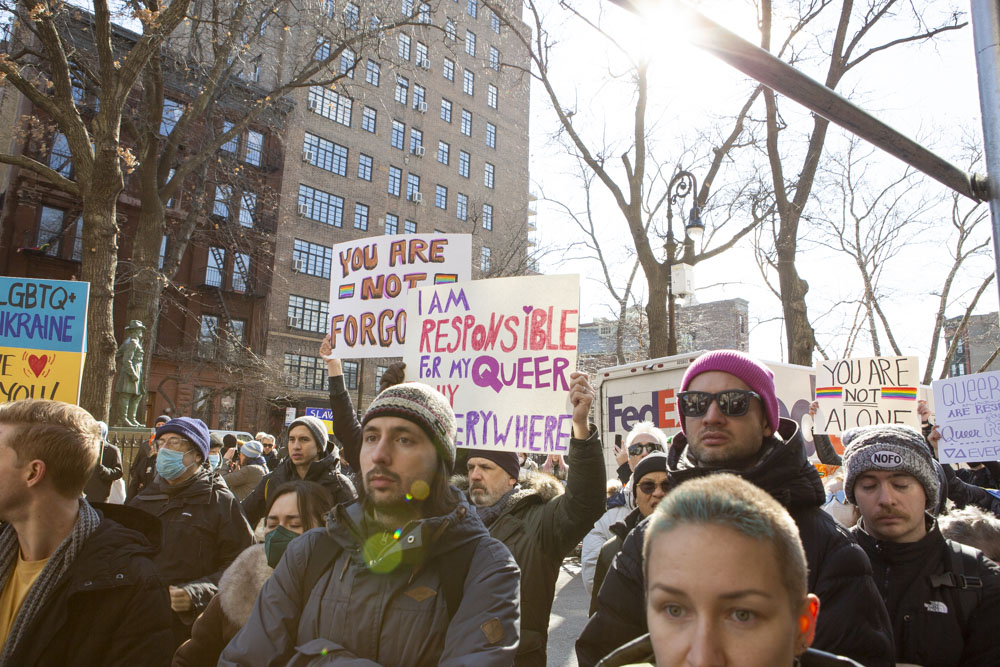 Jeremiah Johnson, a prominent HIV/AIDS activist who lived in Ukraine in the early 2000s, welcomed the crowd with a Ukrainian greeting: "Slava Ukraini," meaning "Glory to Ukraine." Dozens in the crowd replied, "Heroyam slava," which translates to "Glory to the heroes." This call-and-response chant continued throughout the two-hour gathering, uniting participants as they learned the prayerful rallying cry.
Johnson stood under the rows of rainbow flags perched in front of Stonewall's windows, urging listeners to take action immediately. "If we truly believe that injustice anywhere is injustice everywhere," he said, "then this is the time to stand up and fight against it."
Other speakers echoed the urgency of the situation facing Ukraine. Erik Bottcher, a queer New York City council member, told the crowd that "LGBTQ people are being hunted down, detained, tortured, imprisoned, institutionalized and murdered." Reports have emerged that more than a dozen LGBTQ+ people are included on Putin's post-invasion "kill list." Trans Ukrainians without corrected identity documents are unable to leave the country because their IDs don't match their presentation, and many are struggling to maintain access to gender-affirming care, according to Vice News.
"It's so important for every public official to stand in support of Ukraine right now," Bottcher said, reminding listeners that queer people have the ability to affect change. "Let's use that power that we have."
Organizers of the rally called on world leaders to tighten sanctions against Putin and implored the International Criminal Court to prosecute him for crimes against humanity. Globa in particular hopes to raise greater awareness regarding the plight of LGBTQ+ Ukranians. As co-founder and president of QUA: LGBTQ Ukrainians in America, he works with government officials to advocate for human rights, and the organization is now expanding coalitions to help house incoming queer refugees and fund resettlement.
But as Globa notes, his group can only do so much: "Only a small percentage of the community will be able to leave." Many Ukranians either cannot flee or are currently hiding in neighbouring countries so they can re-enter when it's safe. "We have to support all types of logistics," he says, including resources that directly benefit Ukrainian troops, Ukrainians inside the country and refugee programs for queer people across Eastern Europe.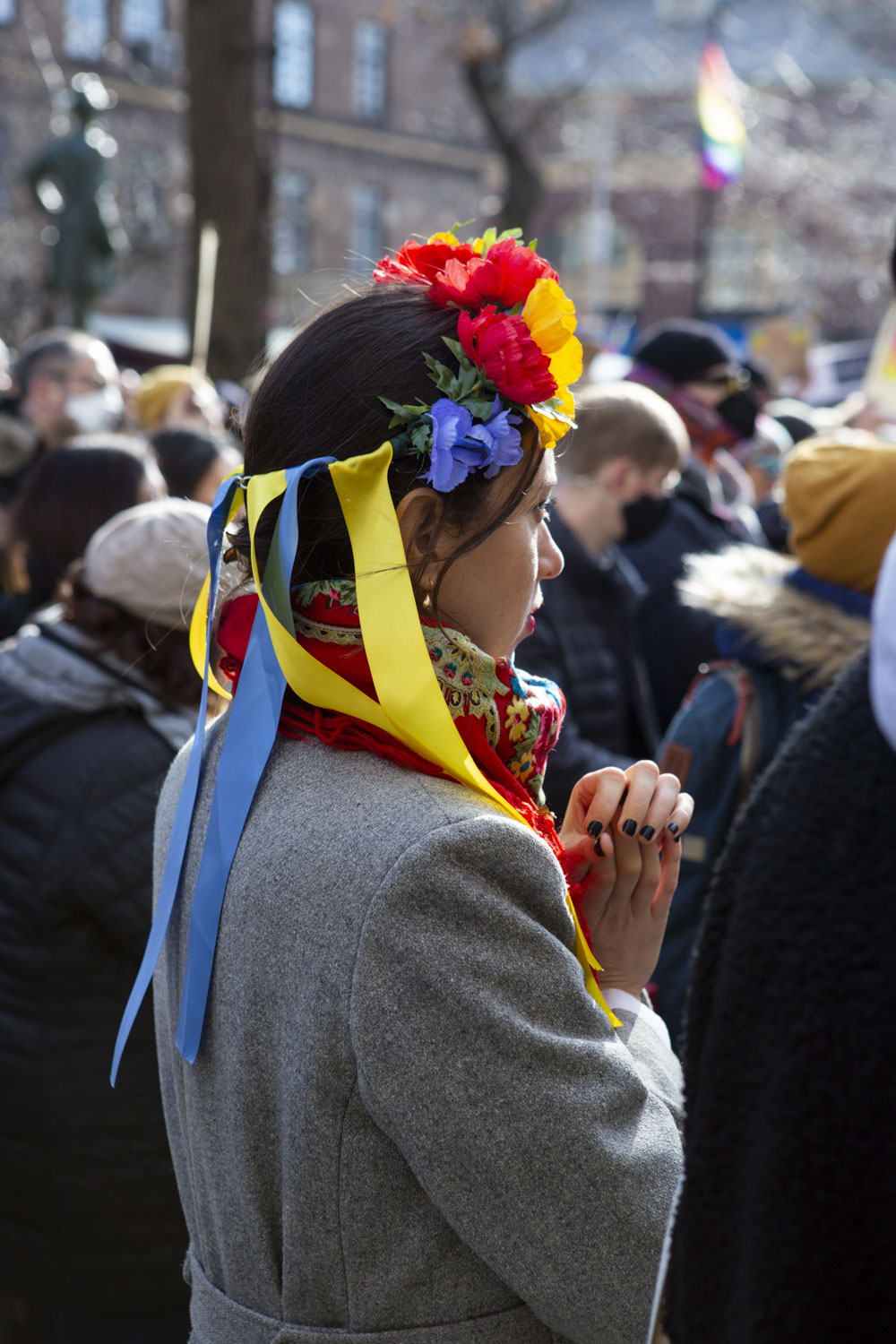 Saturday's events held a special meaning for Ukrainian Americans, who have been struggling with the emotional turmoil the conflict has wrought. "I've just been going from one place to another to be around other people who understand and feel the horror in the same way that I do," says Larissa Lysynecky, who wore a flower crown symbolizing Ukrainian independence and democracy. When the crowd burst into the Ukrainian national anthem, people looked each other in the eyes as they swayed or cried.
Alexa Holynsky of New Jersey, a queer, second-generation Ukrainian-American who visited Kyiv in the fall, remembers the city as a place that gave her courage to be herself. "I was just starting to explore my queer identity," she says, adding that she had anxiety about presenting as queer in public. "But I saw all these queer-presenting people. Seeing all the couples around me, it was wonderful. Today, they're my heroes."
After making notable progress on LGBTQ+ rights in recent years, many protestors worry that Ukraine will lurch "backward" if Russia takes control of the country. In September, Ukrainian President Volodymyr Zolensky promised to fight for queer and trans equality, and police have offered support and protection to the country's growing Pride festivals. In contrast, Putin has increasingly cracked down on Russia's LGBTQ+ community following the passage of its infamous anti-gay "propaganda" law. Last year, Russia formally outlawed same-sex marriage and banned trans people from adopting.
LGBTQ+ Ukranians felt comfortable openly expressing themselves on social media up until the beginning of the invasion, Globa says, and he worries that could put them in danger if Putin follows through on alleged planned attacks against the community. He adds that many queer and trans people "publicly went to protests" and "participated in Pride," which could make them easy to locate.
"When I spoke with a lot of my LGBT friends in Ukraine who are still there, they were crying when I told them that we're organizing here," he says. "It meant so much to them to know that someone somewhere cares."
While highlighting the need for special protection among vulnerable minorities during the violent standoff, Globa hopes that uniting against Putin will shift the mindset of Eastern Europeans who previously tolerated or participated in anti-LGBTQ+ harassment. He imagines that as people come together after the war, they'll say: "You're Ukrainian? You fight for Ukraine? You're family."