In order to secure almost $2 million in federal grants, Pride Toronto may have misled the government, falsified letters of support from queer and Indigenous organizations, exploited queer and Two-Spirit Indigenous artists and attempted to rescind a ban on police participation in the parade, according to documents retrieved by York University history professor Tom Hooper from the non-profit LGBTQ2S+ organization.
Hooper obtained hundreds of documents from the government about Pride Toronto grants through freedom of information requests. He published an independent report about what the documents showed on Twitter in January, leading many LGBTQ2S+ Canadians to call into question Pride Toronto's leadership and position in the community.
The documents, as verified by our independent reporting, reveal a pattern of false and deceitful statements that used some of the city's most marginalized community members, including Indigenous and Two-Spirit people, to obtain and maintain grant funding.
Now, the new guard at Pride Toronto has hired accounting firm KPMG to conduct a review into the organization's receipts and use of grant funding. At Pride Toronto's annual general meeting last week, members also voted to waive non-disclosure agreements for current and former members to discuss grant funding.
In late 2018 and early 2019, Pride Toronto received three grants from the federal government totalling $1.85 million: one for $1 million from Public Safety Canada (PSC), and two—for $250,000 and for $600,000, respectively—from Canadian Heritage (PCH). Former Pride Toronto executive director Olivia Nuamah signed off on the latter grants; Xtra was unable to verify if Nuamah signed off on the $1-million PSC grant. Nuamah left the organization in 2020. (Nuamah did not respond to Xtra's request for comment by press time.)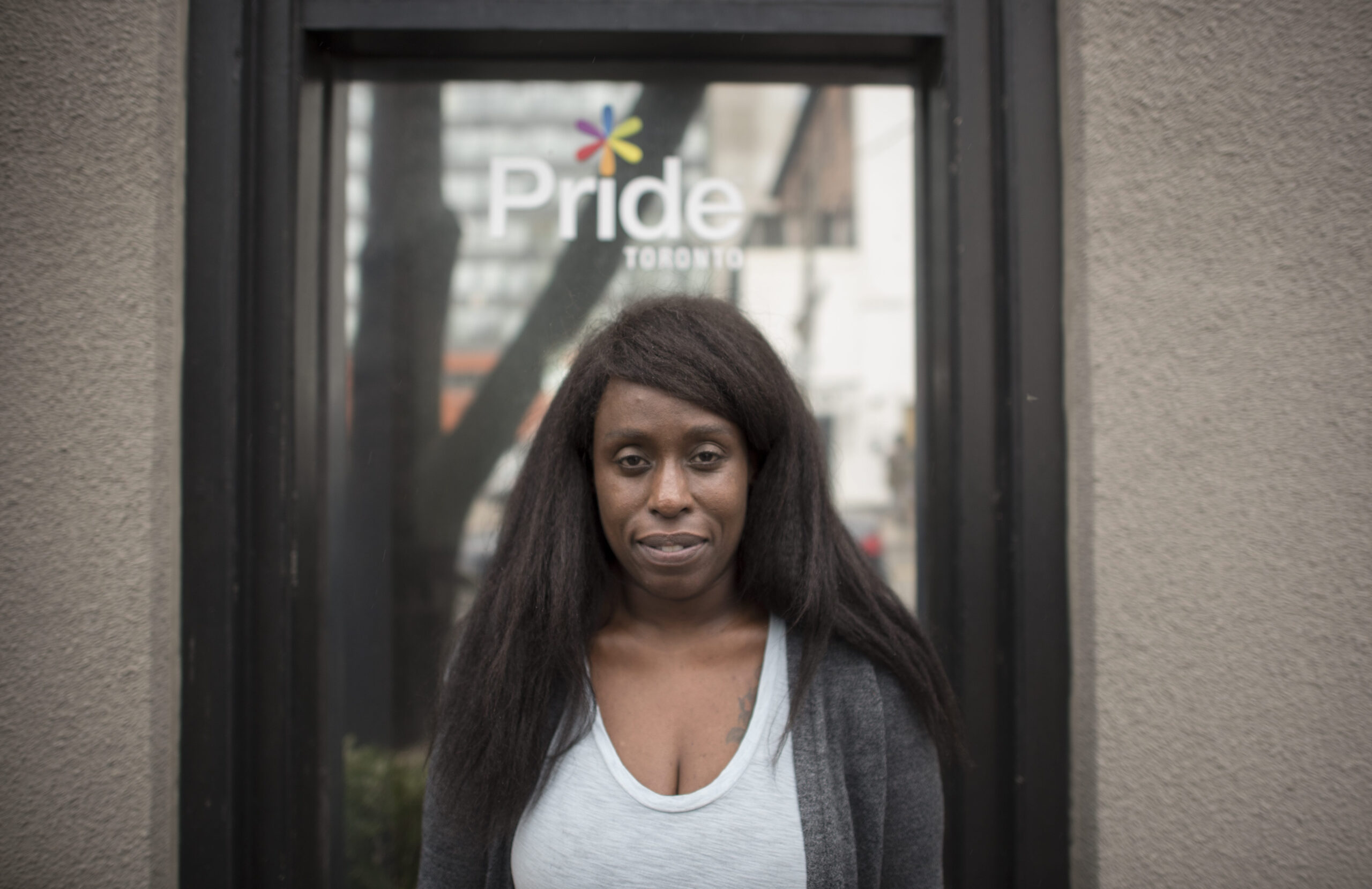 Among the stated aims of the PSC grant and the $250,000 grant from PHC was working with police departments and celebrating the 50th anniversary of the so-called "decriminalization" of homosexuality in 1969.
Hooper, whose research has focused particularly on the Toronto police raids on bathhouses in 1981 that led to the arrest of numerous gay men and helped spark modern Pride, said he began gathering information when he learned Pride Toronto was planning to commemorate the 1969 decriminalization.
"During the spring of 2019, I realized Heritage had been giving out money to celebrate it," he said in an interview with Xtra. "I did a freedom of information request, saw Pride was on it and saw it as a betrayal."
Pride Toronto considered allowing uniformed police back in the parade to broaden funding opportunities
The grants came after Pride banned uniformed Toronto police officers from participating in the city's Pride parade in 2017 and 2018 following a 2016 protest by Black Lives Matter Toronto (BLM TO). The ban was also in place in January 2018, when serial killer Bruce McArthur was charged with eight counts of first-degree murder of mostly racialized gay men—a case Toronto police largely bungled.
Later in 2018—before the grants were approved by the government departments—Pride Toronto extended an invitation to police to participate in the 2019 parade. Prior to its January 2019 annual general meeting, Pride sent a document to its members explaining why the board had decided to revisit the decision.
"In 2018, the political climate changed, and Pride Toronto's position on the participation of the Toronto Police had to come under reconsideration, as it became clear that while our funding arrangements in the past could withstand our policy on police participation, our future funding could not," the document read.
Nevertheless, Pride members voted 163-161 against allowing police participation, and police did not march in the 2019 parade. According to current Pride Toronto executive director Sherwin Modeste, that decision remains in force today, and will remain in place unless members vote to allow police back into the parade.
But according to the documents obtained by Hooper, Pride appeared to conflate both the purposes of the grants and the funding pools from the start.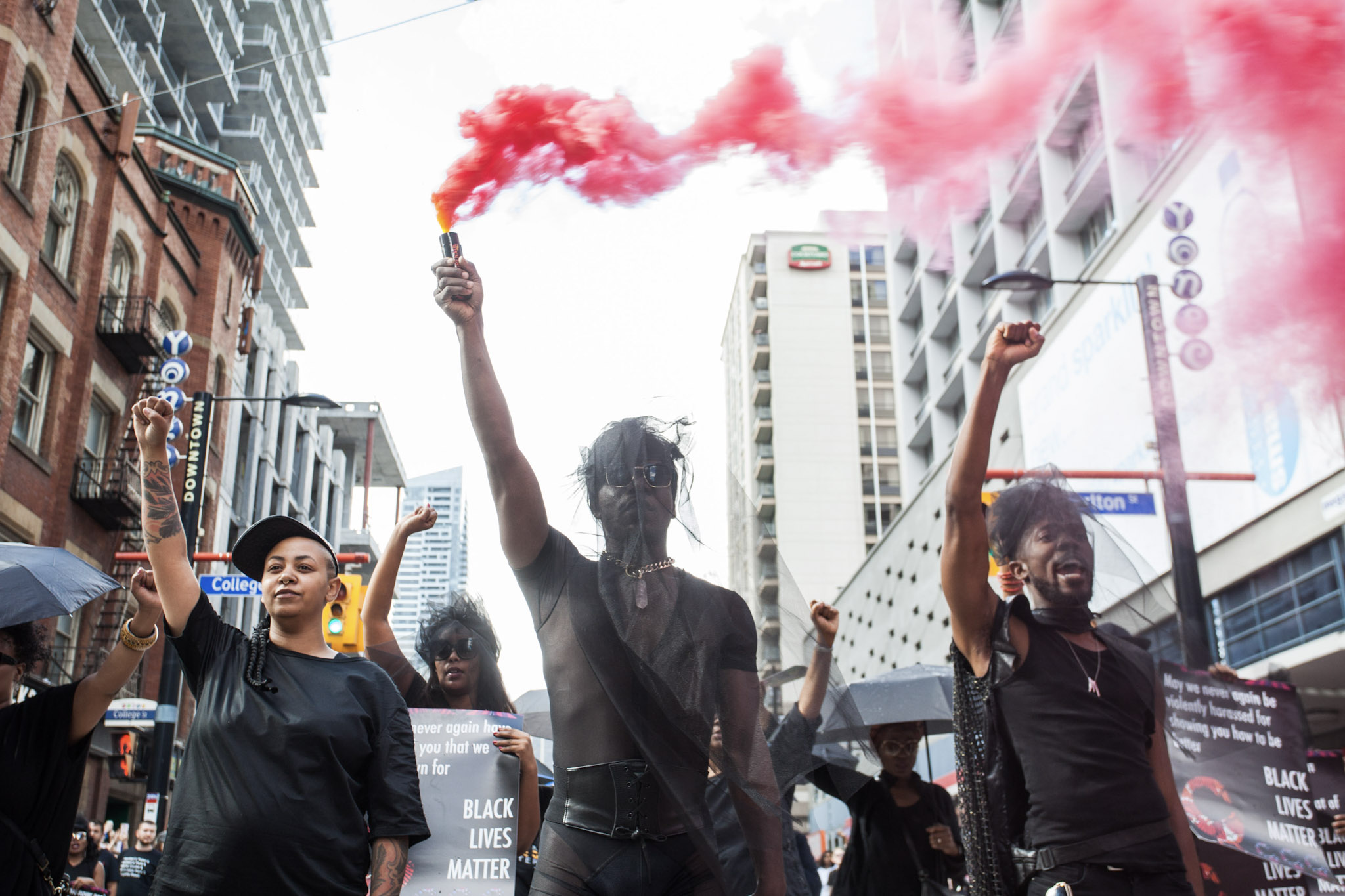 According to a press release dated Nov. 24, 2018, the $1-million grant from PSC was intended to focus on the relationship between the queer community and the justice system, and to commemorate the 50th anniversary of the "decriminalization" of homosexuality in 1969.
"With support from Public Safety Canada, Pride Toronto proposes an initiative to improve the relationship between Toronto LGBTQ2 communities and the criminal justice system; increase understanding of LGBTQ2 offending and victimization (including hate crimes); and contribute to the implementation of educational and prevention tools for both victims and offenders in this community," the release stated.
The grant was intended to span five years, with Pride Toronto receiving $200,000 per year. The specifics of what the organization was originally supposed to do with that money are not clear, as PSC refused to provide Hooper with any documents related to the grant.
However, in an interview with Xtra, Modeste, who has been Pride Toronto's executive director since November 2020, says the grant had been terminated as of September 2021. He said the organization realized it could not fulfill the conditions of the grant. "The deliverables as is were not attainable by Pride Toronto," Modeste says.
In a follow-up email, Modeste tells Xtra that Pride Toronto "decided to shift gears" after community members, academics and agencies expressed concerns that the project's scope was no longer aligned with the organization's purview "or the direct needs of the community."
Modeste says Pride Toronto received an approximate total of $522,582.72 from the grant before its cancellation, and did not anticipate that the organization would have to return any money to PSC.
He says he has no evidence that the grants were linked to allowing Toronto police to return to the parade. "I have no records that any of the grants were tied to police participation in the parade," he says. "I cannot speak to what that intent was. I have no records."
Modeste also committed to providing Xtra with information on both the original scope of the grant and on the organization's specific accomplishments with the funding, but had not done so by press time. (Xtra will share these details with readers should they be made available.)
In an emailed statement to Xtra, PSC confirmed the existence of the project, and noted that in August 2020, a program review showed the project was "being managed" according to the terms and conditions set out by the grant agreement. A year later, Pride Toronto notified PSC of its intention to terminate the project.
"Public Safety Canada's relationship with Pride Toronto remains very positive and we look forward to collaborating in the future," the statement reads.
Pride Toronto used artist Kent Monkman's name to secure grant funding—even after Monkman backed out of project
The $600,000 grant from PHC—for a project that runs until March 2022—came under the department's Community Support, Multicultural and Anti-Racism Initiatives (CSMARI) program.
In March 2018, Pride Toronto approached renowned Cree artist Kent Monkman about creating a series of paintings. In the grant application dated Oct. 28, Pride Toronto says Monkman would create seven paintings "charting the experience of the 2 Spirit community weaving narratives about the birth of the LGBTQ2+ community." The artwork would be exhibited at the Art Gallery of Ontario (AGO), and would then be part of a touring exhibit that would visit 122 Pride festivals and 25 Indigenous communities—called "reserves" in the application—across Canada.
Ten days later, on Nov. 7, 2018, Pride's application for the $250,000 grant—which ran to the end of 2019—stated that: "We will be engaging millions of Canadians in this narrative about Canada's journey from the criminalization of LGBTQ2+ communities to its decriminalization."
The application lists partnerships with The 519 Community Centre, the National Association of Police Chiefs and Toronto Police Services, and references the $1-million grant from PSC. The application—just like the one for the $600,000 grant—also describes plans to mount a touring exhibit to 122 Pride festivals and to 25 Indigenous "reserves," and "will include the history of 2 Spirit communities in Canada and the role they have played in the history of LGBTQ2+ communities in Canada." Later reports from Pride Toronto to PHC also tied Monkman's paintings to this project, including to the commemoration of the 1969 decriminalization.
Monkman proposed painting about the 50th anniversary of the Stonewall Uprising, which also took place in 1969 and is widely credited with sparking the modern gay rights movement. He requested a contract from Pride Toronto to formalize the arrangement, but did not receive one. On Oct. 18, 2018, Monkman sent a draft contract to the organization. Pride Toronto replied, objecting to a clause in the contract outlining that Monkman would retain ownership of his work. As a result of that disagreement, and because the source of the funding was not made clear to Monkman, he backed out of the agreement with Pride Toronto at the end of October.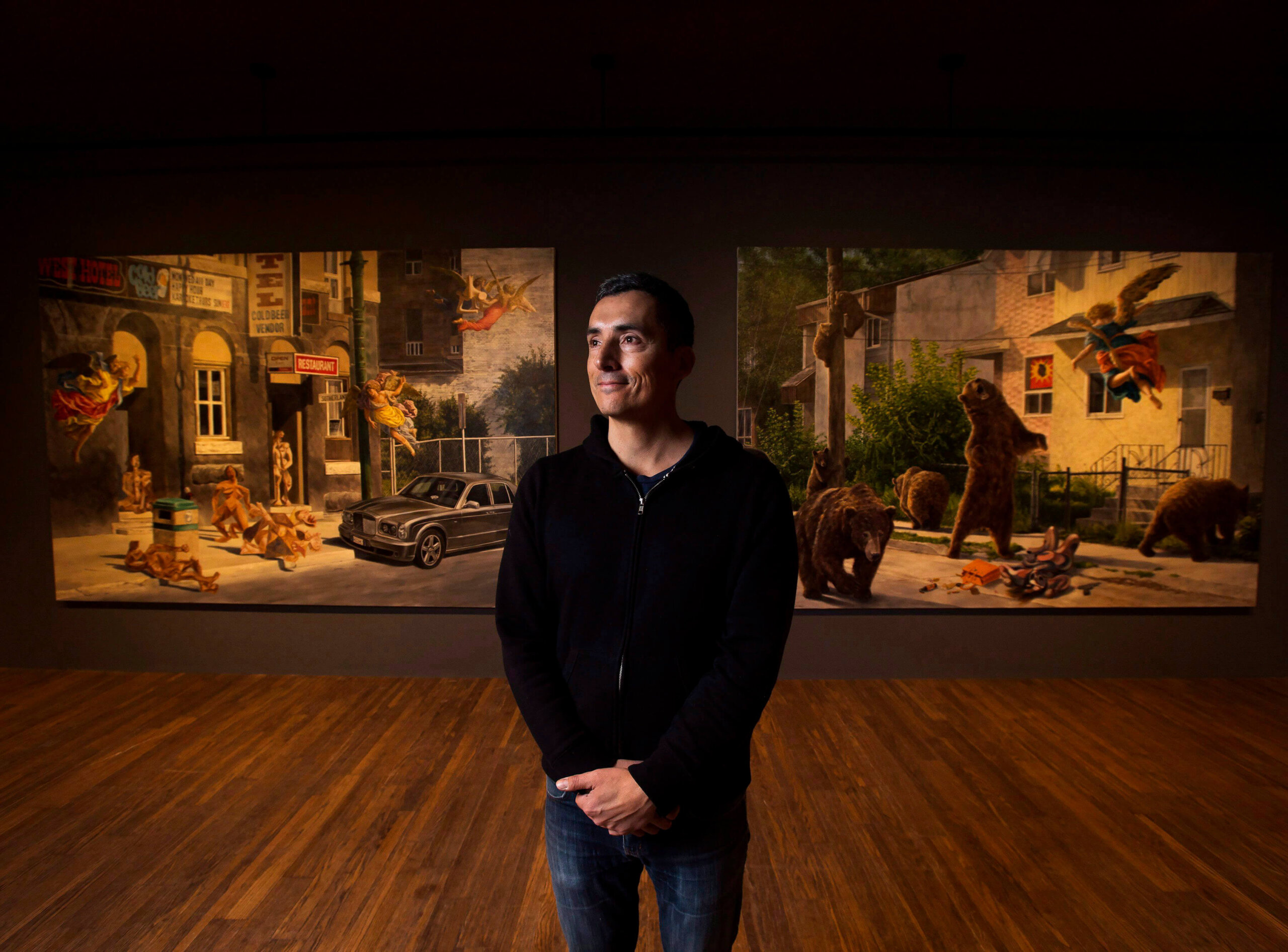 However, in a March 25, 2019, update to PHC on the $600,000 grant, Pride still makes reference to Monkman's involvement in the project.
In February 2019, Pride Toronto approached Métis artist Jason Baerg to replace Monkman. Baerg formed a group of artists called Indigiqueer for the project, and requested a contract from Pride Toronto. Once again, the organization demanded ownership of the artwork that would be produced.
On April 4, 2019, Pride Toronto allegedly told Baerg that the funding request had been unsuccessful, and that the agreement was off. (By press time, Baerg had not responded to Xtra's request for comment.)
Pride Toronto once again approached Monkman, this time agreeing to his request to maintain ownership of his work. Despite not having a contract, Monkman produced an image for the 2019 Pride Guide. But on April 29, 2019, still not having received a contract, Monkman once again withdrew from the agreement.
A May 8, 2019, interim report on the $250,000 grant to commemorate the decriminalization of homosexuality, however, claimed that the contract with Monkman had been fully executed, and that the AGO had become a formal partner and would match funding.
According to AGO spokesperson Andrea-Jo Wilson in a statement sent to Xtra, "the AGO's conversations about a potential collaboration were informal and preliminary, and no details of any kind were established."
"PCH was first made aware that Kent Monkman was no longer involved in the CSMARI project in the grant report filed by Pride Toronto on 23 October 2019," documents obtained by Hooper read.
Brad Tinmouth, the creative director of Monkman's studio, confirmed the findings of Hooper's research.
"Pride Toronto approached me in Spring 2018 to create a public art project commemorating the 50-year anniversary of Stonewall," Monkman wrote in a statement provided to Xtra by Tinmouth. "I proposed creating a series of seven to 10 original large-scale history paintings depicting key moments in the 2SLGBTQ+ history of Turtle Island, including Stonewall, that was scaled to the budget they offered me. The project would have also included a custom-made mobile museum, which would have first been exhibited at Pride Toronto in 2019 and then continued to tour Pride festivals and Indigenous communities across Canada. The tour would have been animated by local Two-Spirit and Indigiqueer storytellers, musicians and performers at each stop.
"No contract was ever presented to me by Pride Toronto to produce the project, nor were any agreements signed."
Monkman says he had no knowledge of Pride Toronto's agreements with other stakeholders or funders, and did not know the project was tied to a commemoration of the decriminalization of homosexuality in Canada.
"I was extremely disappointed to hear the allegations that funds earmarked for representation and celebration of Two-Spirit and Indigiqueer people and our histories have been mismanaged," Monkman adds. "I respect and honour the original spirit of Pride to resist oppression and injustice and celebrate 2SLGBTQ+ peoples."
Pride Toronto allegedly falsified letters of support from LGBTQ2S+ and Indigenous organizations to obtain funding
In November 2018, PCH asked Pride Toronto for letters from queer and Indigenous organizations demonstrating support for the projects funded by the grants. That month, Pride Toronto sent letters from a number of groups purportedly supporting the projects, including from Toronto LGBTQ2S+ community centre The 519 and from the Assembly of First Nations (AFN).
But both organizations deny sending the letters.
"In December 2021, Tom Hooper contacted The 519 and asked if The 519 had provided a Nov. 12, 2018, letter of support to Pride Toronto," writes Curran Stikuts, The 519's director of communications and advocacy, in an email to Xtra. "He provided a copy of a letter, which he stated he accessed from an information request from the federal government. We completed a review of our correspondence and established that The 519 did not author the Nov. 12, 2018, letter of support."
And according to an emailed statement to Xtra from Lori Kittelberg, a communications officer with the AFN, "the letter that appears in the report by Tom Hooper is not an authentic document of the Assembly of First Nations, nor was it issued under the authority of any decision-maker of AFN."
Modeste says Pride Toronto will look at whether the organization falsified letters of support from agencies such as The 519 or the AFN. "It's really important if that was done inappropriately, we need to address it and will address it," he says.
But the money from the grants continued to flow to Pride Toronto, even though it was being used for purposes different from what was outlined in the organization's original applications.
The first instalment of the $250,000 grant from PCH was used to pay Pride Toronto salaries, debts and bills. Pride Toronto also did a U-turn when it came to commemorating the decriminalization of homosexuality.
"It became evident to people in Pride to not celebrate the decriminalization, so funds were used for other activities that were approved by the granting body," then Pride Toronto co-chair Michael Erickson said at Pride Toronto's annual general meeting on Jan. 29, 2020, according to the minutes of the meeting.
But Pride Toronto confirmed to PCH on Feb. 14, 2020, that the $600,000 grant was on schedule, in partnership with AFN, and would include a regional touring exhibition to 25 "reserves" to commemorate the decriminalization of homosexuality.
On June 1, 2020, Bobby MacPherson, Pride Toronto's director of operations, submitted a report to PCH saying the art exhibit had been cancelled.
"Through this process it became clear we needed to focus on the expected outcomes of the grant and not commit to the expense and potentially unwieldy pan-Canadian tour," stated the report. "Instead we needed to focus our work and funds based on feedback from the Indigenous community."
In a January 2021 report to PCH, MacPherson explained delays to activities funded via the $600,000 grant by stating, "We had a drastic change in leadership twice that effected [sic] this program. Plus, Covid 19." (In January 2020, Pride Toronto's then-executive director, Olivia Nuamah, left the organization after three years in the role. Modeste took the reins in November 2020.)
The organization claims money earmarked for a travelling Indigenous art show went toward other campaigns, land acknowledgement signs
On Mar. 4, 2020, PCH said Pride Toronto was overdue in filing reports on the $250,000 grant, which had ended on Dec. 31, 2019. The organization eventually submitted a final report on April 27, 2020.
The report from Amber Moyle, then Pride Toronto's director of sponsorship and strategy, offered explanations as to why the project had moved so far from the original plans outlined in the grant application.
"As the project moved forward following the original objectives outlined in the proposal, Pride Toronto discovered a series of roadblocks unforeseen during the project development," it stated. "Roadblocks included security concerns with the mobel [sic] art installation, budget constraints in contracting an established indigenous artist, and most impactful to the projects [sic] deliverables, concerns LGBTQ2+ communities [sic] concerning celebrating decriminalization in an environment where many still face police brutality for their sexual identity."
The report also claimed that, "during the working timeline of this grant, Toronto's queer communities experienced a series of serial homicides which left many questioning their safety and support from police."
Pride Toronto's final report on the grant says some of the money was spent on creating the "Until We're Safe" campaign, which includes a website that is no longer operational. The report also says money was spent on the Future Design School Youth Conference, to commemorate the 50-year anniversary of Stonewall and 35 years of AIDS activism—despite the latter event taking place in June 2018, months before Pride Toronto applied for the grant.
The report also claimed money was spent on the creation of land acknowledgement signs at the entrances to the city's Pride festival. (After the installation of those signs in June 2019, Pride Toronto had to apologize for the fact that they did not actually refer to any specific Indigenous communities or to any treaties.)
In its final report, Pride Toronto said grant expenditures had included the cost of paying for travel, accommodation and VIP passes for members of Fierté Canada Pride (FCP)—an umbrella group of Canadian Pride organizations—to attend Pride 2018, an event that, again, had taken place months before the grant application was sent in. Modeste says he is not aware of how or why Pride provided funding to FCP representatives to attend the festival: "The decisions were made prior to me."
Pride Toronto also said grant money went toward the creation of an Indigenous Solidarity + Advisory Committee. Modeste tells Xtra he is not aware of such a committee within the organization, but that it may have become part of Pride Toronto's current Two-Spirit advisory committee.
PCH questioned why there had been no earlier report on the cancellation of the touring exhibit, why there was no mention of Monkman and whether the advisory committee even had a name or function, but ultimately chose to waive the usual requirement for an audited statement and accepted the report.
"While the activities were not exactly as listed in the contribution, the project activities enable Pride to meet the anticipated result—Canadians took part in a discussion about the journey from criminalization of homosexuality to decriminalization of homosexuality," wrote PCH.
"Since the contact person associated with the project has left the organization and the Program Officer responsible for this file has moved to another program, it is unclear if the proposed modifications were discussed prior to taking place since there is no documentation on file," PCH continued. "The preferred approach would have been to modify the activities of the contribution agreement but since the result of the project remained the same, the Program accepts the new activities."
The $600,000 grant from PCH runs until March 31. An interim report from Feb. 17, 2021, signed by MacPherson, made no mention of Monkman, Indigiqueer or the travelling exhibit.
"The revised proposed activities include a multifaceted professional development program that will offer 2Spirit and Indigenous artists resources to increase their public profile and improve their portfolio," the report stated. "A digital strategy for LGBTQ and 2Spirit artists to improve their digital portfolios and improve their chances of being hired at Pride Festivals across Canada. A leadership building initiative that will offer training and consultations to make Ontario Pride Festivals more inclusive and centred around 2Spirit and LGBTQ Indigenous identity and experience. The project will also identify and support educators in the 2Spirit community to develop meaningful and practical training material for Pride staff and volunteers across Ontario."
In response to questions from Xtra, PHC spokesperson David Larose said the organization is aware of allegations made against Pride Toronto, and that they are being investigated.
"Canadian Heritage expects all funding recipients to meet the obligations set forth in their contribution agreements and that all organizations apply rigour and transparency in their use of public funding and respect the spirit and intent of the laws of Canada," Larose says.
"Canadian Heritage reserves the right to audit the accounts and records of any funding recipient to ensure compliance with the terms and obligations of the agreement."
New ED says Pride Toronto will address wrongdoings after independent review
Modeste tells Xtra he feels Pride Toronto has achieved the results outlined in MacPherson's summary, and has a lot to show for the two grants from PCH in terms of its work with the Indigenous community and with Indigenous artists. He points to work with 2Spirit Toronto, Trans Pride Toronto and various Friendship Centres as evidence of the organization's commitment and fulfillment of its grant requirements.
Modeste adds that the entire staff and board of Pride Toronto are now required to undergo Indigenous competency training. At this year's Pride festival, Indigenous celebrations will also be moved from Allan Gardens to one of the main stages on Wellesley Street, and Pride will be holding a powwow the first week of June.
But in his interview with Xtra, Modeste also distances himself from his predecessors. He stresses that before becoming executive director in November 2020, he had never worked with Pride Toronto, even on a volunteer basis. And he says the organization is taking steps to address the allegations against it.
In October 2021, Pride Toronto hired the accounting firm KPMG to conduct a review of the grants. Modeste says the review will not be ready for several weeks, but it will be released in full.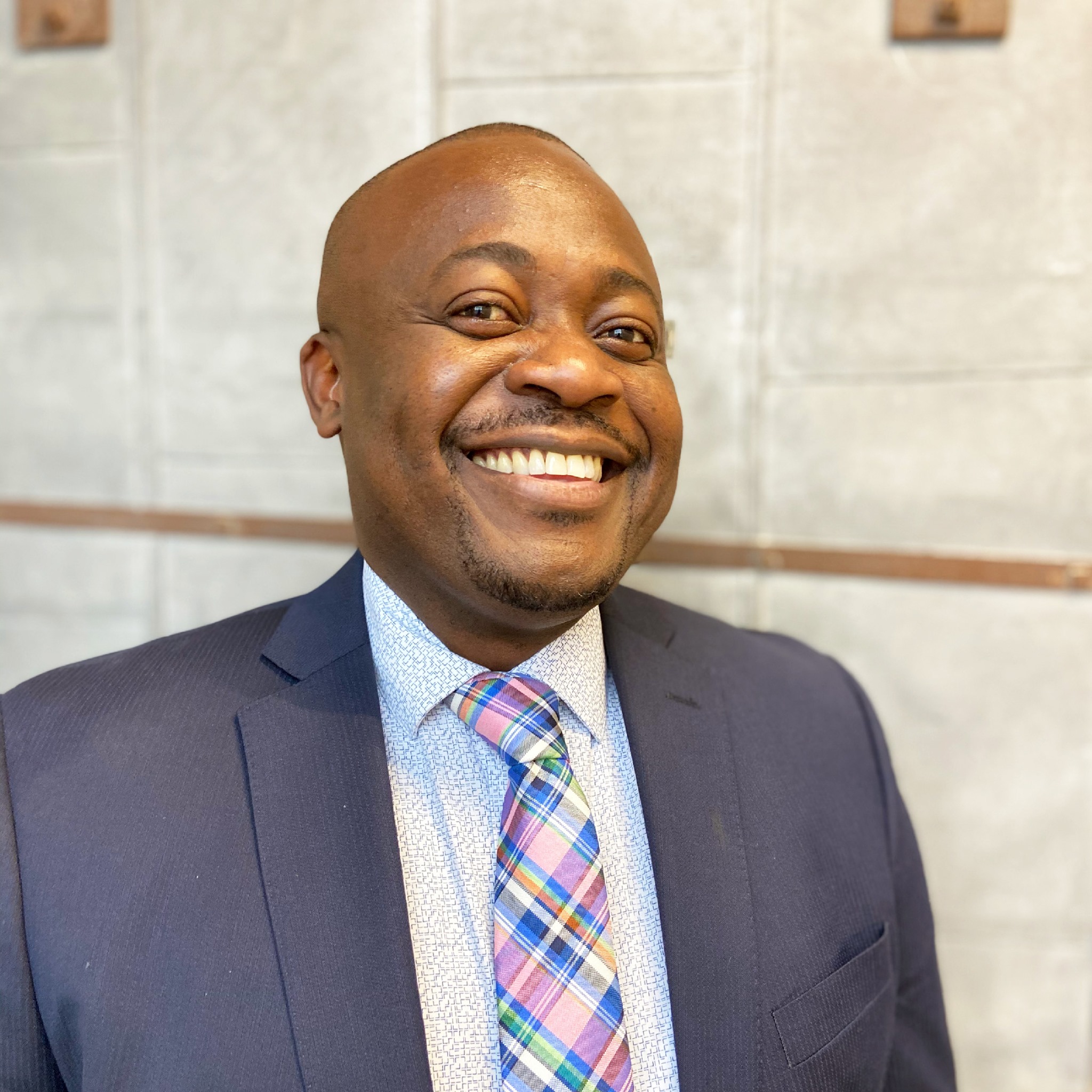 "I am waiting for the report from KPMG to have a better understanding of if we went wrong, where we went wrong," he says.
Hooper says he has given copies of all the documents he collected to KPMG and has been interviewed by their investigators.
But he says there is a lot of information he does not have about what Pride Toronto was doing with grants prior to his arrival; he says the organization is looking into what transpired with Monkman, and says he does not know what happened with Baerg and Indigiqueer. But, Modeste says, the current board is committed to finding out.
KPMG is also investigating whether grant money was used inappropriately to pay salaries and debt.
But Modeste understands why community members were upset by Pride Toronto's desire to commemorate 50 years of decriminalization of homosexuality.
"As someone who is racialized, I understand how these pieces work," he says. "For example, we have so many laws that speak about racism but racism continues. The bathhouse raids were still happening years after decriminalization. Pride heard from the community, and shifted from a focus on 50 years of decriminalization to looking at the HIV campaign and Until We're Safe."
He says he recognizes it will be hard for Pride Toronto to regain the support of a lot of members of Toronto's queer community.
"There were gaps in policies and procedures," he says. "I really want to help create that level of transparency and accountability. We need to work out how to make it known to the public. When we do report on a grant, how do we keep the public abreast?
"There is no question that we have to work to regain the trust of members, and of some community members. The work we are currently doing is to ensure that we hold myself accountable, we hold future execs and future board members accountable. Transparency and accountability remain central to us moving forward."