Russia's attacks on Ukraine have grown more destructive as its war against the sovereign Eastern European nation rages on, with more than 350 civilian deaths and an exodus of over a million Ukrainians to different parts of the world. With allies across the globe rallying in support of Ukraine, a growing refugee crisis has called attention to the unique challenges faced by the country's LGBTQ+ citizens. 
Given Russian President Vladimir Putin's history of discrimination against queer and trans people, LGBTQ+ Ukrainians have voiced fear of possible persecution by military forces. Many have also cited Russia's controversial anti-gay "propaganda" laws, as well as its moves to ban same-sex marriage and trans adoption last year, as signs that things could change drastically for queer and trans people if the invasion is successful. Those fleeing to neighbouring countries aren't guaranteed a safe reception either, with predominantly conservative, Catholic territories like Poland harbouring strong anti-LGBTQ+ sentiment.
For this reason, activists and organizations in Ukraine and abroad have taken steps to help Ukrainians whose sexual preference or gender identity puts them at additional risk. From international fundraisers to local grassroots efforts, here are some resources allies looking to support Ukraine's LGBTQ+ population can share and donate to.
All Out
LGBTQ+ organizations across eastern and central Europe are co-ordinating evacuations and shelter for queer refugees from the war-torn country. To help them, the international non-profit All Out has started a fundraiser with Ukrainian LGBTQ+ organizations Kyiv Pride and Insight. Through donations, they plan to get LGBTQ+ people out of the country and provide resources to those who stay.
Donate to All Out here.
Alturi
The U.S.-based LGBTQ+ news aggregation site Alturi is currently raising money to help Prague Pride support queer Ukrainians. Donations will go to financially supporting Ukrainian LGBTQ+ organizations, assisting refugees in the Czech Republic and "preparing housing and other basic services for LGBTI Ukrainians entering Prague, the safest place in the region for them now," per the organization's website. 
Donate to Alturi here.
Fulcrum
Fulcrum is a Ukrainian LGBTQ+ organization dedicated to helping queer Ukrainians pursue freedom and security. Per its website, Fulcrum's chief priorities at the moment include evacuating queer Ukrainians to Lviv, a city near the Polish border. Donated funds will go to supporting relocation, shelter and emergency aid for LGBTQ+ individuals. 
Donate to Fulcrum here.
Gender Z
As campaigns across the globe work to provide precious resources to refugees fleeing the country, the Ukrainian grassroots organization Gender Z is collecting funds to "cover the immediate needs of LGBTQ persons who have remained in Ukraine," according to its website. Donations can be made via PayPal or by bank transfer.
Donate to Gender Z here.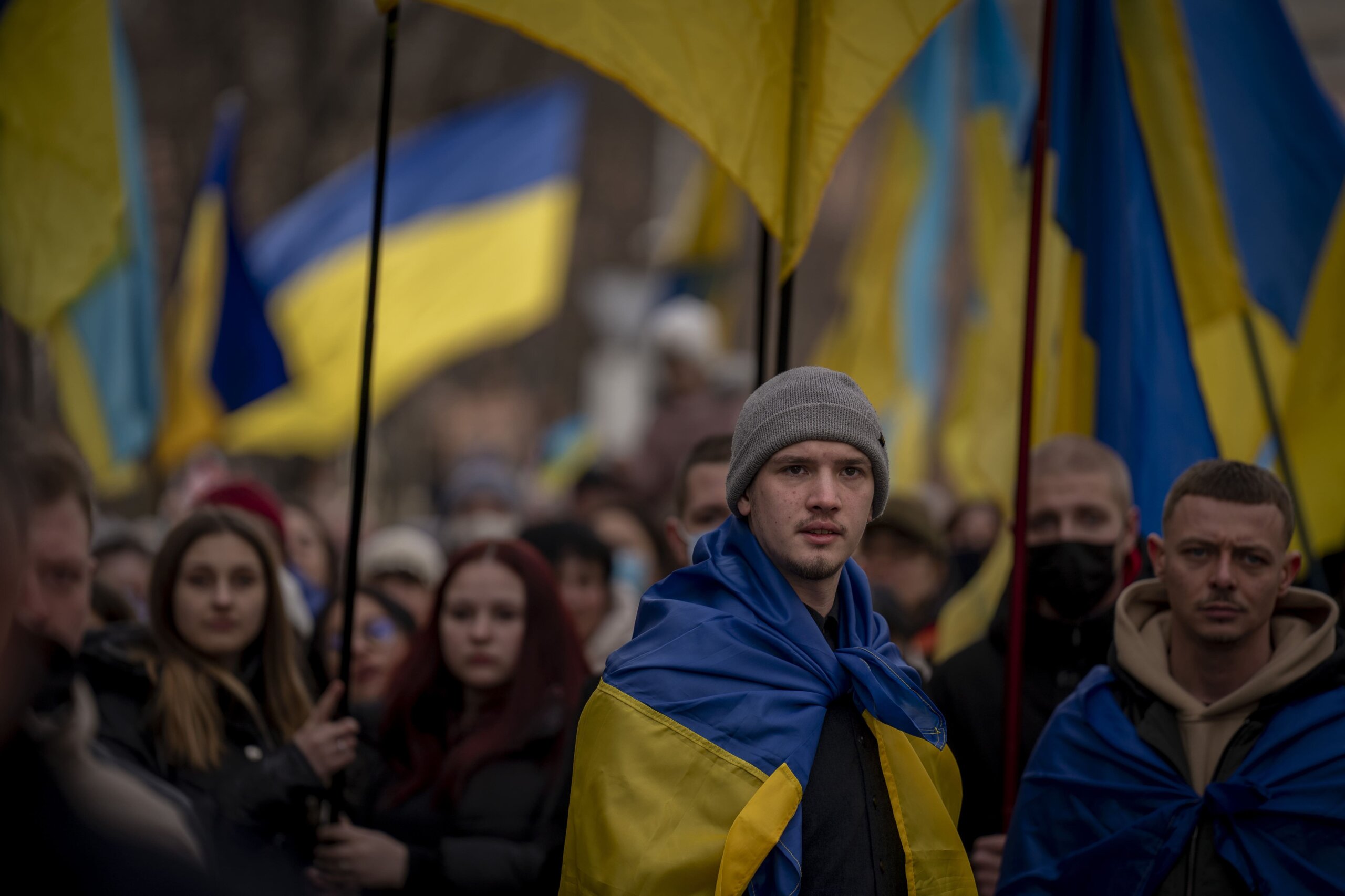 ILGA
The International Lesbian, Gay, Bisexual Trans and Intersex Association (ILGA) is promoting LGBTQ+ organizations in the Ukraine and neighbouring countries on its website, which includes details on how to donate. These include Alliance Global, Sphere Women's Association and Polish LGBTQ+ organization Lambda Warszaw, all of which are in dire need of help and can be supported via bank transfer with details on ILGA Europe's website.
Read more on how to donate to these charities here.
Insight Ukraine
Another local LGBTQ+ advocacy group, Insight Ukraine, provides queer Ukrainians with legal, medical and psychological support. Currently, they are connecting LGBTQ+ Ukrainians with crisis therapists via a Google Form and collecting monetary donations to cover sheltering temporary housing, relocation, food, medicine and other basic supplies.
Donate to Insight Ukraine here.
KyivPride
KyivPride is a non-governmental human rights advocacy group in Ukraine, and the organization behind the country's annual Pride Week. While this organization is one of many groups for which AllOut is currently raising funds, KyivPride can also be supported directly via its website.
Donate to KyivPride here.
Nash Mir LGBT Human Rights Center
Another Ukrainian LGBTQ+ advocacy group, Nash Mir LGBT Human Rights Center has been pushing for increased LGBTQ+ protections since the 1990s. Right now, the organization is asking for funds to continue helping queer and trans individuals who cannot leave the Ukrainian capital, Kyiv. 
Donate to the Nash Mir Center here.
OutRight Action International
OutRight Action International is an LGBTQ+ human rights advocacy group based in New York. Currently, OutRight is accepting donations on behalf of external LGBTQ+ organizations that are housing queer and trans people in search of shelter. For allies who are unfamiliar with what's going on in Russia right now, OutRight's efforts to secure and redistribute funds to local activists could be a good place to start.
Donate to OutRight International here.
Quarteera
Quarteera, a Hamburg-based association for Russian-speaking LGBTQ+ people, is currently seeking funds on Facebook. Donations to its fundraiser would support housing, legal support, language courses and other basic needs for Ukrainian LGBTQ+ refugees in Germany. The group is also accepting money by bank transfer, with instructions on ILGA-Europe's web page.
Donate to Quarteera here.
QUA: LGBTQ Ukrainians in America
A U.S.-based organization that provides social and legal support for LGBTQ+ Ukrainians in America, QUA recently organized a march for LGBTQ+ Ukrainians at New York's Stonewall Inn. Currently, the group is connecting refugees with Americans who are willing to provide aid. Support ranges from housing to the donation of essential goods like sanitary products. QUA is also accepting donations for emergency support for the Ukrainian LGBTQ+ community.
Donate to QUA here.
Rainbow Railroad
Rainbow Railroad is a Toronto-based non-profit dedicated to helping LGBTQ+ people around the world escape violence and persecution. A representative from the organization has informed Xtra that they are engaged through partner co-ordination, monitoring the ongoing situation and responding to requests for assistance—which can be accessed through the organization's website.
Donate to Rainbow Railroad here.
Other resources
Crowdsourcing campaigns that link to important aid materials always help to make a difference during times of crisis. Polish activists Amanda Waliszewska, Joanna Wilkuse and Anaid have put together a Google Form to co-ordinate safe housing for LGBTQ+ and POC refugees fleeing Ukraine. Over in the U.S., Kimberly St. Julian-Varnon, an academic specializing in Eastern European history, also compiled resources for marginalized refugees into a LinkTree.
These and any other resource links can also be shared on social media to ensure that they reach as many people as possible.