LGBTQ2S+ advocates gathered on the steps of Texas Gov. Greg Abbott's mansion on Sunday to protest a directive requiring the Department of Family and Protective Services (DFPS) to investigate parents who provide gender-affirming medical care to trans youth for child abuse. A temporary injunction on March 11 has since halted all investigations into Texas families.
More than 200 advocates spoke out against attacks on trans youth and affirmed that trans children are loved. Organized by Trans Resistance of Texas and PFLAG Austin, the demonstration was live streamed on Twitch to encourage supporters to loudly broadcast it from anywhere "to make sure trans kids' cry for help is heard."
"One of my favourite African proverbs is: 'Until the lion tells the story, the hunter will always be the hero,'" Diamond Stylz, executive director of Black Transwomen, Inc., said at the rally. "I think that's important in this time because what these people are doing is a legacy of trying to demonize marginalized people. They try to use fear tactics to make it seem like getting our affirming care is a bad thing, but healthcare is not abuse."
Under Abbott's Feb. 22 directive, at least nine Texas families were reportedly under investigation for affirming their trans children. Targets of the policy included a mother of a trans son who dined with Texas Attorney General Ken Paxton in 2016 and a social worker whose child is over 18 and thus no longer a minor.
Prior to Friday's statewide injunction, the courts had already blocked investigations in two cases: a DFPS worker who faced losing her job over the directive and a counselor who provides services to trans youth as part of her practice. Abbott's directive orders "mandatory reporters" such as healthcare providers and teachers to report cases of a young person receiving gender-affirming care or face potential criminal penalties.
Last week's ruling from Texas Civil District Judge Amy Clark Meachum gives advocates hope Abbott's directive will be fully struck down in court. In her decision, Meachum says there is a "substantial likelihood" the plaintiffs in the lawsuit will prevail, calling Abbott's directive "beyond the scope of his duty." She says the policy is "unconstitutional" and took particular issue with the fact that it was treated as a new law, despite "no new legislation" being passed by the Texas Legislature.
"We know that this is not about sports or healthcare or gender markers on IDs," Chris Mosier, the first out trans athlete to compete in an Olympic trial, said at the rally. "This is about trying to keep trans kids from growing up to be trans adults like me, and we are not here for it. We cannot let that happen."
The rally took place at the beginning of South by Southwest (SXSW), an annual media, tech and music festival which draws thousands to Austin every March. Several counter protesters reportedly affiliated with conspiracy theory website Infowars showed up to disrupt the demonstration. Rev. Remington Olivia Johnson, who emceed the event, told the crowd not to engage with far-right activists.
Between speakers, organizers of the event played recorded testimony of trans youth affected by the Texas directive. In one of the recordings, an eight-year-old trans girl described how her first visit to the state capitol was to defend her existence.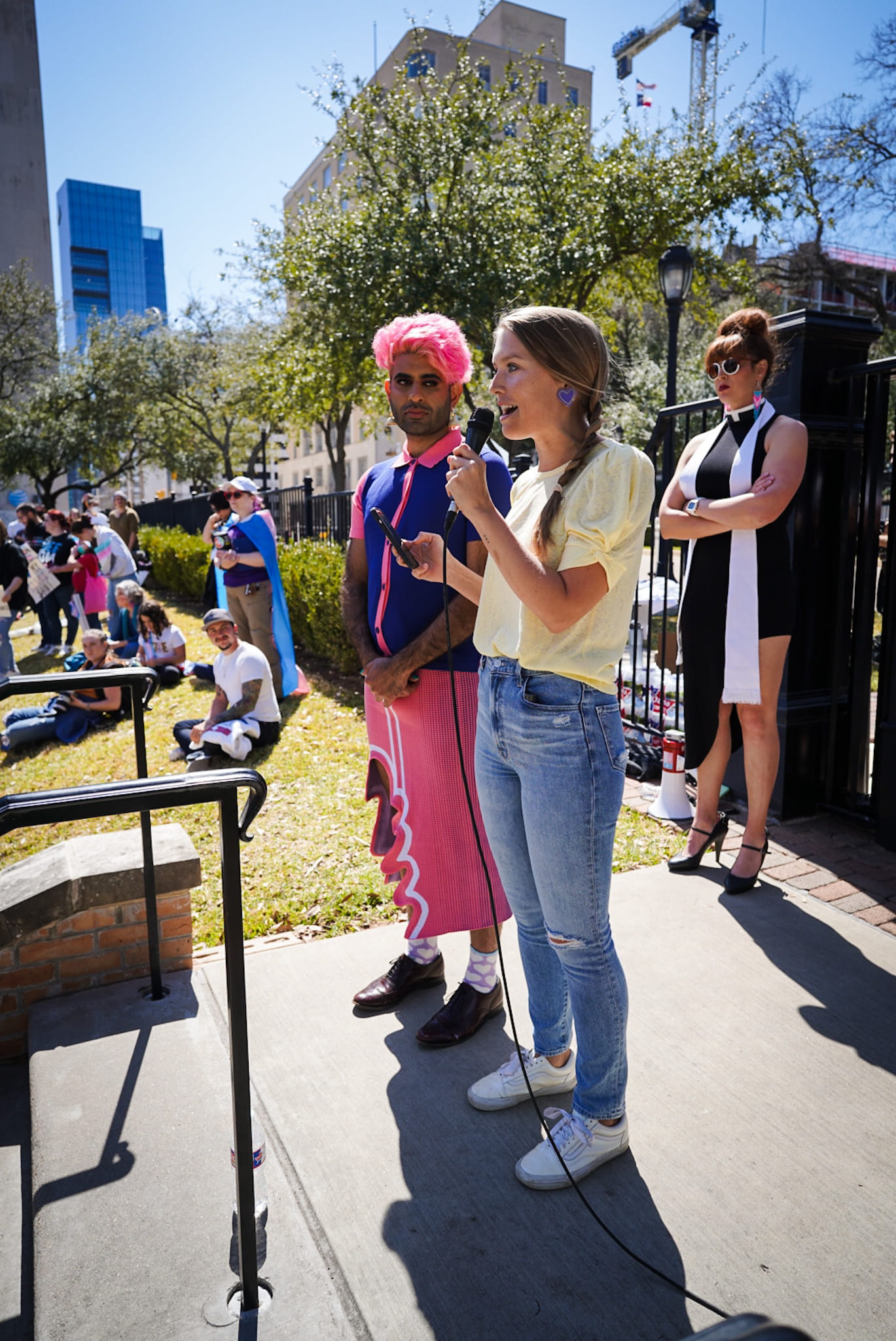 "But if I don't show up, you won't hear the real stories, kids like me, whose future will be crushed," she said. "Opportunities taken away before I'm even given a chance to try. I think maybe you need more trans people in your life. Every time I meet trans kids and grownups, my heart grows. Don't be a grinch, let your heart grow."
Trans kids across the U.S. are being forced to fight for their rights following what advocates say is an unprecedented legislative assault on the LGBTQ2S+ community. According to the Human Rights Campaign (HRC), more than 130 bills have been introduced this year that would limit resources and protections for trans people, particularly those under the age of 18. They include 38 proposed bans on gender-affirming healthcare and 67 bills preventing trans student athletes from competing in accordance with their gender identity.
Many of these bills, if signed into law, would cause widespread harm. Alicia Roth Weigel, the Human Rights Commissioner for the City of Austin, noted in their speech that youth medical care bans often contain explicit carve outs allowing doctors and medical care providers to continue performing unwanted medical interventions on intersex infants. An estimated 1.7 percent of children are born with sex characteristics that do not conform to the gender binary.
These operations are commonly performed before a child is old enough to meaningfully consent to the surgery, and they remain legal in all 50 U.S. states. Weigel said the historic onslaught of anti-trans legislation is yet another reminder that LGBTQ2S+ advocates must explicitly fight for intersex rights alongside trans equality.
"We can and we must fight what they're doing to strip away basic healthcare for trans kids, without throwing intersex kids under the bus," they said. 
But as activists stood outside the governor's mansion holding signs like "Protect Trans Kids" and "Defend Trans Rights," the day's speakers reminded the crowd that what they are fighting for first and foremost is each other. Alok Vaid-Menon, an author and non-binary activist who hails from College Station, Texas, urged LGBTQ2S+ people and their allies to lean on one another for community.
"Before politicians and before organizations, what we had was each other," Vaid-Menon said, "and they can't take that away from us."