Zane Phillips has been having a moment. After playing a 5,000-year-old demigod who falls in love with a (former) werewolf on the CW supernatural drama Legacies, Phillips has broken out as the sex-positive but ethically negative antagonist of Joel Kim Booster's hit gay rom-com, Fire Island. It's been a welcome change of pace for Phillips, a New York-based theatre actor who worked remotely as a tutor to support himself during the first year of the pandemic. As someone who has always been drawn to "the study and preservation of endangered languages," Phillips even briefly contemplated changing careers and going back to school, but the universe had other plans for him.
"It was probably two days after I had the most serious thought about switching [careers] that I booked Fire Island, and it's nice that I still feel like I have a pathway," he tells Xtra in a recent Zoom interview. "I think there's a time and a season for everything, and my season has to end at a certain point. But I'm so grateful for what I've gotten to do so far … and there's more to come."
Born in Denver, Colorado, Phillips moved during middle school to Fredericksburg, a small, conservative town in central Texas, where he experienced major culture shock and began doing community theatre to make friends. But it wasn't until his junior year of high school, when his local theatre did a production of Man of La Mancha, that Phillips first truly caught the acting bug. "There was something about it that touched me, and the music itself moved me emotionally. I had never really had that experience before," he recalls.
"Being in a place like Texas, I had to really watch how much emotion I was showing. It's really heavily masculine; the gender roles are really clearly and strictly defined," he says. "Part of my socialization was really, in many ways, pushing my emotions down, and I found theatre was a way for me to sort of rediscover them again."
After graduating from the musical theatre program at Elon University in 2015, Phillips accumulated a steady number of theatre credits, joining a national tour of The Sound of Music for a year, and moving to different cities to appear in local productions of Hair, Hairspray, Mamma Mia and The Fantasticks. Then, the pandemic threw a wrench in his plans.
In 2019, back before COVID-19 hit, Phillips had followed and tweeted a Jane Austen reference at Booster when he learned the comedian was developing a queer take on Austen's Pride and Prejudice. Booster's idea was to set the story on Fire Island, a queer mecca off the southern coast of New York's Long Island. Eighteen months later, Phillips recorded a self-taped audition in the middle of the night, and a couple of weeks later met virtually with director Andrew Ahn about a possible role in Booster's adaptation. Then, he was met with a month of radio silence. By mid-July, "I was absolutely convinced they had gone with someone else; I went through the whole mental process you go through as an actor where you find peace in the rejection," Phillips recalls. But Ahn—and Booster—had a surprise for him.
"When we first found Zane, I looked him up on IMDb, and I was like, 'Oh, he hasn't really done much [in TV and film],'" Ahn recalls with a laugh. "I had to ask my casting director [Jessica Munks], 'Is something wrong with him? Is that why he's not in things?' And she was like, 'No, he's just new.' I was like, 'Great!' Then, when he started booking other jobs, I was so glad that other people were seeing the talent that I recognized."
Booster agrees that Phillips was a hidden gem unearthed during the casting process. "I'm so honoured that we are one of the first platforms that is getting to introduce the world to Zane," he says. "He's such an incredible person and nothing like his character in the movie, and just such a sweet guy and a really big talent. I think he is sort of proof positive that when you take chances on people who might not have a huge resumé, it can pay dividends."
While Fire Island is a thoughtful examination of race and class in an environment that can be both liberating and, as Booster has put it, "oppressively white and inherently classist," the film is as much a heartfelt celebration of queer friendships and chosen families. During the two weeks they shot at locations on the island, the director and principal cast decided to live under the same roof—an experience that Phillips likened to going off to summer camp.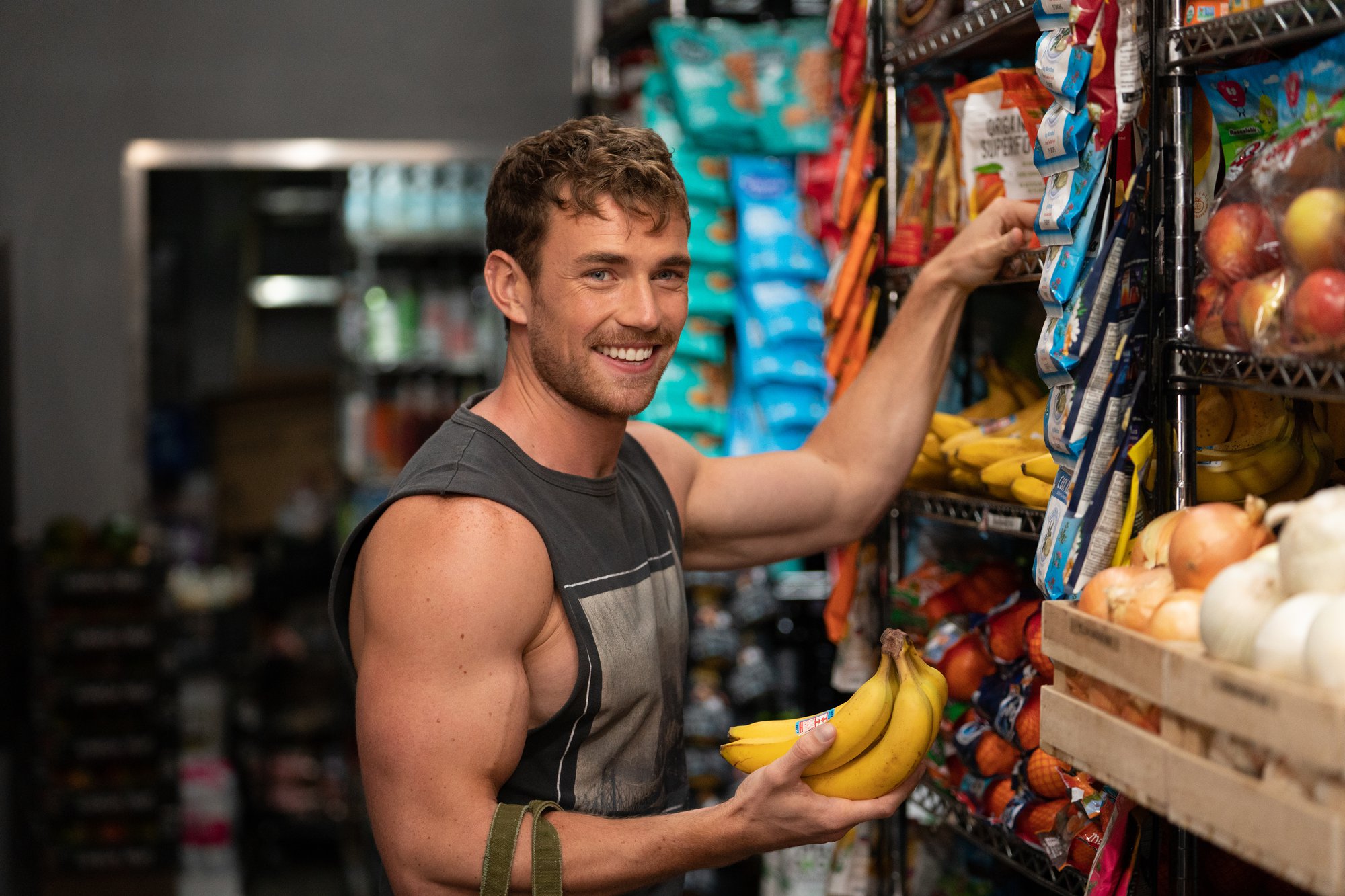 Between takes of the pivotal dinner party scene, "Margaret Cho was just giving her own stories and just making everyone crack up," Phillips says. "I think we actually played 'Heads Up' at one point in the house, too, just as the sunlight was streaming in. It's just those little things of seeing everyone really enjoying each other's company and just watching and getting to bathe in it. It's now the standard against which I'm going to hold all other projects."
"Zane is such a serious guy on set," Booster says, "and then to see him clock out, put on his glasses, be this goofball and join in the buffoonery that we would engage in every night was really, really wonderful."
As Dex, the dashing but duplicitous man who "thinks he's being socially progressive" with his OnlyFans page and carefully crafted Instagram posts, Phillips acted in multiple intimate scenes with Booster, who plays Noah, and comedian Matt Rogers, who plays Luke, respectively—some of which did not make the final cut. The experience, Phillips reflects, was made easier by the presence of intimacy coordinators, who forced the actors to think: "Okay, what are my boundaries, and what are the things that I've been socially conditioned to say, 'Yes, this is fine,' and I'm actually not fine with that?"
"I think [the intimacy coordination] helps the work, too, because you don't need all your acting skills to make sure that the motions are correct," he says, referring to the film's depiction of sex. "You can turn this into something super mechanical, such that everyone is comfortable and it looks amazing."
The fact that Fire Island, the first major studio rom-com to centre gay Asian American leads, has been so well received "speaks to the diversity of the queer community," and Booster's distinctive screenwriting voice, Phillips says. The film "speaks to the reality of what the community is for me, which is just joyful, irreverent, silly and fast-paced. But I think we're also seeing a generation that yearns to have quiet relationships [like in Heartstopper] that are just straightforwardly sweet—and both of them are okay. I hope [these queer-led projects] can continue to unleash really bold queer voices and let people see how we actually relate to each other."
The description for a gay demigod
Last October, after Fire Island's principal shooting had ended, Phillips auditioned for Legacies, the third show in the Vampire Diaries universe about a school of young supernatural beings. He initially thought he was in contention to play Rasputin's immortal son, but Legacies showrunner Brett Matthews and the rest of the writers had other ideas. Having decided that Jed Tien (Ben Levin), a rugged alpha werewolf, was going to come to terms with his past (and a repressed childhood crush), the creative team insisted on finding an openly gay actor who could play Jed's new love interest. In fact, Price Peterson, a writer who championed the storyline, reached out to Booster about working with Phillips since he so perfectly fit the description for the gay demigod who once stole magic from the gods and was, in turn, cursed to be attacked by monsters—and to heal by sunrise—for eternity.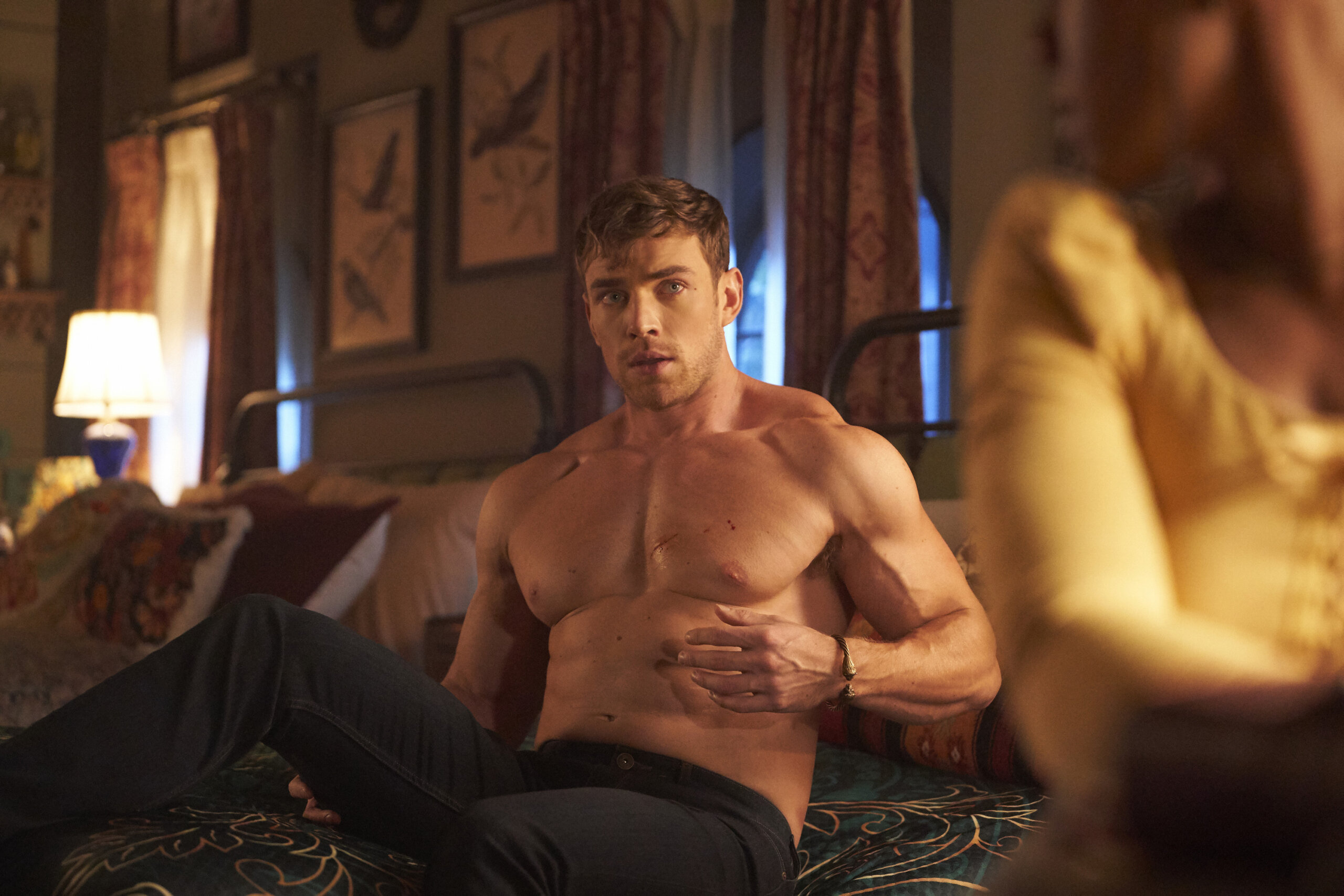 Having never watched any of the Vampire Diaries shows, Phillips didn't know what to expect when he arrived on the Atlanta set a few months later to shoot his first scene, in which his character Ben (a.k.a. Prometheus), having fully transformed from a charred corpse into a gorgeous god, tells a besotted Jed that monsters are now the least of their problems. From the outset, series veteran Levin took it upon himself to welcome Phillips. The newcomer, who had heard some "not great things" in the past about other straight actors "who are in the queer love story, but they don't really want to be," appreciated the gesture.
"I'd go to his place, and we would run the scenes together. I'd get to hang out with him, his dogs and his wife. He'd make dinner, and we'd just chill and get to know each other," Phillips recalls. "That all really brought me to a place emotionally that I don't think I've ever gotten to go to before in a romantic storyline, in that I really did get to understand where these characters' feelings for each other got to come from in a much deeper way. I got to bring the admiration that I have for him in real life to the admiration that Ben has for Jed."
After Jed confides in him about his troubled past, Ben, who has been mourning the loss of his last lover for millennia, assumes the responsibility of keeping Jed safe, even if it means betraying the rest of the Super Squad at the Salvatore School. But in the penultimate episode, Ben's worst fears are realized when he finds Jed's lifeless body right before the final battle between his fiendish father Ken (Luke Mitchell) and protagonist Hope (Danielle Rose Russell). In that moment, Ben "is like, 'Okay, I lived, and what did it get me? We did all this fighting—and for what?' That was honestly the most brutal line for me," Phillips says with a wince. "But I'm very glad that's not where we left it."
In the end, the Legacies writers wanted to avoid the harmful "bury your gays" trope—and the fallen members of the Super Squad, including Jed, were resurrected to help defeat Ken. The finale finds Jed and Ben together the morning after they consummate their relationship, but their opening scene was written differently, Phillips reveals. "They were kind of separated, and Ben gets Jed to come sit [by him] at the end. But I was like, 'No, this is a chance for Ben to show some sexual agency, which we don't get to see very often. However we block the scene, it's important to me that I go over to him.' I'm proud of myself for wanting that. That's something I wouldn't have been able to do at the beginning of the season. But by the end of the season, I felt like I had some ownership of the character [and] the relationship."
Phillips is "such a receptive and collaborative actor, and that was key in bringing the Jed/Ben storyline to life," Levin says. "Being able to intimately rehearse and talk through our scene work and bring our own ideas to the relationship deepened the connection onscreen. I will always be in Zane's corner and very much hope we get to collaborate again."
"Make me a gay detective"
Last month, The CW announced that the fourth season of Legacies would be its last. Since then, Phillips, Levin and Matthews have all expressed a desire to continue Jed and Ben's story, agreeing that half a season together simply wasn't enough time to do the characters justice. Jed and Ben were last seen camping and cuddling in a hammock after leaving the school together, but Phillips and Levin shot an alternate ending in the woods with Ben's half-sister, Jen (Piper Curda), and the time god Cronos that would have set up a major time jump leading into next season.
Phillips thinks there would be an opportunity to delve into some more mature themes in another spinoff, such as how differently Jed and Ben view romantic love. "The series finale ends with them in a bit of a honeymoon phase, but the reality of their relationship ought to be much more complicated," he posits. "How do they address these things when Jed, who spent a good portion of this arc standing up for his heritage and his curse, doesn't have that part of his identity anymore? How will Ben, who's had to learn to let people fight alongside him instead of paternalistically deciding what's best for them, deal with having a partner who has even less of a physical advantage? To deal with the repercussions of that would be really interesting."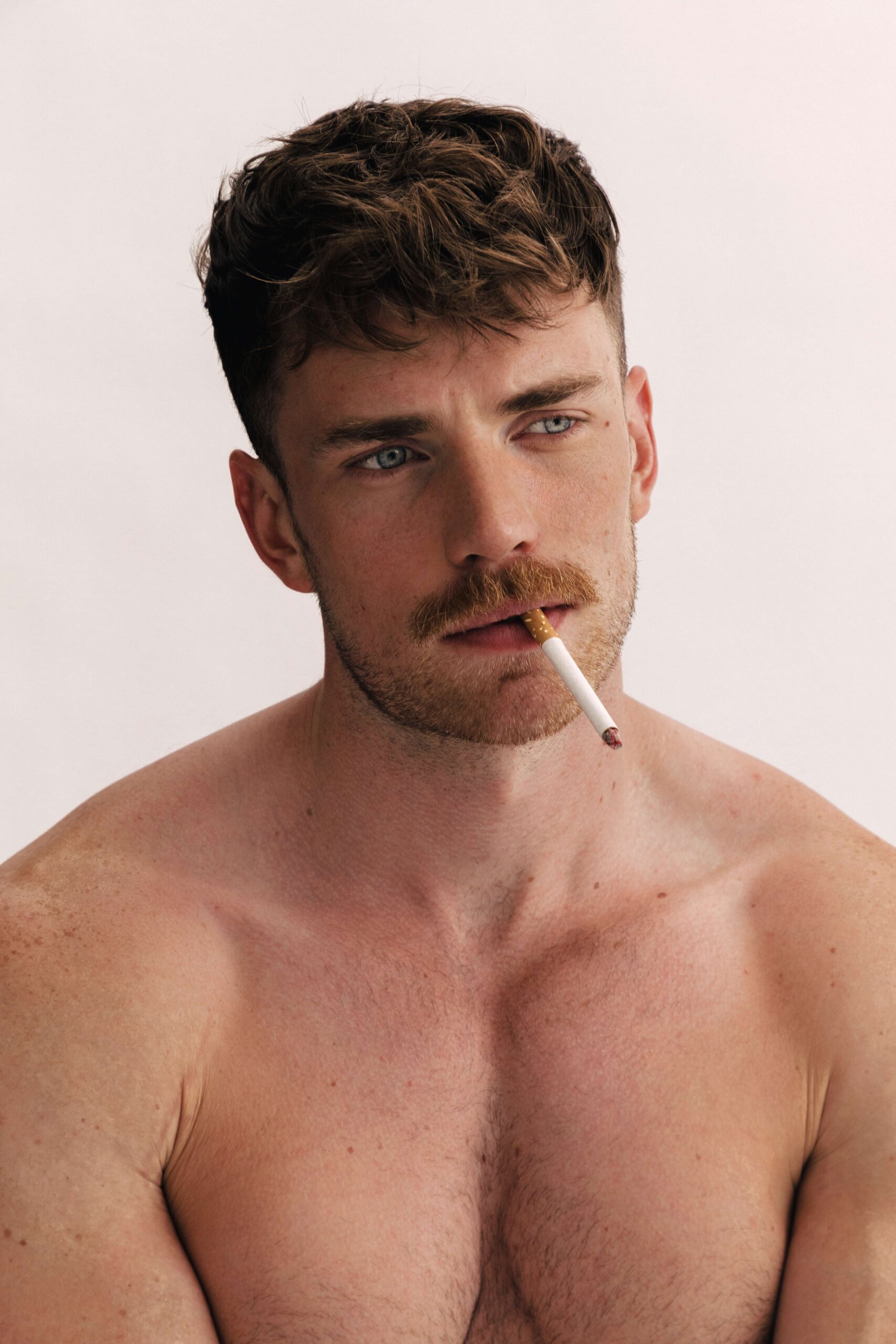 But for now, Phillips is setting his sights on a different project. In late August, he will make his Netflix debut in Partner Track—a legal dramedy series about a whip-smart Korean-American woman fighting to rise through the ranks of an elite New York City law firm—in which he will play a "himbo" named Hunter. "On our first read-through over Zoom, I taught everyone what a himbo was," he says with a laugh, adding that Arden Cho brings the perfect balance of gravitas and playfulness as the show's lead.
Phillips says Hunter is for the most part inoffensive and just there to provide comic relief. "But what I do love is that it still does reveal a certain insidiousness about whiteness, which is that you can be so incompetent and just basically nice, and you will still move forward," he says. White privilege does not always present as "people who are actively excluding [other] people from the table." Instead, it can sometimes manifest in "people who, just by existing and being mediocre, are making it harder for everyone else to climb the ladder that they're trying to climb," he adds.
Having worked in a number of different genres in the last year, Phillips isn't too concerned about typecasting, particularly because the characters he's been playing have not come close to his own personality. Although the pandemic forced him to look beyond the comforts of musical theatre, Phillips has gradually grown more comfortable in his transition to TV and film, which have introduced him to a wider audience. "I love being part of stories that take creative risks—whether it's on stage or on screen—those are the projects that I want to pursue," he says."I'm a huge fantasy nerd; I'd love to get in on the Lord of the Rings, The Wheel of Time, of it all."
On Thursday, Netflix announced that Phillips has joined the cast of Glamorous, a new drama series about a gender non-conforming queer young man (played by Miss Benny) whose life seems to be stuck in place until he lands a job working for makeup mogul Madolyn Addison (Kim Cattrall). Phillips will play Chad, Madolyn's devoted son and the Director of Sales for her beauty empire.
Phillips says of his list of dream roles, which has recently grown to include a live-action Hercules. "But I also grew up on whodunnits, so I think a Knives Out-style, really good character-driven whodunnit would be really fun. I could see myself living in that world or even getting into the Agatha Christie of it all—so make me a gay detective."