Greetings and good day, my wild poppies and posies and blooms of all kinds, and welcome to another edition of Queer Culture Catch-Up, the column where we scour the internet from top to bottom, not forgetting the versatile portions, and of course our lovely asexual nooks and crannies, to bring you delicious titbits for your face holes to enjoy. I have had many adventures since we saw each other last, and enjoyed new vistas and horizons previously unknown to me, so the theme of the week is comfort and connection: a collection of works to soothe our jangled nerves in these difficult times. 
The Stonewall Riots: Making a Stand for LGBTQ Rights by Archie Bongiovanni and A. Andrews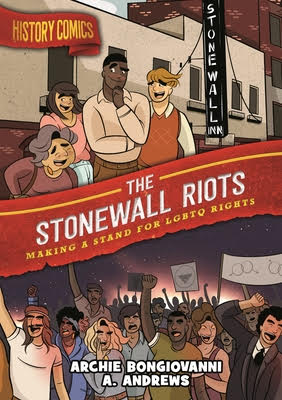 Knowing our history is key to blazing forward into our beautiful, queer futures, and if you're not satisfied by Heritage Moment-style bites, this book is a playful and inviting place to dig in, and suitable for people of any age or at any stage. The Stonewall Riots: Making a Stand for LGBTQ Rights is a full-colour, brilliantly illustrated traverse of the 1969 Stonewall Riots, one of the inciting events of Pride marches (before they were parades sponsored by banks and automakers). The story follows three young adults—Natalia, Jax, and Rashad—as they magically and not-entirely-on-purpose time-travel back to the sweaty days of—and after—the standoff at the Stonewall Inn in New York City. Guided by Natalia's abuela, and their own sense of justice, the trio become embroiled in the events of the moment while the reader gets an unsanitized view of what actually happened (unlike certain whitewashed big-budget films on the topic). 
Queering everyday life
Sometimes we just want to go about our days, feeling fresh and fabulous, but the mainstream advice and tips for existence feels more like a trick than a treat. Clothes got you dysphoric, or just cranky about what's available to fit your fabulous trans, nonbinary or gender-noncompliant style? Join fancy fashion fave Oska and the LGBT Foundation Trans Programme for a live demo with Q&A about how to alter, chop or embellish the clothes you already have, or your new thrift finds on June 10 at 1 p.m. EDT. Travelling while queer or trans? Beyond COVID-19 safety, Parrish Turner is ready to help you navigate, whether your dream destination is a queer hotspot, a trans haven or a spot well away from the crowds with stories and tips from his own experiences, and space to share your own on June 7 at 7:30 EDT. If you're a books and archives nerd (like so many of my best beloveds), you can hear Kelsi Evans, director of the Dr. John P. De Cecco Archives and Special Collections at the GLBT Historical Society in San Francisco, talk you through Queering the Archives. She'll also give her best-in-class methods in finding, organizing and displaying our LGBTQ2S+ bits and bobs on June 10 at 7:30 p.m. EDT. The best part? All of these are free.
Kissy Duerré on TikTok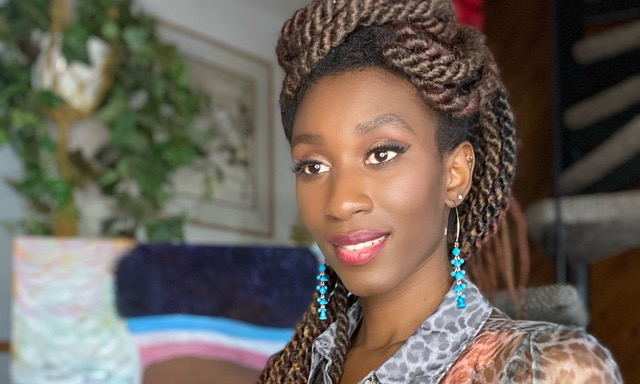 Black trans regent of all things Kissy Duerré would like you to know that you are the shiniest sparkle, and her videos underline the concept daily. Feeling sad, alone or just in need of a little reminder of your own intrinsic excellence? Duerré, who lives in Saskatoon, shares snippets of her own gender-euphoric experiences, like finally being gendered correctly, and POV videos to comfort difficult moments, like this tender little caretaking moment of a big sis to her younger sibling as she goes into battle against unaccepting parents. Nothing here is high-concept or complex, but rather a collection of the kinds of moments we all need as humans—affirmation, support, joy and celebration and sometimes a little trans comedy; the good kind where we poke fun at gender roles, rather than cis people bashing trans folks for existing and then yelling a lot that it's "comedy." Though, if you want to see a cis comedian do a solid bit of trans-related comedy, please enjoy James Acaster.
"Where The Lavender Grows," Mya Byrne
Queer trans folk/country artist (she's a hybrid, like so many brilliant and beautiful things in the world) Mya Byrne has brought us a new Pride track with "Where the Lavender Grows," an upbeat invitation to rest in a beautiful place together, and it's the perfect pride brunch music to sip a sparkling beverage and be easy to. Byrne is also the singer-songwriter behind the gravelly, getting-down-to-business "Devil in My Ear," a superlative pick for the moments when you're considering being just a little bad in the best possible way. Byrne also collaborates with other beloved queer artists like Ryan Cassata and Fureigh (who plays with a variety of bands, including Middle-Aged Queers, creators of such queer punk anthems as "Home Is Where", featuring the iconic queer lyric "home is where we hide"—kind of a 180 from "Where the Lavender Grows," but we are large and contain multitudes).
2-SPIRIT POWWOW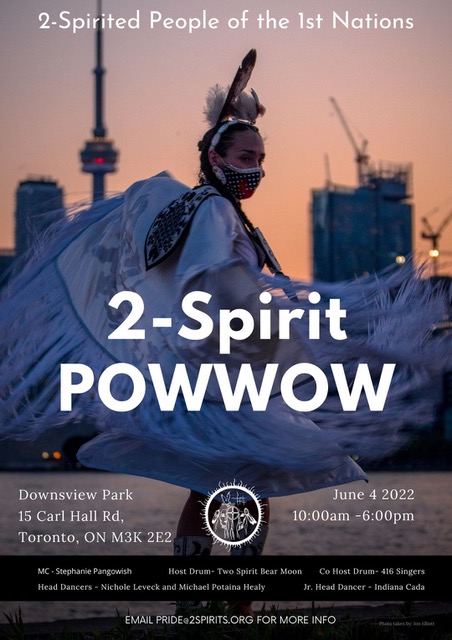 An in-person (outdoor and COVID-19-aware) event! 2-Spirited People of the 1st Nations is holding its first 2-Spirit Powwow in Tkaronto on Saturday, June 4, in Downsview Park (15 Carl Hall Road). All dance categories are non-gendered, and dancers may sign up starting at 9 a.m., with the event beginning at 10 a.m. The organization is also beginning a Wednesday-evening conversation and learning opportunity for its members, called Free to Live Authentically, led by Shayne McGregor, on Wednesday evenings at 7 p.m. There are a variety of other social opportunities, including virtual bingo for members as well—check the events calendar on their website. Having attended the BAAITS (Bay Area American Indian Two-Spirits) powwow, I can tell you that it should be an amazing event! If you're not Indigenous and have never been to a powwow before, but are excited to make this Two-Spirit event your first one, here's a useful overview of how to be respectful of the people and space (including never, ever, taking photos of anyone or their regalia without their specific, individual consent). Anyone is welcome at a powwow, but while you're watching the dancing and eating your lunches, don't forget that the Canadian government broadly outlawed powwows until 1951, depriving Indigenous people of their right to their own ceremonies and cultural traditions. Though some nations, notably the Standing Buffalo Dakota Nation and Thunderchild First Nation in Saskatchewan, continued to hold powwows in defiance of the law.
There you have it, dearly beloveds, as we continue to get through this thing called life, whether or not we can gather, we can enjoy and celebrate each other and cheer each other on. Perhaps, in fact, today would be a good day to drop a text to someone you really enjoy and let them know a few specific things you find excellent about them—their kindness, their compassion, their curiosity, their accessories, or whatever they do at maximum shine. In the meantime, I hope you also receive one of these messages, if not from a friend, then from the great organizing principle of the universe, however she blesses you. As usual, if you're making something new and queer, drop me an email or DM—I'd love to hear your news.