"Love is halal." That's the slogan for a new campaign in Berlin launched this spring that seeks to represent Islam's embrace of its queer community—part of which includes posters featuring LGBTQ2S+ Muslims placed throughout the city. The mind behind it all is Seyran Ateş, a 58-year-old Turkish-German human rights lawyer and advocate for progressive Islam, and the founder of the Ibn Rushd-Goethe mosque, which is sponsoring the campaign.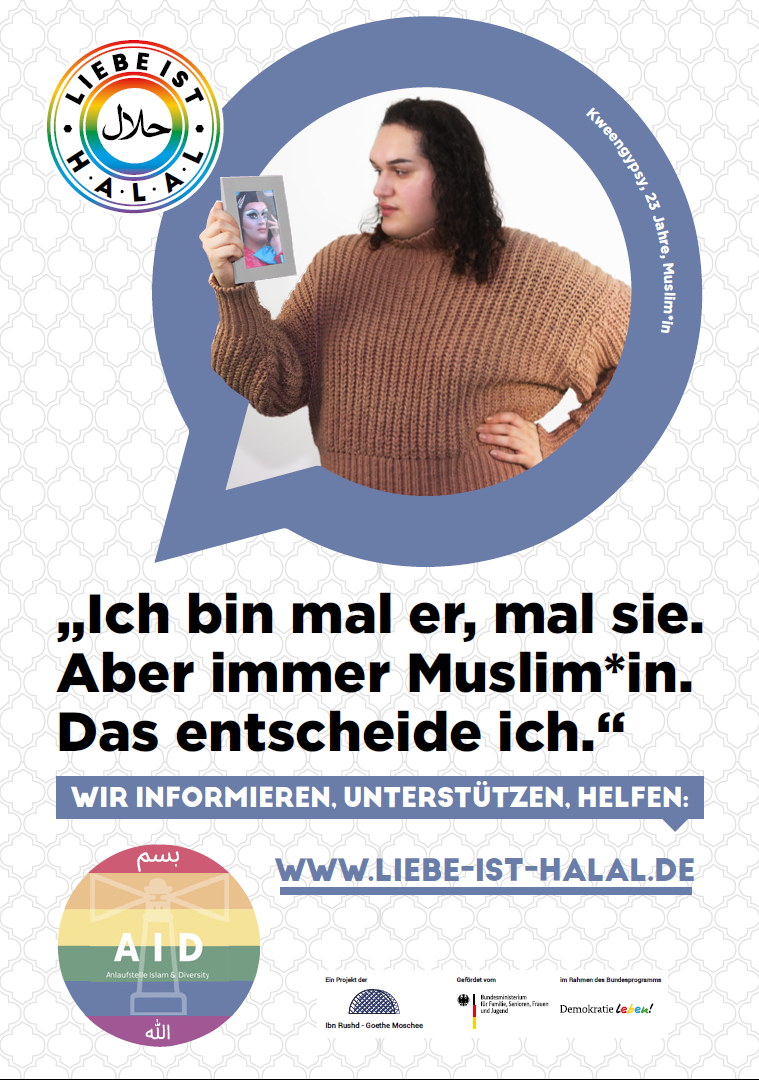 Ateş has made it her mission to create a distinction between political and spiritual Islam—the latter of which encourages gender equality, diversity and inclusivity among its followers, including LGBTQ2S+ believers. Her journey toward this goal is the subject of a new documentary, Seyran Ateş: Sex, Revolution and Islam, directed by Turkish-Norwegian filmmaker Nefise Özkal Lorentzen, that had its Canadian premiere as part of the Changing Face of Europe program at Hot Docs Canadian International Documentary Festival in May. "The only way to fight against political Islam is through Islam," Ateş states in the film while attending a memorial service for the victims of the 2004 Madrid train bombings. Throughout the documentary—and her life—she attempted to show how Islam can be compatible with democracy, gender equality and LGBTQ2S+ identities.
Much of Ateş' work involves cutting through misinterpretations of the Quran by those with an extremist agenda in order to highlight the core tenets of Islam, and to show believers and non-believers what the religion is really about—especially when it comes to sexuality and acceptance. Indeed, there is a perception of Islam as inherently hostile towards LGBTQ2S+ individuals. And while many have interpreted the religion as such (often to serve a political purpose), it's a matter of precisely that: interpretation. Islam holds space for inclusivity. "You just need to look to the history and the theology," Ateş told me when we spoke over Zoom. "In Ottoman times in Turkey and in Andalusian Spain during the time of the scholar Ibn Rushd and the poet Ibn Arabi, homosexuality was accepted and widely practiced. It was always part of our culture."
As a member of the LGBTQ2S+ community, Ateş has never felt ostracized for her sexuality. "Religions in general are about love," she says. "Islam is about love to yourself, love to your neighbour, love to God. If we believe in a loving and merciful God, how can we say that any kind of love is not halal? God never forbids love."
The daughter of a Kurdish father and Turkish mother, Ateş spent her early years in Istanbul and immigrated to Germany when she was six years old. When she was 21, she was shot in the neck by extremists while providing counselling at a women's centre (the woman she was counseling at the time was killed in the attack). Rather than turn away from religion, she embraced it. "I feel I was given a second life by God," she says, "a chance to carry out my mission of challenging extremism."
She began studying Islam more closely, and in doing so realized there was a theological ground for the Islam she practiced. Unlike what's common in Christianity and Judaism, there is no intermediary in Islam, no priest or rabbi between believer and God, which means that much of the Quran is about individual interpretation. "You have to use your brain, and ask yourself: What does Islam mean for you?"
In 2009, she wrote her first German-language book, Der Islam braucht eine sexuelle Revolution: Eine Streitschrift (Islam Needs a Sexual Revolution). The book was partly motivated by her interactions with family. "I had discussions with my nieces and nephews that made me realize they were potentially heading in a direction vis-à-vis our religion that was unacceptable to me." Her law work also served as motivation. "I have many Muslim women as clients," she says, "and the issues that many of them have to deal with, like forced marriage and honour killings, have to do with both sexuality and religion."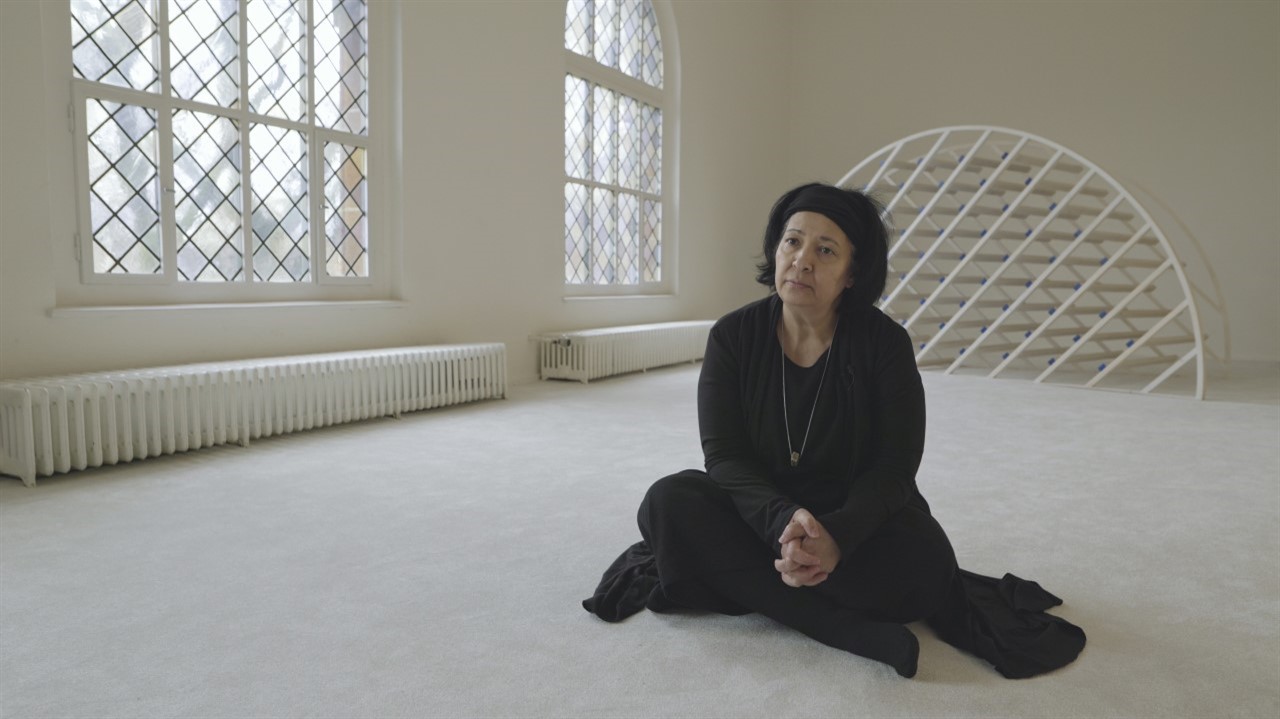 Ateş felt that Muslims needed a place to learn the real values of Islam, to enact a counter-enlightenment against those upholding and propagating Orthodox views of the religion. Toward this end, she created the Ibn Rushd-Goethe mosque, which, with the help of donations, opened in 2017, and has attracted followers from around the world. The mosque resists any hierarchical or patriarchal structure, and invites diversity and inclusivity among those who attend. While men and women traditionally pray in different rooms, everyone prays side by side at the Ibn Rushd-Goethe mosque. "As liberal Muslims, we don't believe in institutions or foundations, or in a lawyer between us and God," says Ateş. "We are just believers."
One of the most frustrating aspects of political Islam, and one she has sought to resist through her law work and her activism, is the hijab, which she views as a tool of women's oppression. In the documentary, we witness Ateş in court, defending the municipal law of Berlin against a teacher who wishes to wear a hijab in the classroom.
"[The headscarf] is not for God, it's for men," she says. A recent study of Muslim life in Germany showed that only 30 percent of Muslim women in the country wear the hijab, while 70 percent do not—a statistic that confounds Ateş when it comes to the depiction of Muslim women in Muslim countries. "If the majority of Muslim women in Germany are not veiled, why [is the media] highlighting the minority, and traditions from the seventh and eighth centuries? Perhaps the media isn't imaginative [or] creative enough to show Muslim women without the headscarf."
Ironically, her resistance to the hijab and her advocacy against it has led to criticism from both Muslims and fellow feminists. "In the process of protecting Muslims from racism," says Ateş, "they stop their political thinking and end up supporting the right wing."
Ateş has faced death threats and has been under police protection since 2006; the film opens with a slew of insults and hate speech being levied at her online. Still, she isn't deterred, and her goal is to create progressive mosques similar to Ibn Rushd-Goethe in every European capital, along with schools. "Going into the education system is the next step," Ateş says. As for what she wants viewers to take away from the film, her hopes are more modest. "It will be enough for me if they see that Islam and the Muslim community is diverse," she says. "I hope they'll see what a rich religion it is and that we have a bright horizon when it comes to acceptance."