RuPaul's Drag Race has often looked to Project Runway for inspiration when it comes to their design challenges. The whole idea of having queens use unconventional materials, as first birthed in the franchise's series premiere with the "Drag on a Dime" task, is rooted in Project Runway's own first-ever challenge, when the designers were sent to Gristedes grocery store instead of a fabric outlet.
This season of Drag Race UK looks to Project Runway's ninth season, in which designers were taken to a pet store to source items for their challenge. Drag Race brings the pet-store items to them, but the core challenge is still the same: take these often awkwardly shaped, sometimes animal-printed materials and turn them into high drag. And in at least a couple of cases this week, they really do!
I will always appreciate a true unconventional materials challenge like this on Drag Race. While it's fun to see the queens take on the same fabric, as we've seen on some previous UK and Canada's Drag Race challenges, it is, at the end of the day, still fabric. And there are fabric-like materials in this crop of items too. But for queens who want to go the distance and try something truly new, they can. And we see both successes and failures with those attempts in this week's episode.
Combined with an actual overarching story plot in this installment, and this is another solid step forward for Drag Race UK. I'm not counting my chickens just yet—UK Season 4 looked quite good at this point, too—but I'm interested in where this season goes from here.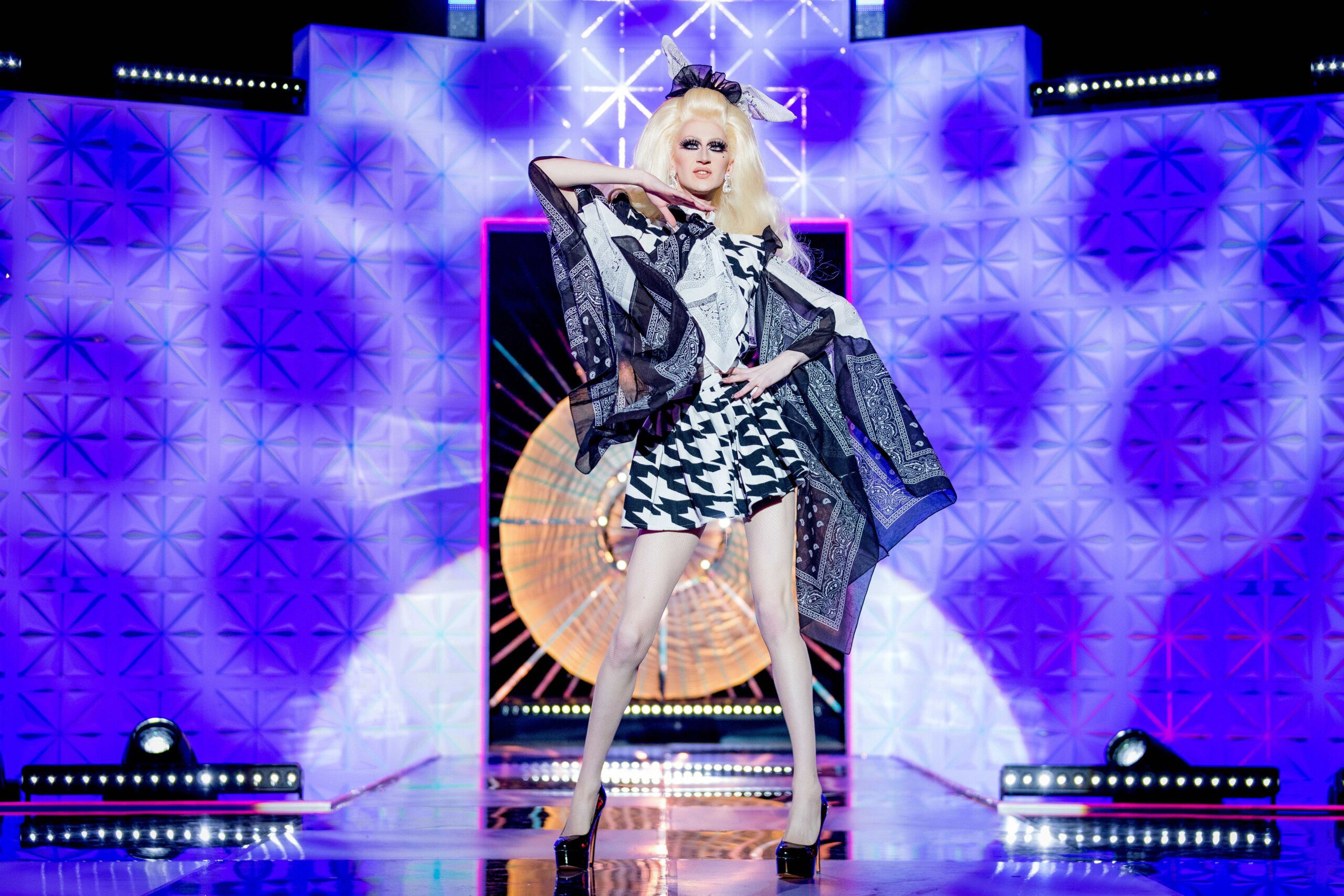 We get one of Drag Race UK's shady little superlative mini-challenges this week, as queens play hot potato with bags-within-bags during Let the Cat Out of the Bag. Each time the music stops ("Kitty Girl," naturally), they must pull a smaller bag out of the biggest one, and each has a cat pun associated with it. They must then assign that cat pun to one of the other queens. It's kind of my least favourite version of this kind of challenge, especially because it turns out that the only one that matters is the final one—which, as Tomara Thomas receives it, gives her an advantage in the maxi-challenge.
This is where our main story of the week begins, however, as Tomara not only gets to pick one item for herself before anyone else can, she also can bring one friend along with her to get the same advantage. Knowing she needs someone to help her with sewing, Tomara entices DeDeLicious—much to the consternation of Tomara's housemate, Cara Melle.
Cara's argument, as she will make both in confessional and when Ru comes to visit the werk room later, is that she is herself a seamstress, and thus that plus their existing connection should've given her the edge. Tomara, however, insists that she has never seen a dress Cara has designed, which really frustrates the American-born queen. It only gets slightly tense in front of Ru and Edward Enninful, the editor-in-chief of British Vogue who comes to visit. (He brings with him his dog, also named Ru—"and she's a real bitch.") However, it's clear Cara isn't happy with this explanation.
Later, Cara and Tomara get into it in front of the whole werk room. Cara feels Tomara "undermined" her, while Tomara seems genuinely insistent to have not seen a dress Cara has made. That only further infuriates Cara, though, as it turns into an argument about Tomara not paying attention or taking interest in what Cara does. By the time Tomara asks Cara to point out what outfits she's made, and Cara is insisting she owes nothing to her housemate, it's clear that this goes beyond just this fight. (As Ginger Johnson puts it, "Imagine what they're like when they can't decide whose turn it is to take the bins out.")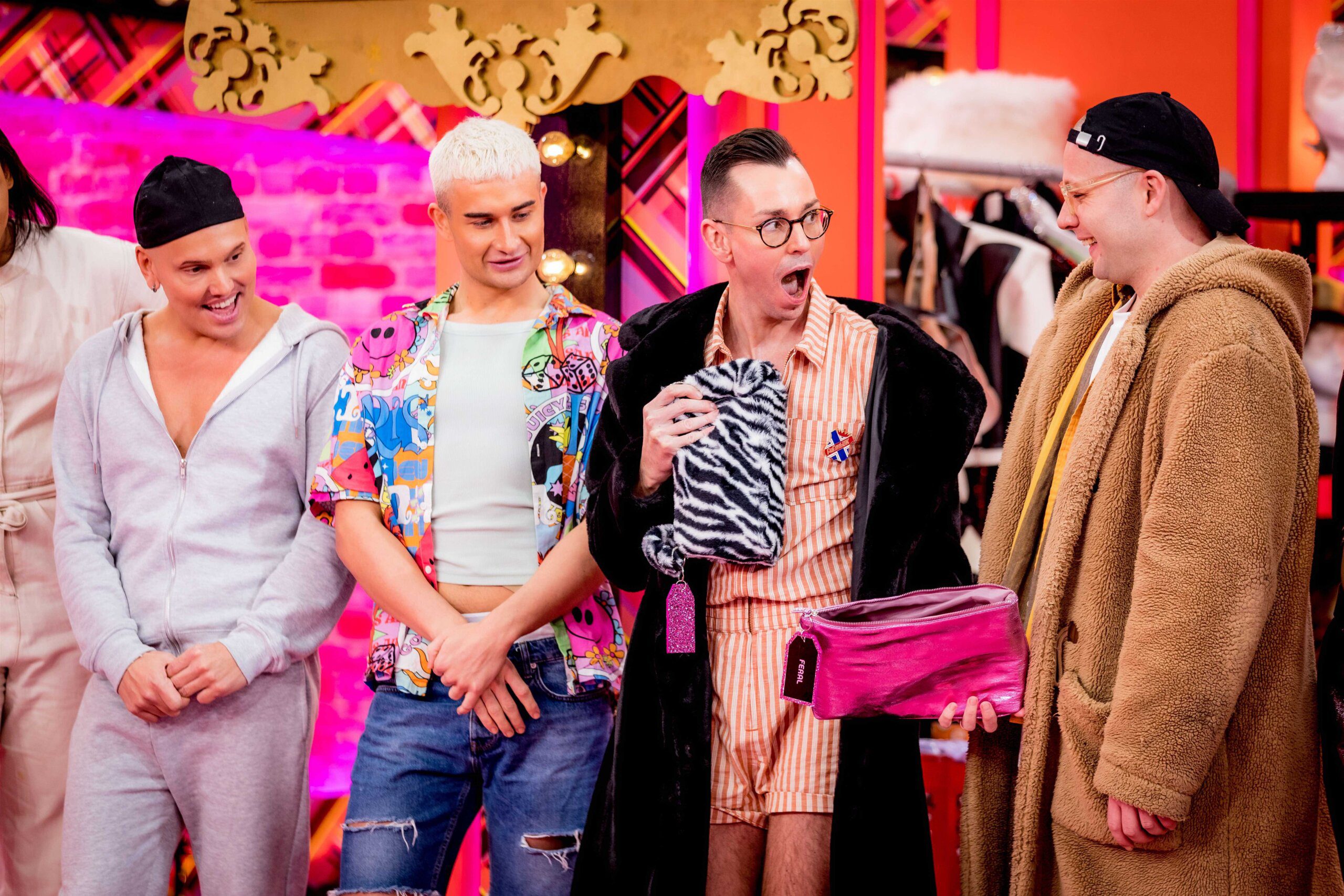 We don't revisit the fight until we're in judges' critiques, but we have a whole runway to get through first! Standouts on the main stage are Banksie, who puts together a pretty stunning pattern-mixing look, and DeDe, who goes full "rich bitch," as Graham Norton puts it, with her garment. Both stick to black and white, which strikes me as the right approach for this challenge. Because the prints and materials are often so loud, they don't need a lot of extra colour.
In fact, some of the queens who fall just short of the top all lean into colour in a dangerous way. Kate Butch also indulges in some pattern-mixing with feline animal prints, but the colours clash alongside the prints. Ginger's take on Jem and the Holograms at "a rumble in the car park" is fun, but the pink of the snakeskin she uses is a bold choice that doesn't quite pay off. Vicki Vivacious also does a pink look for a day at the beach, but it's pretty standard stuff. The one colourful look the judges really love is Tomara's showgirl outfit, but it's just too short for me to really get into it. I'd have put Michael Marouli's gorgeous blue "dark lady" look in the top instead of Tomara.
In the bottom three are Cara, with a parrot-inspired feathered look that has an unresolved bottom half, as well as our bottom two, Alexis Saint-Pete and Miss Naomi Carter. Cara's look may be unfinished, but you can at least see what she was going for; Naomi's look is a pretty blatant disaster. There's a style to it, sure, but that's mostly provided by the dreads and grill Naomi wears. The actual bikini look, complete with incredibly skinny thong strap, is remarkably little material for a design challenge. Ru kinda loves it, but not enough to keep Naomi out of the bottom two.
Which brings us to Alexis, who has a hard fall out of the top five last week. There's a fun concept behind Alexis's look, as she fashions her character as a pet widow attending her goldfish's funeral. But she screws up the construction, making the slit in her skirt come far too high. You can fully see her tights as she walks, and Michelle Visage is quick to note it in critiques. There's really no defence for it.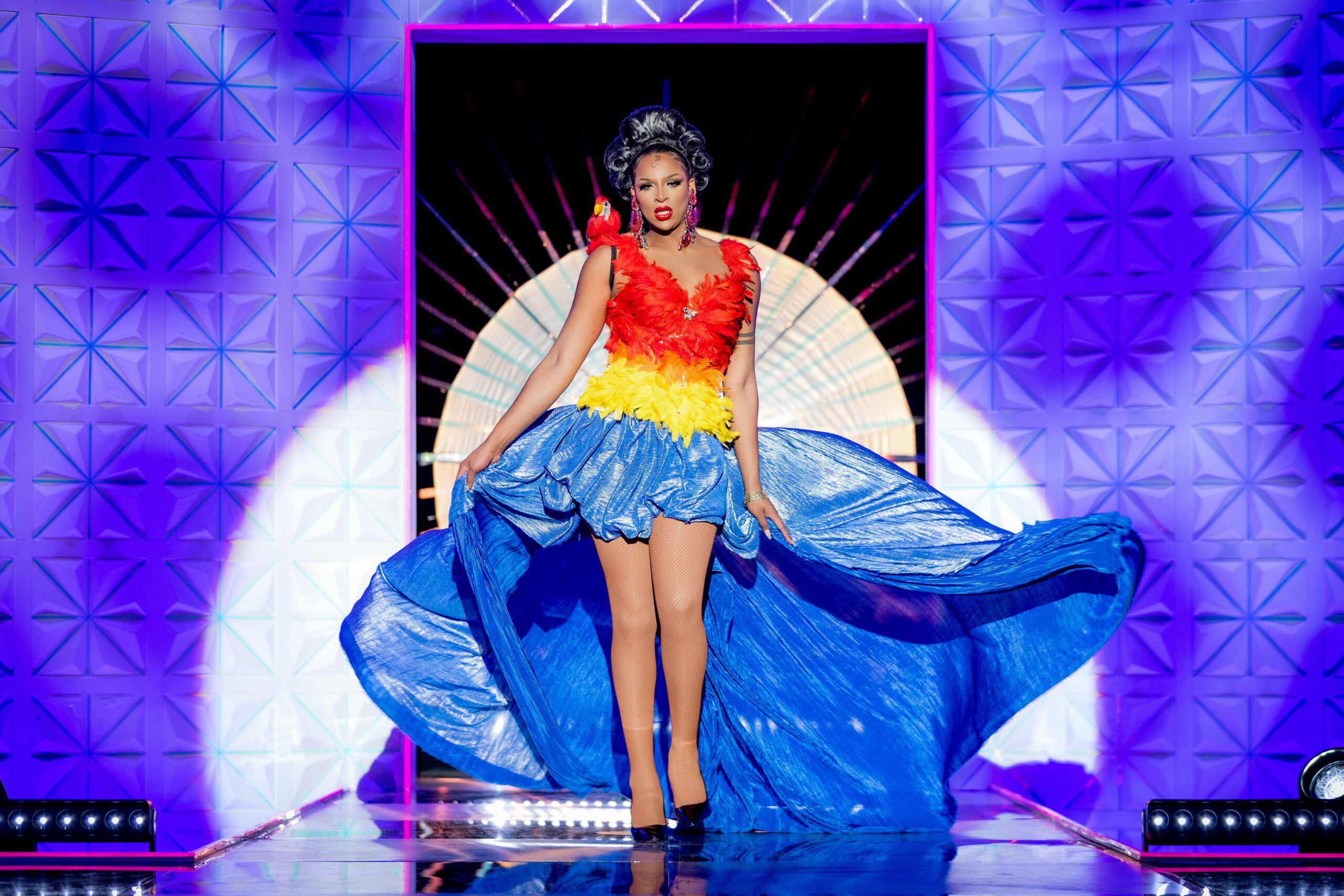 I think Cara would've been in danger of a climactic lip sync had Tomara been in the bottom, but instead, Ru gives the two a chance to resolve their drama on the main stage. To be frank, it's an odd choice; why not let them hash it out in Mini-Untucked? Regardless, Cara is waved to safety, and Alexis and Naomi lip sync.
Gotta say: this battle to Charli XCX and Tiësto's "Hot in It" is pretty fantastic. Both queens bring it hard, with Alexis seemingly having an advantage in energy and stunts at the start of the song. But she starts to flag, and has some issues with the words, while Naomi builds over time. Ultimately, Naomi stays, and Alexis is our first queen of the season to sashay away.
It's not an all-time great episode, but this installment is the kind of thing I want to see more of from modern Drag Race. There's one clear story in the episode, and instead of blowing the season's narrative wad by making one of the two queens involved in the drama leave now, both are kept around. Again, the resolution on the runway was a bit too pat, but I have a feeling, if this fight really is representative of "the Camara household," as Tomara puts it, it won't be the last scrap we see. I'm leaving this episode more excited about the season to come than I was entering it—and really, that's all we can ask for.
Untucking our final thoughts
✨ In the cold open of the episode, Ginger calls out DeDe for "misjudging" Alexis last week, which is a fun bit of follow-up on that storyline. I prefer this kind of in-the-moment rehashing of a conflict versus what happens after, as DeDe apologizes in the werk room the next day. Apologies are nice, but it's also fine to let drama linger, no?
✨ Kate jokes about being Vicki to Ru when the host is trying to figure out who is who out of drag. "Can I have the badge back?" she asks Vicki.
✨ We knew this from off-show media and Meet the Queens, but DeDe opens up about designing three of Krystal's garments from her season (including the incredible Cruella De Vil look). Normally when a queen tells us she's good at designing outfits, we have to take her word for it until we see her finished product. But considering her existing resumé, it would've been shocking if DeDe hadn't been in the top this week.
✨ Naomi gets a cute moment to pass a message through Edward to Naomi Campbell, the inspiration behind her first name (as he's her best friend). It's very sweet, although nothing will quite compare to Shea Couleé's moment with Miss Campbell in the All Stars 7 premiere.
✨ Yasmin Finney from Heartstopper and the upcoming Doctor Who season is our guest judge this week, and she looks stunning. The wig! Unfortunately, she lapses into an all-too-common trope among the British guest judges, which is that she's positive to a fault. When she compliments Alexis's too-high skirt slit as being "the perfect length," you know she shan't be passing a real judgment all day. It's okay to be critical, UK judges! I'd argue it's your job as a guest to be so!
✨ Rumours say this is the last episode in which the disqualified 11th queen will appear, but you can see in the last wide shot after the lip sync that she is still there this week, at least.
✨ There's lots of talk about "performance" in the critiques and deliberations this week for a design challenge. It almost feels like Canada's Drag Race in that way, since Brooke Lynn Hytes's panel loves to focus on presentation on the runway. An interesting development, and I'm intrigued to see if it carries over to future U.S. seasons as well.
The next episode of RuPaul's Drag Race UK will be available to stream on Thursday, Oct. 12, at 4 p.m. EDT on WOW Presents Plus in the U.S. and on Crave in Canada. You can subscribe to our drag newsletter, Wig!, for exclusive Drag Race content delivered straight to your inbox every Tuesday afternoon.