"I remember this kid coming up to me after a book event and asking, 'Are Ballister and Goldenloin romantical?'" Nimona creator ND Stevenson says with a laugh. "He had to be about eight years old and he was still picking up on these themes."
Stevenson is the mind behind a story bringing a message of queer love, friendship and acceptance to homes worldwide. The adaptation of Stevenson's popular webcomic turned graphic novel debuts June 30 on Netflix. Nimona, the movie, won't leave any viewers wondering about the "romantical" inclinations of knights Ballister Boldheart and Ambrosius Goldenloin, whether they're eight, 18 or 80 years old.
The film, directed by Nick Bruno and Troy Quane, whisks audiences to a medieval-futurist kingdom where Ballister must clear his name and prove his honour to Ambrosius after being framed for the murder of their queen.
For Eugene Lee Yang, who voices Ambrosius in the film, it's refreshing to give audiences a chance to see themselves in ways he couldn't while growing up. "We as queer people find ways to extract meaning from any media. The classic example is Disney villains," Yang says. "But it's because a lot of the head animators of these characters were themselves queer. So queer coding, queer acceptance, queerness—the essence of it is going to be there. And with ND being the source for this material, it's effortless." Yang says he didn't have the luxury of growing up with films like Nimona, but, like many discerning young viewers, he learned to recognize the signs. "If there was something where two boys looked at each other sideways, I was like, 'That's gay to me,'" he says with a wink.
This unabashedly queer adventure should delight audiences of all ages with a story that's already let a generation of readers feel seen. Judging by the positive response from the full house at a family screening this weekend at Toronto's TIFF Bell Lightbox, Nimona is set to be one of the great films of 2023 for queer representation and positivity. It's refreshing to see a film that's more concerned with getting it right than getting it done first.
Just as young readers can tell that the relationship between Ballister (voiced by Riz Ahmed) and Ambrosius is far more than a bromance, Ballister's rambunctious sidekick Nimona (Chloë Grace Moretz) can rapidly change her body into different forms. As she morphs from human to rhinoceros to shark to whale while retaining her authentic self, readers have long embraced Nimona as a metaphor for trans and gender nonconforming experiences.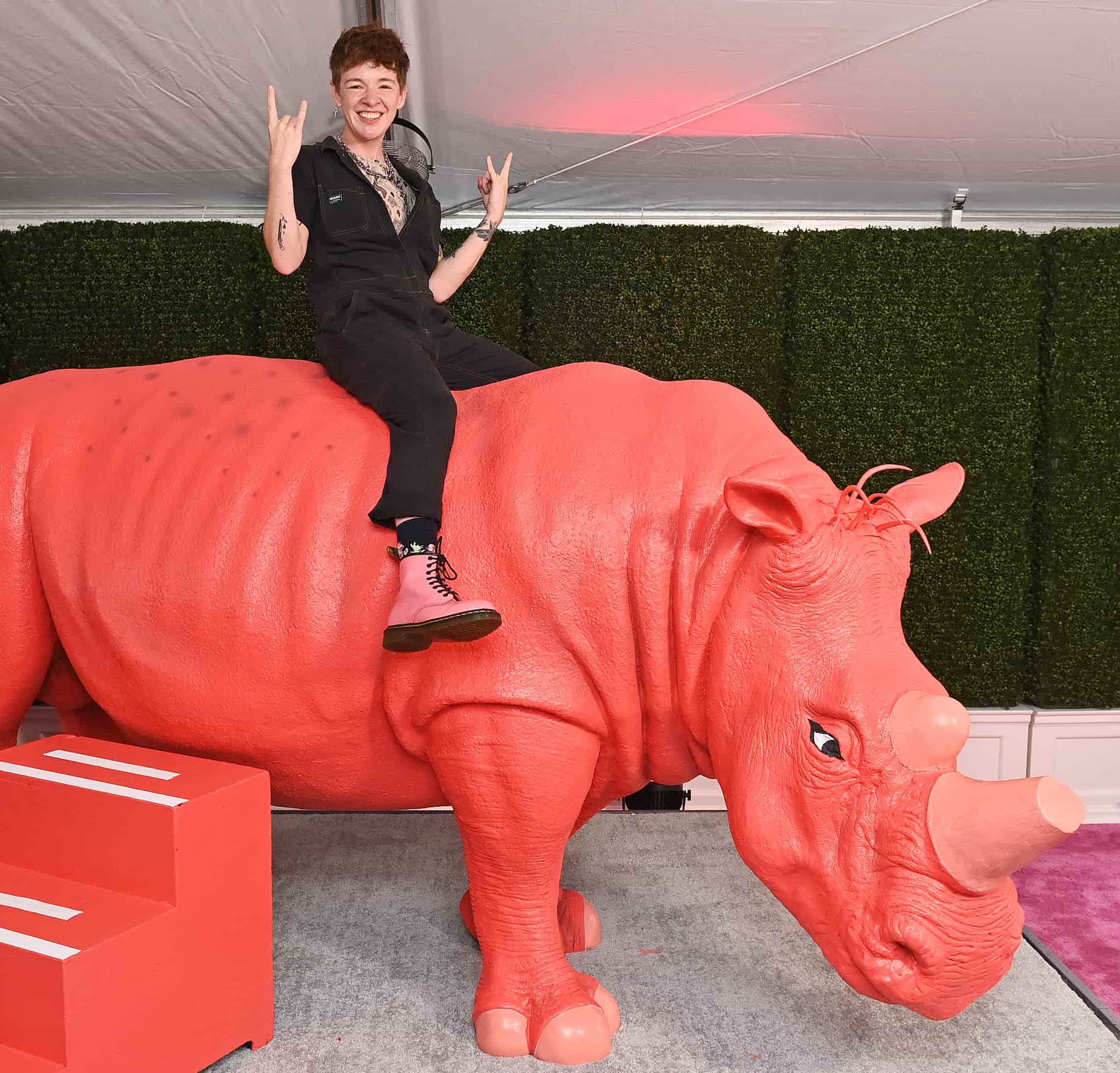 Stevenson himself came out as trans after writing the comic and observes that crafting the adventure while undergoing his own journey lends itself to the subtle themes and images. "I did not always understand my own transness or other people's transness," Stevenson tells Xtra. "It would be years before I started to understand myself. The book was my way of creating these queer characters that I could live vicariously through and explore those parts of myself in a safe place."
Nimona boldly defies labels as she morphs while aiding Ballister. The knight, however, frequently parents Nimona and reminds her that she's "a girl" when she behaves boisterously. Ever the stubborn teenager that her human form resembles, though, Nimona rejects the status quo. She pointedly corrects Ballister by saying, "I'm Nimona." As the reluctant hero refuses categorization, Nimona offers an upbeat message about the power that comes from falling outside the box.
"What's at the heart of Nimona is that she is this unknowable being," Stevenson says. "At the heart of this movie is acceptance. Whether or not you understand someone fully, love and acceptance come first."
In addition to Nimona's shapeshifting, the film improves upon representation for queer characters in animation with Ballister and Ambrosius. The knights, who appear more like anti-heroes in Stevenson's comic, move closer to the positive side of the good-versus-evil scale in the film. They are two burly titans layered with brawn and tenderness. As Ballister finds himself on the run after being framed for the murder of the queen, Ambrosius pursues his boyfriend and turns heads along the way. The film counters the cliché of effeminate gay characters in which a man being in touch with his feminine side serves as a punchline or evidence of untrustworthiness.
"I've talked a lot with ND about it and he mentioned that that was one of his concerns," reflects Yang. "Ambrosius is the most redesigned as a character from the graphic novel. ND shared his concern with the filmmakers about Ambrosius's femininity potentially ending up the butt of a joke as an antagonist."
Instead, Goldenloin, with his stylishly coiffed lavender-scented locks, is a bona fide Prince Charming.
Yang knows a thing or two about the world of animated princes, having lampooned the Magic Kingdom in the Buzzfeed viral video If Disney Princes Were Real, in which he directed and starred. Yang says the video taught him to take no notes from hunks like Aladdin or the Beast, and he appreciates how the character of Ambrosius let the actor play with aspects of gender expression. "The society itself feels very patriarchal, and Ambrosius is this masculine guy who tries to be the poster boy for this system," Yang says. "But he's such a soft little sweetie when he's with his boyfriend. That dichotomy in this iteration of him was really nuanced."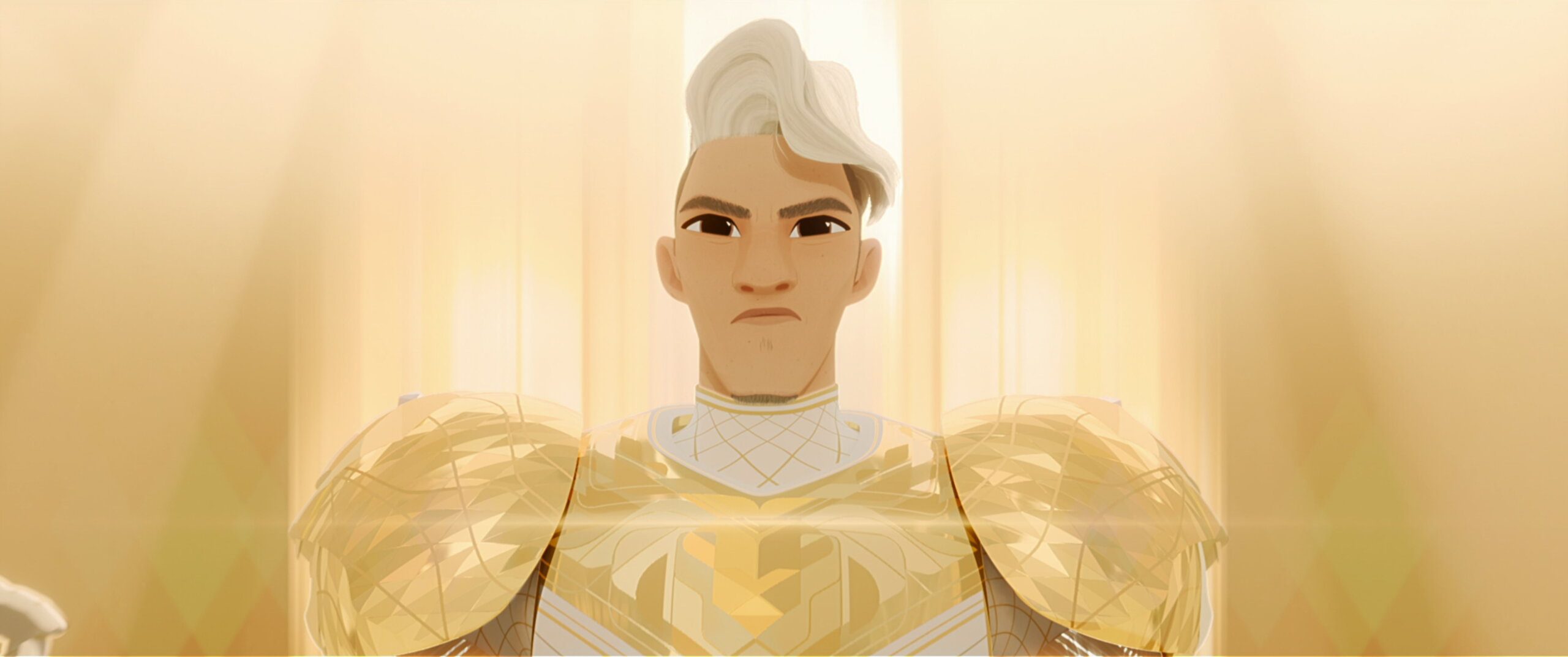 Kissed by controversy
Nimona, moreover, respects the audience's maturity when it comes to the knights' relationship. The film lacks any are-they-or-aren't-they mystery. Ballister and Ambrosius are a couple when the film begins and their first exchange is a reaffirmation of love. The romance, however, has been a source of controversy over Nimona's complicated eight-year production: the company that was producing Nimona, Blue Sky, was acquired by Disney amid the Fox merger of 2019 and then shuttered in 2021. Former Blue Sky staffers subsequently told Business Insider that the same-sex kiss and queer positivity made Disney brass uncomfortable, among other creative differences and business decisions that emerged once the company had several animation wings under one umbrella.
"There was a lot of fear at first, like, 'Do we want to limit our audience in this way?' and it really sucks to hear that as a gay person and as a trans person," Stevenson admits. But the creator adds that any threats to the integrity of Nimona's story—its palpable queerness—strengthened morale among the creators. "It was almost like having Disney buy Fox and having [Nimona] suddenly become this Disney movie was honestly when I saw people start fighting even harder and going for it. That rebel spirit is what really took us through the end." The kiss appears in the Netflix movie and its casual tenderness is one of Nimona's most valiant victories.
Yang says it was fantastic to both play Prince Charming and to get to kiss Prince Charming in the film. (Or at least provide the kissy sound.) It's not some climactic after-battle reward smooch, either—it's just an everyday public display of affection. "It's quite domestic and that's what I love about their relationship," Yang says. "It feels like me talking with my actual boyfriend."
Moreover, the absence of ambiguity in the knights' relationship means that Nimona is one of few studio films this year that features two LGBTQ2S+ leads without a coming out narrative. For Yang, who came out in the fabulous music video "I'm Gay," which features Drag Race favourites like Kim Chi and Yang's drag mother, Mayhem Miller, coming out stories will always have their place. But he observes that Nimona's freshness comes in confronting the oppressive culture that forces queer people to come out repeatedly in social settings.
"With Nimona being this chaotic spark that is essentially out there to change it all, the theme of identity is laid so confidently into these characters' DNA," he says. "None of their struggle is about being gay or about being gender nonconforming. Their struggle is about trying to survive a regime. That is also aligned with queer experience and it's something that I hope people feel the echoes of as they turn around and look at their daily lives and what's happening in countries like ours."
Yang's observation resonates throughout every frame of Nimona. The film's creative team understands the platform, reach and power that they have at a moment when LGBTQ2S+ rights are under attack with renewed force. A queer film inviting families to celebrate love in all forms is a bold move when family-friendly queer content sees its creators labelled as "groomers." The film offers an affirmation to audiences who need it most.
Yang sees Nimona's arrival at this moment in time as part of a cycle. "It's like the time in the '70s when they were attacking queer teachers, and then with gay marriage and then with the bathroom bills. This is just another example. What I love about Nimona as some form of response is that it's not just a response; it's a joyous proclamation," Yang says. "It's a complex, enjoyable, fun, engaging piece of filmmaking that also makes the statements that these kids, especially trans people, are only asking for one person to see them—very much like the climax in the film."
Stevenson says that while the graphic novel hasn't appeared on any banned books list that he's aware of, they're bracing themselves for controversy with the film. But he adds that people need to see through the misdirection of a vocal minority.
"People are so uncomfortable around something that they don't understand, but all you need to know is that this is an important part of this person and that you need to love them for them. And the understanding will come with time," Stevenson says. "All you need to know is, 'Do you love this person?' That's something I really want for people who identify with the characters' experience and for people who've never been through it, people who don't understand. I hope the film makes those audiences and families feel understood and that it helps facilitate that love and acceptance."