My most delicious readers, both sweet and salty and even a bit bitter, it is the exciting season of New Things—the sweet spot between summer holidays and "let's circle back on that after the new year," when people are at their desks, releasing books and promoting movies and clamouring for the attention of culture writers like me. I mention this because I want you to know that while all columns are my very favourite things that I want to share with my very favourite readers (you, it's you) this particular column (and probably the next few) are the cream of an especially large and variegated crop.
The Last Epistle of Tightrope Time, in Toronto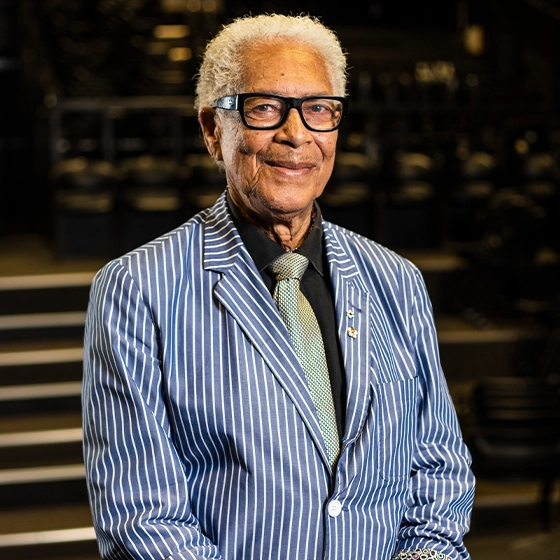 Walter Borden is a Canadian national treasure, an 81-year-old Black-Indigenous queer actor who has been awarded the Order of Canada and is therefore probably entitled by custom if not vibe to be addressed as Your Grace. How lucky Toronto is, therefore, to be hosting his solo show The Last Epistle of Tightrope Time at the Tarragon Theatre until Oct. 15. In the show, which Borden first performed in 1986, and has been revised and expanded considerably since, Borden plays 10 different characters as he narrates and explores his experiences as an out, queer man of colour across eight decades of history, politics and art. Alert readers may recognize Borden from his many, many stage appearances (including his considerable Shakespearean work or his breathtaking turn in Michel Marc Bouchard's Lilies at Buddies in Bad Times) or from his role in Bruce LaBruce's romantic comedy Gerontophilia, but regardless of where you know Borden from—or even if he's new news to you today—do not wait to get tickets to this exceptional piece of work.
(Also, while you're on the Tarragon website anyhow, grab tix for Nikki Shaffeegullah's A Poem for Rabia in the smaller Extraspace Theatre, a play that lets us visit with three queer women of the same bloodline, 100 years apart from each other. If you saw it under its previous title, Betty's House, while it was in workshop, this is the newest version, I believe, and I am excited to see what has developed.)
Gwen and Art Are Not in Love, by Lex Croucher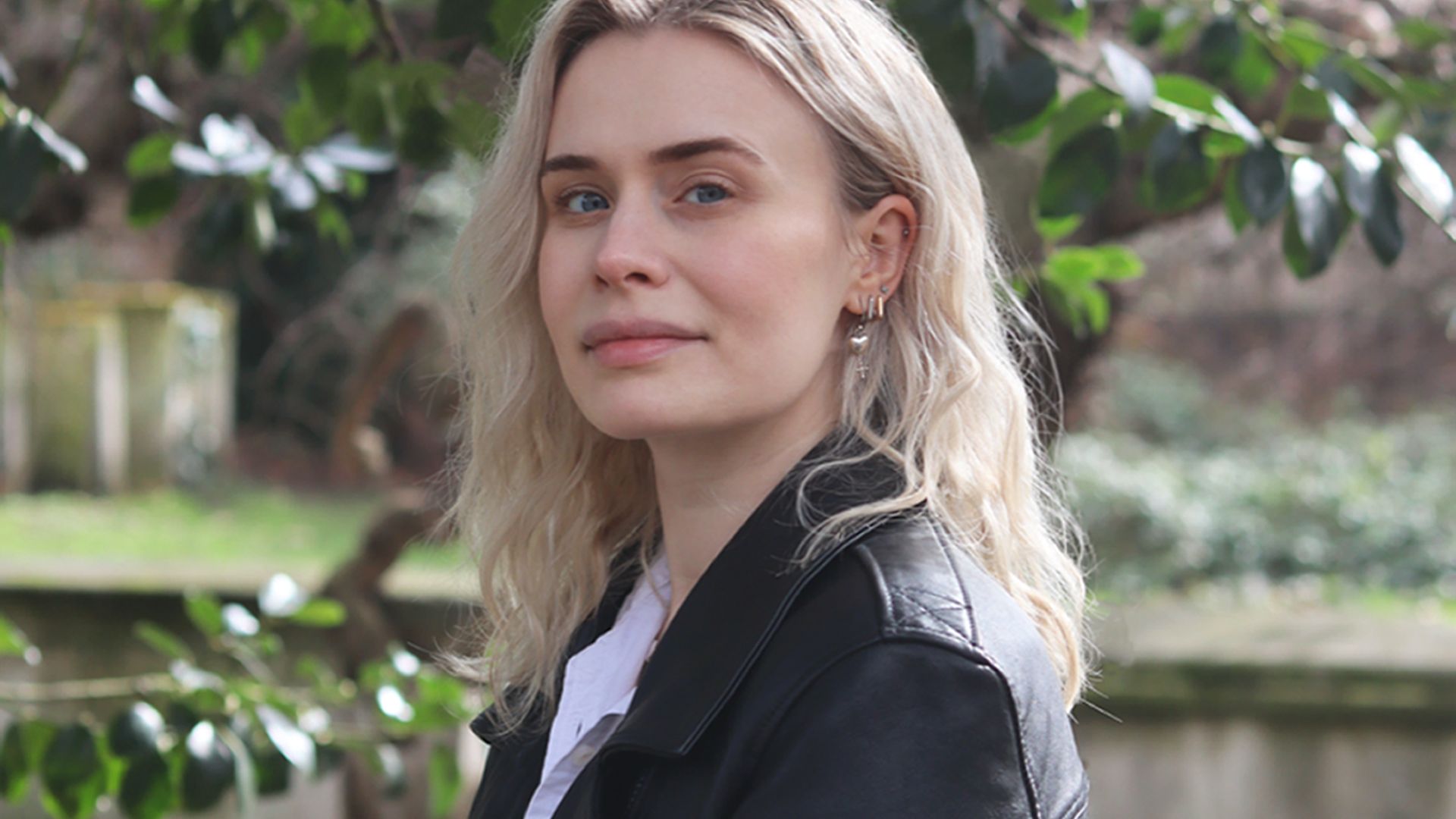 I am a fan of the new fashion in entertainment for dabbling in or remixing history or legend or period drama with a modern sensibility. It feels both accessible (not everyone is that excited for the thees and thous, and that is fair) and particularly queer in the way academics use the word—it interrupts expectations and replaces them with something fresh and non-hegemonic (my husband is a professor; I get one free use per year of the word "hegemony." It's the rules). Gwen and Art Are Not in Love, by non-binary British author Lex Croucher, is a generous double handful of Arthurian legend with some, uh, assorted other technology and geography that seems to put us forward to maybe the 14th century, but half of everyone is queer, plus there's palace intrigue and arranged marriage and royal shenanigans and also an absolutely swoon-worthy butch girl knight (will she save the day and get the girl in the most stylish manner imaginable? Absolutely she will). This is sold as a YA book and it's definitely great for tweens and teens, but if you have an afternoon and a fireplace and a cat and a cup of something hot and any amount of fondness for a romance novel, this will surely satisfy.
Yesterqueers, Amanda W. Timpson on TikTok
People are not paying enough attention for my liking to the Yesterqueers TikTok account, where queer public historian Amanda W. Timpson is producing bite-size and super fun queer histories and biographies including which queer icons certain Disney villains were based on (*cough* Tallulah Bankhead *cough*) and the history of the Bear descriptor/identity, as well as topics ranging from queer Pompeii to queer flagging. Timpson has an informal-but-informed style that makes everything seem interesting and digestible, whether it's Emperor Vespasian (the sex-negative one who died from diarrhea) or how to signal what kind of spicy gymnastics you're hoping to enjoy for the evening based on where you wear your keys. Her videos, clocking in at two or three minutes each, are incredibly well composed. You get just enough context to understand the setting of what you're about to learn about (but not so much that you get bored if that part is already familiar) and a vibrant, cheerful overview of why a person or concept is notable. Timpson has been at it for a while with her adorable blue hair and Nerd Regent vibes, so there's a trove of 18 months of videos to watch through (and a bibliography to go with them if something makes you want to read more, which I predict it will if you like this column).
The Feminist Killjoy Handbook: The Radical Potential of Getting in the Way, by Sara Ahmed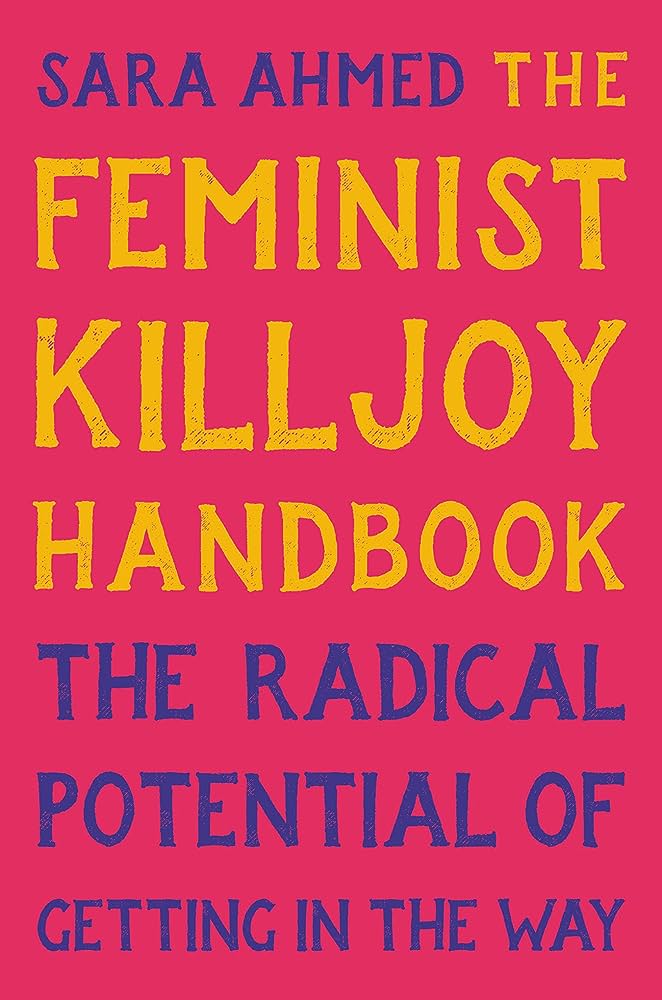 Sara Ahmed, feminist thinker and writer of the best kind (thoughtful, interesting, not TERFy at all) and author of the longtime blog Feminist Killjoys, which has been a must-read for probably a decade, has written The Feminist Killjoy Handbook: The Radical Potential of Getting in the Way. It is very exciting to have it in my actual hands, for two reasons: first, Ahmed is a great writer and a brilliant thinker and every essay by her is a whole meal if not an actual feast; second, it really feels, in many ways, like a handbook for recognizing all the ways that misogyny is a constant cultural current we have to paddle against. We have to figure out how to upset that current, how to become the rock that makes the rapids and marks the current as dangerous. In particular, I think men should read this book—Ahmed makes a raft of points about where the most unpleasant threads of anti-feminist thought hide and thrive that I think a lot of men will not have thought about, and there's no time like the present, my dudes. People of other genders should also read it, for validation and encouragement and more than a few a-ha moments of their own, not to mention a few ha-has because, ugh, if you don't laugh, you'll scream.
Musicians Kaien Cruz and Mo Reen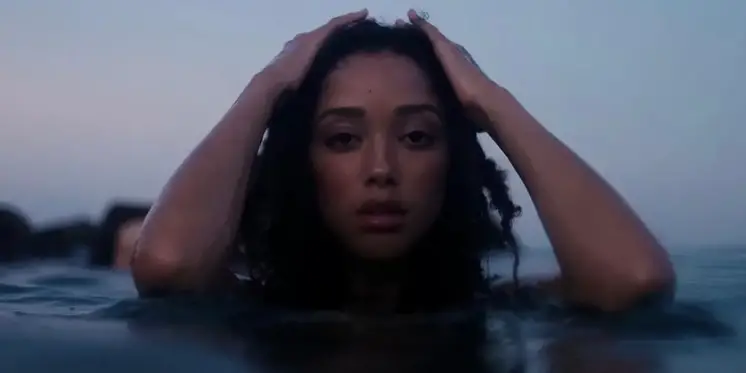 Kaien Cruz has a poppy new R&B single, "I Lay," featuring Xenia Manasseh, and a steamy Sapphic video to go with it—she is new to me—while Moe Reen, aka weepymoereen, has taken TikTok by storm with queer country covers and an absolutely astonishing voice. Will these both appeal to everyone? Perhaps not, but they both speak to me as queer artists breaking out bigger in a crowded landscape of talent, and since I believe you rely on me to point out all the best and queerest business that crossed my eyeballs, my loves, this is it. They both have beautiful voices, and I rarely have a day that wouldn't be improved by a track or two from one or the other of them.
---
And that, beloveds, is what I want you to know about this time, what I hope you will sip or gulp or swallow whole. I hope you have many pleasures to tempt you, whether to gorge yourself immoderately (everything in moderation, including moderation, as Oscar Wilde is purported to have said) or to draw you into something that's new and exciting and full of promise and possibility. I hope each of them warms you and satisfies you, or jolts you and invigorates you, or some other desirable combination until we meet again. Meanwhile, if you're making something new and queer, send me an email or drop me a DM. I love to hear your news.