Dearest darlingest pansies and popsicles, welcome back to my tiny happy room on the great wild internet, where there are always stacks of books and a plate of cookies (please ignore the pile of tutus in the corner; I have not yet finished my post-Pride tidying) and something playing on the tiny speakers. I've been sitting in a bittersweet nostalgia for the great friends and lifelong comrades and colleagues I made doing direct action 30 years ago—dying-in in a sweaty pile, doing clinic defence at Planned Parenthood, singing an extremely off-licence version of the Barney & Friends theme song loudly enough to drown out homophobic street preachers. For all that, making queer friends these days is feeling halfway to impossible. It wasn't nearly such a problem when we had a common purpose that required us to act in unison. To me, that is the silver lining in all the current anti-queer and anti-trans hostility. We're in this together, my friends. These tIn any event this throwback vibes lead us directly to our first item of the list, and what an item it is!
All Man: The International Male Story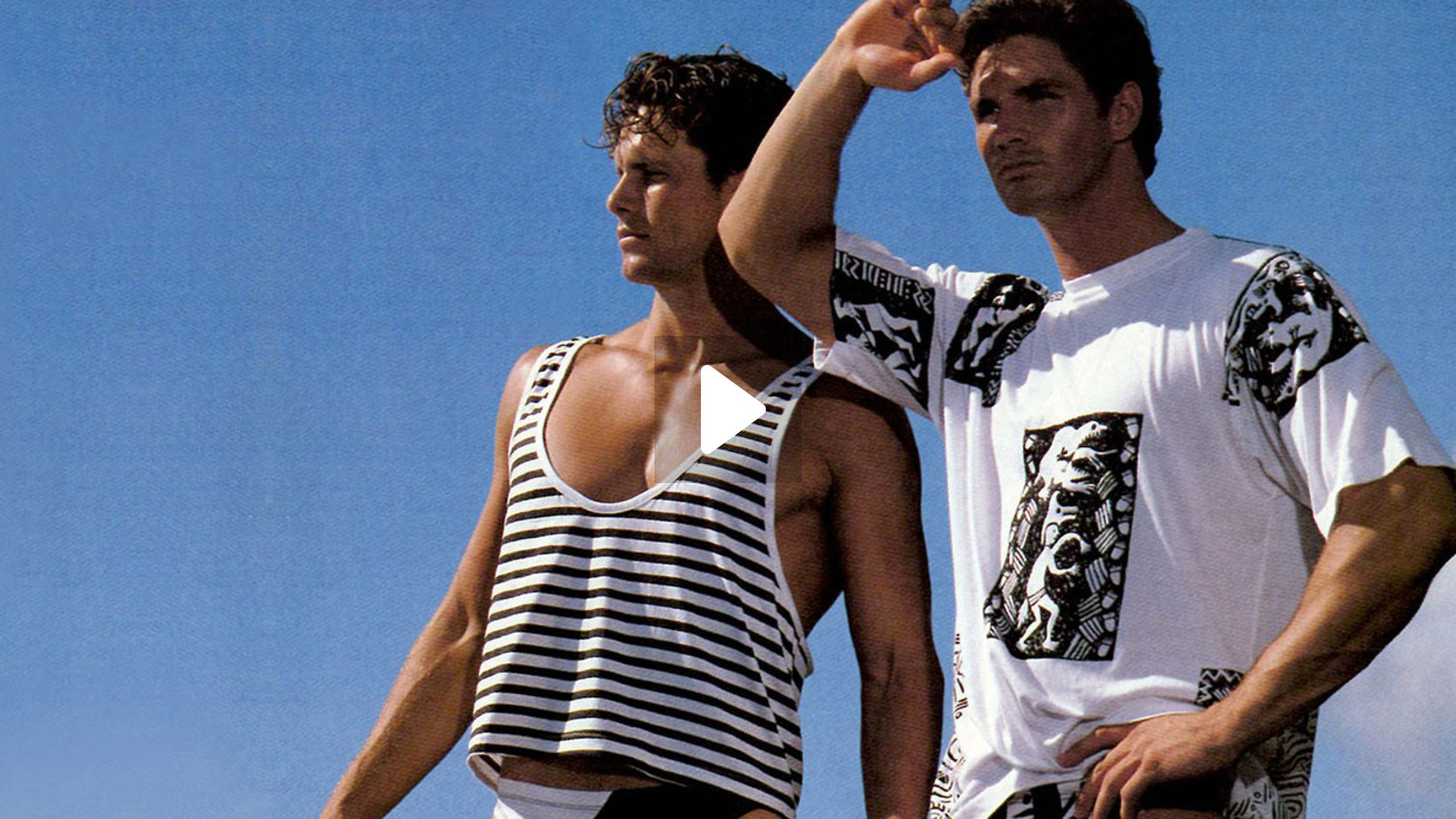 Friends, I pored over the International Male catalogue as a young queer, both because I wanted to look like the guys in it, and because I wanted to understand the strange mystery of why a purple mesh thong on a muscular man made him look more masculine, rather than less (I have always been exactly this kind of nerd, for better or for worse). International Male played a big part in my queer teen years and young adulthood, which made this playful but also fascinating documentary all the better (especially, somehow, in summer?) for me. With big Circus of Books vibes, but somehow both slicker and more queer, All Man: The International Male Story (on AppleTV) turned out to be exactly in my documentary wheelhouse—how did this happen and what were people thinking about it, interleaved with retro vibes and some of the sweetest reflections about the relationships that made the whole operation work. There is also something very soothing to me about hearing these stories: straight and queer people finding work and friendship and family together during a time we were all being told that to be queer was a death sentence, both medically and spiritually. (It's also narrated by actor Matt Bomer, just to spare you 20 minutes of "that voice sounds so familiar, who is that?" before you give in and look it up.)
2 Trans 2 Furious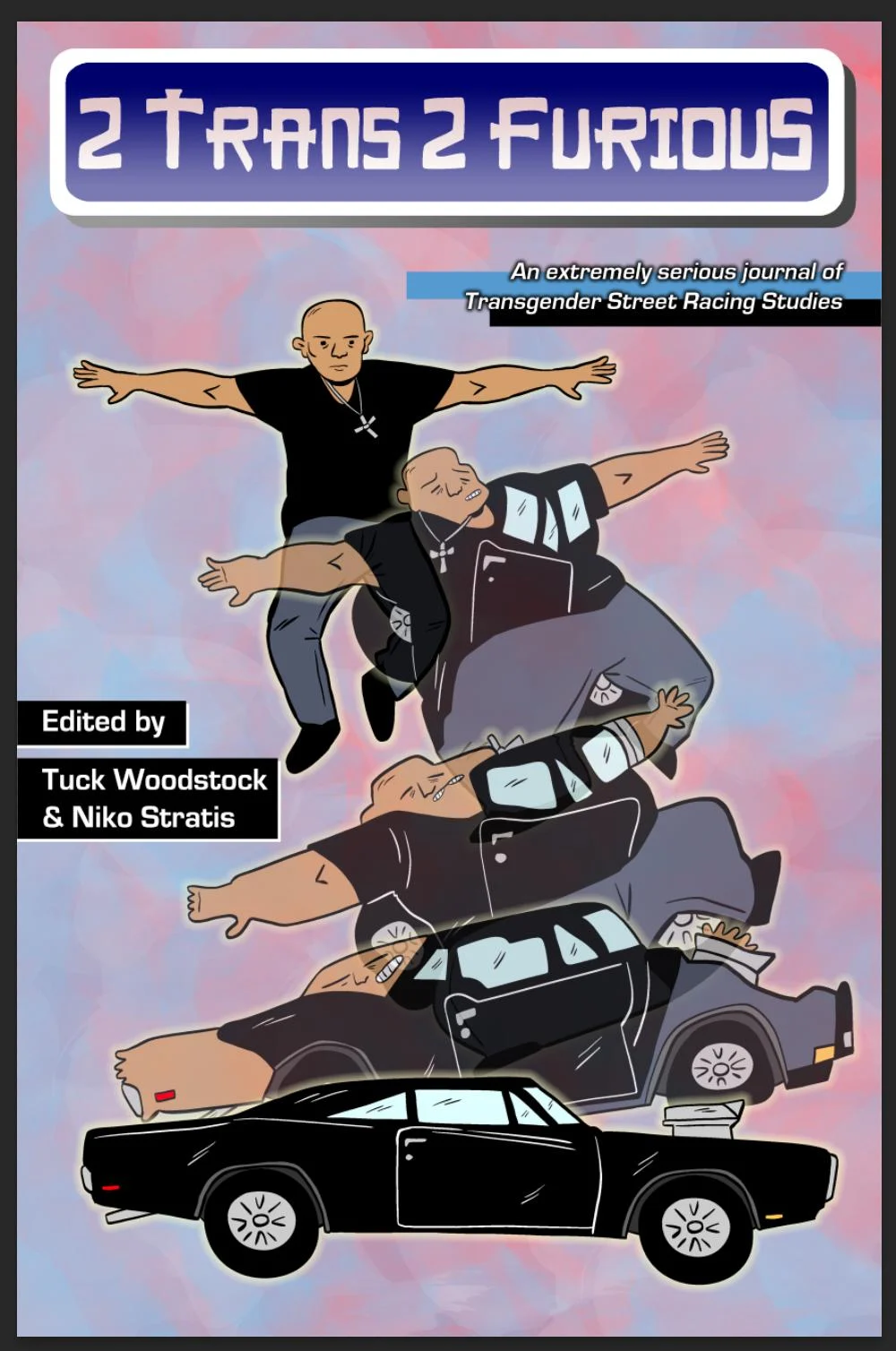 People I quite admire on the internet, namely Niko Stratis and Tuck Woodstock, have put together 2 Trans 2 Furious, a 'zine (remember 'zines? That's another thing that's back) by trans writers about the Fast & Furious movie franchise. It's a little more fancified than the late-night cut-and-paste jobs my friends and I did with copies scammed from someone's job as a secretary in an insurance office and someone else's five-finger discount glue stocks, but very similarly evocative. The work in 2 Trans 2 Furious is still a little damp on the page, and a democratic hand has been taken with contributorship. Poetry, prose, comics, essays and reflections all cuddle between the covers, and include pieces that should tickle anyone's fancy. I was really taken by an essay called "On the Importance of Looking," by Dizzy, about why being objectified a little, in a queer way, can actually be great. The collection is certainly eclectic but overall the quality of the work is very high. You can preorder this now, and you should. It is delightful and DIY and pleasing in every possible queer way, and I am not at all sure it will be available in stores at any point, so get to it.
Vibe Check podcast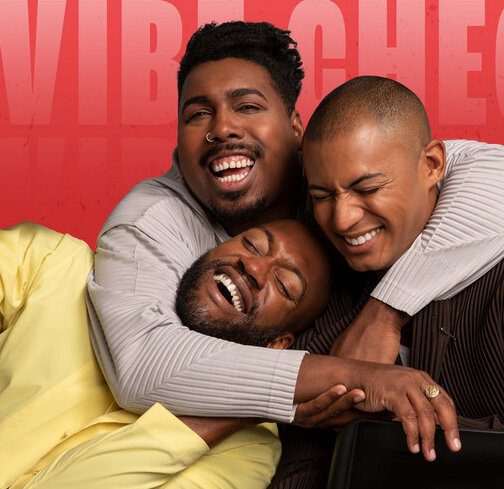 The Vibe Check podcast is described as your favourite group chat come to life, and I have to say, I would love to have more group chats in my life that have this vibe. Hosted by the delicious trifecta of Saeed Jones, Sam Sanders and Zach Stafford, Vibe Check chews on the news with wit, wisdom, irreverence and a deep familiarity that makes listening in a true pleasure. It's informal in tone but incredibly informed underneath, a Black queer investigation of how the world works. Whether they're talking about child labour, the policing of Black facial expressions, the lies of Fox News, looks at the Met Gala, colourism/shadism, extrajudicial violence against Black people or much more (so much more), the mix of analysis, commentary and Black queer gaze is unmatched and unreplicated anywhere, ever. I'm sure your friends are smart and well read, but I guarantee—from the bottom of my queer and nerdy heart—that you will learn and laugh and learn some more listening to this podcast.
CrashPadSeries, for ethical queer and trans porn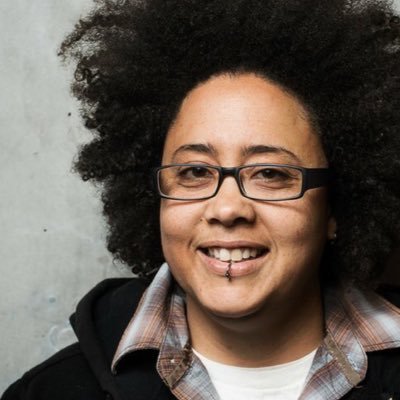 Started as a single smutty film 17 years ago and expanded into almost 400 episodes, the CrashPadSeries focuses on a wide variety of bodies getting up to all sorts of very queer shenanigans with great enthusiasm and plenty of lube. The brainchild of auteur Shine Louise Houston, CrashPad puts paid to the lie that diversity isn't fun—there's hardly anyone you might like to see getting down to it who isn't represented, including fat people, Black and brown people, disabled people and trans and non-binary people all joyfully coming together (ahem) to enact all type and manner of scenarios to tickle your imagination. Each episode comes with a charming behind-the-scenes segment of performers discussing why they're excited to participate and what turns them on about the video they've made, one of the hallmarks of ethical porn. The other hallmark being that you're paying the creators for their work, with a monthly or annual subscription. They may seem nonsensical in this era of free porn abounding, but do you want to participate in the exploitation of sexual performers or do you want sex workers to be paid fairly for their labour? (That is a rhetorical question.) Ranging from sweet and sensual to filthy and vigorous, there is a lot here to please any erotic palate.
Riley Weaver Needs a Date to the Gaybutante Ball, Jason June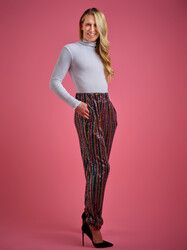 Honestly, we needed Riley Weaver Needs a Date to the Gaybutante Ball, in part because it troubles the constantly repeated idea that some nefarious force is trying to "trans" gender-noncompliant young people, partly because femme dating anxiety is so real, and partly because I simply love the idea of a secret society of LGBTQ2S+ artists and cultural workers with their own organization and political power so very, very much. Jason June gives it to us in a breathlessly fast-paced YA confection that's both honestly hilarious and so well observed that I, a person who works in queer and trans arts and advocacy, had the sneaking feeling more than once that June had recently been eavesdropping on my group chats. It also wrestles, between the giggles, with some of the ways I too felt unloved and unlovable as a queer teen and young adult, and how those feelings sometimes pushed me toward terrible decisions, thinking they were my best option at the time. Riley Weaver Needs a Date to the Gaybutante Ball was almost alarmingly relatable for me, but the twist ending (which I will not spoil, except to say that it is earned here) left me with a satisfied smile.
---
And that, my fine feathered friends, brings us to the end of this week's catch-up. I hope you feel caught up, caught and gently set down on solid ground, caught and held and treasured until we meet again. In the meantime, if you're making something new and queer, please email or drop me a DM about it—I love to hear your news.
August 8, 2023 11:35 am
Correction:
August 8, 2023 11:35 am
The original inspiration for the CrashPadSeries dates back to 2006. Incorrect information appeared in the first version of this story.