Loss and tragedy can birth new beginnings. For Georgia-raised hip-hop artist Damez, going through perpetual hell on earth led him to music. Growing up, Damez didn't come from a musical background, but he found interest in pop stars like Beyoncé, Janet and Michael Jackson, Prince and Usher. He drew from their creativity models, learning to write and produce on his own, birthing his artistry as a dancer, singer and rapper to showcase his eclectic versatility.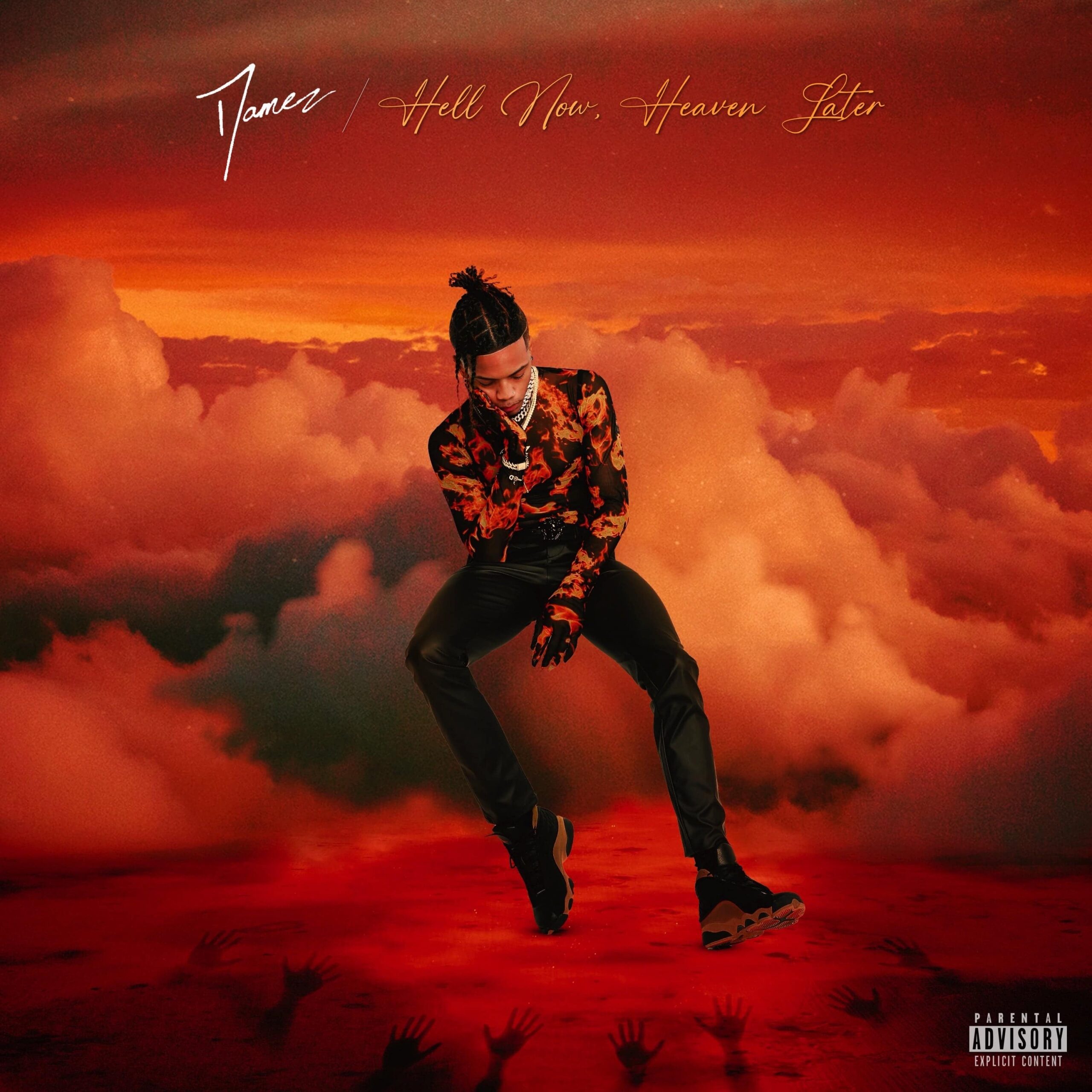 Damez is a survivor, having been surrounded by death and injury throughout his life. As a teenager, he lost his brother to gun violence and endured numerous surgeries after various car accidents over the years—even a collision with an 18-wheeler. Damez's prior projects in his discography were a cathartic distraction, leaning more in the feel-good direction, but he could no longer ignore the grief that weighed him down. With his newly released sixth project, Hell Now, Heaven Later, a 17-track LP, Damez is ready to bare his soul, humanity and reality by digging deeper to process his trauma through music.
According to Damez, the inspiration behind Hell Now, Heaven Later was capturing a well-rounded reflection of life by facing his grief and depression that bubbled over at the height of the pandemic head-on. "I had to touch on what I was going through, whether it was the car accidents and the injuries, the mental health domino effect from all the treatments, my last relationship and the tumultuous breakup and heartbreak, or me still grieving my brother that I lost when I was 17," Damez tells Xtra. During our interview, Damez, now 29, was wearing a neck brace post-surgery. A week before, he also lost a high school classmate. "There are so many different things [I've gone through] that there's no way in hell I could keep putting out party music when y'all know, and I know, that life is just so much more than that."
Damez intentionally chose the three singles for Hell Now, Heaven Later. The lead single, "Agenda," released last year, takes a sociopolitical stance addressing homophobia in hip-hop and the narrative in media of the alleged LGBTQ2S+ agenda touted by bigots. He raps:
Fragile masculinity like Boosie, Tip or Baby
It's crazy cause them very clothes you wearing was designed
By the same group of people you still tryna keep behind
You ain't worried bout the kids, you just use 'em as a shield
To hide behind the bigotry of how you really feel.
His second single, "Contrary to Norm," was J. Cole-inspired, pulled from the depths of Damez's diary as he gets raw and vulnerable about his upbringing, the relationship with his parents and his brother's death. "I wanted to paint a vivid picture of who I am because I've been judged my entire life," he says.
With his third and final single, "Benz Boy," Damez wanted to honour his fans who'd found him through his earlier party anthems. The track and music video finds Damez rapping braggadociously about popping bottles and swerving in a Mercedes-Benz.
The most challenging song for Damez to create was "Stay Afloat." He worked on it for about two years before being satisfied with the result. "'Stay Afloat' is my mental health awareness song because I was in such a dark place; when I [made] it. I was suicidal. And I had to pull myself out of that," he says. The melodic track chronicles feeling like you're drowning in waves of life's struggles while still trying to keep your head above water; a yearning for reprieve. On the chorus, he croons:
Feeling like I'm drowning
Even when I'm just trying to stay afloat
(I just don't know)
Hennessy I'm downing
Not giving up I'm just trying to free my soul
(Feet don't fail me now).
"The writing part I found to be pretty easy once I found the right production and beats to help take my shovel and dig into my soul. But I was emotional while recording it; I would be crying, my voice was cracking, and it took a while to get some of these songs [recorded] because I was just in the studio crying my eyes out," Damez says.
When asked about his hopes for listeners, Damez says, "We all go through shit, and life is not always fucking great. I hope that people hear the vulnerability and honesty and they're reminded that none of us are perfect and that it's okay to go through things. It's okay to need help. It's okay to get your heart broken and start over. It's okay to sit down and reflect on what you've been through. Life keeps going," Damez says.
Hell Now, Heaven Later is an hour-long musical opus that shows a rarely seen side of queer hip-hop; in the mainstream, only Lil Nas X's Montero goes there. Hell Now ventures beyond the club anthems and quick hits to acknowledge our humanity. Artists like Damez are needed because they look beneath the surface stereotypes to capture the full experience of being queer and going through life, loss and grief.