If you don't know D'Arcy Drollinger, you soon will. And if you do know D'Arcy Drollinger, you know that he and his drag alter ego Champagne Horowitz Jones Dickerson White are the hardest working duo in queer San Francisco. In 2020, Drollinger, a playwright and actor, produced, directed, wrote and starred in his first feature film, Shit & Champagne, a concoction that Film Threat magazine called "the new high watermark on the golden urinal of trash epics." It's a big, bawdy, winking in-joke of John Waters meets Mel Brooks. It's pretty clear that Drollinger and his gang are having a ton of fun.
And it's clear too that Drollinger is a worker and he loves it. Which is a good thing because, as the owner of the buzzy cabaret/nightclub Oasis in the reborn SoMa district, the creator of Sexitude, a body-positive, age-positive, sex-positive dance class that's gained a cult following in the city, and the inaugural Drag Laureate of San Francisco, he seemingly never stops working. On assignment with Xtra's sister publication Pink Ticket Travel, I met Drollinger at his recently opened Oasis Arts, a non-profit film studio that serves queer filmmakers in the San Francisco area. He was half out of glam/punk drag as he greeted me warmly, and led me through a very busy (and very queer) film set and upstairs.
Where are we?
We're sitting in the offices of the Oasis Arts Building, which has a 5,000-square-foot film production studio downstairs.
You're clearly in the middle of something …
I am [indicating the glam/punk drag]. I don't always look like this. We're filming a Rocky Horror Picture Show for my club. This is my Frank-N-Furter. We've done the show every year for eight years and each year we put a different spin on it. This year it's an interactive, immersive film experience.
I get the sense you're always in the middle of something.
This year has been a particularly be-careful-what-you-wish-for year. Opportunities keep coming and I keep saying yes. It feels good to say yes.
You're from New York?
I was born here, actually. I moved to New York in 1998. I had a great time in New York and loved it, but I got pulled back into San Francisco. And it's not just because I'm a native and I own a business here that I love it so much. I would be hard pressed to find another city where the gay community has such a strong voice politically.
You're the first Drag Laureate of San Francisco.
I'm the first Drag Laureate in the world. West Hollywood appointed a Drag Laureate five or six months after San Francisco. They wanted to look fabulous too.
How does it work? You had to apply for the position?
Yes. When I read the criteria, it really spoke to me, and in a lot of ways the things they were looking for were things I was already doing. A lot of people begged me not to apply because they know how busy I am. And then one day I got a call from [Mayor] London Breed and she offered me the position. San Francisco is an amazing city for realizing that the drag community plays such a part in San Francisco civics that it was worth creating the position of Drag Laureate.
So what's the job?
I don't know that they knew exactly what they wanted, which in some ways is a lot of fun, to carve out what this role is, not only for San Francisco, but for the rest of the world, to show what a Drag Laureate can do.
And what can you do?
Bring some sparkle to the city. Represent the LGBTQ2S+ community in San Francisco, specifically the drag community. Help create bridges through the drag community, through the nightlife community, the neighbourhood associations, participate in the bigger programs that the city is working on so that we do have a voice. Historically, drag performers have taken care of the community. From the Sisters of Perpetual Indulgence to the Imperial Court system, these groups have really acted as the caregivers and the fundraisers and the community support when the LGBTQ2S+ community wasn't getting that kind of support from city and state organizations. There is a rich history. The trans and drag communities were always there on the forefront fighting for gay rights. So I think what they're looking for from the Drag Laureate is for all that history to be honoured. And also, to create events and festivals that could then be passed on from Drag Laureate to Drag Laureate.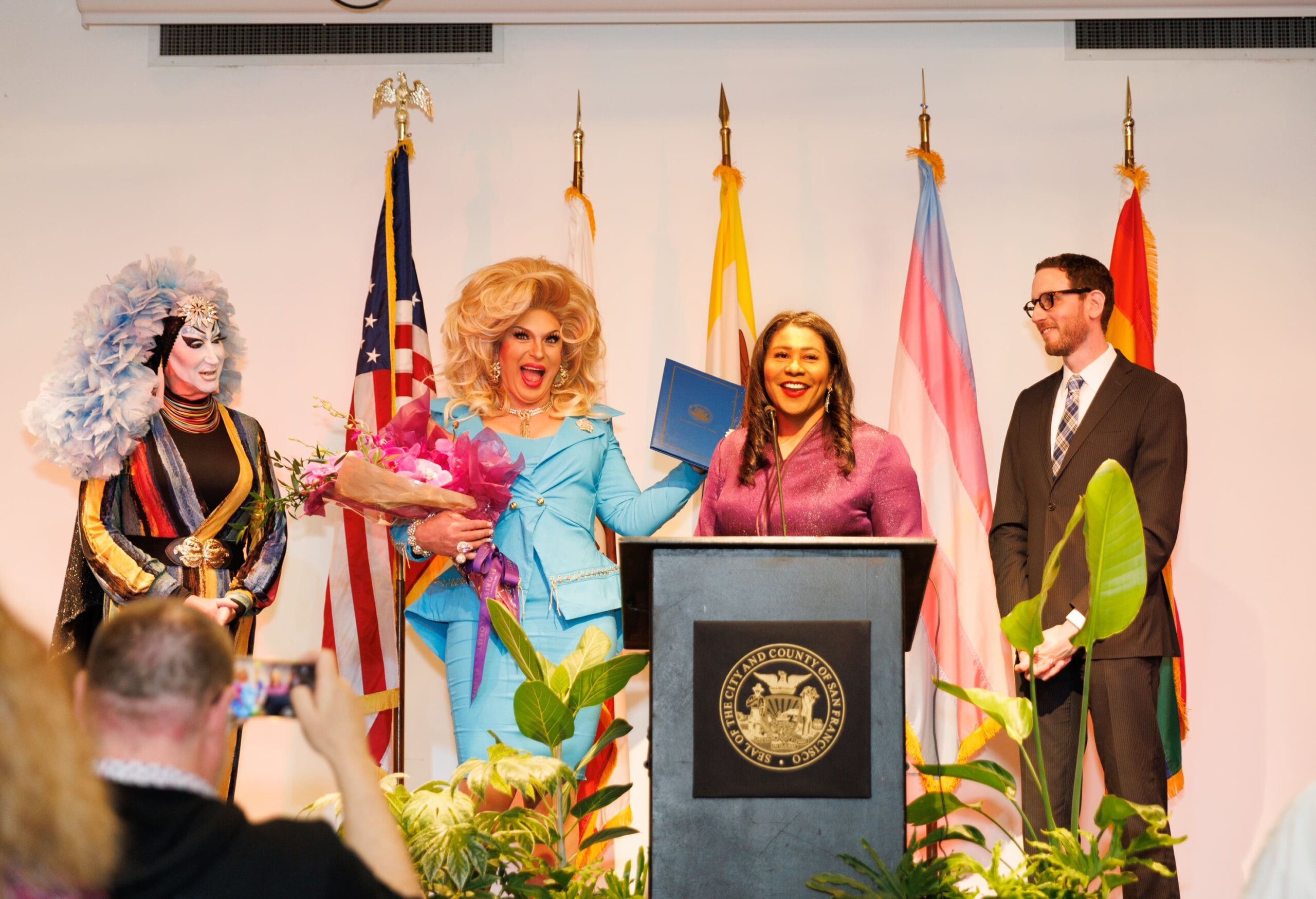 What do you make of the current anti-drag moment?
It's anti LGBTQ2S+ sentiment that has been normalized, and that's depressing. I'm at a point where I want a class action lawsuit, because those words, those sentiments—which are completely, categorically false—are harming our community. I spend a lot of my time talking about this because everyone wants to talk about it, and we can't help but talk about it. But I hate giving it so much energy, you know what I mean? A lot of this comes from the Drag Story Hour, which was created here in San Francisco by a queer parent who wanted something for her kids. So she got some of her friends to read to them and it grew because so many parents wanted to bring their kids. Simple as that. Kids aren't running away from home to go to the library to watch drag queens read them stories. And so don't come for the drag queens.
Personally, I do bawdy comedy, so I don't like performing for children. They're terrible tippers and they've got sticky fingers.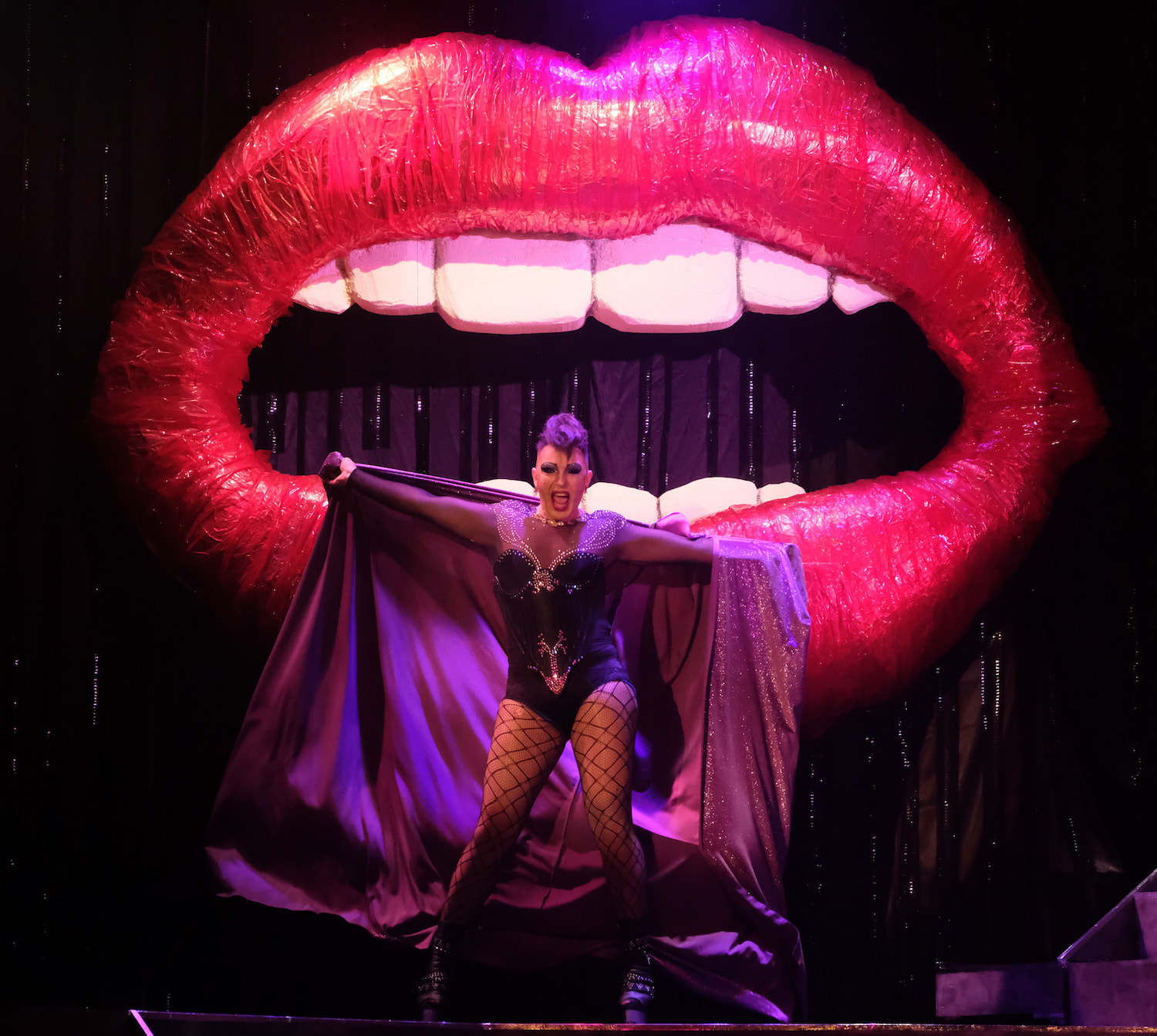 Drag queens are dealing in love. It's about loving one another. Here, I walk down the street in drag; there's so much love, not just because I'm the Drag Laureate, just because I'm a drag queen. The San Francisco Giants had me throw the first pitch. It was amazing. I was mobbed for photos for two hours after the game, I was like a rock star, I had to be escorted out of the throngs. It's up to us to live the best freakin' life we can. I'm a firm believer that when we feel stuck and we feel powerless, that simply walking through the world a little more fabulous inspires every single person we come in contact with every day. And it's easy for me to say that because I live somewhere where I have those freedoms. But the reality is most of the world lives in places where they don't. And frankly, I think we're assholes if we have that privilege and we don't use it. I think about that every day. I'm not just doing it for me and the people around me. I'm doing it because there are so many people that can't. It's about shining a light for the people who can never for one day in their entire life get to do what I do every day.
How's San Francisco doing these days?
San Francisco has ebbed and flowed for years. I mean, look at the earthquake in 1906. The entire city burned down. And guess what. It got rebuilt. It was really bleak during the AIDS crisis. It's come back to life over and over. There is something in the water here. This city is a beacon for thinking outside the box, for being unusual, celebrating our diversity, for community. I have travelled around the world and I've seen lots of places that I love, but I don't think I could have done the things I've done without the community that rallies around you here. Now, how are we going to get from where we are now to where we can be? If we're talking economics, we need to concentrate on micro communities. To look at your neighbourhood as a micro community, spending money and resources within the neighbourhood. We learned this during the pandemic where we had to fend for ourselves because there was no one to help us. We had to take care of each other. We have to take that same ingenuity and put it into reconstructing our neighbourhoods, brick and mortar, by creating stores and spending our money there. But we have to make that decision.
What's next?
I'm interested in starting a drag mall, the San Francisco Drag Emporium. Anchor a neighbourhood with something that is great for tourism, great for your local drag makers, costume designers, wig stylists, to be able to sell what they create. And it's good for San Francisco to have some more sparkle.
D'Arcy Drollinger's first feature film, Shit & Champagne, is streaming on Hulu, Apple TV and Prime Video. The sequel, Champagne White and the Temple of Poon, will be out next year. For more on San Francisco, head over to our sister site, Pink Ticket Travel.