Claire Pearen vividly remembers the day, in 2013, that one of Edmonton's most enduring street preachers berated her for wearing a rainbow hoodie.
The then-30-year-old was waiting for the traffic light to change on the corner of 104 Street and Whyte Avenue, in the heart of Old Strathcona, one of the city's most popular shopping and dining areas. The self-styled preacher, clutching a sign that read "Believe On [sic] The Lord Jesus Christ and You Will Be Saved," looked down at Pearen from his pedestal, loudly announcing into his headset microphone that her hoodie was "the Devil's way of reaching out."
Later, Pearen trembled as she watched the video clip she'd filmed of the incident. She remembers thinking, "I'm lucky that I'm as strong as I am right now." What if he would have said the exact thing to someone who was still in the closet, she wondered. Or someone who was feeling confused about their sexuality, or was contemplating suicide?
Pearen was particularly concerned about the negative impact of the man's incessant, homophobic rants on the unhoused queer youth who access the area's drop-in centres and shelters. She heard him tell queer couples holding hands that if they didn't repent, it would be too late, and God would take them. He also hollered at the occupants of cars displaying rainbow flags that they were going to hell, and informed women that their short haircuts were a gateway to homosexuality.
Pearen contacted the police about the street preacher's ongoing harassment but they told her there was nothing they could do. Frustrated, she began to yell back at the preacher whenever she saw him, which was several times a week.
When asked why charges are difficult to lay in such cases, Carolin Maran, a communications advisor with the media relations unit of the Edmonton Police Service (EPS), said street preaching is currently allowed under Section 2 of the Canadian Charter of Rights and Freedoms, which protects free speech—provided it does not infringe on the rights or safety of others. There are four charges in the Criminal Code that are considered hate crimes: genocide, wilful promotion of hatred, public incitement of hatred and mischief to religious property. Only charges of mischief to religious property can be laid directly by police.
"While the EPS understands that some street preaching taking place in Edmonton is harmful to and distressing for the 2SLGBTQ+ community and others, police must undertake the delicate task of considering these multiple sets of laws and rights when receiving reports related to these incidents. This includes determining whether a criminal offense took place and whether these incidents meet the threshold of the hate provisions laid out in the Criminal Code," Maran says.
"A harassment charge under the Criminal Code is a criminal charge that officers may consider in these situations," says Maran. "The difficulties faced when enforcing harassment specific charges … can include the evidence available and reporters and witnesses who may feel uncomfortable providing contact information."
When asked why the preachers' words do not qualify as an infringement on others' rights and safety or constitute harassment under the August 2021 amendments to Edmonton's anti-bullying bylaw (which include sexual orientation and gender identity), Maran declined to comment further.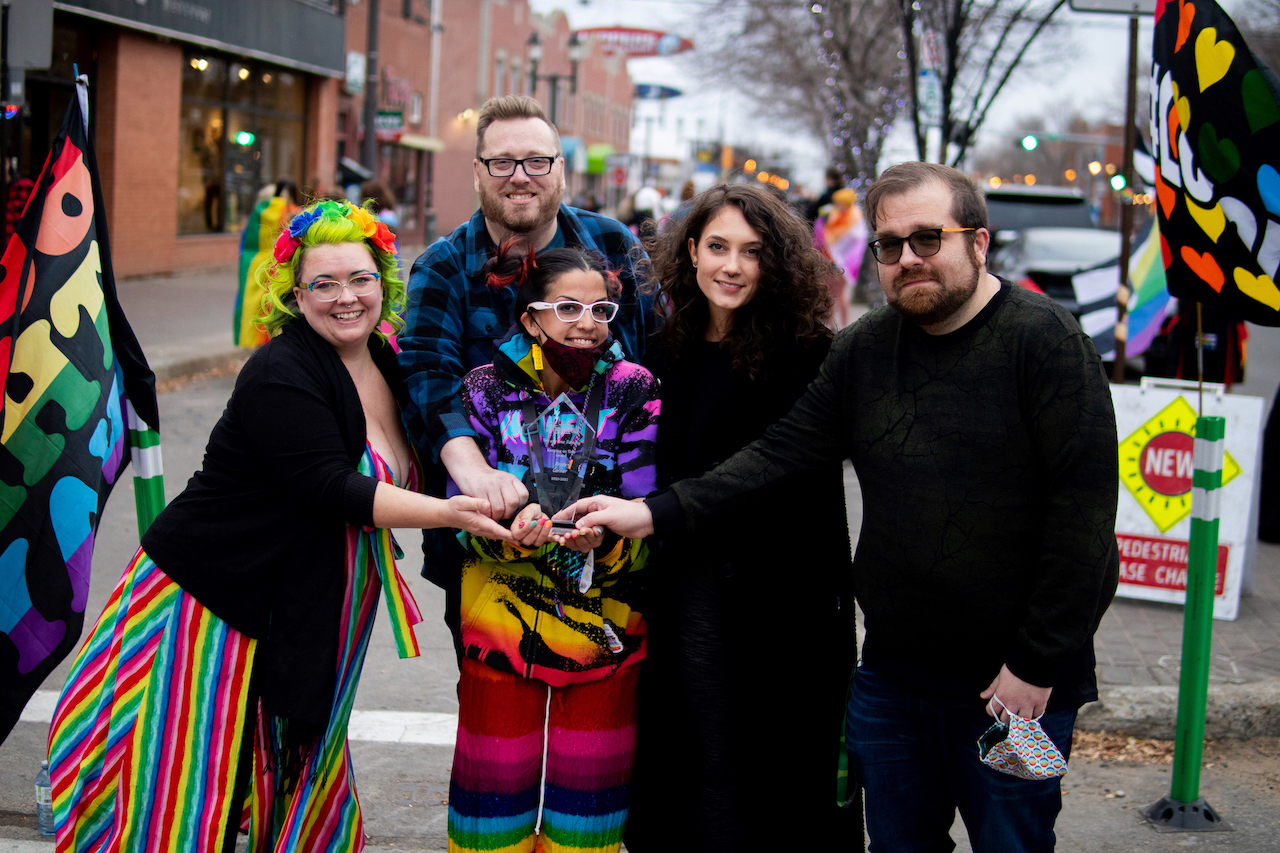 In early 2020, years after her first encounter with the street preacher, Pearen had a troubling conversation with Corey Wyness, director of the OUTpost, a downtown safe space for queer youth to access food, shelter and social connections. He told her that eight unhoused rainbow youth had died by suicide since the start of the year. Pearen was shaken.
She understood that there are many factors that put unhoused queer and trans youth at higher risk of suicide, including mental health challenges, substance use disorders, poverty, food insecurity and low self-esteem. But she wondered whether listening to a homophobic rant could have a "last straw" effect on already vulnerable youth; at the very least, the preacher's rants made the corner of 104 Street and Whyte Avenue a less hospitable place for youth already struggling to find places to go. Pearen decided she needed to let these youth know that she would fight for their right to live authentically and experience respect and dignity, so she planned a counterprotest.
Pearen noticed that the religious ranter was showing up on the corner of 104 and Whyte every Friday. On the March afternoon of her first official counterprotest, she arrived before he did, claiming his usual spot as her own. Her heart beat rapidly as she cranked Lady Gaga's Born This Way on a tiny speaker and scrambled onto the milk crate she'd brought with her. She hoisted her homemade sign over her head, which declared in black sharpie against a hot pink background: "I'm here and I'm queer." And then she started to dance.
When the preacher arrived, he was distracted and annoyed by Pearen's music. She came back the following Friday. And the one after that. After the street preacher realized that Pearen planned to stand against him every Friday, he began filming her and threatening to phone the police; he shrieked in her face that her music was interfering with people hearing the word of God, and drew a chalk circle around his own pedestal to keep her away.
Undeterred, Pearen began to broadcast her own messages. At first, her words were simple and aimed at any youth who might be listening: "This is homophobia. This is garbage. Don't let him tell you these things." Later, she appealed to pedestrians who she sensed were also irritated by the preacher's volume and content. "Here we are on another Friday. You know, I got better things to be doing. I know we all do. The last place I want to be is out here."
She told stories of how the preachers' beratings had made her and other queer people feel ashamed and unworthy, as though they should hide who they are. She reminded people, "I know each and every one of you has someone under the rainbow, whether you know it or not, and they deserve to be treated with love and respect."
People stopped to listen; some gave Pearen high fives. Passing drivers honked and gave her thumbs-up. A woman thanked her for fighting back against the man who had been berating her daughter for four years. The daughter had once yelled back at him, "We're okay the way we are," and he never forgot her face. Each time she got off the bus to go to school or work, she became the target of his Biblical rants.
Another street preacher who sometimes broadcasts from the same corner threatened Pearen with more than words. Pearen alleges that he elbowed her on several occasions and shoved her into the street. Passing pedestrians expressed concern that she was opposing this preacher alone, and sometimes intervened on her behalf. Eventually, Pearen began to wear a body camera, which made the attacks less frequent, but didn't stop them outright.
Pearen regularly held counterprotests on the corner throughout the autumn and winter of 2020. She had signs professionally made, and rented a more powerful speaker from a local music store. But she didn't gain any consistent allies until February 2021, when a stranger appeared with their own sign and returned several Fridays in a row. A few weeks later, several of Pearen's friends, including Erica Posteraro, whom she'd met through other activism work, joined her on the corner, and the group agreed to return every week. "I remember feeling we'd got some power here," Pearen recalls.
Around the same time, Edmonton-based podcaster Douglas Parsons interviewed Pearen for his show Tales of the 2SLGBTQ+. Parsons remembers the interview clearly. As Pearen talked about the eight youths who had taken their lives and her determination to speak on their behalf "her voice, her tone, her eyes connected with me and caused me to step back and say, 'What am I doing?'"
Parsons joined the counterprotesters in April, using his physical size to deter the more aggressive street preachers. He became an administrator for the Pride Corner on Whyte Facebook group, which quickly gained several hundred followers. His friend Brian Deacon began to attend the counterprotests, too, and established the Corner's Twitter account. As the weather warmed up and the Friday evening protests attracted more people, Parsons became the Corner's self-appointed "tactical sergeant." In addition to running the dance music, he kept an eye on preachers arriving, curious pedestrians watching the protest and vehicular traffic moving in every direction.
According to Pearen, EPS has been present during some of the more intense clashes between the street preachers and counterprotesters, and police have intervened on Pride Corner's behalf. No charges have been laid against the street preachers, however.
Pearen, Posteraro, Parsons and Deacon—now the organizational team of Pride Corner—began to notice a significant increase in youths visiting the area on Friday evenings: six or seven at first, and later as many as 30 or 40. As they talked to the them, they realized they were a mix of unhoused and housed queer and trans youth and their straight friends. Some had come out to their families, some had not. As a result of a new provincial regulation requiring parental permission to join any school club, many had lost their open access to school-based gay-straight alliances. They were drawn to the corner because it offered an adult-supervised safe space where they could be themselves, feel accepted, make friends and dance.
Pearen admits that she was surprised and a bit disconcerted when the youth began to hang around. "It was not the intention to create a sober dancing space that was also a protest," she says. Her original goal was to get the street preachers to leave, not to attract more people. She realized from previous activism work that the presence of minors meant additional risks, and so the organizational team put together a plan to keep the younger protesters safe. They tried to ensure that the youth all had a secure place to go at the end of the evening, and gave any unhoused youths rides to local shelters. They carried pamphlets to inform the youth of community resources and practiced safety drills: if Pearen said, "All protesters to the side," the youth needed to quickly gather on the sidewalk, away from the source of conflict.
This became particularly important when a street preacher arrived who bypassed the organizers, intent on verbally abusing the youth, saying things like, "You're going to hell" and "You're not worthy to exist." The man sometimes was accompanied by a cameraman who has been linked to the Soldiers of Odin, a white supremacist group, who captured footage of Pearen trying to push the street preacher away from the youth. In an apparent attempt to misrepresent her actions, the cameraman shared the video with organizers of another activism group that Pearen is involved in and demanded an apology from her.
As the counterprotests gained steam, participants were also targeted by individuals other than the street preachers. James Carels, a Grade 11 student at a local high school, was among the first youths to visit Pride Corner. He heard it was a fun place to dance and hang out, so he wasn't expecting to be egged by a passing group of teens at the end of his first day. His pant leg still dripping, he sat in his vehicle, recorded a video about the incident, and posted it to his Instagram account.
Carels acknowledges sharing his experience was scary—he'd never discussed his sexuality before in such a public forum. Many of his Instagram followers attend his high school, so he knew he would not be able to go back to school the following Monday and pretend that nothing had happened. But he was convinced that his story needed to be shared "because people need to see that homophobia today isn't just being called names in school. It's actual attacks on the LGBTQ+ community."
The video was the first step in what Carels says was his public coming out journey. "I felt like a completely new person, because I publicly revealed a big part of my identity." As he began speking candidly about this side of himself, his queer and straight friends opened up to him, asking him questions about pronouns, acronyms, talking to parents, inclusivity and sexuality.
Carels says he also benefited from interactions with the Pride Corner team. "I began to realize how having a strong adult role model can shape you," Carels says. From his first visit, Pearen's welcoming energy and wisdom drew him in. She was upfront with him about the challenges she sometimes faces when confronting the street preachers. But Carels says Pearen also sees "the power in numbers, the weakness in singularity."
In Parsons, only the second openly gay man Carels had ever met, the youth found an approachable father figure. "He looks like me, grew up in a similar way, he knows and understands a lot." Carels is reassured by the diversity of the Pride Corner participants. While he knows they don't have all the answers, Carels says, "If I had any questions, it's nice to know that without a doubt there will be somebody there who can relate to the issue." Carels now has his sights set on a career working with youth, "teaching kids how to be more open minded."
Pearen and Parsons say that the mentorship aspect happened organically; the youth seem to respect their lived experience, and look up to them. "We don't get it right all the time," says Parsons. "We can be quick to anger with what the street preachers say. But we attempt to de-escalate at all times." Parsons says the most essential parts of his mentoring role involve listening to what the youth have to say, and consistently showing up for them week after week." When a kid looks around, they know there are certain people who are going to be there to create space for them, want them to be in the space, and will mentor in as many ways through their actions as possible."
By the fall of 2021, Pride Corner was gaining widespread recognition: its tweets were being liked and shared by local politicians and music icons like Jann Arden and kd lang; RaricaNow, a local non-profit that promotes the rights of LGBTQ+ refugees and newcomers to Canada, presented Pride Corner with a Stonewall "Keeping Us Safe" award; and a Change.org petition collected more than 10,000 signatures from around the world in support of Pride Corner becoming the official name of 104 Street and Whyte Avenue. Corey Wyness from OUTpost began to notice positive changes among the youth who frequented the corner. "Pride Corner gives them a space to be themselves and express that. They feel like they belong to a community." They seemed happier and more social, were beginning to make plans and were more willing to access other community resources. Even the street preachers were starting to stay away when the counterprotesters were there.
As Friday evenings became darker and colder with the onset of winter, organizers faced new challenges. Ensuring the youth had a safe place to go and a way to get there at the end of the evening became even more important. They began to collect winter clothing to keep all the youth, housed and unhoused, warm enough during winter protests. Though they added Erynn Christie, another local activist to their team, Pride Corner lost many of the other adults who regularly showed up during the summer. At times, this left them scrambling to have a strong adult presence to ensure the youths' safety in volatile situations.
There were personal challenges as well. Pearen's chronic back issues sometimes made her body feel as though it was on fire at the end of the evening. Parsons struggled with setting boundaries between "Douglas the person and Douglas the helper." As a former teacher, his instinct is to jump in and help people solve problems. At the end of an evening of counterprotesting, Douglas says his heart wants to offer an unhoused youth a place to stay, but his mind reminds him to call on other services to provide resources and lend guidance. As an organizational team, he says, "that's one of the things we're constantly trying to figure out about Pride Corner: How much can be done?"
The team continues to show up every Friday to protest the street preachers, and support the young people who count on Pride Corner as a source of safety, friendship and acceptance. Parsons notes that the youth are "the leaders of the community in the future, and they're finding their voices now." And Pearen's determination to fight for the dignity of queer youth remains. "If there's just one kid that walks by and sees a rainbow or hears a word of encouragement or sees another kid that they could relate to, rather than a homophobic message and a preacher telling them that they're going to die, then that's all that matters. That's all that matters. "