More and more LGBTQ2S+ people from across the spectrum are being elected to public office.
While the presence of a few cis gay men in municipal, provincial and federal politics was cause for celebration not long ago, Canadian government institutions are starting to reflect all of the colours of the rainbow. Following the recent federal election, multiple queer women will sit in Canadian parliament for the first time alongside Canada's first openly Two-Spirit MP Blake Desjarlais. And in Newfoundland, Ophelia Ravencroft was recently elected as Canada's first openly transgender city councillor — while several other councillors across Canada have come out as trans since being elected. 
Provincial politics aren't exempt. Halifax Citadel-Sable Island's Lisa Lachance took to the Nova Scotia legislature floor this week as the province's first openly genderqueer MLA. Lachance will also serve as deputy speaker, which means keen-eyed Nova Scotia political watchers will get to hear a lot from "Mx. Deputy Speaker."
Lachance comes from a long background in non-profit and governmental work, and they are currently completing a Ph.D. at Dalhousie University focused on youth mental health services.
Lachance spoke to Xtra about their bold vision for mental health care in Nova Scotia, bringing "they/them" pronouns to the House and their advice for the next generation of queer and trans politicians.
What prompted you to run for office?
Running for office and being involved politically was sort of always on the table in terms of another way to get progress on issues that I care about. I've worked in government, I've been involved in lots of non-profit organizations, I am currently finishing up my Ph.D. in health, and so I really looked at how you address things from all different perspectives. I became really interested in the work the current NDP caucus was doing. So this seemed like the right time with the right people, and that's how the decision was made.
As a family, we've been through quite a lot over the past decade in terms of accessing youth mental health support and support for neural development disorders like ADHD and autism. I wanted to bring that lived experience [to government] because I think based on all the work I've done, government is one of the few places in the world where people get sort of lost right in the system. Officials say it's not my responsibility, not my department, not my level of government, and people end up feeling quite abandoned. I really want to work toward a government where we're not doing that to people.
You've been involved with Wisdom2Action, which has done some amazing work for Canada's LGBTQ2S+ community. How do you want to bring your non-profit work and past experiences with government into an elected role?
I joined Wisdom2Action when we were a federally funded network based at Dalhousie University. We've now become an independent organization and we've really been able to do work that matters to us and do work in relief over inclusive participatory ways. So I definitely think about all those lessons, like making sure I'm creating the space for lots of different voices in lots of different ways to be part of a process.
I will say, the government process seems almost like the opposite of that. So I'm thinking about how to make government more accessible and where to push government in terms of being more open to different ways of knowing and of understanding.
I like to remind folks that I spent a lot of time working in government: federally, I worked for the Privy Council Office, and provincially with the department of finance. So I also have a good sense of how things happen in government. When I have these ideas about how we should engage citizens, it's not uninformed in terms of what it takes to do that kind of work within the system that we're in. So I'm hoping I bring both of those perspectives in.
Broadly speaking in terms of policy, where can Nova Scotia do better? In what areas do you see opportunity for reform?
Mental health is a big area that can be improved. I'm really interested in looking at getting expansions in terms of the gender-affirming care that folks can access, looking at Yukon as a model for that and hoping to establish that here. As well in education there's some emphasis around anti-bullying and anti-discrimination in curriculum, but time and time again schools remain a site of bullying and oppression for queer young folks. If we don't talk about it directly, then we're probably not going to fix it.
And then also the way we collect data. I'd really like to include a lot of community support engagement to underpin that. Wisdom2Action did an extensive process with the City of Ottawa in terms of a needs assessment for the queer community there, and I think at surface a lot of really important experiences that maybe hadn't been captured recently.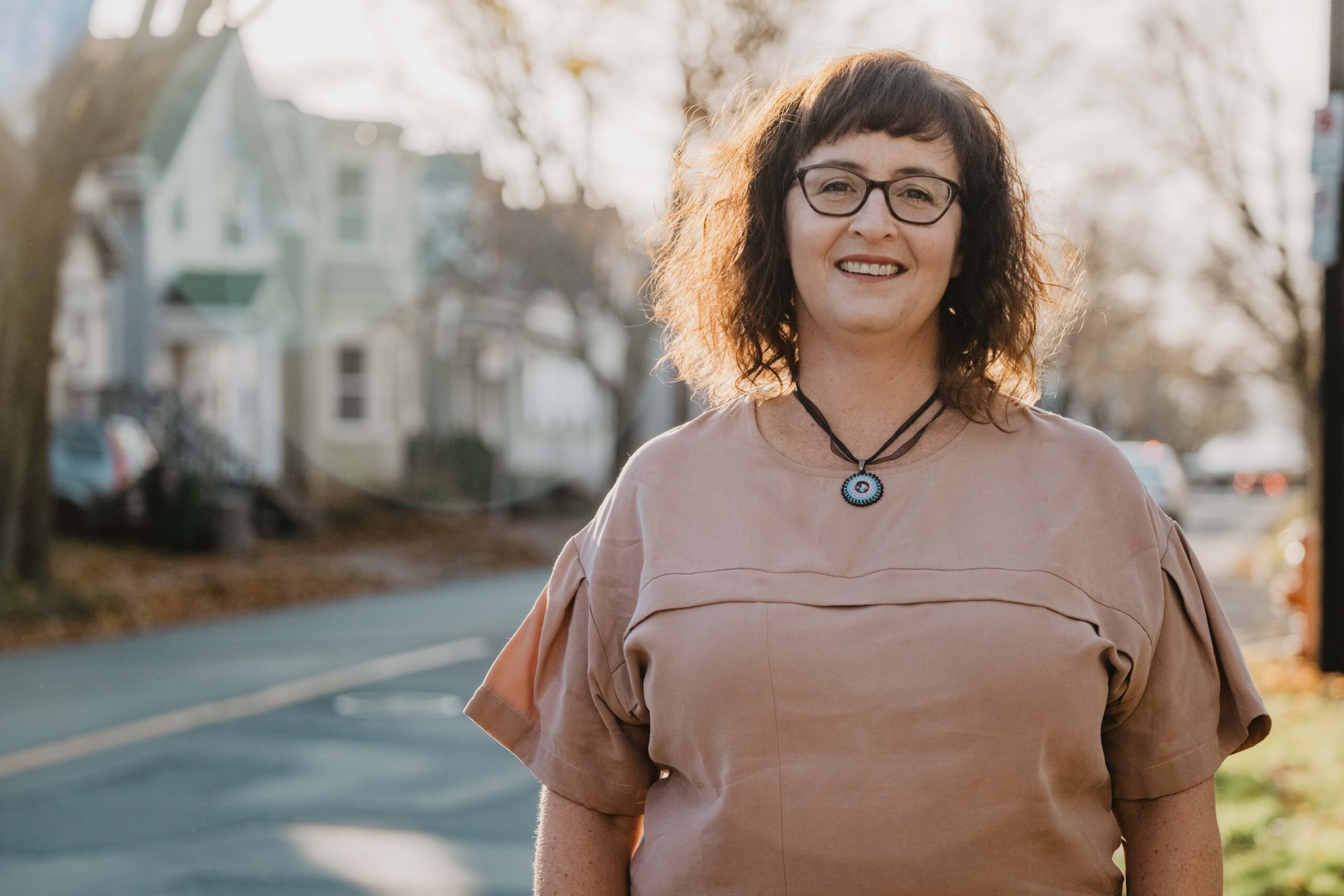 From the government process side of it, as an openly gender-diverse person using they/them pronouns and the honourific "Mx.," what are you doing to overhaul government from the inside?
Obviously this path is only just starting. I had a little peek of it before, when I was working for the Nova Scotia government as a bureaucrat and I co-founded a queer employees network and we did quite a few presentations to like the council of deputy ministers and that type of thing.
I think using a gender-neutral honourific like "Mx." and expanding people's knowledge of pronouns and use of them is in some ways a small step but also kind of a big step. If folks sitting in the legislature could get more comfortable with talking about pronouns and identify their own pronouns, they take that back to their communities. And a couple other things happened I would say quickly and easily in terms of response from the civil service: we now have a gender-neutral bathroom in the legislature, and we have gender-neutral showers available too. So, again, those are the little things but the little things are big things. It also means that someone is able to see themselves in the space.
There's an interesting wave of young queer and trans people, like Blake Desjarlais in Edmonton, getting involved in government. What kind of advice do you have for that next generation of young queer and trans folks who want to do this kind of work?
When you step into a public role, make sure you have support around you. Whether that's your family or friends or the queer community, having that place where you can feel fully yourself and go to get advice I think is really important.
I also think you have to go into this with a sense of a need to take care of yourself. I think the world around us has changed quite a bit. I was president of Egale Canada when same-sex marriage became legal in Ontario, so [my partner and I] were one of the first legally married couples. And both as president and as one of the first legally married couples, I was getting some pretty nasty mail at the Egale office. But it was arriving by snail mail; we didn't have social media and that just speeds everything up.
So I think making sure that you have sufficient concern for your own support and your own safety is actually really important. And also be yourself. I did a member statement on using pronouns, which was one of my first member statements in the legislature, and that sort of stuff might seem basic to a lot of us but it's not. Just take pride and take courage in your own lived experience to bring it forward.
There's a big debate, especially among young progressive queer people, about the value of getting into the system like government versus working outside of the system. What are your thoughts on that?
I totally get that. By the time I was running for office, I was definitely thinking, "Really? I'm running for this colonial institution? Shouldn't we just be building what's next?"
In my case, I've had a chance to be involved in change-making in different sectors and from different perspectives, so maybe I feel a little bit more patience around it. I keep reminding myself it is a big deal that I'm using "Mx.," it is a big deal to talk about pronouns. Being part of the system, you can change little things, but hopefully then those become bigger things once that approach rolls out through government departments. I definitely think coming with a questioning mind and a critical analysis of what's going on and how things work is really important.
I can't necessarily say, as deputy speaker, "We're gonna dispense with this Westminster-style discussion and we're breaking the small groups." But I can do that at least outside of government. To be critical is really good, and I think hopefully that will lead to some evolution around decision-making in communities that is more inclusive and more participatory in the long run.
You mentioned briefly that speaking candidly about pronouns is something we all kind of take for granted. But why is talking about them—and having a genderqueer MLA like you matter—so important?
It's really important for folks to see themselves in all sectors. I share the experience of me, I don't share the experience of anyone else, but I definitely do share experiences of homophobia or transphobia or heteronormativity that affects other folks in the community. Having people that reflect yourself in different spaces and places is super important. And I'm hoping that by being there, I'm paving an easier way for those to follow me in terms of questions around pronouns.
Interview has been edited for length and clarity. 
UPDATE: This article has been updated to clarify that Ophelia Ravencroft was the first openly trans city council candidate, while several other city councillors across Canada have come out as trans since being elected.