When Finch Honeker's black and white greyhound Freya hears the sound of a ball being kicked in the park, her first instinct is to bolt. "The sound of balls being hit or kicked really triggers her—basketballs, footballs, whatever it is," Honeker says. "We could be anywhere, she could be really happy, and she'd hear that sound, and shutters would come down and she'd want to go home."
At first, Freya's instinct was to run home to safety. Slowly, though, she has learned to trust the sound of Honeker's voice when they call to her. "The times when she actually runs, when she stops and turns back for me, I want to cry," Honeker says. "Because it means that not only does she trust me, but she's gotten so much better with the things that scare her."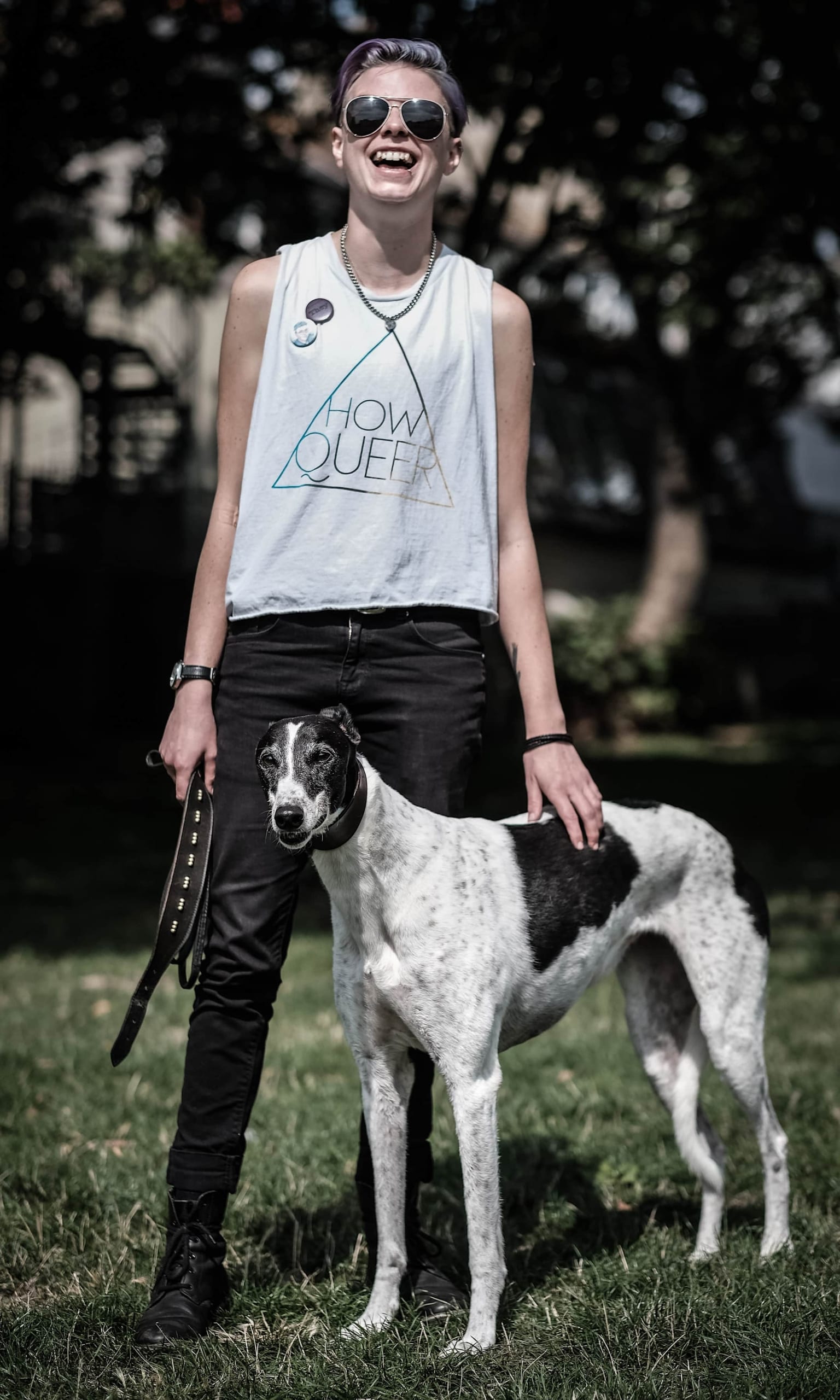 Helping Freya work through and live with her anxiety has, in turn, taught Honeker, who is a recovering alcoholic, to be kinder to themself. "It was just so transparent how her trauma informs the way she is," Honeker says. Extending care and patience with Freya means that they've slowly "beaten themself up less," says Honeker, when they experience their own panic attacks and anxiety spirals.
Freya and Honeker are two participants in the photography project Don't You Want Me (DYWM), which features the stories and portraits of rescue dogs and their queer and trans owners. The project is based in Toronto, Canada, and Brighton, U.K.
Photographers Jack Jackson and Deb Klein began DYWM several years ago, after connecting over Instagram. Jackson had recently been through a painful break-up with a Canadian they'd moved to the country to be with; their wife's family had discovered they were transitioning, and it led to the end of their marriage. New to the country, Jackson wasn't yet able to work. They also found themselves at a distance from their support networks. "Things were really bad, Jackson says. "They were absolute hell for a good year, and I just knew getting a dog would help."
Soon, Jackson found Jet, a "cute-as-hell" boxer. Jackson credits the doctors they were seeing for saving their life, but says that it was Jet who really helped them turn the corner. "I got her," they say, "and it changed everything immediately. Immediately."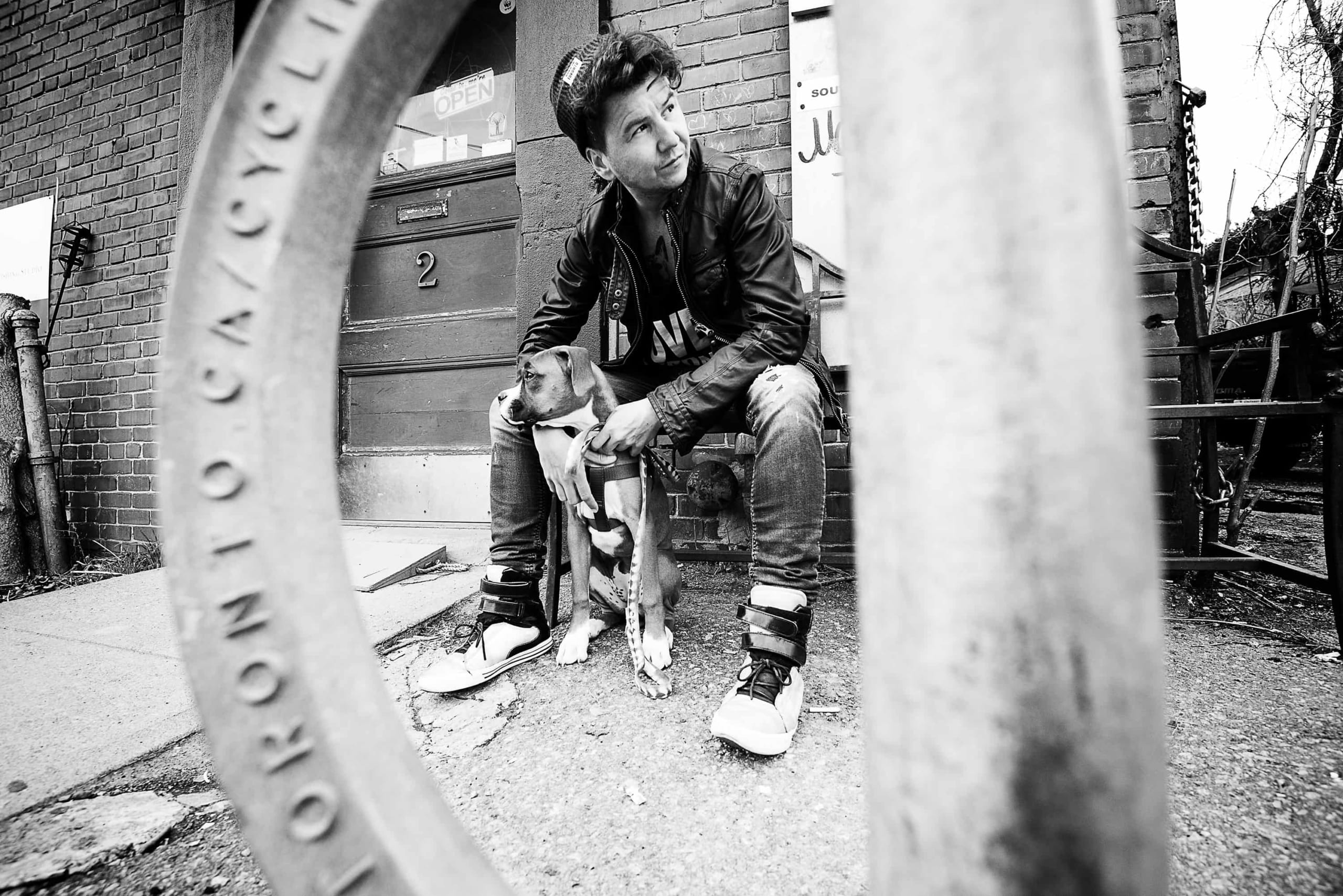 Jackson and Klein share a love of photography and rescue dogs, and had a desire to showcase the powerful, transformative relationships between rescue dogs and their queer and trans owners. So far, they have held between 15 and 17 photography sessions: Four in Brighton, 10 to 12 in Toronto, one in Brooklyn and one in Melbourne, Australia, via Facetime. Their first two photo exhibitions took place on March 30, 2019, in Toronto for Trans Day of Visibility, and on November 15, 2019, in Brighton for Trans Awareness Month. There have been about a dozen other exhibitions since.
Nic Lessard, who is Kichwa Otavalo and grew up in Toronto, runs Chuck's Mutts, a business they named after their 12-year-old rescue dog. Lessard participated in DYWM in part to ensure Indigenous and queer representation was highlighted in the project. "A lot of this industry is very cis, very white-focused," they say. "As someone who is not that, it's hard to be seen in it. So I like to be there and just let people know that people of colour, people who are not in the binary heteronormative, are also here doing this work and they do, often, have a stronger connection to these dogs."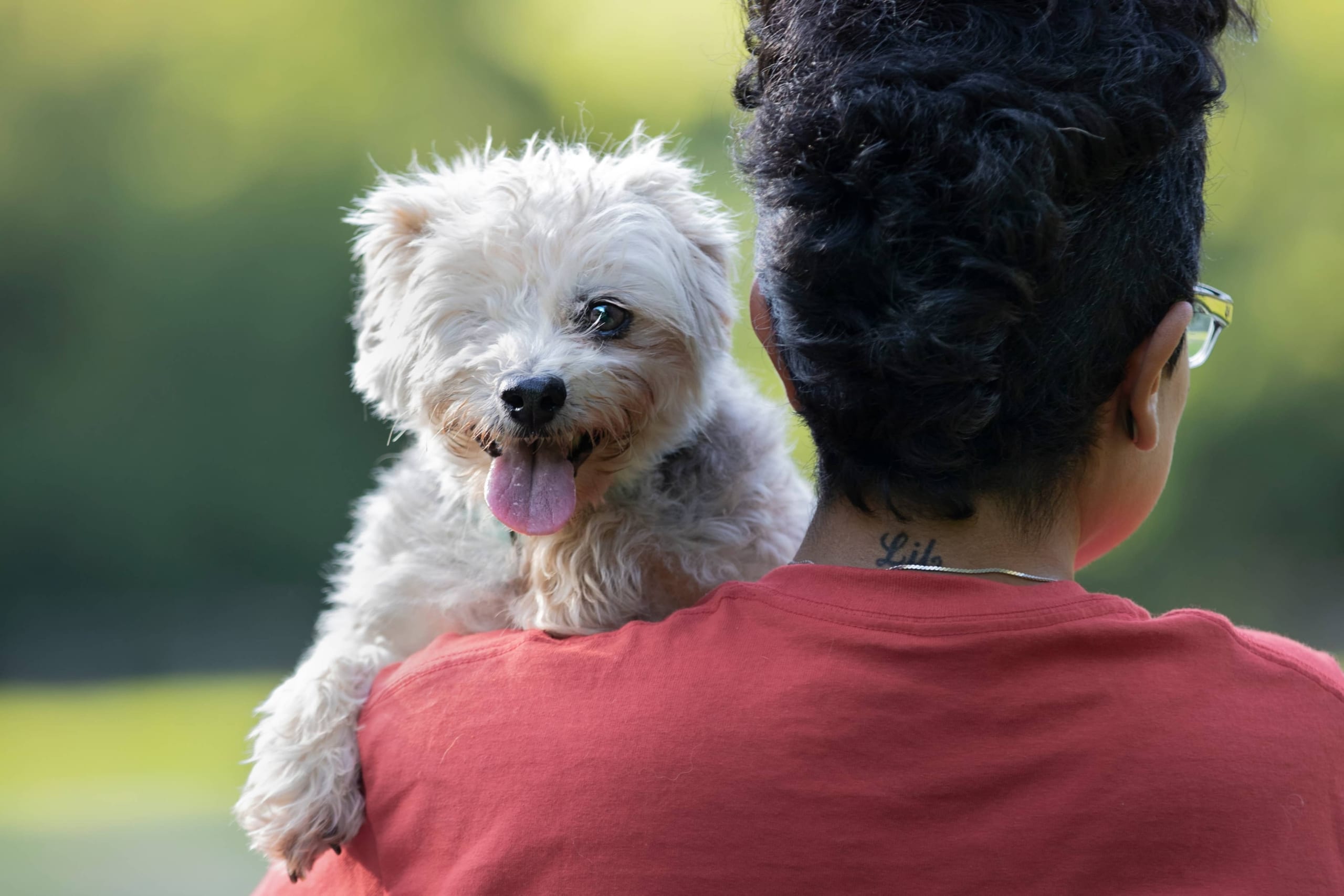 Chuck has been a huge help, Lessard says, both as they foster and rescue other dogs, and as they host dogs in their daycare centre. When it comes to his role in Lessard's life, the biggest help Chuck offers, they say, sounds mundane: He's a reason to get outside and get fresh air. "My depression is ongoing and not able to be cured," Lessard says, "but because of having to go outside, it's been a huge improvement in my overall mental health.
"If you're not letting anything else come into your zone while you're playing with your dog or your cat, it's relaxing," Lessard adds. "It takes that part of the brain that's overwhelmed and overstimulated and settles it down. I think that's a huge power that animals have."
Honeker echoes this. Last August, they moved into a new house in Brighton with two of their closest friends. In the early mornings, Honeker wakes to take Freya and their other dog, Mabel, for walks in a woodland close to their home. Honeker, who will be marking two years of sobriety this May, says they're grateful for this routine and the time they get to spend in nature with Freya. "I get to be more present with her, and kind of not take for granted a lot of the things that I would before," Honeker says. "Getting outside, going a bit slower and appreciating things at a much deeper level."
Reuben, a youth worker living in Brighton and a DYWM participant, says it is the unconditional love of his rescue dog Luna, a Staffordshire terrier mix, that has been key for him. "I've definitely felt purposeful and loved by somebody that needed me," he says, reflecting on his six years with Luna. "And that's been so important and significant for me as I travel through and try to work within recovery, or work toward recovery."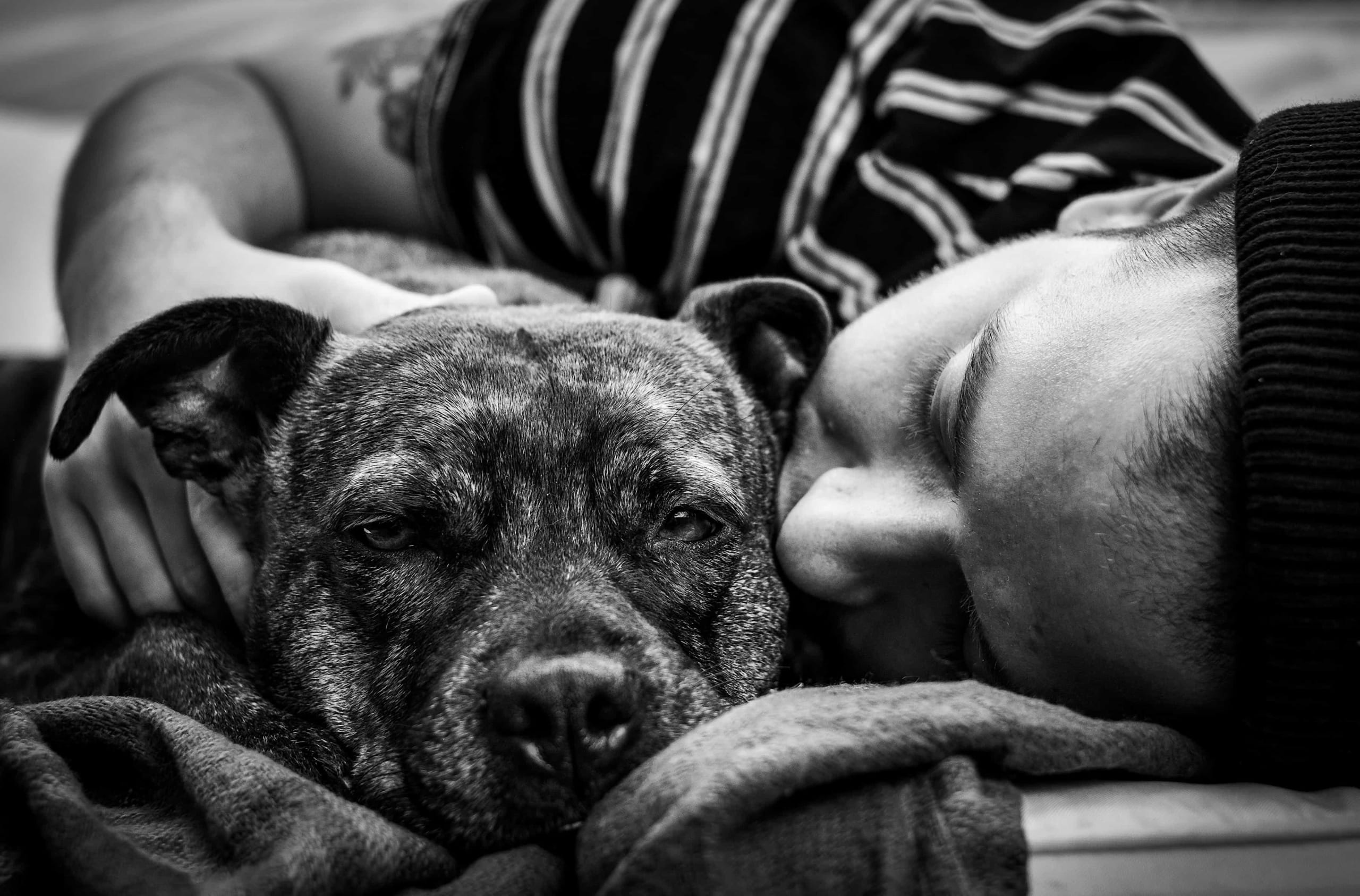 Reuben, who works with LGBTQ+ youth, points out that many queer people are cut off from their families or have limited support systems. Making a decision to adopt a rescue dog is a decision to add a new member to their chosen family. "Here's a dog that is cut off from their support network," he says. "They don't have a family, and then they're introduced into a family that has a dog-shaped hole. I think there's something very powerful in that."
Jackson and Klein have recently expanded the Don't You Want Me project to include a grant that connects two queer and trans people—one in Toronto and one in Brighton—with a rescue dog each. In Toronto, Don't You Want Me is partnering with a range of organizations—including the rescue organization Save Our Scruff—so that the grant recipient will receive mental health counselling, as well as three years of dog food, treats, dog walking and grooming services for their new rescue dog.
When they talk about the inspiration for the grant, Jackson thinks of a DYWM photography subject who would greatly benefit from having a dog, but who works long hours, lives alone and wouldn't be able to afford to adopt.
"We all know the statistics around wage and income," Jackson says. "We all know why some queer and trans people are poorer."
The grant aims to remove some of these barriers to ameliorate the life of queer and trans recipients facing mental health challenges. This is also, Jackson says, why the project will be connecting the Toronto recipient with Friends of Ruby, an LGBTQ2S+ mental health organization, to provide post-adoption counselling and support.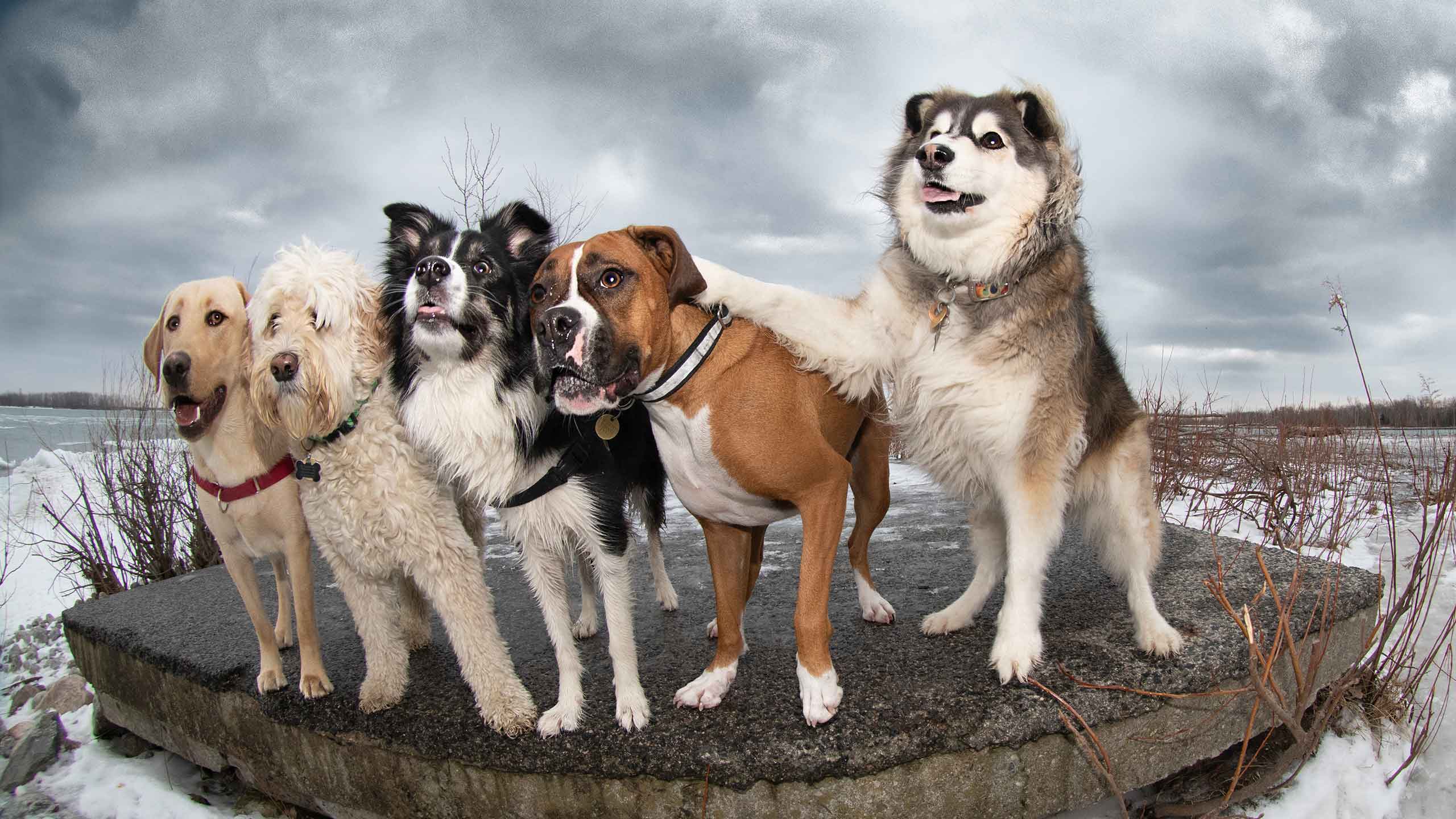 Friends of Ruby was renamed after a staff member's golden retriever a few years ago. "We had a young person who visited the drop-in space but never spoke with anyone," Lucy Gallo, Friends of Ruby's director of housing and youth services, writes in an email. "Then one day Ruby visited the space. The two hit it off immediately. Little by little, the youth opened up, asking for Ruby whenever they visited and eventually starting counselling with Ruby by their side. 
"A relationship with a pet can provide a safe, positive relationship for youth who struggle with isolation and unhealthy relationships," Gallo writes. "The love and support that a dog needs from its human is often echoed by our needs as well. Dogs and humans seek the same things: Acceptance, love, celebration and support."
"The grant is for someone who's having mental health issues, and we don't just want to say, 'Here's a dog, bye! Off you go,'" Jackson says. "We want that person to have an extra layer of support if they are completely by themselves, with an organization that is aware of how important dogs are to people's mental health."
The grant fits into the overall goals of the project, which aim not only to highlight transformational relationships between queer and trans people and their dogs, but also to examine why queer and trans people often end up in difficult, isolating situations.
"Naming the project 'Don't You Want Me,' people have said, oh that's really sad," Jackson says. "It was never meant to be sad. It was, 'Hell yeah, don't you want me?! This is what happened, I've been through this, and I've come out the other end.' It's a celebration."
When Don't You Want Me held their first photo exhibition in Toronto two years ago, Jackson says viewers were in tears. "That's how powerful these people are," Jackson says. "They've survived. And people should also be a bit angry, because so many people haven't, and it's those stories that we didn't hear."
According to Jackson and Klein, the Toronto recipient of the Don't You Want Me grant will be connected with their rescue dog in early March.
Correction: March 3, 2021 11:51 amThis story has been updated to more accurately reflect the origins of Friends of Ruby.