Writer/director M.H. Murray hopes one day to make films like Italian auteur Luca Guadagnino as well as direct-to-DVD Scooby-Doo movies. Meanwhile, he got his career van rolling earlier this year at the Toronto International Film Festival where he debuted his first feature, I Don't Know Who You Are, a film that follows a Toronto musician named Benjamin (Mark Clennon), over a frantic, desperate weekend.
Before he put pen to paper, pre-pandemic, the Toronto-based filmmaker had difficulty choosing whether to do a queer horror film or a drama based on true events. "I was like, 'Fine, let me do the personal thing for my first feature, I guess,'" Murray tells Xtra over an in-person coffee and chat following the premiere. "I didn't want it to be too navel, or I didn't want just to cast myself and make it about me. I tried to tell my own story, but through a different lens. It was cathartic for me to make it."
Based on an incident Murray experienced, I Don't Know Who You Are opens with Benjamin just trying to get by socially: hanging out with friends and taking things slowly with a new romantic partner. While walking home from a costume party one evening, Benjamin is sexually assaulted by a stranger. After the incident, Benjamin tries to scrounge up money to get PEP (post-exposure prophylaxis) so he won't contract HIV. He needs to raise $900 over 72 hours, the window during which PEP is most effective.
Prior to I Don't Know Who You Are, Murray created the Canadian Screen Award–nominated web series Teenagers, which ran for three seasons and became a viral sensation. Following its conclusion, he pivoted to film and released many shorts. One in particular, Ghost, a post-pandemic project that acts as a precursor to the feature also stars Clennon as the same character, Benjamin.
A few days after the feature's premiere at TIFF, the 30-year-old Murray chatted with Xtra about his dynamic with Clennon, how they both crafted Benjamin's character, and what's up with Scooby-Doo.
So, you just finished your short film Ghost, about an isolated queer man post-pandemic. What made you want to jump from a short film to this feature?
It was a mixture of logistics and passion. When we did Ghost, it was like an exercise for me as a director to try to tell a story without dialogue. And then also it was a chance for Mark [Clennon] and I to work together for the first time. Ghost is laying the groundwork for this new film. It's the same character, Benjamin, in both films. We want to explore Benjamin, hopefully, until he is an old man. It'd be pretty cute, like the Before series, except not a couple, just one gay. He'll meet different people throughout his life. We hope to continue exploring different stories through Benjamin's vessel. This is just our first really big project doing that. And this was a chance for me to stretch my legs creatively. I have wanted to make a feature since I was a teenager. I thought I was ready when I was 17. Thank God I didn't do it. So I'm happy I took my time, and here we are.
There's a connection between you and your actor Mark Clennon––that director/actor bestie vibe. How was it to continue, to form the character of Benjamin together across these projects?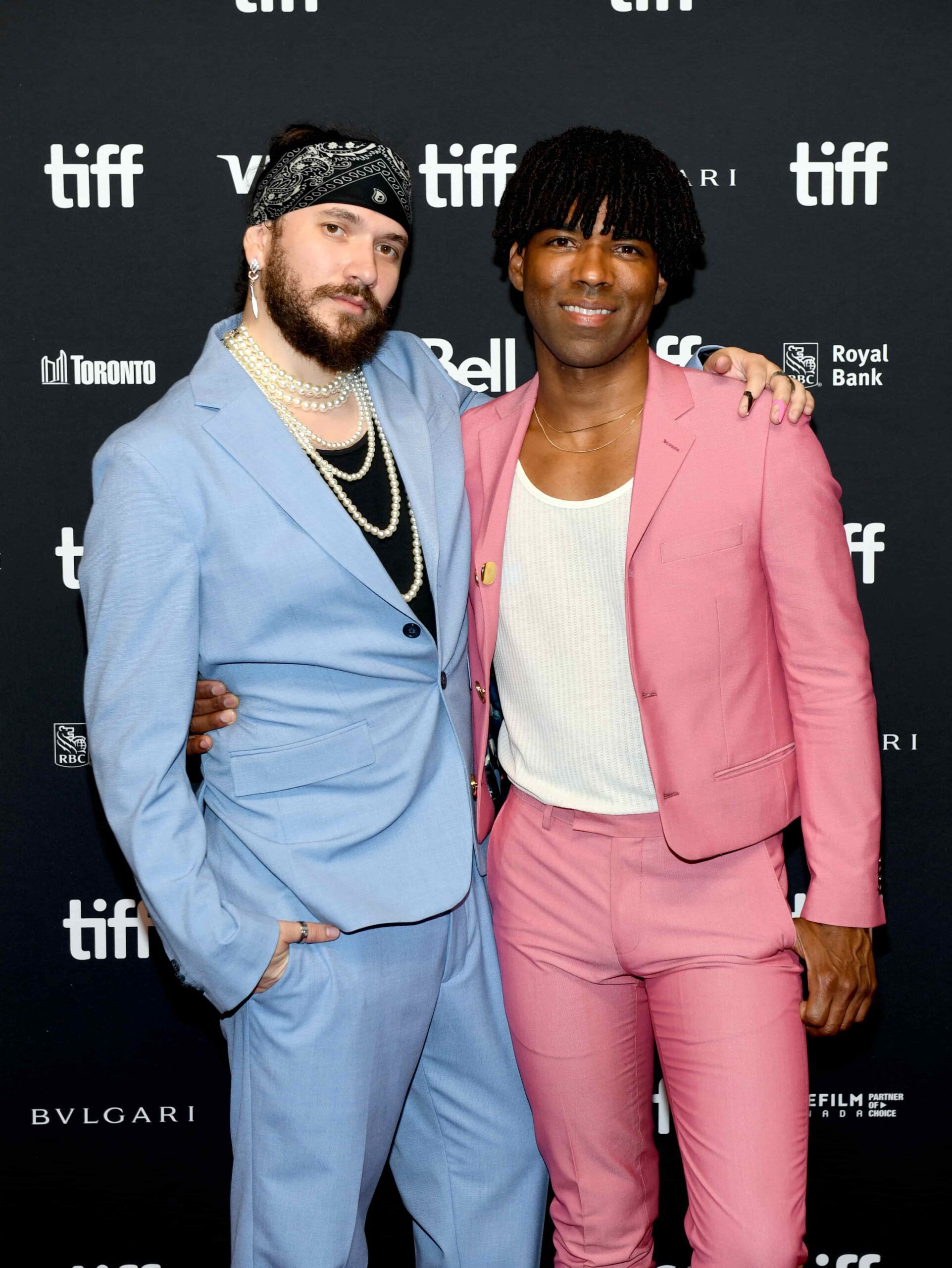 We are besties. We've become really tight. We're always "kiki-ing" and plotting and thinking of different things we can do. So this is a chance for us to have an actual project to put all that energy into. We just have a very natural, I don't know, chemistry. We're very different in a lot of ways. We're both chaotic in different ways, but we fill in the blanks for each other. 
I think about the fact that Mark is a talented musician. I can't hold a note to save my life, girl, so I'll try. I can't. But that's why I'm infatuated with music and wanted the film to have a handmade quality. He's playing instruments, he's writing, he's painting. I love that tangible element. I shot the film in Mark's apartment. That's the art that he made on the wall, all of his instruments. He brought a lot of himself into it, and it was cool to find that middle ground. I felt so comfortable letting him have a lot of freedom because I'm not too rigid when it comes to working with actors. I like giving them a lot of freedom, and because I edit my work, I clearly know what I need.
What was the foundation behind I Don't Know Who You Are?
I don't want to get too dark or severe, but this story is based on my own experience, and all the logistical things that happened in it are things that happened to me. I'm so emotional about it because it's intense. I think as artists, all we really can do is take the stuff that we experience, even if it's fucked up, pardon my language, and turn it into something beautiful or something helpful in some way. Sometimes, people dramatize things, and it's just so dark and sad the whole time, and it's not realistic for me.
My life continues. I wanted to make it feel like how it is in real life, where you could have the most fucked-up experience on Wednesday, and then on Thursday, life continues. It's like he tries to retreat, but then his friend is like, "Hello, let's get together." He's forced to continue engaging with life. That's how it is. I wanted the film to feel like an intense experience, but not so low that people are frozen the whole time, that they can't relax a bit. [I want] to bring the highs and lows of life into it. I was trying to showcase the balance. Sometimes, things feel like a symphony; sometimes, you wash dishes. I've not seen that depicted in that kind of naturalistic way.
Was it hard to shoot any of those triggering scenes?
Shooting the assault scene was much easier than I anticipated because we had an intimacy coordinator, a stunt coordinator and Mark.
How did you think about constructing Benjamin's characters from a writer's standpoint?
I needed to show [my] experience of a freelancer, someone who has to survive with gigs and stuff. Sometimes you call about invoices, like, "I need it, girl, please." And so many people my age are just one mistake or one issue away from ruin. However, you still are walking down the street, and no one would notice because you're still keeping it together just enough that it's not apparent to everyone else that you're falling apart low-key. And that's what this character is. When I wrote the film, I had just got into a new relationship and was very hopeful. And I liked the idea of him starting alone in bed and ending in bed with someone who cares about him. The idea is that Benjamin wants to find love, and he's heartbroken. He still has feelings for his ex, but is hopeful about the future.
Speaking of the future, what features would you like to do?
My secret goal is to get enough love to direct a straight-to-DVD animated Scooby-Doo film because they make at least one every year. And I've been stanning those movies since Zombie Island. That's one of my favourite movies ever. It's one of the most outstanding achievements in cinema history, period. Listen, we need to talk about it more. No, we don't. No, we don't. Witch's Ghost, too. Witch's Ghost is a big inspiration for my next film. And I think it would be so fun to write for those characters. Also, if I had the power, I would take it back to the 1960s–1990s Japanese-style animation because they used to have Japanese animators doing Scooby-Doo back then. And I am still determining who animated it now, but they constantly change it. And also, Scooby has to be in it. No shade, Velma. I'd love to make Luca Guadadino movies [Italian director of Challengers], where you can do a genre movie, and then do a gay movie, and then do a genre movie and then another gay movie with Zendaya. So he's got the career I aspire for the most. If I could slide in a little straight-to-DVD Scooby-Doo movie, too, I would die happy.