Drumming saved Dan Unger's life. Before the 23-year-old Winnipeg-based musician joined noisy punk trio Tunic, they struggled with the toxic atmosphere of their middle school football team. While Unger loved the aspects of skill training and camaraderie, a rampant strain of homophobia among the teenage athletes became the hateful elephant in the locker room.
"For young queer people, sports are really rough," Unger says over Zoom, explaining how some of the bullying behaviour was directed at them for being "the weird one" on the team. "I was as closeted as someone like me can be, but had to go along with a lot of things so I could feel like I was fitting in, and the fingers weren't being pointed at me. I absolutely hated using that language towards other people, but it was a useful survival technique."
After the situation became unbearable, Unger switched schools and picked up a pair of sticks. Though their earliest drumming experiences included high school jazz band and a stint with psych-pop artist Lev Snowe, Unger's personal time was spent playing along to metal albums by Slayer and Morbid Angel. They describe finding drums as "an absolute game changer," offering everything football had, without the toxicity.
"I was able to get a lot of frustration out while still excelling," Unger says. "After I got good enough, I was able to play with other people, and that gave me the feeling of being part of a team that I was missing so much. When you share your playing and your art with other people, it's really emotional and vulnerable."
This month, Tunic celebrates the release of the career-spanning compilation Exhaling from their new label, Artoffact Records. In 44 minutes, the collection includes the entirety of the band's previously sold out discography alongside three new songs. Like Minor Threat's Complete Discography, it's the perfect way for new listeners to get caught up to speed. "Our whole first album fits onto one side of an LP," Unger laughs. "This is the first time Tunic has been on 33 ⅓ RPM."
The three new songs that open the comp are the band's first recordings to feature Unger. Prior to their time with Tunic, the trio included drummer Sam Neal, whose hard-hitting playing style was once compared to "bricks in a dryer." Once Unger graduated high school and was old enough to start attending Winnipeg bar shows at age 18, they became Tunic's number one fan. After several years spent shouting along in the front row, singer/guitarist David Schellenberg asked Unger if they'd be willing to take the departing drummer's spot behind the kit.
"I think my face instantly lit up," Unger says. "I ran to the jam space and learned their songs, probably playing them all 50 times. I remember at our first practice, David said, 'Wow Dan, you really know our set!'"
In January 2018, Unger played their first show with Tunic, warming up the stage for a sold out crowd in Winnipeg there to see Toronto noise-rockers METZ. "The pressure was high, and it felt pretty unreal," they remember. Ironically, it was the strict training regimen instilled in them by playing football that allowed Unger to reach the necessary skill level. "I always get better by setting my sights high, because then you have to work super hard to get there. It's better to play for 20 minutes every day than three to four hours once a week."
Since that first show, Unger has joined Tunic on a relentless touring schedule that sees the band leaving Manitoba for months at a time. In winter and spring 2019, to promote the release of their album Complexion, the trio crisscrossed Europe and North America for 11 weeks straight. Life as a road dog isn't for everyone, but Unger relishes the opportunity to visit cities they've never seen before and meet like-minded travellers along the way.
"I'm very grateful to be able to play this music and get sweaty with some cool people," they say. "Before I started touring regularly, it didn't occur to me that it's the best break from life. If you're feeling too much stress from work you can just dip out for a few weeks and leave all that behind."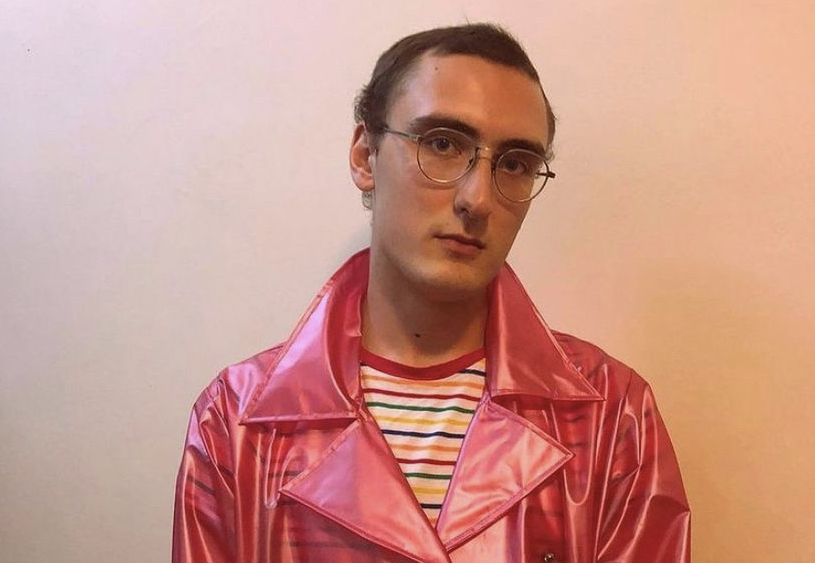 Sadly, Unger's escape hatch was locked down in 2020. "Now we're in a pandemic, so there's no touring and no cathartic release," they say. "I'm really missing it." Another connection they have longed for during COVID-19 is the support of queer members from the Winnipeg arts community. Stretching beyond music to include theatre and drag, Unger describes this as a network of "passionate, loving artists" from a wide range of practices.
"The past year has been soul-crushing," they sigh. "We're all so supportive and show up to events all the time. Not only are we missing our own artistic opportunities, but we're missing each other—being loud and lifting each other up."
Unger also notes that there is a growing crop of queer artists involved in heavier music genres in Western Canada and the prairies. These include outspoken metal group Vagina Witchcraft from Winnipeg, industrial agitators DRI HIEV from Calgary and guitar pyrotechnicians Wares from Edmonton. While band members may not choose to place queerness at the forefront of creative expression, their bonds have been strengthened by forming real-life connections.
"I accept that I'm not going to know of every queer member of every band before getting to know them personally," Unger says. "Some people might not even think of Tunic being queer-friendly or having a queer member. I don't always openly introduce myself that way because it can be draining. It's nice to think there are so many queer people out there that I don't know about yet, though. They're just shredding and doing their thing."
From as early as age four, Unger says they had a "queer energy." As a child, they recall wearing their mom's dresses and sneaking downstairs to watch Hairspray on late-night TV. Coming out as non-binary and using they/them prononouns in high school came with its challenges among people who didn't understand, but the passionate young drummer chose to persevere.
"Coming out helped me move forward in a way where I can grow and be honest with myself," Unger says. "Ultimately it's been the most freeing thing to happen in my life. Being queer rocks. There's no other way I'd rather live!"