Isabel Okoro wants the world to end. Is that asking for too much? What she wants is to close her eyes, crane her neck and hear the sky whistling and screaming as it drags the clouds down to meet the earth. The apocalypse, Armageddon, the end of days—narratively, it doesn't scare her. In fact, she'd like it if we could wrap things as soon as humanly possible. Then, finally, we could all move on.
And is that more than we deserve, or less? Okoro isn't the first Black artist to demand a reset from the world. There's a documented tradition of our thinkers calling for the sky to fall, or dreaming of what might come after. Consider the recent renaissance of Octavia E. Butler's 1993 Parable duology, which begins in the year 2024, after the U.S. succumbs to absolute social and ecological collapse. Or the near-mythical American-jazz-composer-cum-cosmic-philosopher Sun Ra, who always maintained that he was an alien and famously declared, in 1974: "It's after the end of the world! Don't you know that yet?" Or 40 years before that, when the Martinican poet Aimé Césaire, scribbling into his notebook, wrote: "The only thing in the world worth beginning:/ The End of the world of course."
Of course Isabel Okoro wants the world to end. She thinks she—we—deserve better than the one her generation has inherited. She even has some ideas for a second draft of creation. It's a blueprint she's been revising in her work for years. She likes to call it Eternity: a sun-soaked, dreamlike world free of all the racism, misogyny and queerphobia that disrupt the rhythms of Black life. That means no prisons, either. (And what is Angela Davis asking for when she talks about abolition as a project of imagination, if not a shared commitment to ending the world?) Okoro often photographs her friends to bring them into her world, and what the images afford them is a sort of charmed existence, a weightlessness of being.
Two handsome, nearly poreless young men glance down into the camera's lens amid a loose embrace, their faces relaxed and lit by the sun's warmth, their gazes assertive and self-possessed. A group of teenagers, heads covered in durags or trucker hats, recline on a vast expanse of beach stretched out beneath a white-hot sun. This girl, wearing braids, a pleated shirt and an existentially bored expression, lies down on a grey couch, going nowhere fast—the implication being that even boredom is a privilege.
These photos are usually taken in Toronto, where the artist is based, and Lagos, where she was born and raised, but they've been exhibited all over the world. Though she's still young and relatively early in her career, Okoro's documentations of this fictional world have been published in several international fashion magazines, from American Vogue to the German Der Greif magazine to the British fashion journals i-D and Dazed. She's had a number of exhibitions in Toronto, most recently at the Scotiabank CONTACTt Photography Festival. Two years ago, the Getty Foundation held a competition called Definition Future, and Okoro won the second-place prize; she used the bursary to fund her debut monograph. She self-published Friends in Eternity this spring.
"Before we get to Eternity," she wrote earlier this year, in a post introducing the book, "let me set the tone of events. We are now approaching the end of the old world. Don't you know this yet?"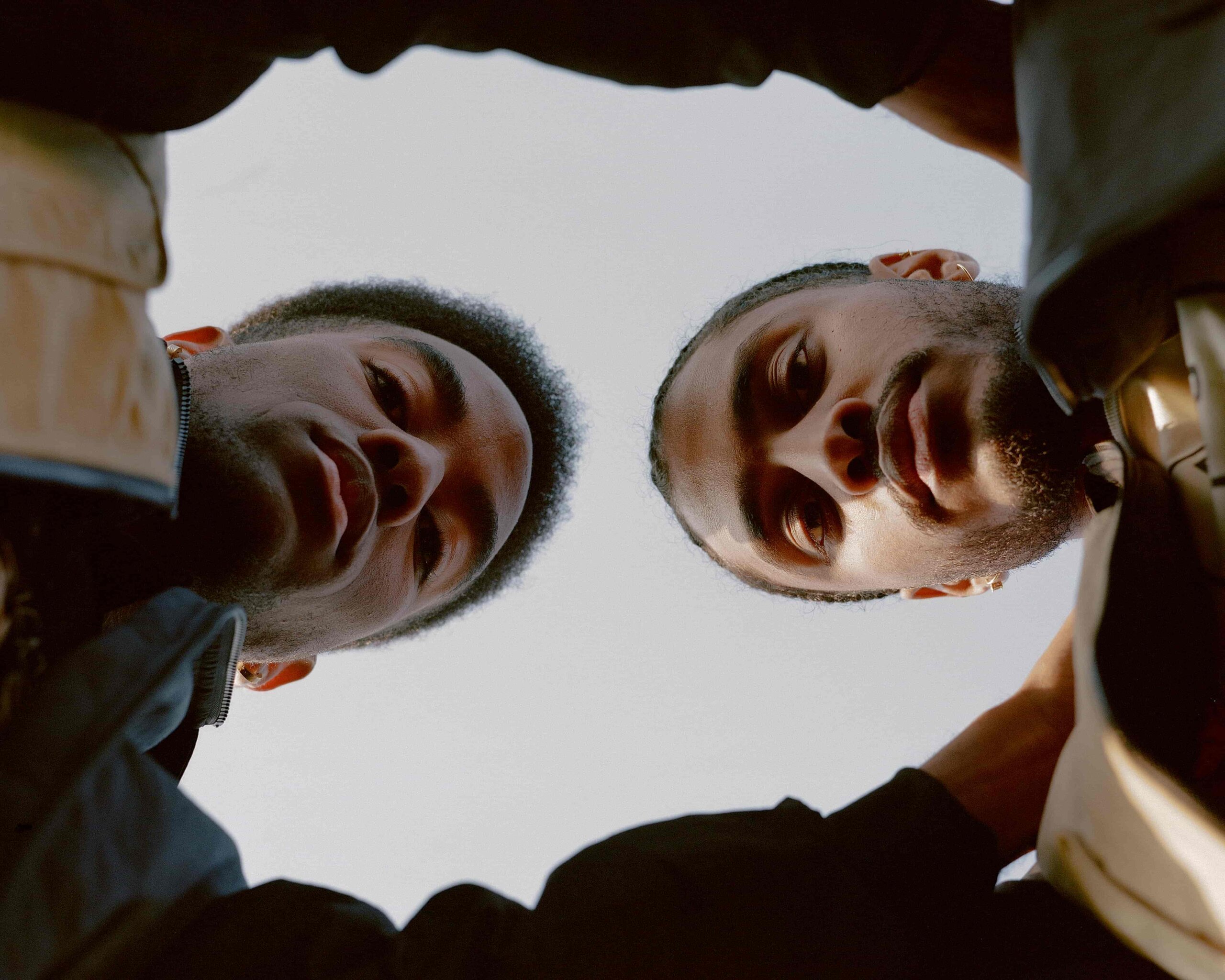 ---
Okoro went to boarding school in Lagos, Nigeria, which makes for a neat and tidy narrative. Boarding schools, like Eternity, are just insular, miniature societies governed by their own carefully crafted laws and morals and conventions, their own conceptions of the normal. "Obviously, all schools have rules," Okoro told me two years ago, when I first began interviewing her, "but the boarding schools in Nigeria have these really strict ones that, when you think about them, don't make any sense."
Kind of like the real world, then. For example: at her boarding school in Lagos, where the average temperature drifts between 18 and 36 degrees Celsius throughout the year, the mandatory uniform for girls—a heavy burgundy blazer, starched white shirt, striped necktie and pleated wool skirt—often moved students to sweat profusely. The boys couldn't grow their hair out longer than one inch, and the girls all had to keep theirs tied back in braids, or else cut it all off.
They weren't allowed to have cameras, either, because there was no use for them at school: there were no photography classes. Seniors could own laptops, and the school eventually provided tablets when it began its arc toward a "high-tech" facelift, but cameras were always prohibited. Okoro never touched one until the year she turned 12, when a friend snuck one into school and they started to play with it. The love that emerged in her was deep and immediate, pure in the way all first things are, and they both became incurable documentarians, photographing the rituals of the boarding school. They would take pictures of themselves and each other, friends playing sports or swimming or at dinner, peers at special assemblies when they'd dress up and perform songs at Christmastime.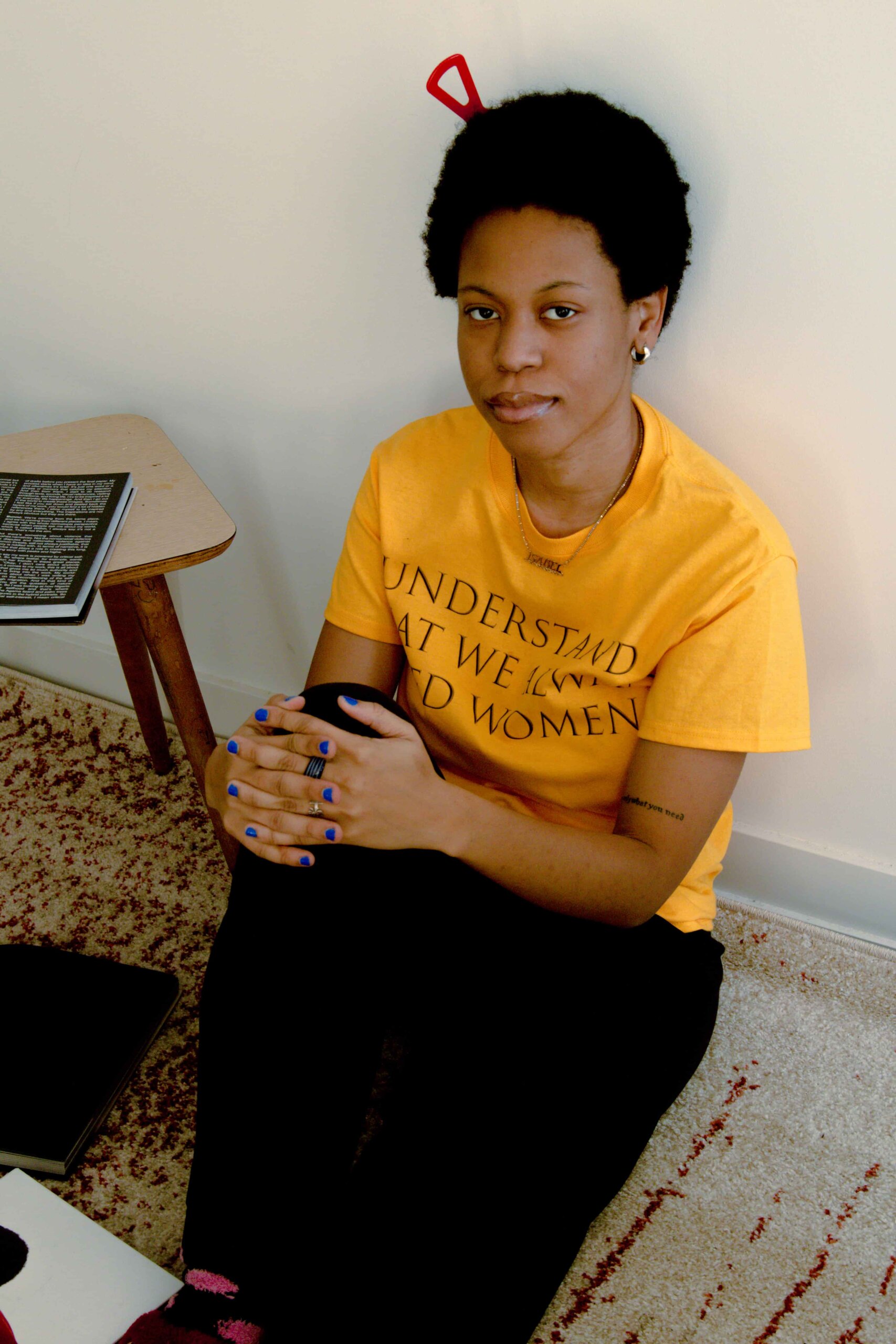 When she moved to Toronto three years later, she was still taking pictures, and her camera travelled with her whenever she returned to Lagos. One day in 2018, back home visiting family, Okoro carried her camera to the shore of Tarkwa Bay Beach, a man-made oasis away from the fracas of the capital that can be accessed only by boat or water taxi. It's a popular spot for swimmers and water-sports enthusiasts, and she'd gone to watch her friend surf in the Lagos Lagoon. The photo that she took of him was candid, and shows him looking out toward the disappearing horizon, searching for a wave to catch as two younger boys swim, thrashing and playing, toward the edge of the frame.
"That moment represented to me this sort of carefree presence that I feel, historically, Black people have rarely been given the opportunity to see represented in photography," Okoro said. She was thinking of the ways that "open spaces" are open only nominally, since so often to access them while Black is to confront the possibility of violence intruding at any given moment, whether you're alone watching the birds wrestle in the trees or trading laughs with friends over the preparation of a barbecued meal. Something is always haunting the edge of the day. At the European museums, those green pastures and vast expanses of sky and sea are usually occupied by the bored white gentry, their lives frictionless and unhurried. Leisure is their moral centre, and the Black subjects are usually confined to the realm of servility.
And so Okoro experienced her own photo as respite. She was happy to have this image of these Black kids lounging in the water, unbothered, immortalized in a spontaneous moment of play. It's like how bell hooks always said that all pleasure is political, and that "the capacity to relax and play renews the spirit." For Okoro, her photo satisfied a desire for an articulation of the idyllic, and she started to think she could build on the legacy of contemporary Black portrait photographers who were rethinking the possibilities of representation—LaToya Ruby Frazier, Liz Johnson Artur, Carrie Mae Weems. Something clicked. She kept making photos to elicit that feeling.
"I wanted to start building this universe that could be a reflection of myself, and my friends, and the people who look like us, and my perspective on the world as a young Black woman," she said. "And I wanted looking at it to feel like daydreaming."
---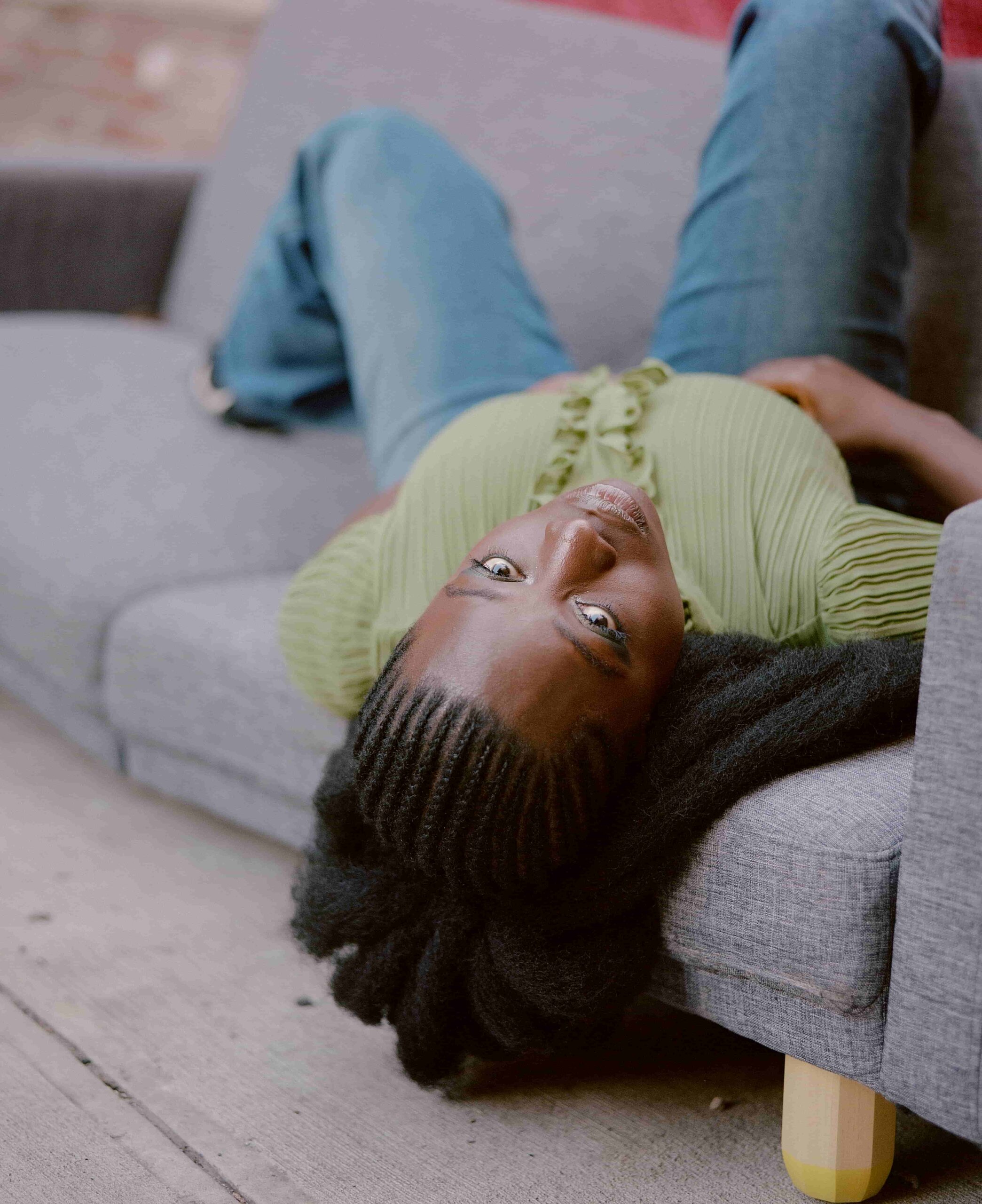 In the two years since Okoro and I began talking about her work, I've noticed how it's developed a more explicitly political edge. A recent joint exhibition she shared with the artist Timothy Yanick Hunter, for the 2021 CONTACT festival in Toronto, was titled Is Love a Synonym for Abolition?, named after a standout line from the scholar Saidiya Hartman's essay "The End of White Supremacy, an American Romance." The show was curated by Liz Ikiriko, who teaches photography at Toronto Metropolitan University, and one of the questions she asked the artists was: "What dreams exist in the space of Black life devoid of subjection?"
"I think what she wanted was for us to consider how the pain and confusion experienced by Black people in white supremacist systems can become a space to consider possibilities outside of that pain," Okoro says.
In response to the prompt, she made a triptych titled If You Knew How We Got Here (2021), as well as a black-and-white photograph of a young woman with a shaved head wearing a white cotton frock, standing barefoot at the edge of a riverbank where the gnarled and twisted roots of a tree form the mouth of a dark cavern. These images, Okoro says, were a way for her to consider the legacies of slavery and colonialism and transatlantic movement—all instances of Black apocalypse—while centring love and autonomy as opposed to suffering. But she also contributed another greyscale image of young Black boys at play on the shore of the Lagos Lagoon, absorbed in each others' joy, their bodies caked with sand. She wrote a poem to accompany the image, and it recalls those forms of school discipline where "misbehaving" students were forced to copy sentences dozens of times over—a common punishment in the artist's childhood.
The poem's repetition, though, reads more like a treatise or incantation:
normal as the right to be queer
normal as the right to be Black
normal as the right to sin
normal as the right to swim
normal as the right to flourish
[…] normal as the right to be
Of late, Okoro complements her photographs with original writings. She published one in June 2020, against the backdrop of global riots in the wake of George Floyd's murder. "With all of this and more, where does one find a safe space to call home?" she wrote. "Waking up every day and seeing people who look like me being killed and discriminated against on a global scale is exhausting. In order to free ourselves totally, we must be prepared to rebuild." In other words: to end the world.
And isn't that what the uprisings were all about? They were an act of collective mourning, sure, of grief converted into unimaginable rage, but they were also a suggestion of possibility. The people who made the streets dense with their bodies, who improvised togetherness amid the collapse of an already tenuous faith in the state, where exploring what other ways of living might be possible. They had come to believe that this one, where Black death is a matter of procedure, cannot be a tenable one. Angela Davis has said before that "the call for prison abolition urges us to imagine and strive for a very different social landscape." Liberation, she says, has to start with imagining what freedom would look like.
"I think Eternity is just a rendition of what our world could be," Okoro said. "So much of my work is about building that universe out and hoping people can ask themselves, 'How different is this world from the one we live in, and why does it have to be any different?' Because, to me, Eternity is nothing impossible to achieve. It's right there for us to grab if we want to."