Model and fashion designer Fola Francis scrolls through her phone, smiling hard. When I ask her what's happening, she grins wider. "The messages keep coming in," Francis says, referring to her Instagram and people congratulating her on debuting at Lagos Fashion Week the day before. "It is so exciting!"
Lagos Fashion Week, which Vogue describes as Africa's leading fashion week, ran for four days at the end of October and showcased designers from across Africa. Francis was the first trans person ever to walk the runway, modelling for two labels: Cute-Saint and Fruché. Trans rights are non-existent in Nigeria and trans people face numerous challenges from both the government and citizens alike. Against this backdrop, Francis's appearance on the runway is a huge deal.
Making history isn't easy; her debut was nerve-wracking. She says that, backstage, before walking the runway, she danced and told herself, "You're the Fola Francis. A bad bitch. This is your dream, and you're making it come true." She had worked so hard to get here and wasn't going to mess it up.
"I was anxious when I walked out for the first show and saw so many people," she says. "I was like, 'Shit! Shit!' But then, everyone started screaming with excitement, and I wanted to laugh," Francis says. "I told myself, 'You know what? You have to take this seriously. You have to let them know that you're here and you mean business.'"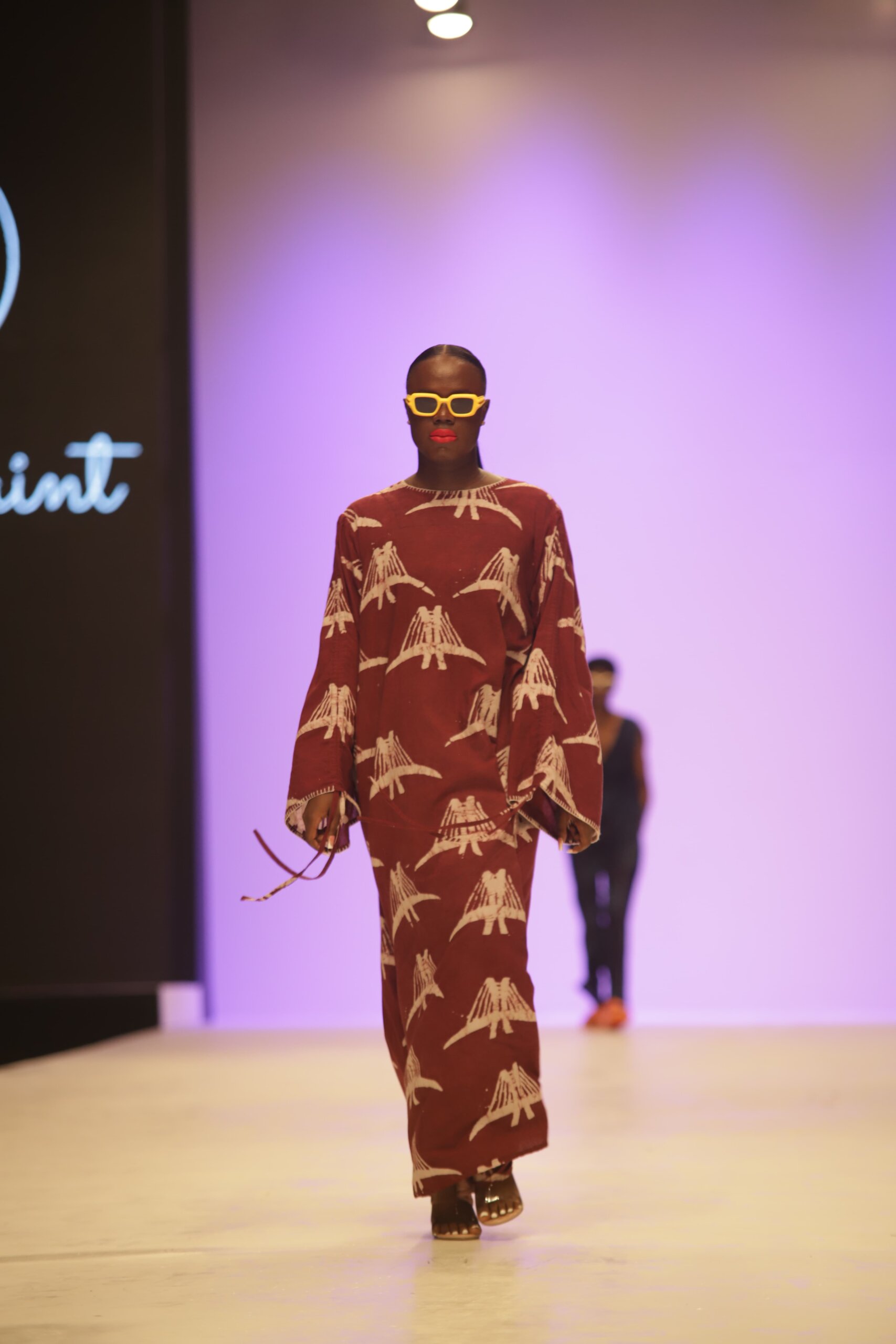 And Francis did mean business. Luckily, I was there to witness it (luckily, because I was late. Thankfully, the Cute-Saint show started two hours behind schedule).
Cute-Saint is a genderless contemporary African fashion brand. Its 2022 collection featured African textures and fabrics with imprinted words like Omo Eko (Lagos child). Only a few people in the crowd at Federal Palace Hotel knew Francis would be walking. 
When Francis hit the runway, Disclosure and Fatoumata Diawara's "Douha (Mali Mali)" played loudly. Her hair was tied in a ponytail, her lips coated in thick, red lipstick and she wore a flowy red robe and clear high heels. Yellow shades hid her eyes. The crowd erupted in cheers—you could tell they were excited to see Francis on the runway. She maintained her composure, keeping a straight face and looking straight ahead as she walked. She only modelled the one look for Cute-Saint. More applause followed at the end of the show; afterward, many in attendance congratulated Francis for making her debut, some calling it monumental.
"To be very honest, we didn't think about including a trans woman in our show until Fola approached me," Femi, Cute-Saint's creative director, tells me over the phone. "We're a brand that believes in diversity, and we found it interesting as it aligns with our values. We believe that fashion has a major role in enhancing people's perspective on things, and if everyone is afraid to do something, everything will remain the same forever."
I ask Femi if he's worried about any negative fallout from Francis's participation. "We were well aware of the likely consequences of the action before we did it," he says. "But as long as our values are intact, I think we're fine. Those who believe in our values will key into it. It's impossible to satisfy the whole market."
I missed a bit of the Fruché show a few hours after Cute-Saint's, so I joined Francis to watch videos from the event. The designs are revealing and ready-to-wear; Fruché is known for making clothes for the modern-day woman. Again, the crowd cheers for Francis as she enters, this time all dressed in white, her face serious and her hair coiffed to perfection. Beyoncé's "Alien Superstar" is playing loudly. "This is my favourite," Francis says, referring to her walk. "It's just perfect with the song, as a Beyoncé fan."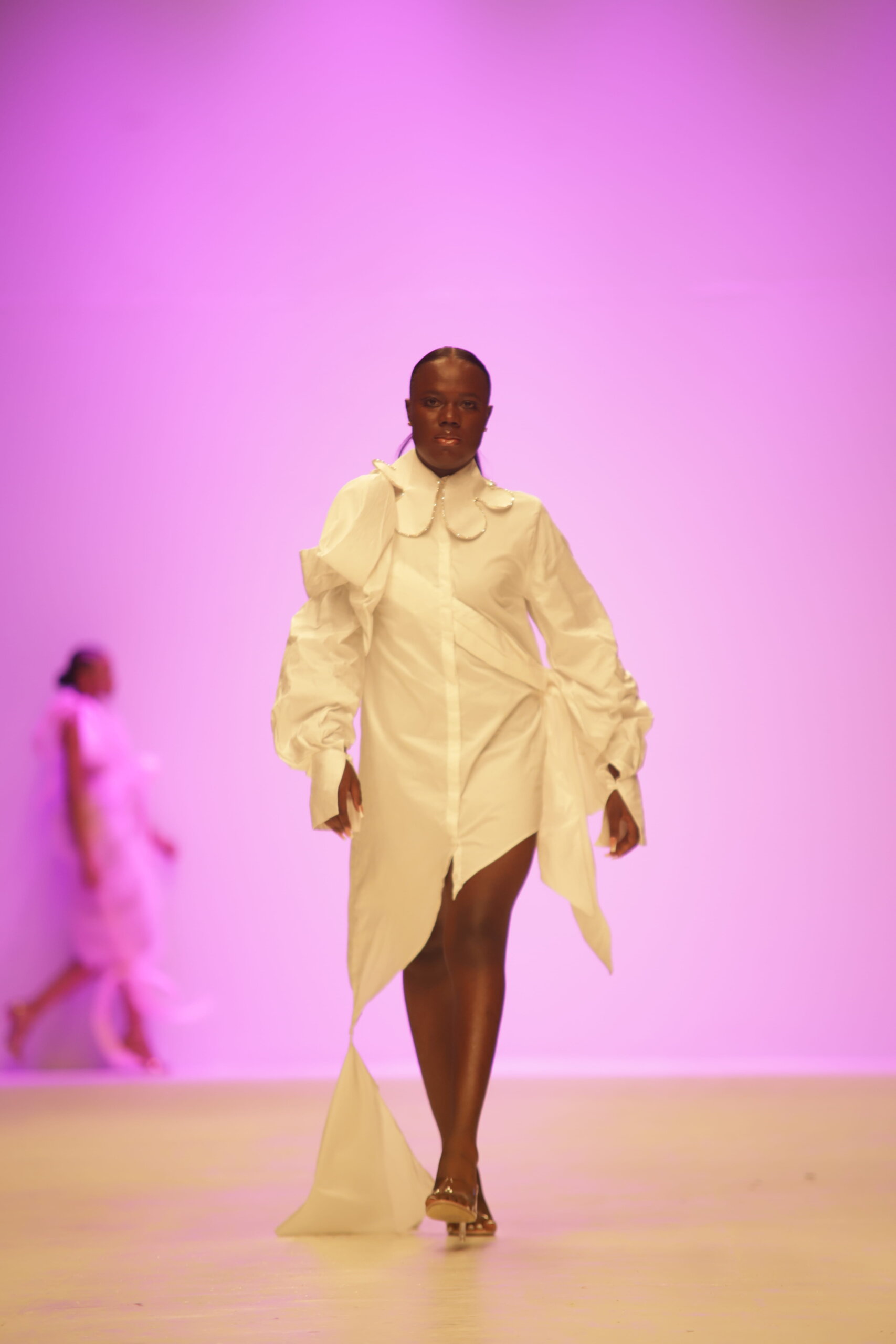 I can hear people singing to the song and watching Francis closely. Again, many in the crowd didn't know she was walking.
"We're a progressive brand, and I have a good relationship with most of the people that buy from us, so I don't have any fears," says Frank Aghuno, founder of Fruché. "But if anything happens, good riddance to them because they were never for us in the first place."
Aghuno adds: "Going with Fola was an easy decision. She is a young, liberated woman, so I was excited to have her when she reached out and had no problem with it."
---
For Francis, the road to Lagos Fashion Week was long and frustrating. A blogger, designer and model, she's often felt overlooked because, as she says, she's a "minority within the minority."
"Once you're visibly queer in the Nigerian fashion industry, people tend to distance themselves … but in my own case, I am very persistent," Francis says, laughing. "I'll break down the door if you close it on me and will walk in no matter what."
Before coming out as a trans woman in 2021, Francis was on PR lists, received invites to fashion shows and events and had a good relationship with people in the industry. However, the invites stopped coming when she came out and began transitioning and talking about queerness. "It was all crickets, and I was blacklisted," she says. 
When she did cross paths with industry people, Francis says they'd say, "Oh my god, you are so brave." She mimics them and rolls her eyes. "I mean, if I'm brave and you like my work, why are you keeping opportunities away from me?
"But do you know what I began to do? I'd make phone calls and talk to friends, so I could attend one way or the other. Even the organizers and PR people would be shocked to see me." And that's how she got to Fashion Week.
On TikTok, where her videos have hundreds of thousands of views, Francis discusses what it's like living as a trans woman in Nigeria, where laws target queer and trans people, along with posts about fashion and life updates. Earlier this year, Francis decided to make a TikTok about wishing to model at Lagos Fashion Week. But she really had no idea how it would happen. "My best friend saw it and told me, 'Fola, you know this can happen if you work toward it, right?' And that stuck with me. I decided to make it happen."
A few weeks before Fashion Week, Francis sent an email to a designer she admires and mentioned walking for them; there was no response. "To be very honest, that almost discouraged me because I look up to them and was obsessed with them. But I guess they were swamped with work and missed the email. So I reached out to another designer, and they were so excited to have me."
Everything was beginning to fall into place. "We had done fittings, we were ready for the show, then … the designer's show got cancelled two or three days before Fashion Week." As someone who believes in manifesting dreams, Francis wasn't going to stop. "At the last minute, I reached out to two designers and asked if I could walk in their showcase." She pauses and smiles. "I was hoping one of them would at least say yes because I can't be so unfortunate that they'd both say no. And shockingly, their replies were positive. I went from wanting to walk one designer to getting booked for two."
---
For Francis, there is little to no rest these days. When she's not running her fashion and design brand, she's participating in a documentary currently in production about her life, continuing to share the joys of being a trans woman in Nigeria on TikTok and planning a ball with her friends so that queer people in Lagos can have a ballroom experience.
"Insane" is the word Francis uses to describe her experience as a trans woman in the African fashion industry. "I have to work four times harder than others in the industry. And I know there will be ripple effects from me walking the runway yesterday. But it is what it is because, at the end of the day, I'm here to smash the cis-stem," she says chuckling.
I ask her: What ripple effects? "Transphobia. There's going to be a lot of transphobia. I know I should stay positive, but I must be real."
For Francis, it's still hard to process what just happened. She hopes her appearance will open more doors for other trans and non-binary people. "I want to see other trans people on that runway. I want them to go for modelling casting without the fear of rejection, microaggressions, queerphobia, or transphobia. That is my biggest hope."
Being the first trans woman on the Nigerian runway is something she'll never take for granted, and with her visibility, she wants other trans people to know that they, too, can do it and reach greater heights. "I'm happy I get to be the one to do it, and I want them to know that it is possible to be on that runway and do more amazing things when they believe."
Reflecting on everything and her excitement, Francis adds, "I want the Nigerian fashion industry to be intentional in creating a safe space for queer and trans people. Don't say you're looking for male and female models when casting. Leave it at 'models,' because this helps create a sense of safety without alienating anyone. Degender fashion, too. Not just for inclusion's sake, but because you care about everyone."
Two days after our interview, Francis calls me and says, "I want this on the record, okay?" She clears her throat. "I heard the Lagos Fashion Week's team decided not to post any of my pictures from the runway or include [them] in any press releases. Why am I not surprised?" (Lagos Fashion Week didn't respond to requests for comment.)
Still, Francis is grateful. "I'm on a high, excited and I don't know when it'll end."