When queer Indigenous comedian and media personality Candy Palmater died last year at age 53, it felt like a life left very much unfinished. Her award-winning The Candy Show on APTN won awards, and her appearances on other shows, like CTV's The Social, always increased the laughter quotient. Though she started out her career as a lawyer, she was never persnickety, and had an amazing knack for making audiences, guests and co-hosts feel comfortable and included.
Palmater had written a memoir, Running Down a Dream, before she died, which is being published posthumously this month by HarperCollins. In this excerpt, she writes about dating men, her queerness and finding love, a business partner and creative collaborator in the woman who was to be her wife, Denise Tompkins.
---
The first real adult relationship I had was with George. As I mentioned earlier, my sexual relationship with George was fantastic. In fact, I think I stayed with him many years longer than I should have because I didn't want to let go of that great sex. So it wasn't as though I had been living a lie until I started dating women. I had great and fulfilling sexual relationships with men. However, I always felt like I was in a power struggle with them. And I always wanted more, emotionally, than I seemed to be getting from men. I think the fundamental problem is that the kind of men I am attracted to sexually have dominant personalities, but I need to be the dominant person in my relationships. I think that was always a bit of a recipe for disaster.
With Denise, I knew I wouldn't have to worry about those things. I could be dominant and I would get what I needed emotionally. But I wasn't sure what "label" to choose because I still had a physical attraction to men. I didn't want to refer to myself as a lesbian because I felt that it disrespected Denise's life experience. When someone finds out they have Indigenous ancestry six generations back, they sometimes will say "I am Indigenous," which is very painful to people with lived experiences. Well, I had dated happily, no social pressures, no awkwardness around being asked if I had a boyfriend. Denise's life was the opposite of all that. She did struggle with knowing she was gay ever since she could remember and thinking she was the only person in the world who felt that way. So, I have always felt more comfortable referring to myself as queer.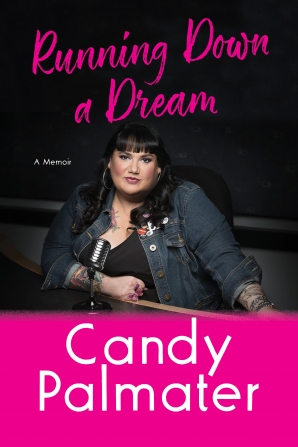 Put whatever label on it you want; but when you fall in love with someone of the same sex and decide to make a life with that person, there is a process of coming out that is required. I let some of my closest friends know, then my family, and eventually I started to talk about her publicly in interviews and comedy material. One of the advantages of being a comedian is being able to work through life's challenges onstage.
When Denise and I met, it wasn't the same kind of feeling I had when I fell in love with George. It wasn't that red-hot physical attraction, but I wanted to be with her all the time. For the longest time, that confused me. I was scared of hurting her and was having trouble figuring out my own feelings, so I kept telling her that I couldn't commit to her long-term. I have always remained physically attracted to men, but Denise and I have something special, and I thought we both recognized it early on.
She was patient with me. She held me while I cried over George for the first year of our time together. She supported me financially as I took that year to heal from both George and my time at the firm. When I finally felt strong enough to get back on my feet and I started working again, I thought I should make a break from Denise. I had met a man I was interested in. He was African Nova Scotian, and we both did a lot of anti-racist work and met in that environment. I broke up with Denise and he and I had a brief affair. The affair was lovely; I still have a lot of warmth and respect for him. We both have huge egos, so I was pretty sure it would not be able to last. But it was lovely. The whole time I was still living at Denise's house in Rawdon. She, however, had cut me off (affectionately) when I had made the break. I was supposedly looking for an apartment of my own. She came with me to look at places, and she disapproved of all of them. At home, I cooked for her and put my cozy touches all around her house. Eventually, she told me it seemed like I didn't really want to be apart from her. She was right. At that point, I committed to Denise fully. We reunited and we put her little house in Rawdon up for sale and bought our first house together.
Denise and I have the most open communication between us. Over twenty years, we have gone through a few rough patches, but we have defined, for ourselves, what our relationship looks like. I chose the word queer because it feels the most appropriate to me.
Denise has been so good for me. And I have been good for her. We have been one another's therapist. We have been one another's life coach. And when my physical problems started limiting what I could do, Denise became, in many ways, my caregiver. We built The Candy Show brand together.
We both agree, however, that one person can't fulfill all of our needs. We have an open marriage and we have reworked the terms of our union many times over the past twenty years. The one thing we always agree on is that we want to move forward together in whatever way works for us. Just like in my career choices, I don't spend much time worrying about what other people think a good marriage is. We define for ourselves what our partnership looks like.
Excerpt from Running Down a Dream: A Memoir by Candy Palmater © 2022. Published by HarperCollins Publishers Ltd. All rights reserved.