It's a time much like our own: fearing that queers are "grooming" children, the government passes a "don't say gay" law; teachers and inclusive sex-ed are particular targets. But this is from 35 years ago in the U.K. Introduced in 1988 by Margaret Thatcher's Conservative government, Section 28, which prohibited the "promotion of homosexuality" by local authorities, was in force until 2000 in Scotland and 2003 in England and Wales.
Filmmaker Georgia Oakley, born the same year as the law's passing, grew up experiencing Section 28 first-hand. Her feature debut, Blue Jean, now playing in the U.K. and U.S. and opening in Canada on June 23, transports us back to 1988: a high-water mark in British homophobia, and the height of the AIDS epidemic. The film presents a complex character study of a lesbian teacher and the limits she will go to maintain her semi-closeted identity.
The '80s period drama centres around Jean (Rosy McEwen), a sullen phys-ed teacher at a Newcastle all-girls private school, living a mostly contented double life: hetero-projecting gym teacher by day and snuggling lover with her proud girlfriend Viv (Kerrie Hayes) by night. Jean's worlds collide when she catches 15-year-old student Lois (Lucy Halliday) at the lesbian bar she and Viv go to. When this becomes a frequent occurrence, Jean's anxiety goes on red alert, frightened that the student will jeopardize her position at school. When Lois experiences homophobic bullying at school, Jean must decide between sacrificing the relative security of the closet or protecting a budding gay.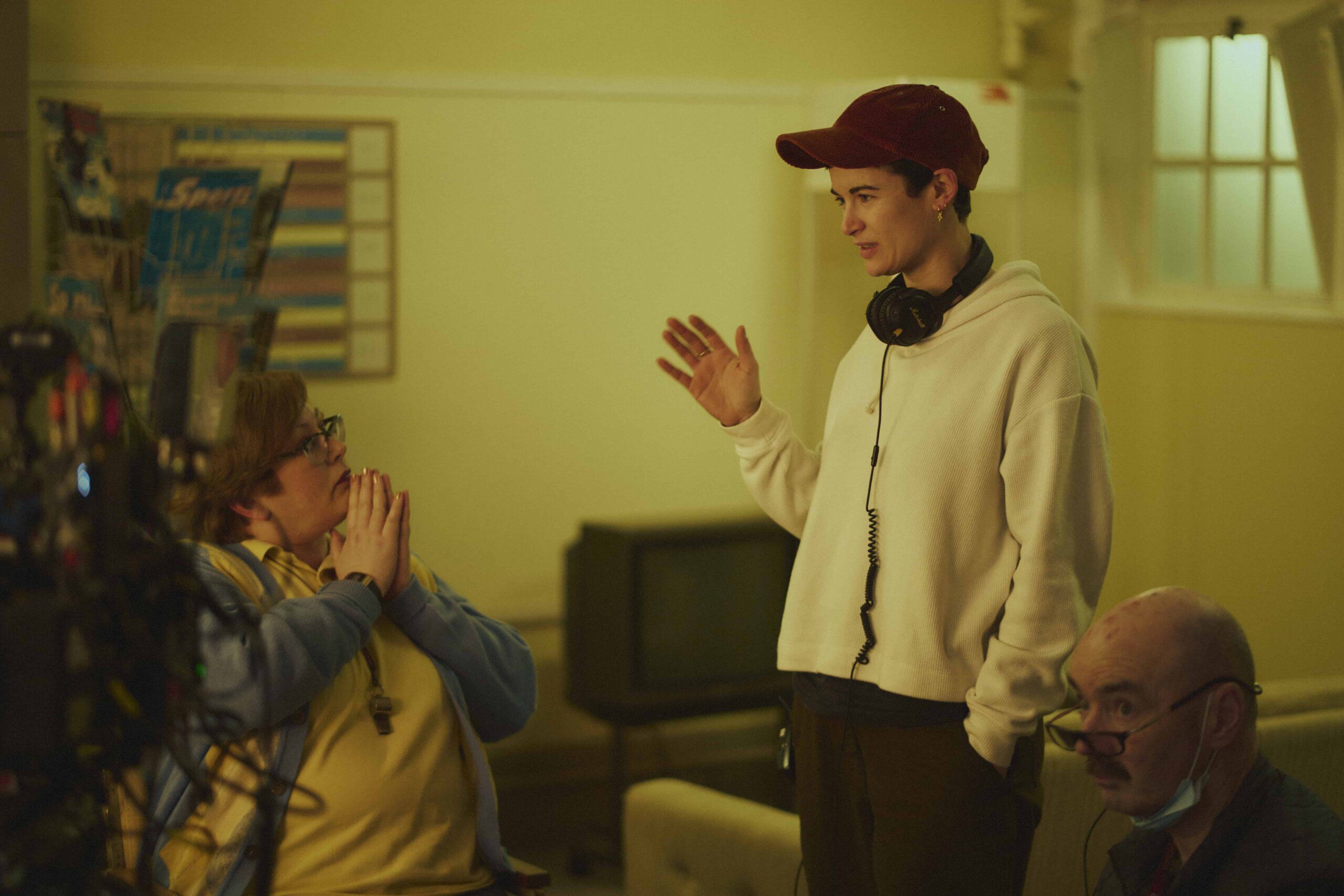 Xtra chatted with Oakley about her desire for authenticity in the film, the basis of Jean's complex character and how Jean and Lois's story explores intergenerational connections.
What inspired you to make Blue Jean?
I was inspired by interrogating my own experiences as somebody who was a student under Section 28. And also by interviewing lesbian women who had worked as P.E. teachers. I found that both the law and their experiences allowed me to interrogate certain themes that I was already really interested in as a filmmaker. I was looking for a story that would touch on subjects like internalized homophobia and the way that we wear different masks in the different arenas of our lives. Coming out is often depicted as being a one-time thing, but in my experience, it's more of a kind of everyday scenario. I was lucky enough to stumble across some interviews with women who had lived experiences very similar to Jean's and then went on to meet those women and work very closely with them to construct the story over the course of four years.
How did you develop Jean's complicated character?
I always struggle with this question because Jean sort of arrived in my mind pretty fully formed, probably as a result of some of my own experiences. I grew up in a very conservative part of the U.K. where the attitudes of people around me were very similar to what we depicted in the film. I knew very much what it felt like to grow up in the barrage of heteronormative messaging that was present everywhere you looked. How it felt to feel like your identity was kind of split. That you feel kind of good about who you are and happy and proud and all of those positive things. But then to have this other voice that is sort of unknowable and that doesn't feel like it's a part of you—that is actually something that you have kind of manifested as a result of other people's attitudes and the way they look at you.
I think Jean was born out of my desire to tell a story about those feelings. I was always wanting to tell a story about somebody who is essentially imperfect, and that she makes questionable decisions that we can't necessarily agree with as the audience, but that, hopefully, through holding her life under a microscope, we begin to understand.
How do you find that middle ground of contrasting the generational experiences of queerness through Jean and Lois, both baby gays in their own right?
The intergenerational aspect of queerness was something that was very much on my mind when I started writing the film. I had the experience of having members of my family who were part of the older generation behave in ways that were dictated by their life experiences, which were very different from mine, and growing up in a world that was very different from the world that I grew up in. I had thought a lot personally about how as people, we cannot really understand what it must have been like for the generation that came before. And indeed the generation that comes after, because our experiences are all so different. So that was always there as part of the discussion when developing the film. With regards to Jean and Lois in the film, I always wanted to create a sort of cat-and-mouse dilemma between the two of them, but also think about this question of what it means to be a teacher and how often younger people end up becoming the teacher, as it were.
I think anyone who's a parent will understand what I'm saying. Kids could be under the age of five, but they still end up teaching you so much about your relationship with yourself.
How was it to find different wardrobes to craft or capture the spirit of the '80s?
It was really exciting. I would say that my starting point was that I wanted to make a film that felt like it was made in the '80s [rather] than a film that's looking back nostalgically. We've grown accustomed to certain use of colour and signposting when it comes to haircuts and things like that which have become a shorthand for anything '80s. That was how I started conversations with the costume designer, the production designer and the cinematographer. When we started looking at references from that decade, including documentary photography from the time, we often found that you didn't have to look very far to find the kinds of examples of the types of things I was looking for.
I would credit all three of those heads of department hugely with not just creating the world that the film is set in, but also with helping our actors really step into those roles. Rosy and Kerrie, for instance, who play Jean and Viv, didn't look anything like them in the film. Having them step into those costumes and have their hair done, etc., was such a big part of allowing them to transform fully into those roles to the point where I became surprised when, after we finished shooting, Kerrie and Rosy went back to wearing their own clothes and everything else. I found it really jarring because I felt like I didn't recognize them anymore.
What made you want to shoot the film on a 16-millimetre?
I love the unpredictable grain structure of 16-mils. Choosing to film on 16-mils partly to do with what I said about wanting to make a film that felt like it was from that time. And I'd also shot my last short film on 16-millimetre. I was familiar with the kind of process, but more than that, I really enjoy working on film because of how much it intensifies the feeling of being on set, the stakes. There's something about only having a certain amount of time to do things. That means that everybody's a little bit on the edge of their seat. We were having to get the rushes taken down to London every day, so we weren't able to watch back what we'd shot until a few days later, which also upped the stakes because if you've made any mistakes, you are kind of stuck with it. But I love that, personally. I felt like it was a hugely emotional rollercoaster shooting on film because of some of the difficulties that we faced, but I would never change it.
What are some of your big takeaways from directing Blue Jean?
Just the importance. I mean, there's the film, right? There's the film that people can go watch in the cinema. But then there was the experience of making it. And in order to make it, we had to bring all of these women together from different walks of life—men too, but mostly women. Seeing how much just that experience of getting together to tell this story was important. I could see in real-time whilst we were filming it that the experience of being there and being part of that collective of women who shared similar ambitions to tell this story, that in itself was life-changing for some.
It ignites the fire inside me. It's not just the film that will go out into the world and, hopefully, mean something to some people. But it's also important to remember to keep rallying the troops and get people together and to talk about the things that we're passionate about. If we're all stuck behind computer screens and iPhone screens scrolling forever and ever, then nothing's ever gonna change. So the importance of being together in a room with people who share a similar goal and what that can actually do to someone's life. I think that will be a big takeaway I'll remember from this film.