This content was created by Xtra's branded content team alongside Tourism Kelowna, separate from Xtra's editorial staff.
We know how colourful and diverse the queer community is, so, why not plan a fall getaway based on the colours of the rainbow?
Kelowna, the largest city in the Okanagan Valley, is a four-hour drive or one-hour flight from Vancouver. The city offers a spectrum of diverse activities for any tourist to choose from. To help fill your itinerary, Xtra has put together a rainbow list of things to do so you can have a Kelowna experience that's as colourful as you are.
Pink: Fruitcake
After a few glasses of wine, head to Kelowna's Fruitcake! Created by Peak Pride, Fruitcake is a monthly event put on for just about anyone who loves to party. It takes place at different locations throughout Kelowna, and features rotating DJs, performers and hosts. At a Fruitcake party, wear what you want and be who you are, and maybe meet someone who is into exactly what you like.
Red: Fall Wine Festival
From Sept 28–Oct 10, grab a glass of merlot and check out a few of the events during the region's Fall Okanagan Wine Festival. Signature events include the British Columbia Wine Awards and Reception and winemakers dinner at several wineries. As a testament to how popular and highly regarded the festival is, one of its two judging competitions is the oldest in the province.
Amber: The BC Ale Trail
Kelowna isn't just known for being the wine mecca of British Columbia. Made in small batches, Tree Brewing Co has beers that are light and crisp to loaded with hops. You can also learn more about the brewery's history at its Beer Institute. Discover more breweries by following BC's Ale Trail; hop on a bike and cycle from one brewery to the next, but be sure to consume responsibly between rides.
Yellow: A Spotlight on Cabaret
If you came to Kelowna to escape mundane day-to-day life, why not leave the world further behind with a Tony award–winning musical "about following your heart while the world loses its way"? The Kelowna Actors Studio's Cabaret has performances from Oct 11–29, with dinner served before the curtain lifts. Teleport to a 1930s Berlin nightclub and enjoy theatre classics such as "Cabaret" and "Willkommen."
Green: Hiking and Bike Trails
Less than 30 minutes from downtown Kelowna you'll find yourself surrounded by the steep walled splendour of Myra Canyon and the green of the Ponderosa Pine. Hike or rent bikes for the 24-kilometre excursion among the trestle bridges and tunnels of the Kettle Valley Railway, with breathtaking views of mountains, and fall colours. Guided tours are available through Monashee Adventure Tours as the leaves change from green to hues of orange and red; the tours even operate through winter months for some unique, albeit colder, sightseeing.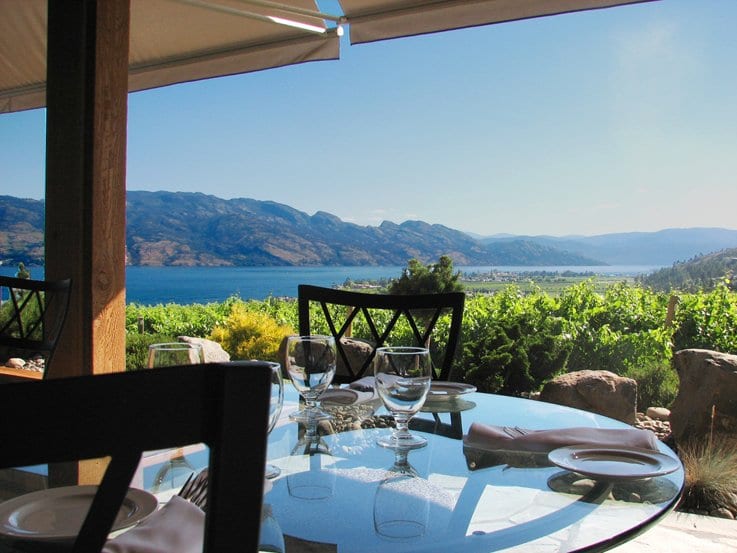 Blue: Sipping Wine with a Lakeside View
Situated on the edge of Okanagan Lake, Old Vines Restaurant pairs stellar lake views with a premium dining experience. Its wine is known to come from vineyards of the highest quality, making every pour as perfect as the serene view you'll have with your meal.
Violet: Grape Stomping
Roll up those pants and get ready to stomp and squish on Oct 1 at House of Rose Winery's StompOUT! grape stomping party for the LGBT community. Tickets are $15 and include a stomp, a glass of wine and live music. If you can't make the stomp in October, you can also check out the Kelowna FabFive Wine Trail which offers some great wines with a lot of personality.
Brown: Coffee and Books
On the corner of Pandosy and Lawrence, near Kelowna's rainbow crosswalk, sits Pulp Fiction Coffee House. Pop in for a cup o' Joe, and afterwards head over to Robbie Rare Books to sift through books you thought were long out of print. Quaint with its bit of a blast-from-the-past feel, being inside Pulp Fiction is an experience in and of itself.
Tourism Kelowna
Full calendar of events available online
tourismkelowna.com