As Pride Month winds down, don't worry: one of the next gayest semi-annual events is just around the corner. That's right, it's almost FIFA Women's World Cup season.
As some of the best (and queerest) athletes in the world descend upon Australia and New Zealand to compete starting July 20, there will be plenty of familiar queer and trans faces to root for, among them Canadian women's national team midfielder Quinn. After coming out as trans and non-binary in 2020, they became not only the first non-binary Olympic competitor at the 2021 games, they also became the first non-binary or trans Olympic gold medallist when Team Canada took the top prize.
But as they and the rest of Team Canada prepare for the World Cup (and look ahead to defending their gold medal at the 2024 Paris Olympics), Quinn is also looking to the future with a new mentorship program launching this fall.
Under the See Them, Be Them initiative, eight girls and gender-diverse players will participate in both on-field and off-field activities with Quinn—and another 100 will receive virtual mentorships—aimed at keeping them involved in sports and encouraging other girls and trans youth to get involved in Canadian soccer.
I spoke to Quinn about their role as a mentor to the next generation, their preparation for the upcoming World Cup and how men's sports leagues can learn from the women when it comes to queer and trans inclusion.
What spurred you to get involved with the See Them, Be Them initiative?
Mentorship and being a role model is a really important thing for me as a professional athlete and as a transgender athlete, too. That's been one of the most impactful things that I've seen really recently in my career.
Hopefully I'll get to share my own experiences and show a pathway where they can continue on in the sports that they love because I understand that there's a lot of pressure for young girls and gender-diverse athletes to drop out of sport. So hopefully this is just another way where folks can stay in sport [where] they can feel inspired and connected.
You mentioned your visibility as a queer and trans athlete. What's the importance of having role models for young athletes to see and look up to?
Mentorship played a huge role in my understanding of what I wanted to do when I was older—and that was to be on the national team. I didn't understand that there was a pathway for professional soccer for me, because it's not something I was seeing. But I went to a game in Toronto, a women's national team game, and from then on I was hooked and I wanted to be on that national team one day.
I think as well as a transgender athlete, I didn't have that specific role model in soccer to look up to. There weren't any trans athletes in professional soccer. And so I think that was a really important thing for me … being a role model and showing people that that is an avenue that they can pursue and there are inclusive spaces out there.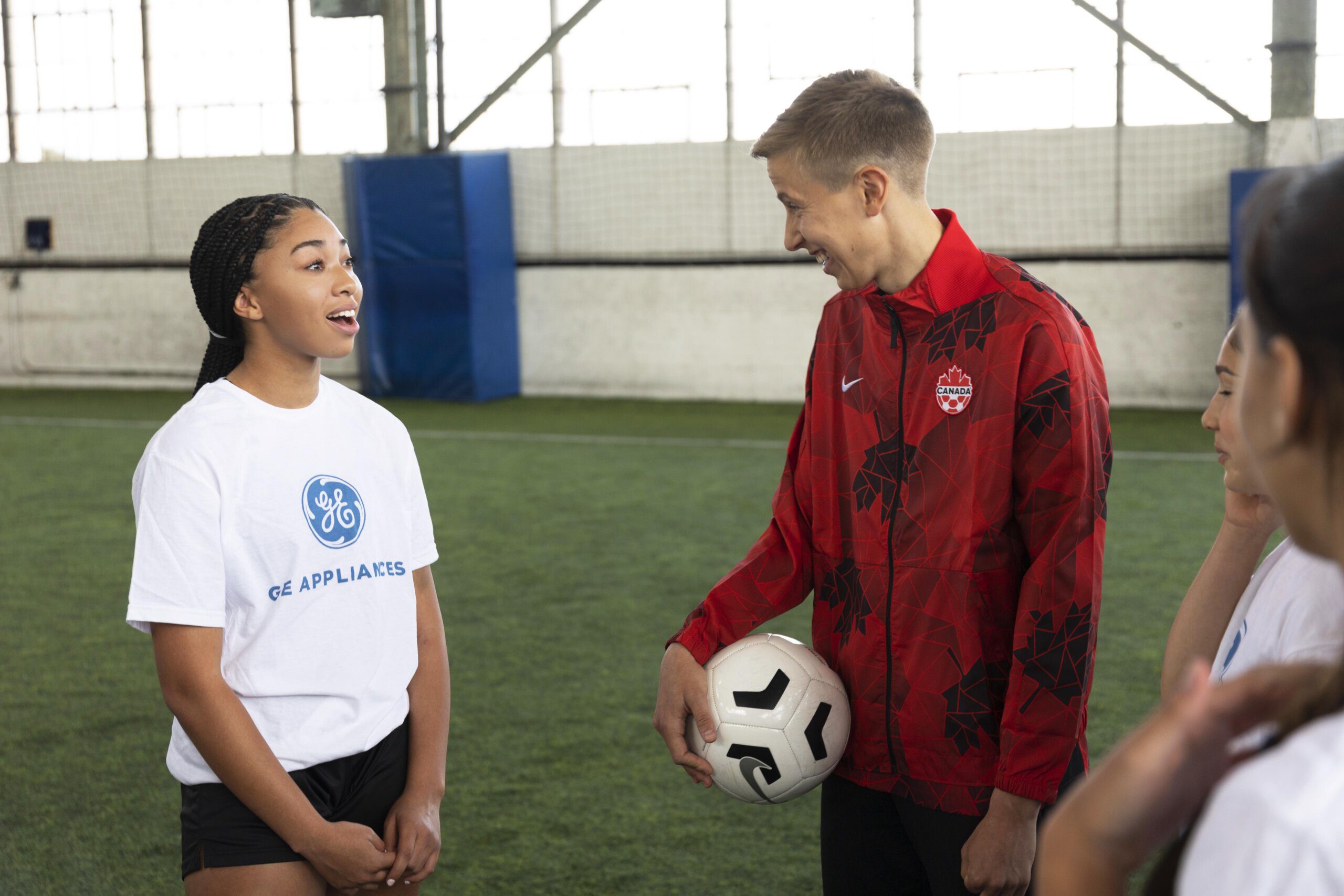 As trans folks, we're in a scary time right now, especially when it comes to sports. How can teams, parents and allies step up to support not just queer and trans adult players, but also kids right now who might be feeling really scared to get on the field?
It is a really scary time for trans inclusion in sports. Obviously, we're seeing that in the U.S., but I saw what happened in Kelowna. And so I think, you know, we can't be ignorant in Canada as to what's happening.
It's a really important time for myth-busting. We've seen trans youth, specifically, weaponized for political gain. As these narratives go into more mainstream media, it's really important to have that education piece around why trans inclusion is important and why, when we start policing bodies, that impacts everyone. It impacts, obviously, our transgender population, who just want to play the sports that they love. And then as well it's going to impact every single woman in sports.
I think allies and parents have a really specific role to play in this and making our environments as inclusive as possible, and encouraging young trans athletes to continue to play in sports because there is a lot of messaging directly to them right now that [sport] isn't a safe place for them, that sport is a place where they're not included. So hopefully, those allies and parents can really foster an environment that's inclusive.
I know there's always room to be better, but it seems like women's sports leagues appear to have made more strides toward including queer and trans athletes and fans than a lot of the men's leagues—particularly right now with everything happening in the NHL and MLB. What lessons do you think the men's leagues can take away from some of the progress that's been made on the women's side?
Education is so hugely important, and understanding all of the factors that go into creating that environment that's extremely homophobic and sexist, because that really is the reality for some male-dominated sports. Education is a huge part of it, and educating the athletes on their feelings and their feelings surrounding it and letting them explore either their gender or their sexuality and their masculinity, because I think through that exploration, there'll be a lot more acceptance in those leagues.
I think fortunately, on the women's side, that's something that's been happening. But I think that's a huge component to overcoming those toxic environments that we're seeing in men's sports.
Speaking of the women's side, the World Cup is coming up this summer. How has preparation for that been going?
I think it's good. I think it's an exciting time. I think the team is really excited to get together and have a good couple of weeks of preparation. We've obviously had a couple of injuries, but I think that's just the reality of the sport; you're seeing that across pretty much every team going to the World Cup. So yeah, I think it'll be a really interesting one, but I think the team is excited to show the world that we can perform at a World Cup because historically it's been something that we've struggled with. We're real Olympic experts at this point, but for some reason the World Cup has proven to be a little bit more of a hurdle. So I think for us, it's getting those strategies and really diving into why we've had such different experiences at different tournaments, and hopefully have this one be a positive one for us.
How do you balance just wanting to play soccer and having this huge spotlight of trans visibility upon you?
Yeah, I think it's a difficult one to balance and I obviously think with any advocacy work, having balance is so hugely important to long-term sustainability. I think there have been difficult times, obviously, when there's a spotlight on you. It's something that I'm familiar with, luckily, being a professional athlete, but I think it does feel a little bit more personal [when] it's about my identity. And I think the reality is there has been some really hurtful pushback in regard to myself.
It's also really being cognizant of the fact that this is my story, but it's not everyone else's story. And I hold a lot of different points of privilege in that, and so I'm hoping that moving forward into the future that there are more stories highlighted, there are more people highlighted and I can push the lens and the spotlight on to them, because I think that's really going to be beneficial.
When we're seeing more trans folks and digesting different experiences, more diverse experiences, that's really what's going to sustain change in the long term.
Interview has been edited for length and clarity.