For South Asian parents of queer and trans children, community can be a mixed blessing. When it comes to family, friends, churches or temples, and dealing with all the "aunties" and "uncles," it can feel like they're sharing the ordeal of coming out with their kids.
That's where Desi Rainbow Parents and Allies, a sort of Parents and Friends of Lesbians and Gays (PFLAG) for the South Asian diaspora, comes in. Close-knit communities can be a double-edged sword, offering support and cultural understanding, but also bringing judgment and calcified tradition. It also means that everybody knows everybody else, which may be why Desi Rainbow has really taken off during the pandemic, when anonymous online interaction became the norm. Telling people your child is queer suddenly became easier.
"Extended family, immigrant community, religious community, it's more important in the South Asian context than in other communities," says Desi Rainbow founder Aruna Rao. "Even if you want to be personally supportive, you're made to feel shame. Any time I said those words [like trans or queer], there was a sense of real fear and shame. Some extended family members told me they pity me.
"We as families have to come out and most families don't want to. It's too much."
Rao's child Leo came out to her in 2015 at age 17. Rao, who lives in New Jersey, didn't know how to react.
"It was really a blow to the stomach," she says. "Even though I considered myself quite liberal, that was for other people's kids. It felt so crushing. I thought it was a white thing. I had never met a person of colour who was queer or trans."
Rao googled everything she could find on LGBTQ2S+ topics, and found PFLAG. But she says she felt out of place at many of the group's meetings.
"I found myself the only brown immigrant mother in the whole space. And even though I'm used to being the only brown person in all-white spaces, it felt different for emotional support," Rao says. "I finally found a lovely PFLAG group in New York City for Asians and Pacific Islanders. Being with Japanese mothers or Chinese mothers was very similar to desi mothers.
"But I told myself, 'I really cannot be the only Indian-American parent dealing with this.'"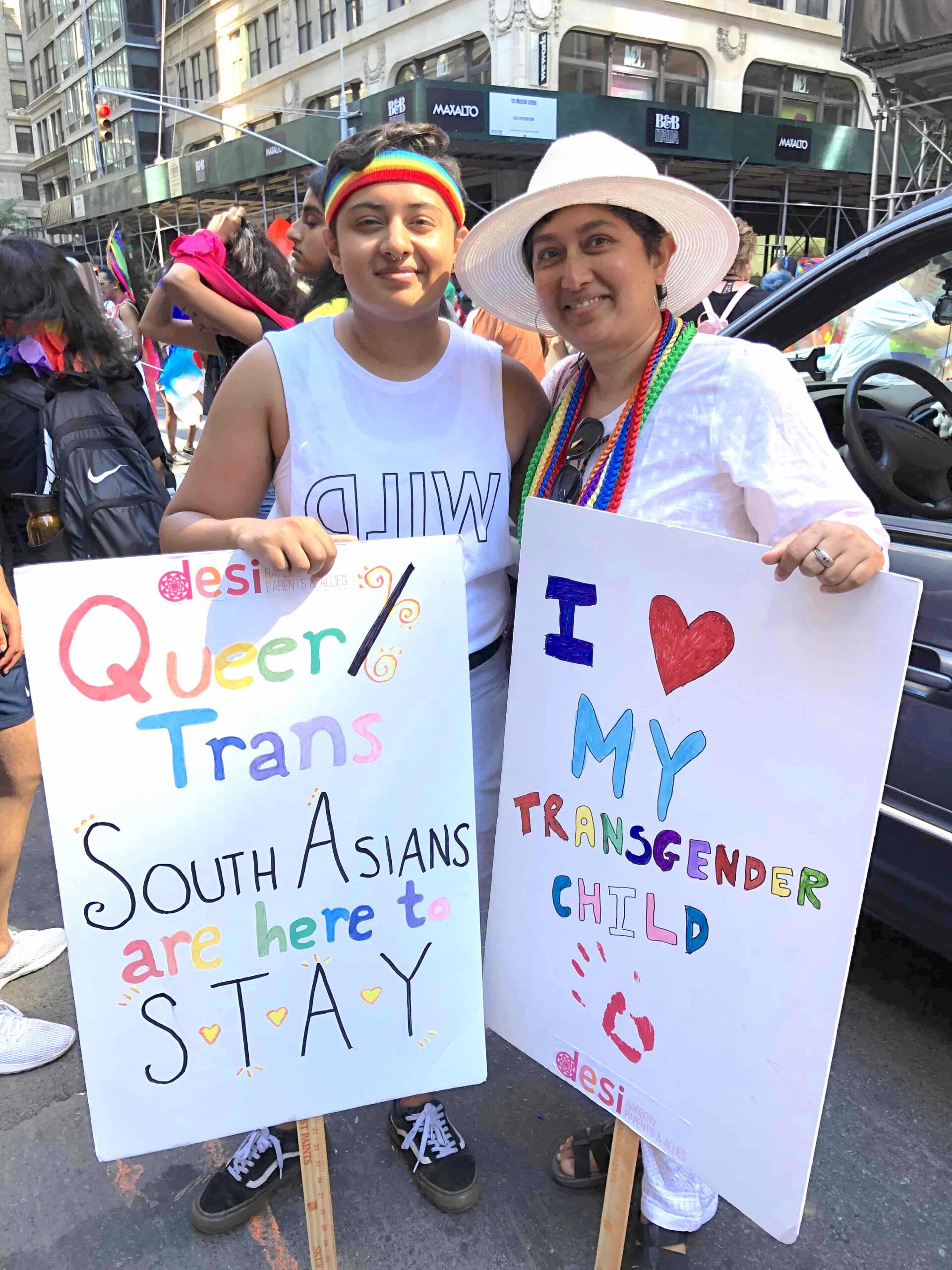 Manjula Balakrishnan, co-president of Desi Rainbow, who lives near Seattle, experienced a similar vacuum when her child came out as a trans woman in 2014.
"I tried to find resources within my own community," she says. "But I couldn't find a single Indian family who had a trans kid. From a South Asian perspective, there was literally zilch."
To try to fill that hole, Rao, with the help of the National Queer Asian Pacific Islander Alliance, began reaching out to South Asian families and talking to groups across the U.S.
"As I began to meet more and more queer South Asian groups, I began to realize the intense need for elders in the community to be visible," she says.
Rao started a Facebook group and, in 2017, officially established Desi Rainbow, centred around the large South Asian community in New Jersey. Rao says she would receive calls mostly from the U.S. or Canada, but sometimes from as far afield as Hong Kong.
"At the end of 2018, I quit my job and decided to start working on this full-time. At the end of 2019, I had big plans to launch nationally," she says. "Then the pandemic struck, and we had to abandon all plans, and start thinking of moving online. And when things moved onto Zoom is when the floodgates opened."
Over the past year, as Desi Rainbow has moved exclusively online, Rao says participation has grown from about 150 to 850 people, with people logging in from countries like New Zealand, Australia, the U.K., Singapore, India and Pakistan. The anonymity afforded by virtual meetings has provided a surprise boost, as people attend with their cameras or microphones turned off.
"The people who show up to physical spaces are usually people who are quite far along in their journey," says Rao. "Online, we have parents-only groups where people can say whatever they want without being worried about judgment."
That fear of judgment can be especially acute in South Asian immigrant communities.
"When you are part of the diaspora, you take a lot of pride in your culture," says Anupam, the communications coordinator for Desi Rainbow. Anupam is out but worries about using his full name in an online news story. "But it comes at the cost of believing everything in your culture is right, and that's not true. Some immigrants, they have to prove they're Indian, and they end up overdoing it. They have their idea of India in their heads, and there is no talk of LGBTQ+ people. That's either a western thing or a disease. We are a very closed community, it amplifies the fear among the parents."
South Asians in North America often want to appear as a "model minority," an approach that can mean they adopt deeply conservative social attitudes. In Canada, Stephen Harper's Conservative government from 2006-2015 was able to make deep inroads into the country's South Asian communities by focusing on opposition to issues like gay marriage. In the U.S., many Indian immigrants have become huge supporters of India's authoritarian leader Narendra Modi, and were more supportive of Trump than other minority groups.
"There's a lot of change I see in India, but the immigrant community has not adopted this new openness," Rao says. "Immigrants are frozen in time. People retain the values they saw before they left. A lot of immigrants have that sort of mindwarp sense."
Sri, who runs Desi Rainbow's Story Time program, also only wanted her first name used. She agrees that South Asian immigrants can have attitudes that are outdated even in their homelands. That's one reason she believes the Story Time program, in which South Asian drag artists read inclusive children's books to young viewers, is so important. The reaction from the children, she says, has been overwhelmingly positive.
"Representation matters, children will feel more comfortable when they see people like themselves in books," Sri says. "Can you imagine when a child with two moms sees those books, about people with desi names. What do you think goes through their minds? 'I'm not different, I'm like everybody else.' You see yourself in the books you read, you feel more confident."
Story Time has included readings from two Canadian drag artists, Mango Lassi from Toronto and Montreal's Bijuriya. Humza Mian, who performs as Mango Lassi, says he was delighted to receive the invitation.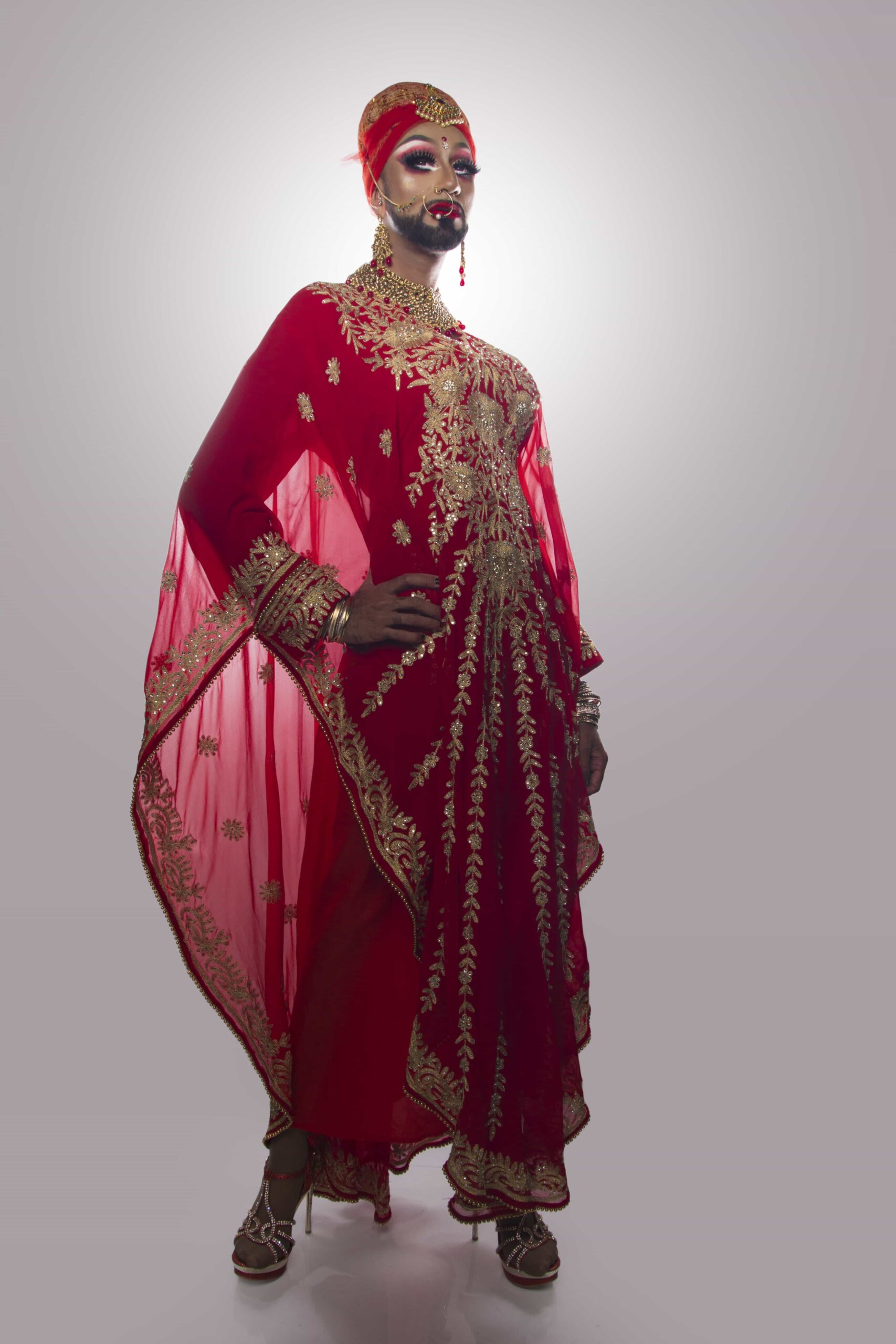 "They reached out to me through Lahore Vagistan, a queen in the U.S., and I was elated when I heard their plan. I had taken part in drag story time here in Toronto before, but the crowd was mostly white," Mian writes in an email. "I thought it was an incredible initiative on their behalf and jumped at the opportunity.
"It's important to have performers like myself and Buji involved because we represent different parts of the South Asian umbrella; I'm a Punjabi Canadian-Pakistani and they are Indo-Caribbean French-Canadian," Mian continues. "It's important to recognize that the South Asian community is composed of many different identities, and representation is important for each of them."
For many South Asians, those identities include their religion—whether it be Hinduism, Islam, Sikhism, Buddhism or Christianity. Finding acceptance within their church, mosque or temple is a major issue for many queer South Asians and their parents.
For Raja Gopal Bhattar, an L.A.-based diversity, equity and belonging consultant and a Hindu practitioner and priest, Hinduism is rife with gay signifiers.
"In mythology, there was just queerness all over the place," they say. "If you're having Krishna coming down in drag to save the universe, that's pretty cool. How much queerer can you get in the story? All the stories around Krishna and Brahma and Vishnu have homoeerotic overtones, yet none is presented that way."
Bhattar has been part of Desi Rainbow's faith support and discussion groups.
"Religion has been one of the key ways in which communities have always found each other," they say. "We've been having this series of Q&As around religion, from those who are closeted to those who are struggling to those who are trying to be supportive."
Kingston Kodan, a queer Christian and co-president of Desi Rainbow, says that when it comes to belief systems and queer South Asians, their experience is mostly negative and homophobic, no matter which religion they follow.
"I think it's all the same, it's a common thread," he says. "It's a tool of oppression, where most people who are oppressed have no idea they're being oppressed."
Kodan, who lives in Washington, D.C., joined Desi Rainbow after attending an in-person faith and family event that Rao had organized.
"I never saw so many queer South Asian Christians," he says. "I saw this pastor who said, 'This is your house, you are God's beloved child.' All I had heard growing up was homosexuality is an abomination. But this was a Harvard and Princeton-educated pastor. It was the first time all my identities were confirmed."
That sense of belonging is what Desi Rainbow can offer to queer South Asians and their families desperate to find support, says Anupam.
"It's a group that brings everything together, these amazing aunties and uncles I can talk to. It's like a big Asian family I can be part of."