If I had to use one word to describe this season of RuPaul's Drag Race UK, it would be "relaxed." That's a funny way to encapsulate a season of high-energy drag queens goofing off in challenges to amuse RuPaul, I know. But in comparison to many recent seasons of the franchise, Drag Race UK Season 5 has felt very sure of itself.
To explain what I mean, let's look at a couple of recent seasons. Season 15 of the flagship series was enjoyable in many ways, but the shortened episodes made the editing feel a bit manic for much of the season. Even when the show extended back to full-length installments, the conflict-heavy nature of the cast made watching every episode feel like dipping into choppy waters. Conversely, while All Stars 7 had a very relaxed cast of champions, the all-positive-critiques edict made the whole enterprise feel somewhat phony. Instead of just getting to sit back and enjoy this collection of winners, we instead were left to scratch our heads over fawning notes given to inferior performances. (And don't get me started on the star system and god-awful finale.)
Conversely, the UK Season 5 cast is doing very well, and the judges are complimenting them properly. But they're not being hyperbolic, and issues are being called out when they need to be. The cast is full of pros who know how to make interesting television, but aren't getting anywhere near toxic in their interactions. This is a season that knows it's doing the right things. And that confidence has made for an incredibly enjoyable two months of television.
That energy carries into this week's makeover task, which pairs the queens with helpline workers from Switchboard, the UK's longest-serving LGBTQ+ helpline. It's a really great resource to support and celebrate, but unlike in past seasons, when the show has bent over backwards to pat itself on the back for featuring certain makeover subjects (remember the Queen Team?), Drag Race UK gives the makeover partners the space to talk about their work and what got them there, and applauds them without centring the show itself. It's a really well-edited episode of television, and the only thing that takes me by surprise is that after all the good vibes, someone still goes home!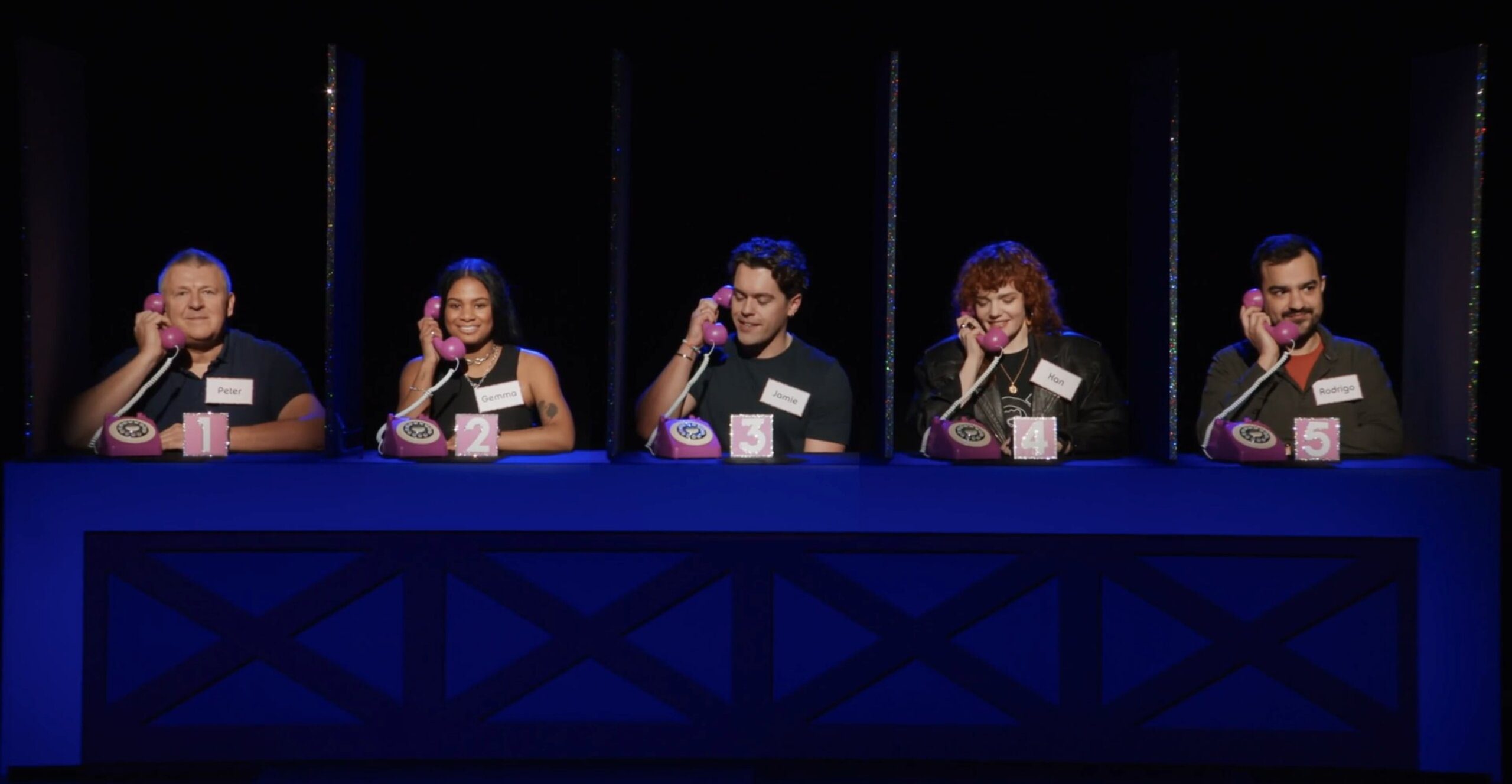 As last week's maxi-challenge winner, Kate Butch gets the honour of pairing the queens with their partners—but does so randomly, by using a switchboard to "connect" each team. DeDeLicious is paired with a helpline worker named Jamie, Ginger Johnson with Rodrigo, Michael Marouli with adorable older guy Peter ("You got the DILF!"), Tomara Thomas with Gemma, and Kate herself with Xan. And no, you're not imagining things: that is a mix of gendered names!
Yes, in the wake of Canada's Drag Race Season 2's prom makeover episode (an all-time great Drag Race installment), RuPaul's Drag Race has finally broken the seal and given us a mixed-gender makeover challenge. Honestly, it's been time to make this change. I imagine the original justification for giving queens only male-presenting or female-presenting people previously was that it would be somehow an unequal challenge; that men and women present different issues when getting them in drag. But Drag Race as a franchise has long moved past more gendered ideas when it comes to who can compete, so why wouldn't they do the same for their makeover subjects?
To a one, these hotline workers are incredible partners for the queens. Jamie and Rodrigo are both game, fun guys who are ready for whatever their partner needs them to do—including Rodrigo shaving his beard. Meanwhile, Gemma and Xan are both very open about their experiences as queer women, and express gratitude for their partner and chosen family, respectively, for helping them find their space in the LGBTQ+ community.
But no one is quite like Peter. A 65-year-old gay man who playfully calls himself "a rubbish gay" in one scene and fondly remembers friends who passed in the AIDS crisis in another, Peter is a gem. He is so authentic in his emotions and experiences, and so overjoyed just to be taking part in this experience. He talks with Ru about wanting to use this as a way to get in touch with a side of himself that he never has—which, as we all know, is catnip to the queen of drag. He's an absolute dream of a partner, and this challenge is so much richer for having him take part in it.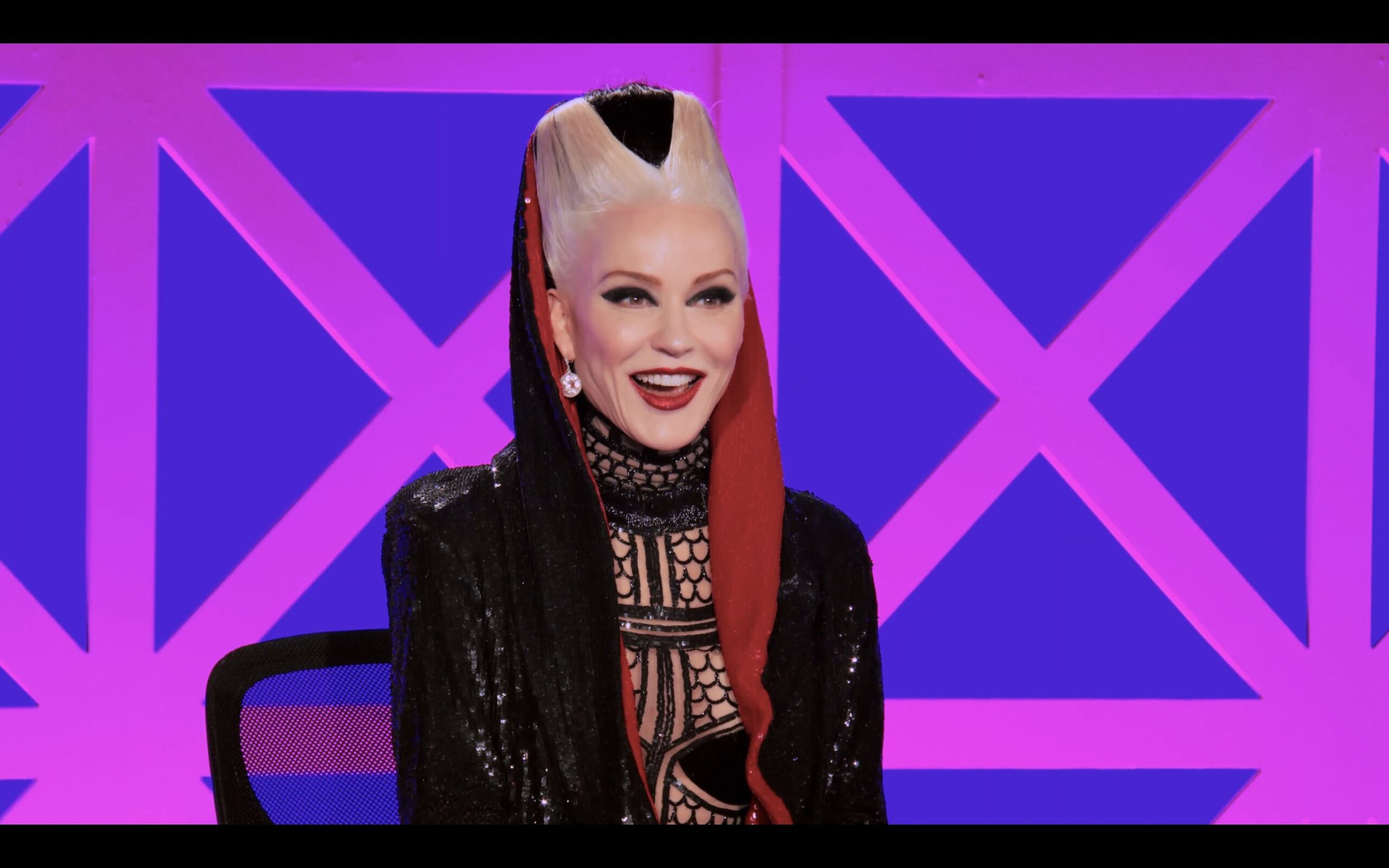 Speaking of which, let's talk about the challenge! DeDe is, unfortunately, immediately in trouble when she says in a confessional that she'll be giving her and the newly christened BeBeLicious "a different kind of family resemblance." DeDe, you fool! This is your challenge! This is your chance for a RuPeter Badge! All you have to do is pitch the ball right down home plate. Alas, she winds up with a makeover that ages both her and Jamie up too much, once again has visible breast plate neck pieces, and makes them look like friends, not siblings. It's a miss, and one that lands her back in the bottom two.
Joining her down there is Kate and her partner, "Femily Bronte." They do a Pink Ladies tribute from Grease, and I swear, this look may be the best thing Kate's worn all season. It's such a particular style for her, and she wears it incredibly well. However, she outshines her partner, who can't help but look a bit wilted in comparison. Xan's a blast, and you can feel her having fun on stage. But this is a competitive crop.
I don't have much to say about Tomara's makeover of the delightful Gemma, aka Giant G. The outfits are cute but, as the judges note, a bit off-the-rack, and I don't love the giant wigs as much as the panel does. They almost look like they're sitting on top of Tomara and Gemma's heads, not that they're wearing them. I've felt a bit like a grump regarding Tomara in recent weeks, but I think even her biggest fans would have to agree that she is not hitting her early season highs anymore.
So we're left with two queens in contention for the win: MIchael and Ginger. Michael's makeover is the emotional choice: she renders both herself and Peter, aka Geezer Minouli, in matching garments. Peter is clearly having the time of his life, and Michael paring her makeup back makes her look stunning. Their story is the heartwarming one, and it's easy to argue for her to win. However, what Ginger accomplishes this week is nothing short of astonishing. When she and Ruiva ("Ginger" in Portugese, for her Brazilian partner) step onto the stage, I genuinely cannot tell which of them is which. The fact that she makes both garments, which are incredibly detailed and vibrant, is the icing on the cake. They may not have the story, but they've got the goods.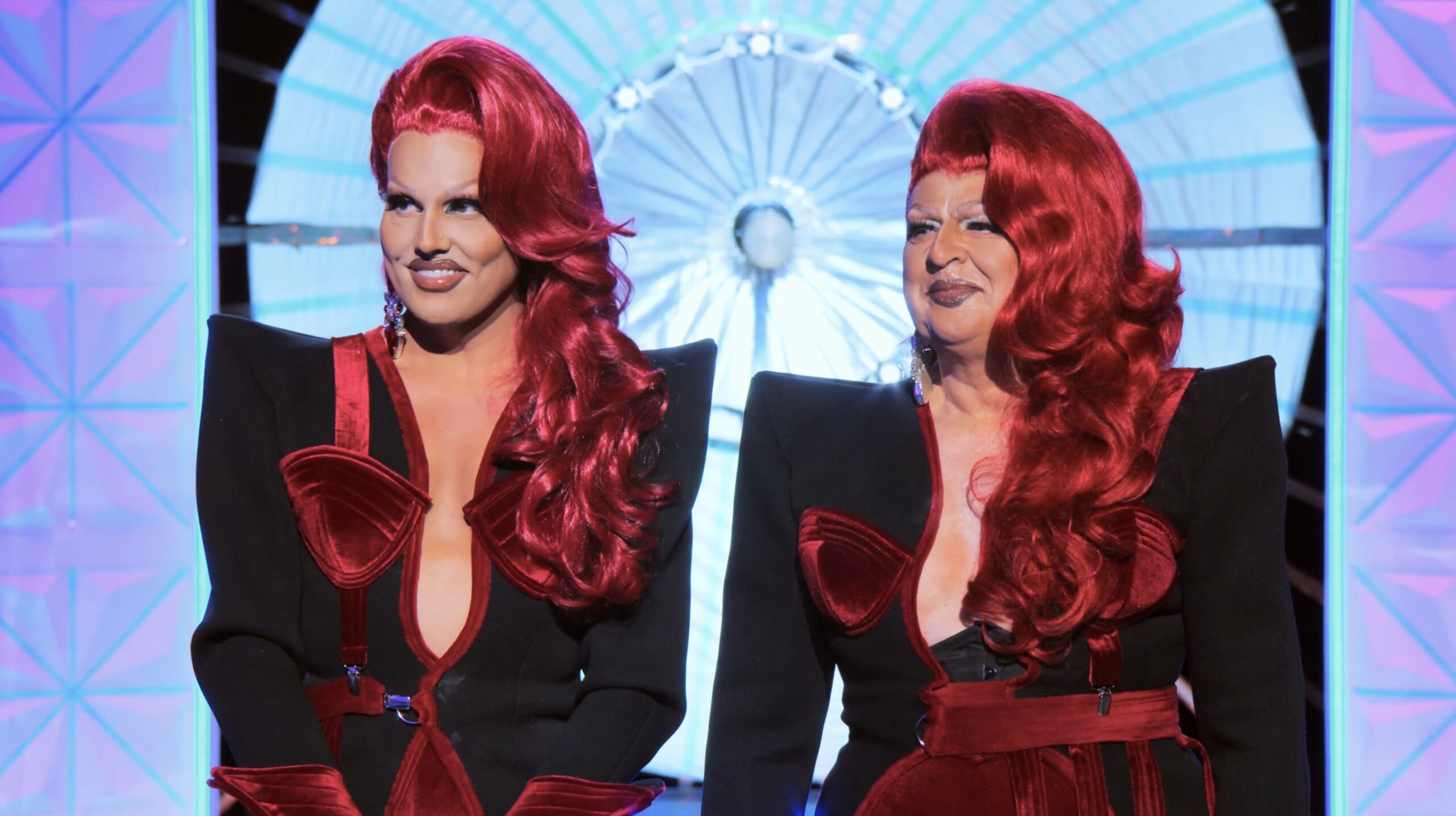 In the end, Michael takes his second RuPeter Badge, and I can't complain. Peter is the star of the episode, and as he says when celebrating Michael's win: "She was so kind to me." All else aside, the makeover challenge is about making someone who is not used to drag feel empowered by it. That is what Michael does for Peter, and I understand Ru's decision. Plus, Ginger's got three badges—she's not hurting for momentum in this competition.
The lip sync between DeDe and Kate is to Rina Sawayama's "This Hell," which is a goddamn bop. Can't wait to see it in the top ranks of my Spotify Wrapped this year. It also makes for a remarkably even playing field, as it's dance-y enough for DeDe to excel while providing a lot of campy moments for Kate to eat up. Personally, I lean toward Kate for the win here, both based on track record and the lip sync. DeDe certainly grabs your attention, but when she does the split-scooch for the second time, I count her out in my head.
I'm not the decider, though; Ru is. And Ru loves DeDe! So the badgeless queen gets to stay once again, having firmly cemented her status as a Lip Sync Assassin. Meanwhile, Kate must sashay away—though she makes a good joke of it. "You can't fire me, I quit!" she shouts. "Fuck, too slow." Miss her already.
Okay, bets on what happens next week? We could see DeDe get the chop in the roast to leave us with a final three (I don't see any of the others losing on a roast), or we could get a final four with no elimination a la UK Season 2. Personally, I'd prefer the former. Ginger's already going into the finale with a commanding lead; we don't need to waste time in it with someone who is not going to win. But I have a feeling that Ru's got one more trick up his sleeve for this season. I just hope it doesn't break the chill vibes; this season is going to end up as one of my favourites as long as it can land the damn plane.
Untucking our final thoughts
✨ Tomara to DeDe at the start of the episode: "So, no badges?" She can still say that at episode's end, too!
✨ Obsessed that we get an Everybody's Talking About Jamie joke from RuPaul when DeDe's partner comes out. Never forget that way back in UK Season 1, we got a Jamie plug from Vinegar Strokes in the very first introductions!
✨ I'm not sure there's ever been a better makeover partner drag name than Femily Bronte for Kate Butch. The Wuthering Heights connection is unreal.
✨ Daphne Guinness, who first guest-judged on All Stars 7, is our extra panelist this week. She actually gets to be negative in her critiques! Which is funny, because no one was negative in their critiques on the all-winners season. She looks fantastic, and I think it's fun that we've got a guest judge who crossed the pond for both franchises.
✨ "As a great poet said, "You haven't seen the last of me!" God, I'm going to miss Kate.
✨ You know, I start to tire a little of this show at times, and then I think to myself: where else on television am I going to hear a person say "You are the Mother Teresa of breastplates"?
✨ For whatever sense I have that perhaps Ginger should've won this one, that feeling melts away the second I remember Peter's reaction to all this: "I'm gonna look back on this as being one of the best days of my life." If that's not a winning approach to the makeover challenge, what is?
The next episode of RuPaul's Drag Race UK will be available to stream on Thursday, Nov. 23, at 4 p.m. EST on WOW Presents Plus in the U.S. and on Crave in Canada. You can subscribe to our drag newsletter, Wig!, for exclusive Drag Race content delivered straight to your inbox every Tuesday afternoon.
---
Want to suggest a correction or provide feedback? Click here