For a very long while—or, in Drag Race time, for a bunch of seasons that all aired in about an 18-month period—I bemoaned the loss of the Everybody Loves Puppets! mini-challenge. A staple on the flagship RuPaul's Drag Race series for Seasons 4 through 9, the challenge would ask queens to draw a puppet version of one of their competitors out of a hole, then "drag up" the puppet before presenting it in a little show. The performances with these puppets were always full of shady reads, making this a de facto second Reading Is Fundamental challenge. And it was a joy!
But when U.S. Drag Race switched to filming seasons for VH1 (later to be shifted again to MTV), the puppet challenge disappeared. It has only resurfaced once in the double-digit seasons: in Season 12, when the editing out of Sherry Pie made a lot of the jokes in that season's puppet challenge incomprehensible for the audience. Since then, the challenge has made the odd appearance on international spin-offs—Canada's Drag Race once, Drag Race España twice, both of Drag Race France's seasons, and so on—but it has fallen out as a consistent presence in the Drag Race franchise. Even after appearing in the first two seasons of RuPaul's Drag Race UK, it once again disappeared.
That is, until this week! Puppets are back, baby! The top six of Drag Race UK's fifth season make puppets of each other, perform with them … and bomb. Oops. Yeah, turns out that practice makes perfect, and queens not practiced in preparing for this challenge are decidedly not perfect. Thank god for Ginger Johnson, who nearly salvages the whole enterprise with her performance. But oof, after watching nearly everyone else suddenly turn into their unfunniest selves for this challenge, maybe it's best that it stays retired. Sorry, puppets.
The good news is that the mini-challenge, during which Ginger wins the right to pair the queens up for the acting maxi-challenge, is the only real low moment this week. The episode as a whole is a strong one, with the queens bouncing back from a disappointing Snatch Game to deliver a better-than-expected acting challenge. By episode's end, we even have a new RuPeter Badge winner. But which previously badgeless queen would take it home: DeDeLicious or Kate Butch?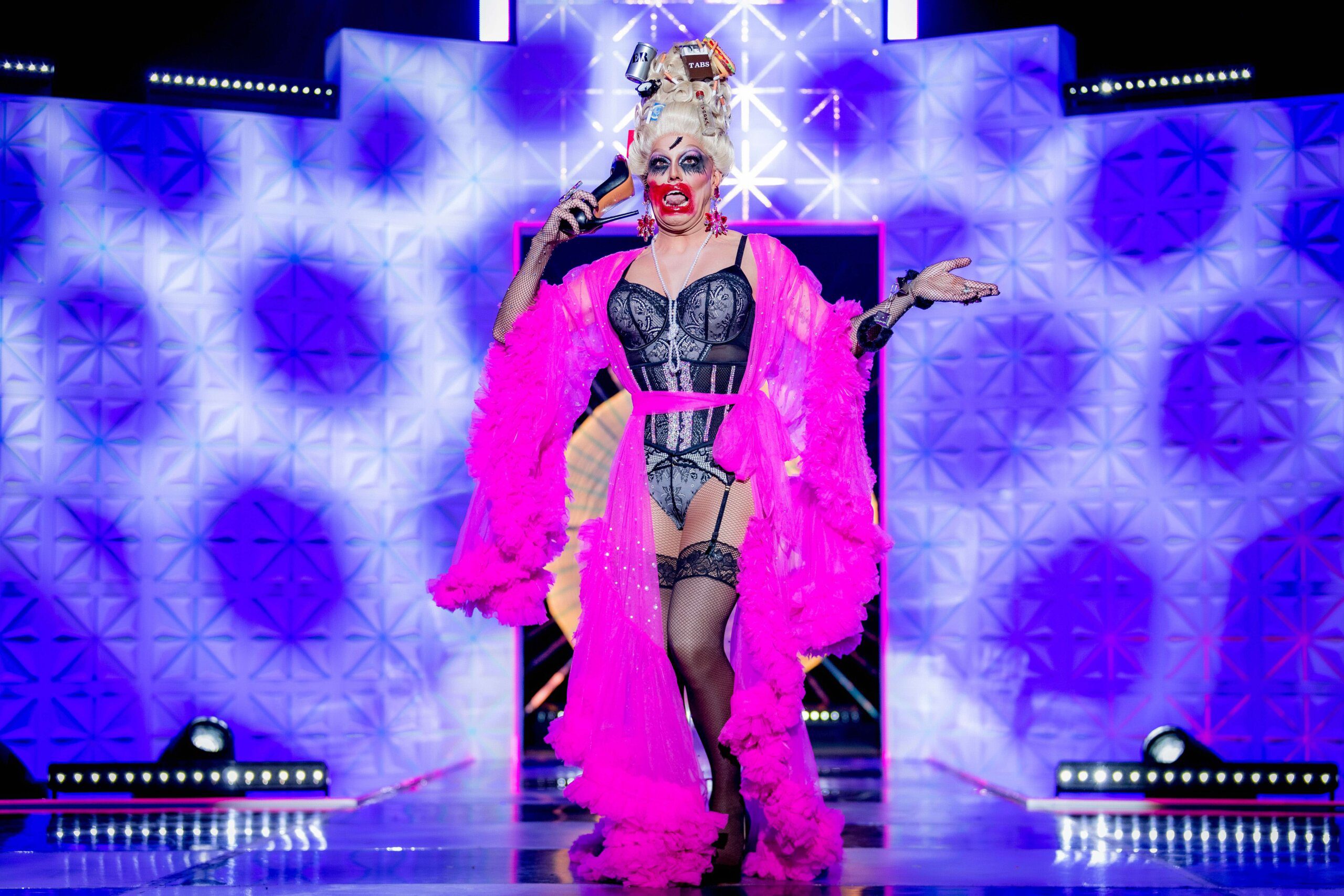 The premise of this acting challenge is a fun one: in pairs, perform "screen tests" for new TV dramas. All of them are spoofs of actual British TV shows: "Footballers' WAGs," "Holedark," and "Femmerdale." The key is that all three have the same basic premise—two women fighting over a man—but different settings for the queens to play up their characterizations.
Ginger picks Kate as her own partner, then pairs Cara Melle with Michael Marouli and DeDe with Tomara Thomas. She says she has no real strategy beyond picking Tomara, but it is notable that she's split up the flatmates for this one. Ginger does not, however, get to pick which scene they want, and when DeDe and Tomara quickly take Femmerdale, the question becomes which of the other teams will get Footballers' WAGs.
In retrospect, I have no idea why the fight was about that script. While it's fun in theory, with the two women both claiming to be pregnant with their wannabe suitor's child—and both are just stuffing footballs in their dresses—the scenario gives them little to work with. Neither Cara or Michael, who ultimately get the script, is bad; no one is this week, honestly. But in a week all about standing out, they just fade into the background.
Hardly fading into the background is Tomara, who continues to be a star in the confessional chair this season. She's on a real hot streak, with Ru responding incredibly positively to her every move. I'll admit that I'm not quite as into what Tomara does this week, as it feels a bit repetitive with what we've seen from her lately. But I'm actually really impressed with DeDe. Femmerdale is the most physical scene, with DeDe getting thrown around like a ragdoll. She really nails it, and despite both she and Tomara struggling with remembering their lines on set, by the time their performance is shown, Michelle Visage has all but forgotten about the struggles. If this were a different pool of performances, I'd say DeDe could've been in line for the win this week.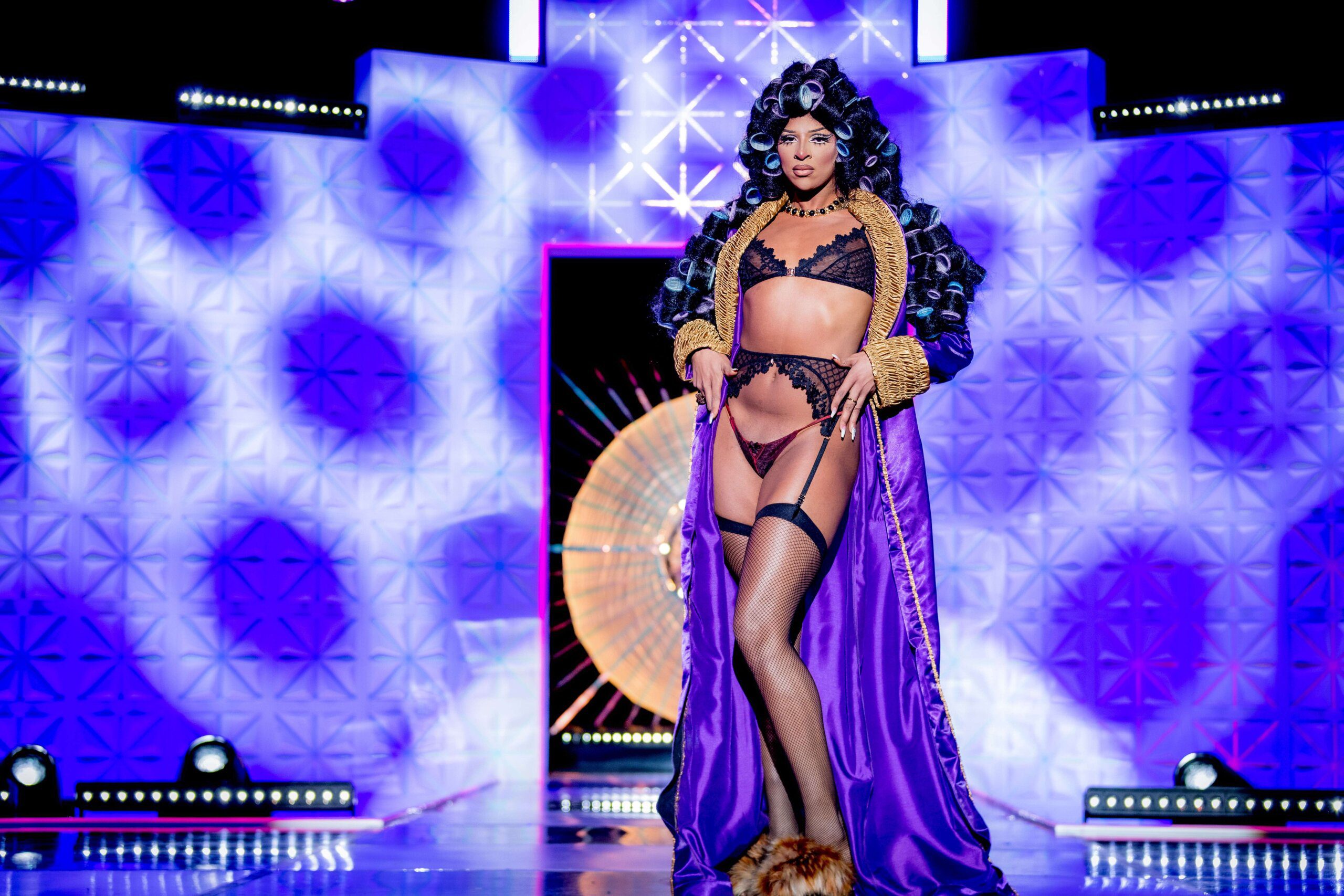 But credit must be given where it is deserved: Ginger and Kate absolutely smash this. They get a fake orgasm bit in their period piece script that they both play up so well, and Kate in particular chooses such an odd orgasm sound that you really can't help but be compelled. Kate nails a reading of Tayce's iconic "The cheek, the nerve, the gall …" confessional from Season 2, while Ginger's delivery of "Fear not! 'Tis only peepee!" will go down in the acting challenge record books. They're both just terrific.
On the runway, the category is "Pajamarama," which seems to just be an excuse for a lingerie category. I want to take a second to zoom out and talk about just how different each of these six looks are, because I think it's a great statement about how varied the drag in this group is. You've got Kate in grayscale with a fake knife in her back, giving both beauty and camp in a film noir look. Then you've got Tomara, looking hot as hell, in a bodysuit with teddy bears sewn on. How do you even compare those things? They both look great, but the interpretations are so different. It's apples and, well, teddy bears.
Michael goes full camp as a "rich Geordie slag," and it's some really good character work on her part. Cara's curlers look is apparently an ode to her mother, and she looks very good—but wow, the lingerie is quite a reveal! Ginger's bunny look is cute and fun, but pretty unrelated to the prompt. (I almost wonder if it's the deciding factor in how the win shakes out this week.) DeDe's teddy bear boa with a zebra print onesie is certainly interesting, but not my favourite. It certainly is my preferred look of the two that used teddy bears, I'll say that.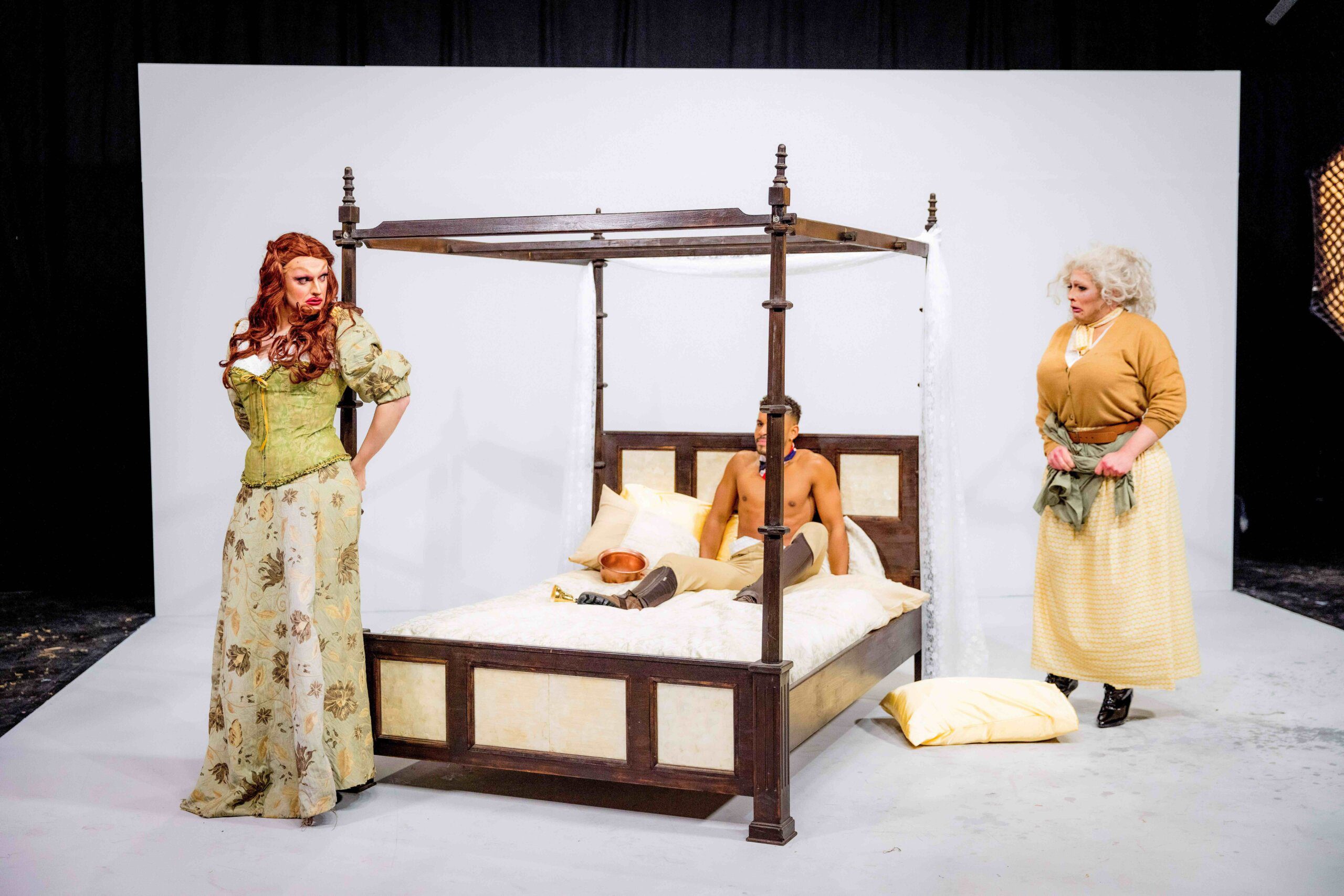 In the end, Kate takes a solo win, and I'm ecstatic for her. She's been working tremendously hard in this competition, and I was beginning to wonder if she would ever score a RuPeter Badge of her own. Kate picking one up now means DeDe is the only one of the top eight to not have a badge—and two badge holders have already gone home, with a third going home this week.
I do wonder if Ru wasn't tempted to give Ginger a fourth win. Both she and Kate are excellent in the challenge, and it would reward their teamwork. But I think two factors staved this off: Ginger's runway was clearly inferior to Kate's, and giving Ginger four wins with no one having a chance to catch up to her would be really demoralizing. In the end, I'm glad Kate gets the solo win, and gets to have her moment in the spotlight.
Now we come to our bottom two, and it's Cara and Michael fighting for their lives. This is Cara's fourth lip sync, after two for the win and another one for her life. To say that she's running out of tricks to show the judges would be an understatement. Meanwhile, this is Michael's first, and while she doesn't exactly set the main stage on fire, she does enough to fend off Cara. A particular issue with Cara's performance to Samantha Fox's "Touch Me (I Want Your Body)" is that she fully trips once, slips another time, and has what I would call an unsatisfactory handle on the lyrics of the song. Combined with her general downward momentum, I agree with Ru's choice to have her sashay away.
Final five time! We've got two competitive episodes left before the finale, so we're either getting a double shantay and a final four, or two more eliminations before a final three. What do you predict? I think it could go either way, and I like that they actually have time built into the schedule to do one or the other. Schedule flexibility! On Drag Race! You love to see it. See you all next week for the makeover challenge!
Untucking our final thoughts
✨ Vicki Vivacious says in her mirror message that she loves "most of you," which fully sends Cara spiraling over whether or not it's her. It lasts beyond the cold open until the new day at the werk room! We could use a reunion to figure this out, no? (Also just because this cast deserves a reunion, I'd say.)
✨ Kate talks about how much she deserves a badge at episode's start: "I've shown the judges charisma. I've certainly shown them uniqueness. It took some nerve to wear the outfits that I've worn. And I've got talent. Doesn't say anywhere you have to be good!"
✨ Ginger's story about accidentally swallowing sewing pins—harrowing!
✨ Actor and comedian Joel Dommett is our guest judge—he presents the British revival of Survivor that's currently airing! He has a great time, and while he suffers from the positive-all-the-time vibes as most UK guest judges do, he gets a good crop of screen tests to judge in that way. I've mentioned it before, but it's a lot easier to swallow such glowing critiques when the performances actually deserve them.
✨ Kate can't quite just get a win—after she does, Ru talks about judging this week being harder than her hairline in the challenge. "It was a lace front!" she whispers from the back.
✨ I kinda thought we were going to get a "Who should go home tonight and why?" prompt with how much Ru hypes up how hard it would be to make the decision this week. But no! All good vibes from Ru.
✨ By this time next week, we'll have not just RuPaul's Drag Race UK to cover, but the premiere of Canada's Drag Race Season 4 as well! I'm excited that we get a whole new crop of Queens of the North to watch. It is notable, though, that the last time UK and Canada had any overlap, it was when UK Season 3 was struggling to the finish line, and Canada premiered its surprisingly strong second season. What will the dynamic be like this time with UK in prime form?
The next episode of RuPaul's Drag Race UK will be available to stream on Thursday, Nov. 16, at 4 p.m. EST on WOW Presents Plus in the U.S. and on Crave in Canada. You can subscribe to our drag newsletter, Wig!, for exclusive Drag Race content delivered straight to your inbox every Tuesday afternoon.