When it first premiered, RuPaul's Drag Race UK's inherent Britishness—for lack of a better term—was one of its main selling points. This wasn't just a reskinned version of the U.S. series with U.K.-based queens. Cultural reference points permeated the series, including in its prizes (the RuPeter Badges!) and challenges. But somewhere around Dragoton and Draglexa in UK Season 3, the uniqueness of this series seemed to drain away, and installments began to feel like RuPaul's Drag Race auxiliary seasons.
Credit to UK Season 5: the Britishness is back, baby. In this week's maxi-challenge, the queens participate in what is ostensibly a panto-themed Rusical—but is really a Rusical-themed panto. The entire structure of one of Drag Race's most notable challenges reshapes itself around a British tradition, discarding some of its most notorious foibles in place of respecting the form it is parodying. The result is an often earnest, but just skewed enough, take on panto that rewards the queens most familiar with the art. And since that's most of this season's competitors, the results are quite terrific.
I credit production for trying something different with the Rusical this season, but I primarily give props to the queens for really giving themselves over to the process. Despite six of the eight queens already having RuPeter Badges—only DeDeLicious and Kate Butch don't, a fact still true at episode's end—they remain hungry for more victories. They also cast themselves quite well in the performance, unencumbered by personal drama in a way we have decidedly not seen in past casts. They seem like professionals, but that doesn't stop them from being human as well.
The result is another great episode, in a hot streak I can't imagine letting up any time soon. RuPaul's Drag Race UK has regained its Britishness, and is also staking a claim as once again the superior form of the RuPaul-hosted series. At this point, I can't argue against that: this season is proving to be one for the record books.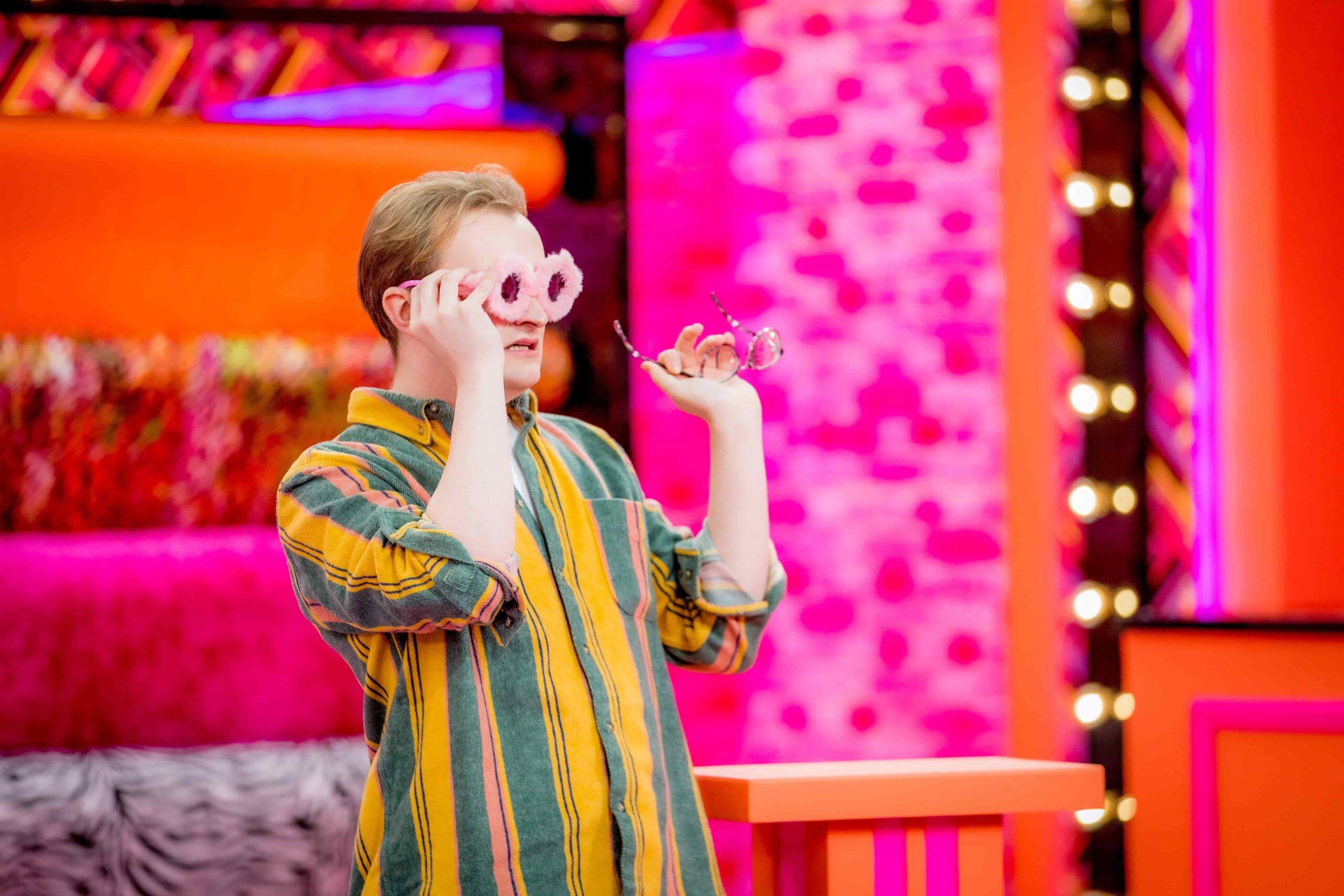 Part of what makes picking panto as a Rusical theme so smart is that almost all these queens have some kind of personal experience with the art form. Later on the runway, Ru asks the queens about their first panto experiences, and some range back to when they were just toddlers. The one queen who doesn't have this, however (besides Ru himself, who says this is his first panto) is DeDe. In fact, she's never even seen a live musical.
Jokes about DeDe being a "bad gay" for not having seen a musical aside, I think we see just how much unfamiliarity with the form disadvantages you in her performance. She's high-energy as the panto dame, and her voice isn't bad. But she's just so clearly missing the mark of what the performance should be, because she has no frame of reference for what that is. DeDe's performance makes the argument that familiarity with at least some musicals is as important a part of setting yourself up for success on Drag Race as having multiple Snatch Game options. You just can't come in unprepared.
Luckily, almost all the rest of the queens are far better, resulting in Ru largely splitting hairs when it comes to who should win and who's in the bottom two. There are four top-placing queens this week, with Vicki Vivacious, Ginger Johnson and Michael Marouli all in contention for the win.The last in the top is Kate Butch, who has an interesting set of critiques this week. She assigns herself the narrator role (Twinkerbell, call her Twink), and the judges clearly like what she does. However, her runway is overly complicated, with a reveal coat that Nina Garcia would call "aesthetically not pleasing."
Kate not having a win at this point is the kind of result that feels wrong, but when you look at the actual challenges and runways, it's understandable. Kate's just got incredibly stiff competition this season, with queens like Michael and Ginger routinely turning it out both in challenges and on the runway. It's going to take either an absolutely undeniable challenge performance (think Jinkx Monsoon in Snatch Game) to give her the win, or will require a runway that matches her creative output.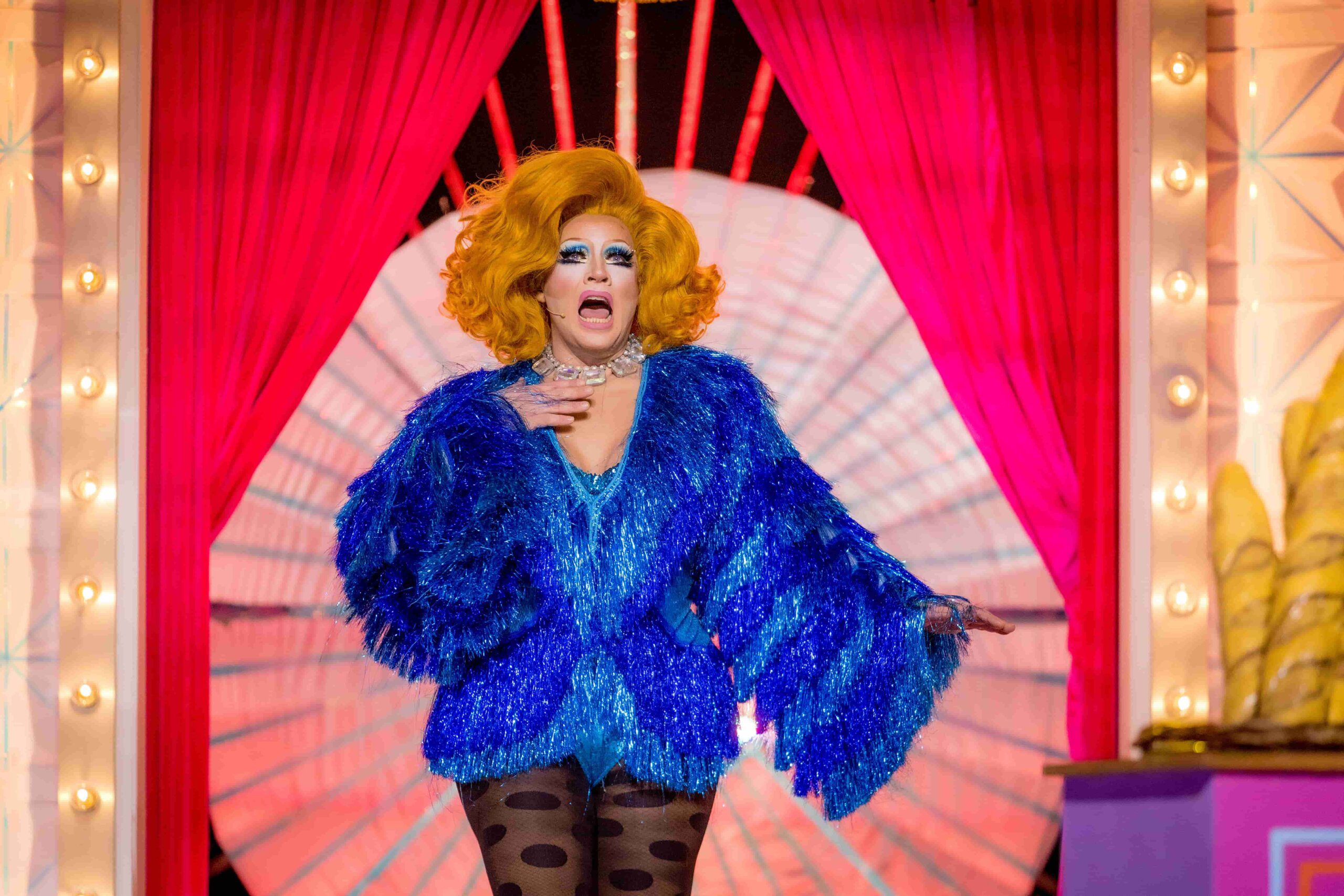 Of our contenders for the win, I personally prefer what Michael does in the Rusical. She plays one of two characters who appear very early on (alongside Kate), and she's clearly immediately got the right idea of what's required of her. Combined with a very Lady Gaga-esque runway for the Mirror Mirror category that just screams "drag!", and she is once again my favourite of the week.
Vicki is Vicki's pick for the win this week—at least in a potential double win alongside Michael—as she expresses in Mini-Untucked. I admire her confidence! And she does have Graham Norton in her corner, calling hers his favourite performance of the week. But I have to say, Vicki would be in the Kate position on my personal judging card. She's good, no doubt, but almost everyone is this week. And on the runway, her reflective biker look with wide hips is not my favourite. I get the sense that Vicki is a bit inflexible as a performer, which makes me wonder how she'll do in an improv challenge. But for this week, with scripted material, she is indeed a top contender.
Ultimately, Ginger snatches the win. She makes a very wise choice in role selection to go for the Cow, who gets a dramatic ballad about halfway through the show, and has a lot of fun background physical comedy before that. It's the kind of part that, done correctly, is an easy contender for the victory. And with this win, Ginger earns her second RuPeter Badge, becoming the first to two this season.
Technically that would make Ginger the frontrunner, but I'll be honest that I don't quite see it yet. This episode is a nice showcase for her, but it took half the season for the edit to portray her as more than just a funny confessional queen. She definitely moves up in the pecking order this week, but I'd still mark her as less likely to take the crown than Michael or Tomara Thomas.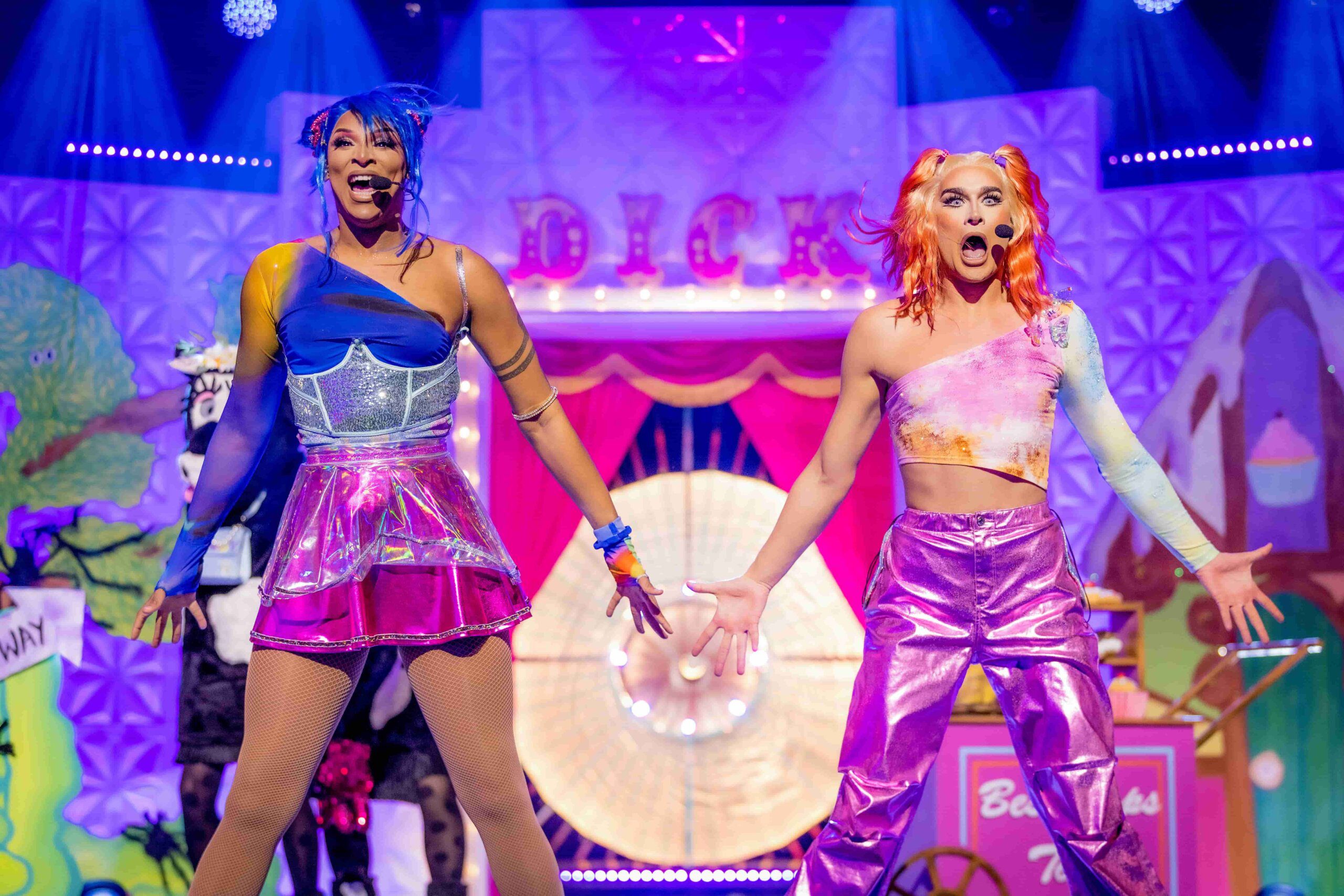 Speaking of Tomara, she and Cara Melle take dance-focused parts this week, and are declared safe by Ru. This leaves Banksie in the bottom to lip sync against DeDe, and it's a fair call. Banksie more than anyone is a victim of stage fright, having done far better in rehearsal (which both Cara and Michelle Visage note) than on the night. Her runway is terrific, and as Ru points out, something only really a seven-foot-tall supermodel could wear. But the runway isn't enough to save her this go-around.
It's been a while since we've had a theatrical ballad as a lip sync song, which makes this week's choice of "I Dreamed a Dream" (the Susan Boyle cover specifically!) such a delight. Banksie goes for a very sincere, precise take on the song, and it's solid. But if you're going to take on a ballad so straight-on, á la Tayce in "Memory," you need to really transcend. And Banksie, due respect, doesn't really do that.
DeDe, on the other hand, goes for the jugular. She gives the song a dramatic spin, doing just enough to set herself apart from Banksie. It very nearly veers into the melodramatic at times, but DeDe knows when to pull back. It's a terrific performance, and despite DeDe's lack of badge, she stays. Banksie sashays away, and while it must be a bummer to come in eighth, she has nothing to feel disappointed in herself about. This is a tough season, and she more than proved her mettle.
With that, we're down to seven—and we're heading into Snatch Game! Which of the many funny queens this season will take the win in this signature challenge? (Do I dare to dream of a Kate win?) We're heading into the back half now, and I haven't felt this good about a season since Canada's Season 2. Can't wait to see what these queens have in store for us next.
Untucking our final thoughts
✨ We get a real banger of a Reading Is Fundamental mini-challenge this week, as these queens are bonded enough as a group to really go at each other with fangs bared. Banksie's opening read for DeDe is a great starter: "DeDeLicious! DeDeSgusting! DeDePlorable! And hopefully soon, DeDePorted!" Michael gets the requisite Krystal Versace dig in at DeDe ("I don't know why people keep confusing you—she won"), and also takes a glorious shot at Kate: "Kate Botched! She is so ugly, she had tinted windows on her incubator as a baby." The only queen who really bombs is Cara, but Kate is our winner with a trio of fire reads. Maybe most impressively, she drags a queen who's not even still there: "And Miss Naomi Carter! I'm actually asking, does anyone miss Naomi Carter?"
✨ Kate's is a deserving mini-challenge win, and one that doesn't shock her. "Quelle surprise," she says in a confessional. "Quelle Surprise! Drag name." Her sense of humour is just absolutely my cup of tea.
✨ Karen Hauer from Strictly Come Dancing is the choreographer this week, and she is a ton of fun. I like that Drag Race UK has Strictly pros come in for these challenges—it makes me miss when So You Think You Can Dance alum Travis Wall used to do it for Drag Race in the U.S.
✨ Lots of talk in the werk room this week about panto dames and drag queen story time—with Ginger calling out the hypocrisy of people only finding the latter objectionable because it's not an age-old tradition. This turns into a pretty major Ginger showcase segment, as she relates the discussion to wanting more queer role models at a young age. It's nice to see her get some more focus; she's been great in the confessional chair and terrific in challenges, but this week gives us our first chance to get to know Ginger herself better.
✨ Cush Jumbo is our guest judge this week! As a The Good Wife and The Good Fight stan, I'm thrilled to see her here, and delighted to see her riff with the best of them during the runway. The fact that this season is so strong is really benefiting the largely positive guest judging this season: if the guests aren't going to go negative, then it's best for the cast to be on fire so as to meet the moment.
✨ An underrated element of doing a panto challenge: the judges interacting with the cast! It's very fun, and adds a whole extra dimension to the Rusical. I almost wish they'd seated a full audience for it so the queens would have a crowd to play off of, but that might've almost been too much.
✨ Interesting that Tomara and Cara are called safe, but faked out with an "I'm sorry, my dears …" from Ru. The standard is so high this season that it is a bit underwhelming to just be safe.
✨ Kate says she picked her role because she wanted to be on stage the whole time. "When you're not acting, you are … shoplifting!"
The next episode of RuPaul's Drag Race UK will be available to stream on Thursday, Nov. 2, at 4 p.m. EDT on WOW Presents Plus in the U.S. and on Crave in Canada. You can subscribe to our drag newsletter, Wig!, for exclusive Drag Race content delivered straight to your inbox every Tuesday afternoon.