In the early 2000s, gay Spanish auteur Pedro Almodóvar was asked to direct Brokeback Mountain, the gay-themed neo-Western based on the Annie Proulx short story. He turned down the offer, and the assignment went to superstar Taiwanese director Ang Lee. The resulting 2005 film, based on a script by author Larry McMurtry and producer Diana Ossana, was released to critical acclaim, earned seven Academy Awards nominations and took home trophies for best director, best adapted screenplay and best original score (for Argentinian composer Gustavo Santaolalla). In a year that saw the release of high-profile queer-themed projects like Bennett Miller's Truman Capote biopic starring Philip Seymour Hoffman and Chris Columbus's cinematic adaptation of the Broadway musical Rent, Brokeback Mountain stood out for depicting same-sex attraction in a traditionally heteronormative and masculinist genre.
Eighteen years later, Almodóvar has finally given us his take on the Western genre. Written and directed by him, Strange Way of Life is a 31-minute short set in the 1860s starring Ethan Hawke as Jake and everyman/heartthrob-du-jour Pedro Pascal as Silva, a pair of reformed gunslingers who reunite after 25 years and find themselves on opposite sides of the law. The film premiered at Cannes in March and screened at the Toronto International Film Festival last month ahead of its North American release. The TIFF screening was preceded by an onstage interview with festival director Cameron Bailey, during which Almodóvar discussed this latest film and his career.
The director explained that he was a fan of Proulx's original short story, but turned down the film. "The script was good enough, but thinking about the original, there was much more physicality than in the script," Almodóvar told Bailey. "The two shepherds were trying to look for heat to warm each other. They didn't know they were falling in love," he said about ranchers Ennis Del Mar and Jack Twist, played by the late Heath Ledger and Jake Gyllenhaal in Lee's adaptation.
"I thought it was necessary to be more explicit in that relationship," he said. Almodóvar also offered a more personal reason for not tackling the project. "I didn't have enough confidence in myself to do it and also change little parts of the script." Nevertheless, he was happy that Lee made Brokeback Mountain, and he loved the movie.
Strange Way of Life is only Almodóvar's second English-language film. It is screening as a double feature with his first: 2020's The Human Voice, which is based on the Jean Cocteau play and stars Tilda Swinton as an actor dealing with the after-effects of a breakup. The two films couldn't be further apart aesthetically.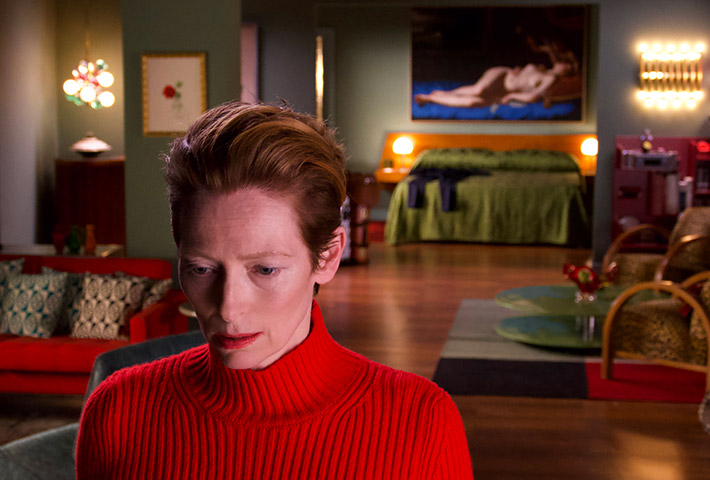 The mid-century décor and outrageous couture of the Swinton vehicle are staples of Aldomóvar's oeuvre. The austere Old West aesthetic of Strange Way of Life—filmed in Spain's Tabernas Desert, where Sergio Leone shot his 1960s Dollars Trilogy—is a loving recreation of the landscapes of the classic Westerns like The Searchers and Red River Almodóvar discovered at the Spanish Cinematheque when he moved to Madrid at 18.
Still, both films feature oversaturated palettes inspired by the director's love of the Technicolor movies of his childhood. Hawke and Pascal are high-fashion cowboys costumed by designer and Yves Saint Laurent creative director Anthony Vaccarello. Hawke's Jake is outfitted in muted blues, and Pascal's Silva in lively reds and greens. The collaboration goes beyond clothing, and Strange Way of Life is the first offering of the fashion house's film division, Saint Laurent Productions.
Although same-sex love and attraction feature prominently in Almodóvar's previous films, this is his first all-out gay romance. "Carnal desire … is present throughout my entire filmography. It's an impulse that's always driving my characters in my films," he told Bailey. "From the very beginning, all the sexual options you can find now—you can talk about now—were in my movies. When you are the director, you have the power to impose your point of view and your outlook on life. So, from the very beginning, including in my Super 8 films, all of these different, if you like, panoplies of sexualities, from transvestites to transgender people, were all there, not as a problem to be talked about but integral and part of normal reality."
Of his early underground works, he explained, "The sexual revolution and playing with gender roles completely permeate everything in my films. I don't think the whole country was fucking, but most of us who belonged to that group were quite promiscuous and enjoyed it." Strange Way of Life is tame compared to Almodóvar's early works like the 1989 romantic comedy Tie Me Up! Tie Me Down, which led to the creation of the MPAA NC-17 rating for sexually explicit or violent but not pornographic films. "At the beginning of my career, I lived surrounded by people, living a very vibrant life," the 74-year-old director told the TIFF audience. "But now I live a much more solitary life, and you see that reflected in my films."
Strange Way of Life clocks in at a compact 31 minutes and is a far more intimate film than the sprawling Brokeback Mountain. The story is a pure Western and relatively straightforward, though explicitly queer. Rancher Silva rides into Bitter Creek to reunite with Sheriff Jake. A hot meal and too much red wine lead to a night of passion and rekindling old feelings between the former hired guns. The sex is off-camera with partial morning-after nudity when the true reason for the reunion is revealed. In a Mexican soap opera twist, Silva's son is suspected of murdering Jake's brother's widow, and the rancher has come to ask his former flame to turn a blind eye.
The inevitable confrontation and gunplay follow, with Jake and Silva forced to choose between one another and their respective obligations. It's a conventional narrative. We've seen all these elements before, but not through the prism of a queer auteur like Almodóvar.
The film starts with its sole anachronism, Caetano Veoloso's fado "Estranha Forma de Vida," the haunting Brazilian folk song that inspired the film's title. It is sung by an onscreen cowboy in a language not spoken in the Old West. The story unfolds in beautiful spaces. Jake and Silva may be cowboys, but their homes are impeccably furnished and Instagrammable, even by today's standards.
In his post-coital hangover, Silva loses his underpants and must borrow a pair from Jake. A lingering shot of the sheriff's perfectly organized underwear drawer could have been ripped from the pages of GQ.
A flashback featuring José Condessa and Jason Fernández as the young Jake and Silva has the pair shooting holes into a hanging wineskin to impress three young Mexican sex workers. As the quintet cavorts and gulps up the cascading vino, the two men focus their erotic advances on one another. The senoritas shrug it off and walk away nonplussed as if same-sex attraction is the most natural thing in the world. Once again, the sex is in ellipsis. We see kissing and hands digging into crotches, but nothing more.
We learn that the long-ago dalliance was a flame that sputtered out after two short months. Jake recognizes the physicality of their attraction, but Silva sees an emotional connection. That is the central conflict and question of Strange Way of Life. Can two middle-aged men revisit that passion and build a lasting relationship on its foundation?
The final minutes of the film echo a pivotal scene from Brokeback Mountain. In Lee's film, Ledger's Ennis asks Gyllenhaal's Jack, "What could two guys do together living on a ranch?" Almodóvar has Silva answer it; the reply is the perfect conclusion to the film. However, I wonder what closing line the director might have written in previous decades.
Although it veers into melodrama, Strange Way of Life sticks to the Western formula and is restrained compared to most of Almodóvar's films. The dialogue, while often mannered, does not feel contrived. Hawke is self-controlled as Jake, while Pascal's Silva wears his heart on his sleeve. Both are poised to explode as they balance duty and desire, and the two actors inhabit their roles with conviction. Despite the cursory retelling of their backstory and the short running time, their connection and conflict are fully realized and exquisitely enacted by Hawke and Pascal.
Long-time Almodóvar cinematographer José Luis Alacaine beautifully captures the desert landscapes and frontier interiors, and Alberto Iglesias—another frequent collaborator—supplies the film with an orchestral score that veers from intimate to grandiose telenovela to gunfight, matching but never overwhelming the changes in tone and scenery.
Strange Way of Life may strike some viewers as a truncated work or the first act of a longer film. It may seem like a calling card for a feature and an introduction to Jake and Silva. However, it builds like a 1950s short story or Twilight Zone episode that climaxes in wisdom delivered as a punchline. It might be nice to know where the aging lovers go from here, but Aldomóvar has given his characters the queer equivalent of riding off into the sunset, which many gay cowboys never get to do.