Most independent artists believe it's their sole purpose in life to share their art with the world. They say it's their calling to make music, and how unfathomable it'd be doing anything else. It may sound like a cliché but for Danica Dye, it's a living truth. The pansexual singer-songwriter uses every lyric and melody to reflect and connect with the world; she is simply called to sing. There's just something about their (as yet) limited discography, and their growth as an artist in just the couple years since the release of their first single, that makes me a believer.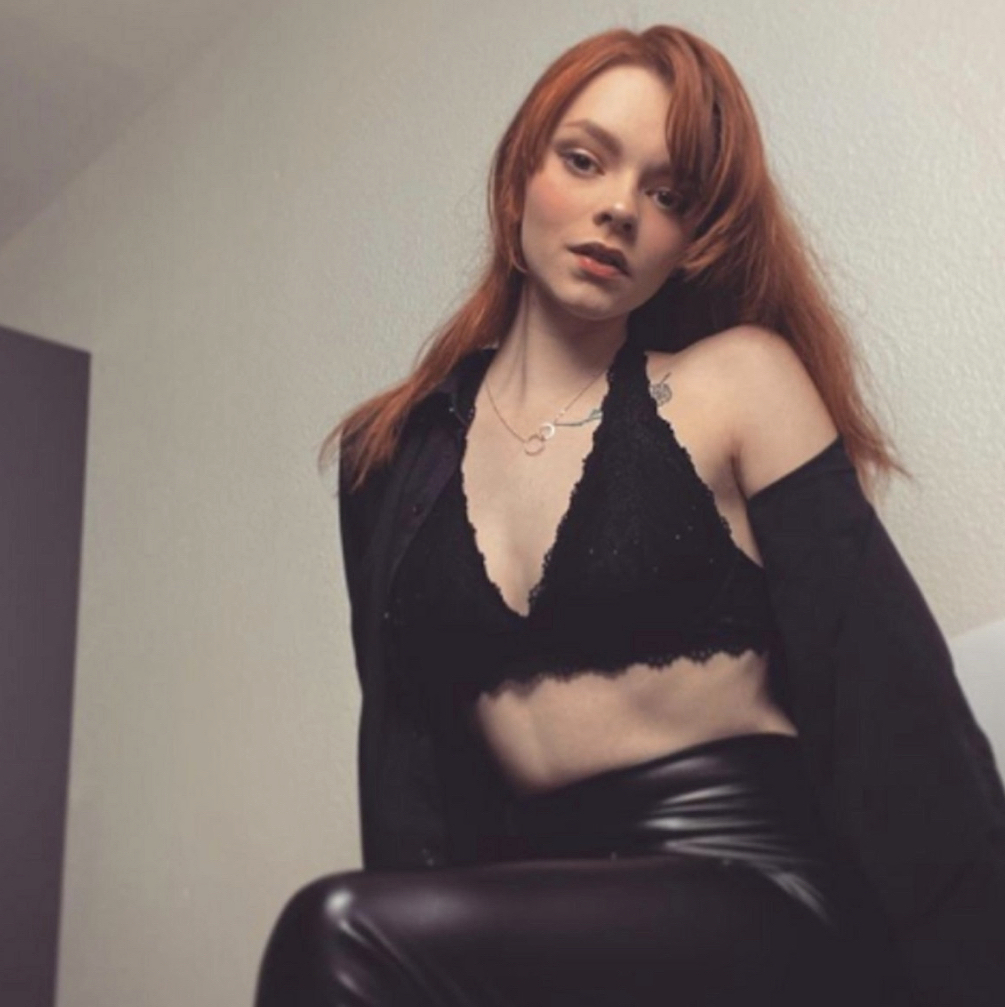 Born into a musical family in Belfry, Kentucky, Dye was nine months old when they suffered a spinal cord injury that caused partial paralysis from the waist down. Since then, she has undergone multiple surgeries to improve her ability to walk. "It's one of those things where it's like, you can't get rid of it, so you just live with it," Dye says. Music became an emotional outlet for her from the age of six when her music teacher gave her a solo in her elementary school Christmas concert. That performance sparked a desire within Dye to continue singing, eventually competing in talent shows and falling in love with the stage. They recognize now how those experiences stoked a passion for music: If someone would've looked at me dead in the eye and said, 'You can either give up music or die,' I would die," she says.
Now 22 years old, the singer-songwriter (and cosmetology student) draws from her environment, writing music that holds a mirror up to listeners, allowing them to realize both their beauty and the hard truths about themselves. Last year, she started releasing original music on streaming platforms, debuting with the single "Falling Apart for You." A harrowing ballad about losing oneself in a dysfunctional relationship, the track introduces Dye's unique voice to the world. While she doesn't lean into heavy belting or head voice, there's a distinct sound that embodies a built-in autotune of crisp, distinctive vocals.
This year, she is continuing to release music recorded in the comfort of her dorm room, including "Shot at My Heart." A fun techno track, it's both a love song and homage to her favourite first-person shooter video game, Valorant. Their latest track, "Other People," released last October, is a tender ballad about them not putting their worth in others.
Xtra recently caught up with Dye, who has been recording their first full-length project between cosmetology classes, to discuss "Other People," how they got their start in music and more.
How did you first get into music?
Since I was six years old, I've been singing. Music has always been a huge part of my life: my dad was a musician until he got married and had me. He's my number one inspiration for wanting to get into music in the first place. And then when I discovered, "Oh, hey, I actually have some talent in this," I decided to make this a career.
What inspired your latest single "Other People"?
Recently, a friend told me that I tend to put my worth in other people. They think I'm very codependent. I did a little self-reflection and realized that they were completely right. They were really nice about it too—I have to put that out there—but they just opened my eyes and made me think. I put my worth into these people that just hurt me in return. So, writing the song was more of a letter to myself, but I wanted to write it in such a way that would have other people relate to it.
Tell me about your songwriting and creative process.
A lot of the time, whenever I write a song, it just pops up out of nowhere. I'm a very emotional person, so whenever I have something bad or good happen to me, or if I fall in or out of love, I'll get ideas in my head. Most of the time, if I don't write down those ideas as soon as I get them, they're gone. So, I write everything down in the little journal I have. Sometimes I'll grab my guitar and have little jam-out sessions, and after that, I send it to my best friend and producer, Vaeriel, who is exceptionally talented.
There's my song "Work on Me," that I wrote with a completely different melody and vibe, and he came up with the current instrumental for it and was like, "Can you work with this?" And we vibed so well on a different level. So, the creative process is very in-the-moment.
Who are some of your musical inspirations?
When I was 15, I really got into K-pop, and so one of my favourite bands is Seventeen. I love Seventeen because they are self-produced idols; they are completely involved in creating their music, whether it's the lyrics, the composition or the choreography. And that is something that I strive to do myself. I look up to them in that sort of way. Sound-wise, I go off of what's in mainstream media, if I'm going to be honest. Because if I want to be in mainstream media, I've got to focus on it, if that makes sense. So I like Ariana Grande, Demi Lovato, Ben Platt and—this one's not so mainstream—but I really enjoy Jordan Fisher.
What's one thing you want people to take from your music?
Disabilities, in general, are not presented in mainstream media. That's something I definitely want to change. Whenever you're listening to my music—I literally mean everyone, whether you are gay, straight, disabled, able-bodied, whether you have a mental illness or you're neurodivergent—anybody can listen to my music and relate.
I want to be able to show everyone that just because I'm disabled, I'm not going to give up on this crazy dream of mine. I'm not going to stop making music, ever. I don't think I'll ever stop, whether I continue to release it or not. But I want people to take away that inclusivity is such an essential part of life. You have to try to be there for everyone. And even though it's a difficult task, it's something that I feel like I can tackle in a very loving and vocal way. So keep that in mind when you're listening.