When Brooke Lynn Hytes introduces the season premiere of Canada's Drag Race Season 4 as the start of a new era, she isn't joking around.
Readers of my recaps will know that I am a huge fan of CDR, the little franchise that could. While its initial season was a mixed bag (incredible queens, terrible judging), Season 2 saw the show carve out its own identity in the increasingly busy Drag Race landscape, and crown one of my all-time favourite queens (Icesis Couture!) in the process. And while Season 3 wasn't the most exciting installment of Drag Race I've ever seen, the show continued to make strides in building its own niche. More than anything else, CDR has grown to feel like the extremely online Drag Race fan's franchise, with a sense of humour about itself that recalls what you'd see on Twitter—sorry, "X"—rather than on the show itself.
But this season is CDR's boldest attempt yet to set itself apart from the pack. Granted, the "Premiere Ball" conceit—three looks including entrance, a performance outfit and a very best drag runway—isn't as fresh as it would've been two months ago, since Drag Race UK opened its fifth season the same way. But how CDR presents it is quite different: after entering the werk room, each queen walks back out, effectively making their entrance a runway of its own. The queens all come face-to-face with each other at once, breaking one of the longest-standing traditions in Drag Race herstory.
Combine that with various other twists and tweaks that we see throughout the premiere, as well as one big promised change to come, and CDR really does feel like it's in a new era. And I, for one, am incredibly excited about what's to come.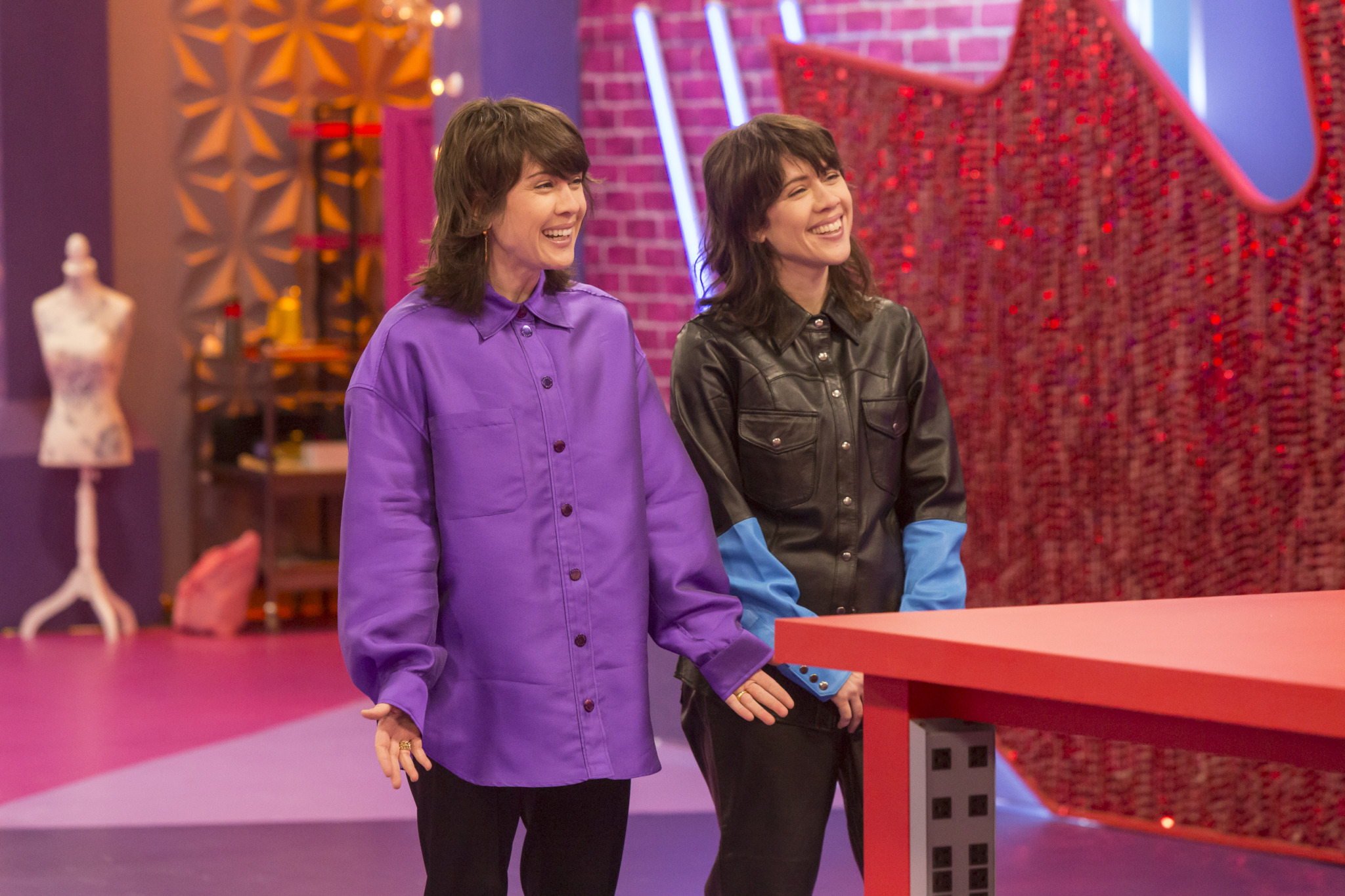 I'll do a full cast analysis in my power ranking this week, but some quick takeaways from the entrances: Venus' look is simple but cute, and makes a bold statement about her anti-tucking philosophy. Denim is giving Y2K realness, and I love her entrance line about not being able to help being a trans icon: "It's in my jeans." Sisi Superstar's underground bimbo aesthetic is reminiscent of Jimbo, but without the same exuberance. Edmonton's first Drag Race competitor, Melinda Verga, comes in wearing rainbows, and is not short on exuberance. And Aimee Yonce Shennel, the self-described "Beyoncé of Ottawa," looks opulent as fuck.
Two others I want to spend a little more time on: Kitten Kaboodle is 57! That makes her, as she'll note later in the episode, the oldest queen to compete on Drag Race. Older queens, particularly those who perform in the vaudeville style that Kitten prefers, have historically struggled on Drag Race. But Kitten has a vibrant energy both in front of the judges and in the confessional chair that gives me hope she can make a strong run this season.
Then there's The Girlfriend Experience, who wins The Miss Fiercalicious Award for What on Earth Is Kevin Going to Refer to Her As on Second Reference? (I've decided to go with simply "TGE.") TGE is one of two trans queens this season, a trans woman—Denim is a trans man—who serves body-ody-ody in her drag. She is, to put it simply, unbelievably gorgeous. Not only that, but she's got the performance chops and sense of style to really stand out. I'm a little nervous about her getting critiqued for too-basic runway looks, but I'm instantly on board.
Watching all the queens storm in at once is a bit overwhelming, but I like how it gives us a different introduction dynamic. Almost immediately, the queens separate out into little groups, with one queen, Nearah Nuff, proudly declaring her corner with best friends Venus and TGE to be the "Pretty Girl Corner." This would be annoying enough as-is, but she goes so far to kick Aimee out because the Pretty Girl Corner is only for three queens. There's a lot in this premiere to suggest that Nearah will give us some dramatics this season, but this is the biggest red flag of the lot.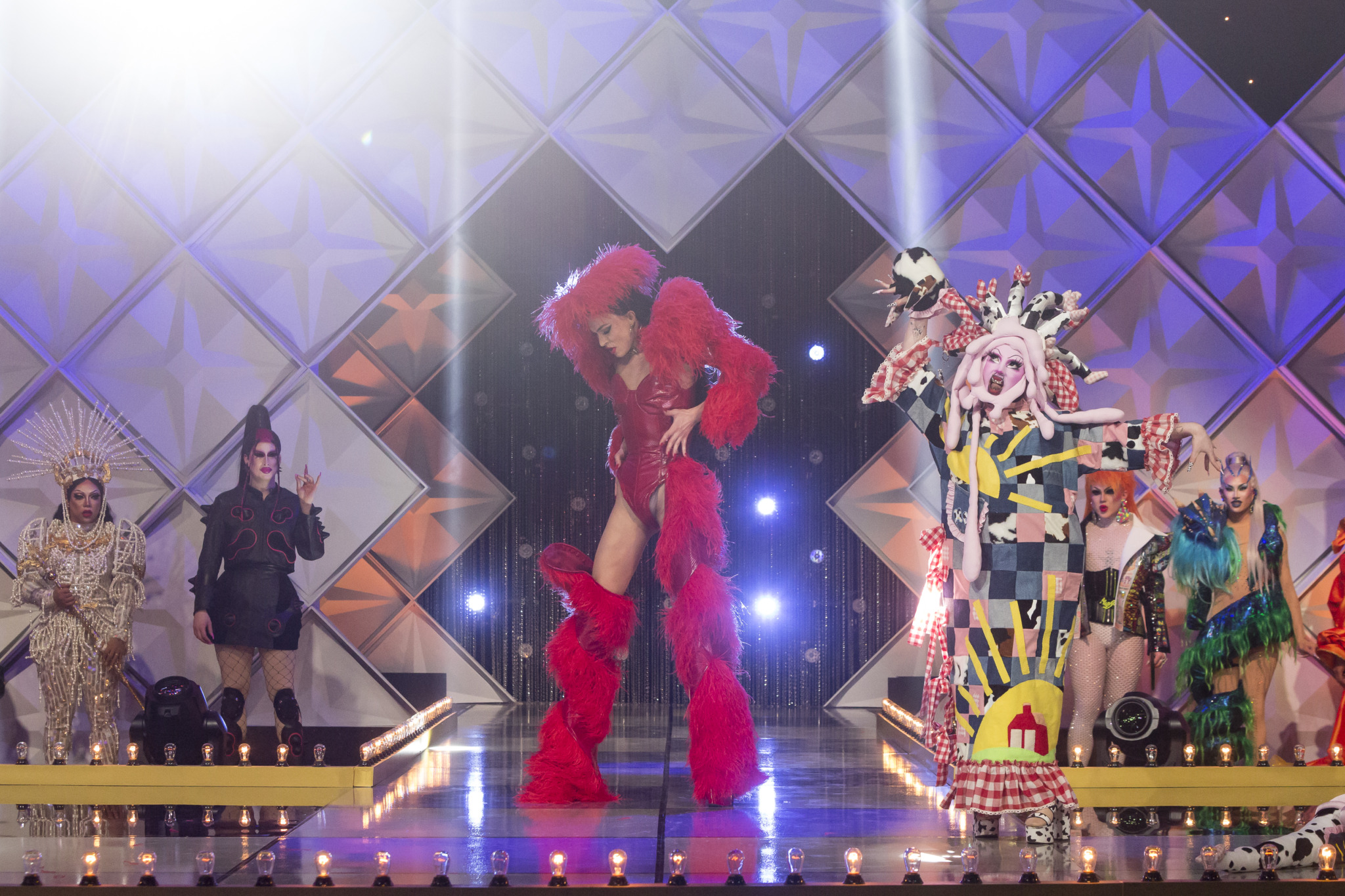 Our three judges—Brooke Lynn, Brad Goreski, and Traci Melchor—then enter to reveal the gag: they were judging the entrance looks, and they'll be judging two other looks in this Premiere Ball. First up is a performance category of sorts, Shimmering Showgirls, in which queens must not only wear showgirl looks, but must also move around a stage in a compelling fashion. The final category is simpler: a very best drag runway called "Me, Myself, and I."
Before we get to those other categories, though, we have another new wrinkle to get to: first impression "rosebuds." In a parody of The Bachelor and its ilk, each of the three judges gets to give their rosebud to one of the queens who has impressed them in their entrances. Brooke Lynn gives hers to Denim, Brad gives his to Aimee, and Traci gives hers to Venus. It's the latter choice that draws the most raised eyebrows from the other queens, and even I, as a fan of Venus, am a bit confused. I think I'd have given it to Kitten or TGE instead.
TGE also smashes the Shimmering Showgirls segment, understanding that in order to work a stage like this for a sustained period of time, your performance must have levels. The way she does her reveals, each look is like a new character: a businesswoman in a blazer, a sex kitten in her man's shirt, and a burlesque star for the final segment. If the judges were giving out second impression rosebuds, she'd get one here in my book, as would Kiki Coe and once again either Venus or Kitten.
After a werk room segment featuring discussion of the queens' pronouns and gender identities—as well as an emotional conversation with TGE about the discriminations and attacks she's faced since starting her transition—it's time for the final runway category. Like any early "very best drag" category, the number of queens who actually wear what must be their best look is pretty minimal. Kiki's pearls look is best of show for me, especially considering she made it herself. Luna DuBois goes a bit expected with a Mugler look, but the silhouette is stunning on her. Denim goes with a weird as hell tribute to Prince Edward Island that comes together magnificently. And though I have some issues with the nude illusion, Aurora Matrix's dragon look is inspired.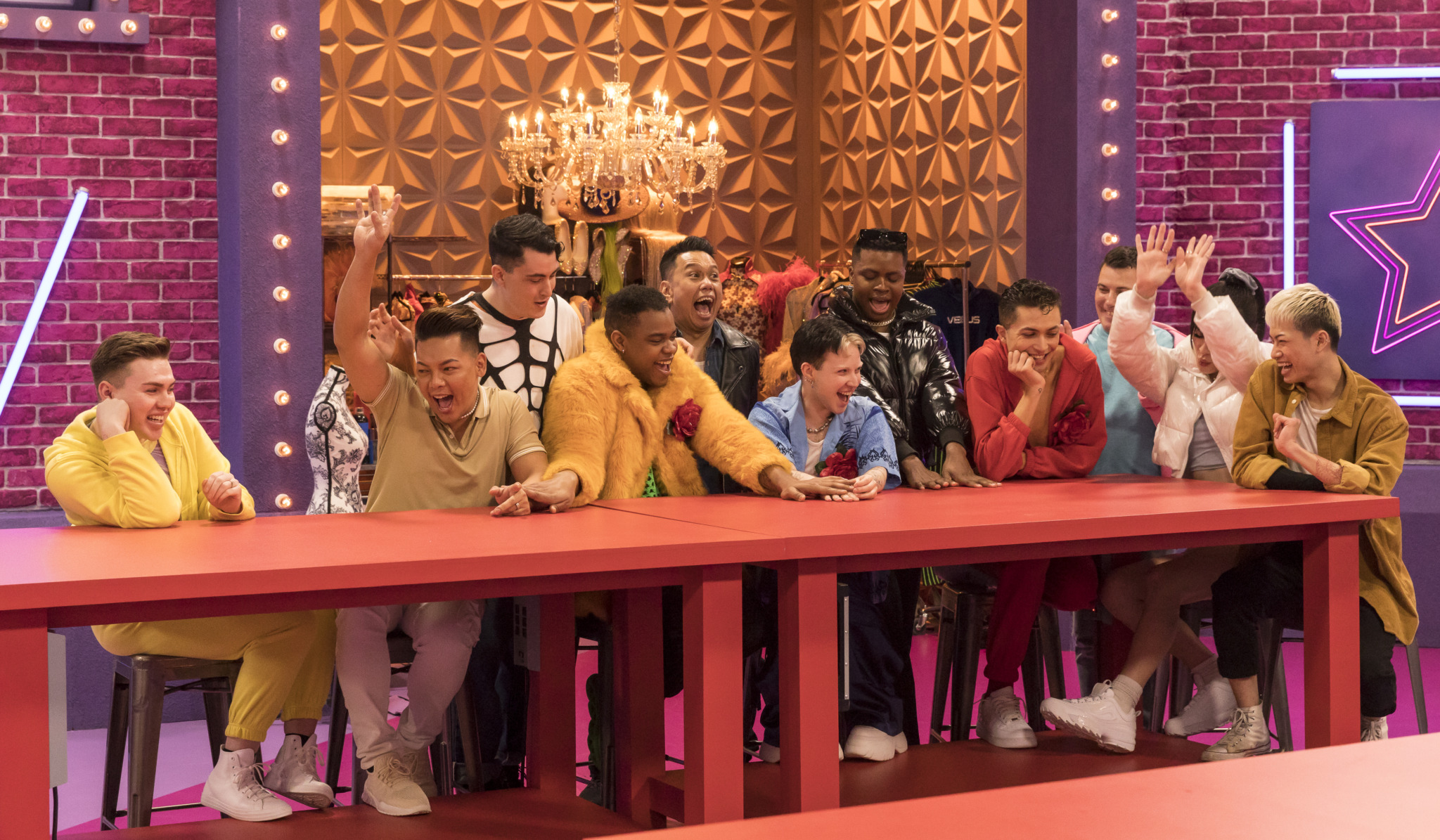 Three queens land in the bottom for their Premiere Ball presentations: Nearah, Sisi, and Melinda. All three have some fundamental issues with their looks, with Nearah's second in particular being incomplete. Sisi can't walk in the boots of her third look, while the fit is all wrong in Melinda's final gold look. (Plus, she has some pretty fundamental issues with her makeup, which Brooke Lynn points out as kindly as she can.) Nearah gets called safe, leaving Sisi and Melinda as the presumed bottom two.
But good news for them: this is secretly a non-elimination episode! We've had plenty of these recently, but this episode does a good job of actually making the decision a fake-out. Venus and Denim beat out Kiki as the top two of the week, and lip sync for the win to Tegan and Sara's Tiësto collaboration, "Feel It in My Bones." It's an entertaining battle, albeit one that reminds me: oh, right, CDR lip syncs are pretty long! Still, it's fun to watch the best of the best this week battle it out, and Venus ultimately takes home the win.
This episode is a highly enjoyable table-setter for the season, and it has me genuinely brimming with excitement for the season. But nothing quite catches my attention like something in the preview for next week: a new twist called the "Golden Beaver." Brooke Lynn teases throughout the episode that the queens will have more power than ever before. Are we looking at an All Stars-style twist on the way? I'm not sure how I'll feel if it's just a replica of that format, but if it's a twist on it that makes more sense for CDR, colour me intrigued.
As more and more Drag Race series crop up all over the world, each one is going to have to fight harder to make itself distinctive. Some have done this with full-fledged Untucked spin-offs; France became the first international series to have a live finale this year. But I don't think any other series is taking the kind of peculiar swings that CDR is. And that's why, for all its crunchier, rougher moments, it remains my personal favourite franchise.
Untucking our final thoughts
✨ "Hi, queens, it's Tegan and Sara!" Our first guest judges of the season are the twin singer-songwriter duo, and they truly just walk into the werk room with no warning on elimination day. It's fun! They're fun! They apparently got into Drag Race because of their mom, which is also adorable. Canada's Drag Race has struggled with high-caliber guest judges in the past couple seasons, but getting Tegan and Sara is a major step back up. Excited to see Ra'Jah O'Hara and Jaida Essence Hall later this season, too!
✨ Can we take a moment to talk about how fucking good Traci looks throughout this episode? Her all-black look for the runway makes her look rich as hell. I love how she continues to grow into her role on this show.
✨ I touched on it in the recap, but there's really no overstating how heartbreaking it is to hear about TGE's experiences during her transition. "I have girls coming to me for advice, but I have no one to turn to," she says. It must be incredibly difficult to be both a role model and someone who is still actively finding herself—I admire her strength.
✨ Brooke Lynn's introduction of Brad gets an amazing dig in at the maligned Real Friends of WeHo: "He's my best friend, and one of us actually lives in WeHo!"
✨ Cannot rave enough about Brooke Lynn's performance in this premiere. She has really settled into herself as both host and judge, her looks continue to be unbelievable, and she gets some fun quips in, to boot. When Venus talks about her untucked drag philosophy, she fires back, "If you're not untucked, you're only getting half the story!"
✨ Melinda's partner had a mini-stroke right before she headed off for Drag Race, which is heartbreaking. Good on Venus for prompting her to give us a sense of what's going on in her head, and I hope she can find her way through her pain and succeed in this competition.
✨ Guys, we are so back. CDR is a joy to watch, and I'm so excited to discuss it every week with you all. If you've been watching Drag Race UK's excellent fifth season and are wondering if you can take on more, I really encourage you to come on this ride with us. After a few pretty iffy seasons, it's nice to see Drag Race firing on all cylinders like this.
The next episode of Canada's Drag Race will be available to stream on Thursday, Nov. 23, at 9 p.m. EST on WOW Presents Plus in the U.S. and on Crave in Canada. You can subscribe to our drag newsletter, Wig!, for exclusive Drag Race content delivered straight to your inbox every Tuesday afternoon.
---
Want to suggest a correction or provide feedback? Click here