Until the release of My Back Was a Bridge for You to Cross in July, it had been 13 years since Anohni and the Johnsons released an album—the last being 2010's Swanlights. In the meantime, Anohni Hegarty went solo, putting out Hopelessness in 2016 and then an EP, Paradise, the following year. 
While her solo music differs sharply from her work with the Johnsons, it further cemented Anohni as one of the 21st century's most innovative and creative artists. While she's never hit absolute superstardom, her work has been critically acclaimed over the past two decades, and she has plenty of dedicated fans.
Born in 1971 in the British city of Chichester, Anohni moved to Amsterdam with her family for a year in 1977, and then to San Jose in 1981. She studied music in high school and began collecting records, particularly enjoying music from the likes of Kate Bush, Alison Moyet, Culture Club and Marc Almond's side project Marc and the Mambas.
She moved to Manhattan for university in 1990, and in 1997 performed for the first time with the Johnsons—a group of musicians she worked with to record and perform songs she wrote in the 1990s. Anohni is still based in the U.S., telling The Guardian that her native U.K. was one of the "most misogynist" countries in the world.
Their debut album, Antony and the Johnsons, was released in 2000 to a fairly low-key reception. "Cripple and the Starfish" is probably the best-known track from the album.
The band found more commercial success five years later with I Am a Bird Now. Bearing a similar sound to their debut, I Am a Bird Now was praised for Anonhi's otherwordly vocals and smart writing. A musician's musician, Anohni collaborated with a number of big names on the album, including Lou Reed, Boy George and Rufus Wainwright. The lead single "Hope There's Someone" is the band's most popular track on Spotify by some margin, while "Fistful of Love" and "You Are My Sister," also from Bird, are also among the band's most well-known songs. The album would hit the top 20 in the U.K. and go on to win the prestigious Mercury Prize.
Anohni's music, particularly with the Johnsons, is predominantly arty, avant-garde baroque pop. While she's always been experimental, you know to a certain degree what to expect in terms of style.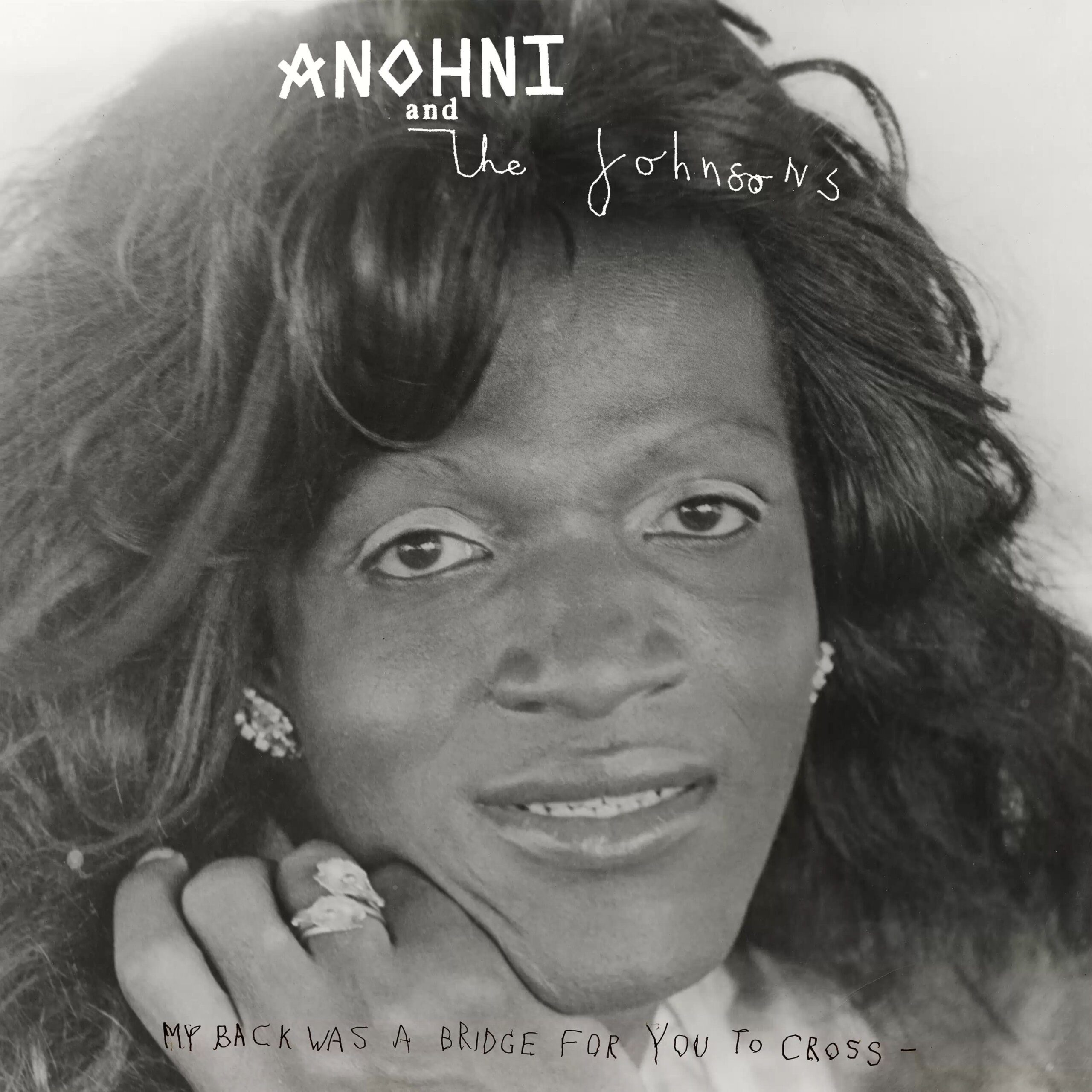 However, on My Back Was a Bridge for You to Cross, she has eschewed her familiar sound. Rather than baroque pop, she's turned to soul and jazz influences from both sides of the Atlantic. The result is a record that's more stripped back—more vulnerable, perhaps—and more analogue in contrast to her earlier work with the Johnsons. 
For the album, she worked with British producer and songwriter Jimmy Hogarth, who's worked with some of the biggest names in contemporary U.K. soul, including Amy Winehouse, Duffy, Maverick Sabre, Corinne Bailey Rae and Estelle.
The album pays homage to the artists Anohni grew up on, like Moyet, Culture Club and the jazz of Nina Simone and Jimmy Scott. Anohni was also partly inspired by a meeting she had with trans activist Marsha P. Johnson before her death in 1992. Johnson—for whom the band is named—is depicted on the cover of the album.
With Anohni being one of the most prominent trans musicians internationally and an artist who doesn't shy away from speaking out on LGBTQ+ issues, it's impossible to discuss the album, and her career as a whole, without talking about the rise of transphobia in the U.K. in particular, and anti-LGBTQ+ sentiment across the world over recent years.
Last year, Vice reported that it's gotten to the point where trans people in the U.K. are actively making plans to leave the country, while recorded transphobic hate crime in the country increased by almost 1,300 percent from 2012 to 2022, as reported by Novara Media.
Meanwhile, the U.K. government is considering changing the legal definition of "sex" to refer to sex assigned at birth, excluding trans people from single-sex spaces with no justification needed. And the scores of anti-trans legislation introduced in the U.S. in 2023 alone needs almost no introduction, with 566 bills to date this year introduced according to the Trans Legislation Tracker.
It's clear that Anohni wanted to centre trans voices on this project, more so than on any of her previous work. Indeed, the music video for the album's lead single "It Must Change" features U.K. trans activist Munroe Bergdorf, while trans actress Hunter Schafer directed the video for the follow-up single "Why Am I Alive Now?" In an interview with Dazed, Anohni described the activism of young queer and trans people and their focus on intersectionality as "top-level beauty."
Anohni herself has identified as trans from an early age and has used she/her pronouns since the mid-2010s. She said to Magnet Magazine in 2005 that she preferred the label of trans to the label of gay: "Listen, I believe that we all contain a family within us: a mother, a father, a son, a daughter. As far as how it affects my music, I think it's the same as in the case of being an immigrant. When you are outside the norm, it tends to make you more introspective."
In a 2008 interview with FaceCulture, she described being trans as a "very integral part of who I am," sharing that she never really had to come out to anyone. "The language to talk about these things is really growing, even in the last five or 10 years, and the popular consciousness about these things has really grown … I am lucky that the window opened and there's a platform for someone like me to be able to talk about my experience in a straightforward way. It's also really good for other transgender people to feel represented, because it's a group, even within the family, that people try to make invisible."
She changed her name publicly to Anohni in 2016 as she set off on her solo career. Anohni's solo material has always differed from her work with her band. Debut solo album Hopelessness has an electropop style and is very forthright politically, with a lot of protest songs. The EP Paradise is in a similar vein, and makes links between gender and environmental damage. 
Her new album with the Johnsons maintains a consistent political stance. It begins with "It Must Change," where the title is repeated constantly throughout the choruses as well as in the verses. Following is the one-and-a-half-minute-long "Go Ahead," which opens with "You are determined to take me down."
The ballad "Scapegoat" is an overt look at the rise of transphobia, and the mental impact it can have on trans people. "And in this society/ A scapegoat is all I can be," she sings with stunning vibrato, looking at the way in which trans people are used as a distraction from very real societal issues. It's not necessarily an easy listen, but it's one of the best tracks on the album, and perhaps of Anohni's career to date. 
She looks inward on "It's My Fault," talking about her own complicity in climate change and environmental damage, while on the penultimate track, "Why Am I Alive Now?," she asks that very question: "Why am I alive now?/ Watching all this going down … watching nature swoon and sigh/ Watching all the water dry."
It's a bittersweet album, and a welcome addition to an already impressive discography.
As an artist with a cult following, Anohni's new album is perhaps her most accessible yet, and a rise in profile is not out of reach. She could gain a whole set of new fans, and it's fair to say it would be more than deserved.
Where will Anohni go next? We don't know yet, but whatever she does, it's sure to be another impressive step in a glittering career.